By Dan Shanoff
Page 2 columnist
As someone who has enjoyed several field-stormin' moments in the halo of victory, I find it hard to begrudge the enthusiastic college students who would like to join their classmates and players on the field after a game. For them, storming the field remains hip -- though it comes with a caveat that you deserve whatever beat-down you get if, in your impaired judgment, you do something stupid, like taunt a dejected opposing player or shimmy up a rickety goalpost.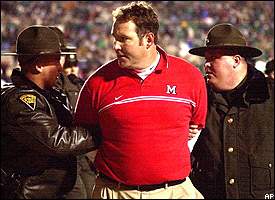 Don't get carried away, or taken to the pokey like Miami of Ohio defensive coordinator Jon Wauford, with your postgame celebrations.
Meanwhile, if you aren't a current student and you rush the field, here are three words: Get a life. Your glory days at Phi Slobba Booza are long gone. And nothing is more uncool than being older than 22 -- let alone into your 30s -- and using a college team's victory to act like a dope.
Bottom line: Celebrating responsibly is in.
(And so is shameless self-promotion: Be sure to check out the
expanded Hot 'n' Not List for the 2002-03 college-hoops season
!) For more on what's hot and what's not hot
this week
, check out the list below:
What's Hot, What's Not this week
Category
Hot
Not
Bachelorette

Helene

Brooke
Weekend flick
"New Harry Potter"
Anything with Ja Rule and Steven Seagal
NBA coaching style
"Coaches' coach"
"Players' coach"
New coach's
easy transition

Felipe Alou

Hubie Brown
Object of Mets affection

Tom Glavine

Roger Clemens
Running on field
Coach kicks your butt
Players kick your butt
Augusta National research methodology
Appallingly unscientific
Legitimate attempt to join debate
Manute Bol exploitation
Minor-league ice hockey
Celebrity boxing
Quit the whining already

Alex Rodriguez was robbed

Miguel Tejada undeserving
Bonds 3-peat?
No, it's Sosa's turn
Yes, it's that easy
Shaq's prognosis
It'll be weeks more
Any day now!
Hubie-ism
"Upside"
Speaking in second-person
Harlem Globetrotters
College-hoops exhibition slayers
Clowning around with the Generals
Knicks' trade rumors
Spree for anyone
Bradley, Rose coming to New York
BCS once-beaten

Washington State

Oklahoma
Arizona hero
Hoops coach Lute Olsen
Football coach John Mackovic
Least appealing player in sports

Bonzi Wells

Kordell Stewart
NBA rookie bust
Mike Dunleavy Jr.
Yao Ming
Forecast for The Masters
Hootie forced out by Xmas
Women kept out past '03 Masters
Heisman bandwagon

Jason Gesser,
Washington State

Byron Leftwich,
Marshall
10-10-220 commercial shill
Hulk Hogan
Alf
Conventional
wisdom about Billy Beane
BoSox an
unwinnable situation
He has such a vested
interest in A's org
Boneheaded play
of year
Waving ball around
before you reach
end zone
Pulling your helmet off
before game is over
Overrated
Being "loyal" to injured QB
Being "smart" and sticking with hot hand
Poster-worthy Cav

Ricky Davis

Darius Miles
Imprimatur
Jerry West
Pat Riley
Will avoid one-hit wonder status

James Mungro

Todd Bouman
MLB free agent
Hideki Mastui
Jose Hernandez
A-Rod consolation prize
Players' choice MVP?
Gold Glove
Team to watch at ATT Wireless Classic

Alabama

Memphis
Most talented WR
Marvin Harrison
Terrell Owens
Jeremy Bloom

Gotta ski!

So much for bowl game prep
Dan Shanoff is a columnist for Page 2. His "What's Hot, What's Not" trend-spotting list appears Thursdays. Got inside scoop on an up-and-coming trend? Want to declare something passé? Send this glimpse of your hipness to hotnotlist@yahoo.com.