By Dan Shanoff
Page 2 columnist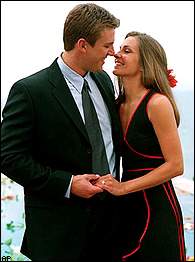 Aaron Buerge canoodles with Helene Eksterowicz, the Lou Piniella of "The Bachelor" contestants.
What does now-ex-"Bachelor" Aaron's choice of Helene over Brooke (predicted here) mean as a sports analogy? It's drafting someone who can help you today, rather than betting on potential to be fulfilled. It's promoting the understated, longtime assistant, instead of finding a high-profile, less-successful outsider to coach your team. It's saying "no" to a lifetime in "The Alabama Room," and "yes" to rooting for Rutgers. 'Bama's bowl-ineligible anyway....
Hey, both women are hotties, but
here's to Aaron picking a little more substance to go with the style, and to picking the better match for himself, rather than being blinded by blondeness.
Now that everyone's faith in a typical guy's judgment has been buoyed,
we can all begin our eager anticipation for January's "Bachelorette" spin-off, starring Trista, runner-up of "Bachelor I" and friend of Page 2.
Prediction: She (and the show) will be the first nationwide sensation of '03. For what's hot and what's passé
this week
, check out the list below:
What's Hot, What's Not this week
Category
Hot
Not
Your "gut" about the weekend's big college football game

Michigan (duh!)

Ohio State (get real)
Credibility to criticize Hootie
LPGA commish Ty Votaw
NY Times editorial board
Hypocrisy
Celebrating "The Stanford Band" anniversary
Chiding fans for rushing the field
Spurrier's QB carousel

Danny Wuerffel

Shane Matthews
Jinx
Soup endorsement
Magazine cover
Heisman bandwagon

Kliff Kingsbury

Ken Dorsey
Iverson
Unstoppable on-court
Feeling secure off-court
Bulls trade rumor
Jamal Crawford for Mike Dunleavy
Jay Williams for Mike Dunleavy
Big East bandwagon

Pittsburgh

Virginia Tech
Exotic Expos home base
Puerto Rico
Boston
Hubie Brown's impact
Losses, but they're close!
Wins, any wins
Cowboys go-to guy

Troy Hambrick

Emmitt Smith
Has Cubs' attention

Jim Thome

Dusty Baker
Arturo Gatti's boxing nightmare
Tyson comeback steals his PR
Upcoming rematch with Micky Ward
Business niche
Replacement goalposts
Out-of-season surfing gear
Lucky guy

Larry Walker

Matt Williams
Conventional wisdom on Shaq
Returning this week? Yeah, right
Back in the lineup soon!
Not just college-hoops hype
North Carolina's freshmen
Xavier's lofty ranking
If Marc Bulger wasn't injured ...
Mike Martz is an idiot
Commend Mike Martz for his loyalty
NBA surprise
Really big men (Bradley, Yao)
New Orleans already bored
U.S. Olympic hoops hopeful

Stackhouse (who really wants to play)

Shaq (who really doesn't)
Weekend flick

"Die Another Day"

"Friday After Next." Ruining a great legacy. (The classic, first "Friday.")
Dan Shanoff is a columnist for Page 2. His "What's Hot, What's Not" trend-spotting list appears Thursdays. Got inside scoop on an up-and-coming trend? Want to declare something passé? Send this glimpse of your hipness to hotnotlist@yahoo.com.