By Dan Shanoff
Page 2 columnist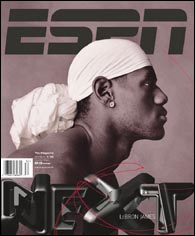 What is really "next" for LeBron?
Being "Next" has been a mixed bag for LeBron James. He was ESPN The Magazine's "Next" Athlete for 2003. His issues with the retro jerseys last week (did you hear about those ... there wasn't much coverage?) happened at a gear store called "Next."
But now that he's been declared ineligible, what's really next for LeBron? (Besides the appeals and the legal stuff, of course.) Whether or not he ever returns to the court to finish his high-school playing career, he's got some free time on his hands between now and the NBA Draft. Page 2 has some suggestions:
NEXT for TV
"The BacheLeBron"
Based on the true experiences of LeBron when he goes to the mall, to parties, to the gas station, etc., he can choose from 25 gorgeous women who are throwing themselves at his feet to be his next girlfriend.
"LeBron Millionaire"
LeBron must find a significant other who loves him for more than just the perception that he's worth a ton of loot. Which he is. But that's besides the point. LeBron, will you buy me a car, too? Sigh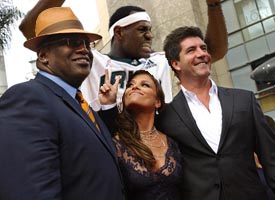 LeBron thinks he's the next "American Idol," so why not join the show?
"American Idol" needs a new judge
Who knows more about being an "American Idol" than LeBron? Besides, if all current "Idol" judge Paula Abdul is going to do is cheer for the moderately talented and leave the harsh comments to Simon and Randy, then she's really not adding much value, is she?
Guess appearances on "Law and Order: SUV"
LeBron the All-American thespian stars as a high-school student with a better-than-average ride, prosecuted for a crime he didn't commit by an overzealous state high school athletic association commissioner.
NEXT for giving advice
Relationships/dating expert
He can dunk, he can shoot, he can pass -- and he can tell when "Mr. Right" is nothing more than "Mr. Right Now." "Dr. LoveBron" offers an "assist" to the lovelorn with advice as straight-up as his D.
"Dear Abby" franchise looking to re-launch
No one could ever fill the shoes of the late Eppie Lederer, but "Dear Lebby" has a nice ring to it.
NEXT for politics
Run for governor of Ohio
He's the pride of the state, has fewer skeletons in his closet than most politicians and will soon have enough money to finance his own campaign. And maybe it's a little premature, but how does a Barkley-LeBron White House ticket in '08 ticket sound?
George Bush's education czar
No one understands the out-of-whack state of athletics versus academics in our secondary-school systems like LeBron, who will undoubtedly "Leave No Child Behind" (except the ones who refuse to work on their left).
NEXT for fashion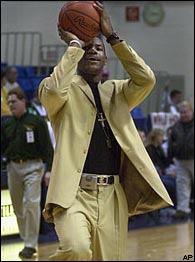 LeBron's look would score big points with Joan and Melissa Rivers.
Red-carpet correspondent for awards-show season
With the Grammys and Oscars coming up in the next few weeks, E! needs a reporter who is comfortable hobnobbing with stars. LeBron hangs out with MJ, has Shaq programmed in his celly and has the skills to ask Nicole Kidman and Catherine Zeta-Jones the tough questions.
Retro-jersey designer
We already know his power as a taste-maker to drive the appeal of throwbacks from the '60s and '70s. Some smart company is going to hire LeBron as a consultant to help them pick the hot new historical looks. 'Bron favors Ohio? Invest now in Bernie Kosar '86 and World B. Free '83.
NEXT for education
Create a "Hooked on LeBronics" program
"Listen and repeat: 'IIIII ... Woooooould ... Liiiike ... Myyyyy ... Shoooooe ... Deeeeeeal ... Nowwwww ...'
Remember to enunciate! Monnnnn-eeeeeey ... Monnnnn-eeeeeey."
Volunteer as NCAA compliance officer
He's never had to deal with NCAA regulations -- and never will -- but he's got just the kind of insider cachet that would allow him to go "undercover" at the biggest prep schools around the country.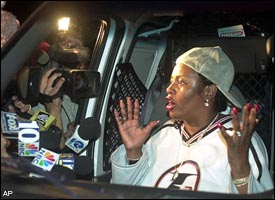 If you can handle Ann, you can handle anyone.
Intern, Ohio High School Athletic Association
He knows commissioner Clair Muscaro on a first-name basis, and he's had, um, first-hand experience dealing with the organization. Can he get academic credit for that?
Teach a continuing-education class
LeBron is perfectly positioned to join the faculty at the "Ann Iverson School of Media Relations," teaching parents of other gifted teens how to most effectively deal with the publicity that comes with stardom while his mom, Gloria, sits in the back of the room shouting down questions.
NEXT for sports besides hoops
Join the men's tennis tour
Talk about a group that could really use a Q-rating boost.
X Games medalist
No one seems to mind that the X Games are full of teen athletes that are pros.
Figure skating
Underage? Check. Showy clothing? Check. Exploited? Check.
Dan Shanoff is a columnist for Page 2. His regular column, The Daily Quickie, is published at 9 a.m. every weekday morning.