By Dan Shanoff
Page 2 columnist
Publicists for Manute Bol have confirmed that the big man's first foray into hockey with the Indianapolis Ice of the Central Hockey League is the beginning of a "Bol on Ice" strategy for 2003.
They have revealed several commitments for the upcoming tour: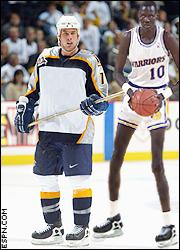 Manute Bol is definitely the biggest thing to hit hockey.
"The Bol-Capades"
A cast of hundreds of underemployed actors and skaters join the irrepressible headliner through the montage spectacular: "Tribute to NBA Oddities!" Michelle Kwan and Scott Hamilton join Bol for high-energy numbers like, "It's Tough to Be Spud," "About a Boykins" and "(Won't You Have) Another Slice of Pie, Oliver Miller." April 19 (Jacksonville), April 21 (Tampa), April 24 (Fort Lauderdale).
"Tonya Harding's Topless Review"
You call it "classless"; we call it "kitch"! Manute leads an all-star line-up that includes D.B. Sweeney, Tawny Kitaen, the Miami (Ohio) football coach and the irrepressible Bonzi Wells, with a special appearance by TV's Anna Nicole Smith and an emotional reunion of the cast of "Gimme a Break." With a finale including many of your favorite D-list actresses from Cinemax movies, it's guaranteed to "Bol" you over. May 5, Phoenix.
"Together Again"
Take your favorite buddy comedy, throw in memories of the most intelligence-insulting draft strategy of the 1980s, and enjoy the fun and frolic of Manute Bol teamed up for an ice-dance display with his old Bullets teammate, Tyrone "Muggsy" Bogues! The show features the heart-stopping "did-he-clear-his-lutz?" between-the-legs maneuver. All kids under 12 will receive TWO free growth posters! Feb. 12, Washington, D.C.
"Beauty and the Bol"
Olympic gold medalist Sarah Hughes reclaims centerstage in this wintry remake of the classic love story. As "Belle," Hughes helps angry townspeople lose their fear and awkwardness around the 7-foot-6 freak who skates among them. Featuring the hit song, "Bol Our Guest." Jan. 23, Madison Square Garden, New York.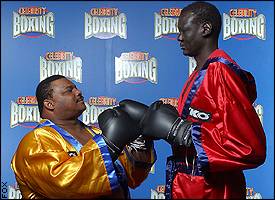 FOX
Will Manute and the Fridge float like butterflies ... when they're on ice?
"The Three Seven-foot-Ten-ors"
Listen with wonder as the past, present and future of NBA big men -- Manute Bol, Shawn Bradley and Yao Ming -- harmoniously glide around the rink, singing the best of Bizet. Special guest star (this performance only!): Chuck Nevitt. Feb. 2, Philadelphia
"Cele-Boxing on Ice: The Rematch"
You thrilled when Bol and the Fridge stepped into the boxing ring this summer. Now watch the two most exploited ex-pro athletes of our generation "get it on" again -- this time on skates! Special guest appearance by George Foreman! Feb. 23, Atlanta.
"Mighty Ducks 4: Last-Manute Hero"
This live-action adaptation, performed at the Pond in Anaheim, stars Bol as the shy Sudanese transfer student, adopted by Emelio Estevez, who becomes the unstoppable goal-keeping force when he folds himself over into angles that block every conceivable shot. Tensions with former No. 1-netminder "Goldberg" run high, but the team comes together to beat a group of Central American all-stars. March 3-8, Anaheim.
"The Cutting Edge"
The live-action remake of this classic cinematic love story has ex-CHL star Bol sidelined with a knee injury. As part of his rehabilitation, he is paired with the plucky figure-skating Olympic hopeful (a revitalized Nancy Kerrigan). Though they have problems connecting at first (particularly that she only comes up to his hip), they find a physical and romantic connection through figure-skating, culminating in a gold-medal performance by both actors. April 12, Dallas.
Dan Shanoff is a columnist for Page 2. His "What's Hot, What's Not" trend-spotting list appears each Thursday.