By Dan Shanoff
Page 2 columnist
Mr. Ed
Claim to fame: 1950's TV icon
Strengths: Ability to verbalize issues; reportedly being revived as new TV sit-com.
Handicap: "Helllooo ... Willll-burrr!" just won't cut it in today's nothing-said-is-too-shocking society.
Odds: 8-1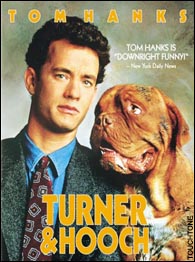 One went on to fame and fortune -- one became and Academy Award winner.
Cat in the Hat
Claim to fame: Trademark headwear has become popular for stoner-raver set.
Strengths: 223 words to tell such a good story / The Cat on the Track would for sure run to glory.
Handicap: If we have to keep talking in rhyme / This won't end up such a good time.
Odds: How do you think that he will run? / Damn good odds, like 5 to 1.
Hooch
Claim to fame: Half of worst Tom Hanks movie ever.
Strengths: Anal-retentive partner Scott Turner (Hanks)
Handicap: Drool
Odds: 15-1
Air Bud
Claim to fame: Dog possesses all-around sports skills greater than any human alive
Strengths: A cute original film
Handicap: "Air Bud: Golden Receiver"; "Air Bud: World Pup"; "Air Bud: Seventh Inning Fetch"
Odds: 5-1
Keiko
Claim to fame: Star of "Free Willy"
Strengths: Able to leap out of captivity in a single bound
Handicap: That damn kid who tags along
Odds: 500-1 (2-1 if race held in ocean)
Big Bird
Claim to fame: Frontman (or is that frontwoman?) of Sesame Street educational TV series
Strengths: Can't teach height
Handicap: Like a couple NBA centers, seven feet tall but with the mind of a six-year-old
Odds: 3-1
Kermit the Frog
Claim to fame: De facto leader of the Muppets; occasional news reporter
Strengths: A solid piece of tasty woman by his side
Handicap: It's not easy being green.
Odds: 10-1
Lassie
Claim to fame: Saved little Timmy countless number of times
Strengths: Fearless; unsurpassed looks
Handicap: At beck and call of accident-prone family and their maligned little town; hounded by "Laddie" mockery on "The Simpsons"
Odds: 4-1
Dan Shanoff is a columnist for Page 2. His "Daily Quickie" column appears every weekday morning.