By Bill Simmons
Page 2 columnist
Because of my Beantown roots, questions relating to the Boston sports scene trickle into my e-mailbox all the time -- especially now that the Patriots and Celtics are doing so well -- but one question consistently pops up:
What's going on with the Red Sox?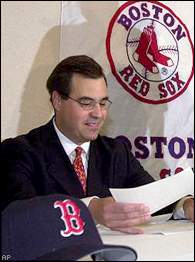 It's the Sports Guy's worst nightmare: Dan Duquette representing the Red Sox at the Winter Meetings.
It's the sports equivalent of "How's the weather up there?" And with so much happening with the team right now, I thought we could delve into some of the most common Sox-related questions that so many of you have been sending me over the past few weeks.
Q: Who's buying the Red Sox?
At this point, we don't know; in classic Boston fashion, the process has taken much longer than we were originally led to believe. That's just the way things are done here. If Boston ever won the bid to host the 2012 Summer Olympics, they wouldn't kick off until 2025. Anyway, after twiddling its collective thumbs for the requisite amount of months -- just to make sure the saga would hover over the entire 2001 season -- the Yawkey Trust (current owners of the Sox) narrowed the "Prospective Buyer List" down to three finalists last month. Bids were supposed to be finalized by the end of November, with a new ownership group hopefully in place for the Winter Meetings (which kicked off in Boston on Dec. 9). Well, it's Dec. 11. Guess who still owns the team? That's right ... it's the Yawkey Group! Geez, I can't believe it. Now lame duck GM Dan Duquette is representing our beloved Red Sox at the Winter Meetings in Boston -- talking trades, meeting with prospective free agents, making decisions on the futures of current Boston free agents like Hideo Nomo (sayonara, Hideo!) and stamping his hideous imprint all over the 2002 team. What a nightmare. If this were a Mafia movie, we would be waiting for the Sox sale to happen quickly this week, just so the Duke would immediately get whacked like Tommy from "Goodfellas." Real life sucks.
Q: Who are the finalists?
We're down to three ... Door No. 1. Charles Dolan The Cablevision guru reportedly submitted the highest bid -- $405 million for 53 percent of the team, the rights to Fenway Park and 80 percent of 50 percent of 100 percent of 90 percent of NESN (the local cable network that televises Sox games, and yes, this whole thing is confusing as hell), plus an additional $250 million bid to buy out the limited partners. Dolan owns the Rangers and Knicks and tried to purchase the Yankees three years ago, so it goes without saying that many Boston fans are petrified of him, believing that a New York fan would spend upwards of $650 million just to sabotage the Red Sox and extend his cable network dominance. Hey, nobody ever said we were logical. Two mitigating factors here: First, Dolan apparently despises George Steinbrenner, because they battled over the Yankees' cable rights fees in the late-'90s, prompting George to launch his own cable network. And second, Dolan apparently has more money than God (and he's just about as old). A best-case scenario has Dolan buying the Sox, then spending whatever it takes to vanquish Steinbrenner and win their petty feud. Sounds good to me. Door No. 2. Joe O'Donnell and Steve Karp Two local businessmen (and reputed "good guys"), who have emerged as the "People's Choice" in the local newspapers and radio stations, for all the predictable reasons: (Cue up the violin music)
They know what the Sox mean to this area. They have the local pull to get a new Fenway Park built. These are good, decent men who care about this city. Let's give the Red Sox back to the people!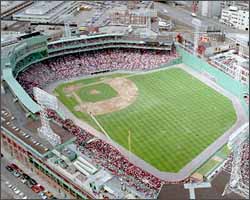 If the team's new owners choose to remodel Fenway, the Sports Guy is heading West.
Puh-leeeze. That has been my favorite part of this whole process: Fans, radio hosts and columnists coming out strongly in favor of one of the prospective groups. Like we have any idea if O'Donnell & Karp can successfully run a baseball franchise better than anybody else. I swear, Boston has to be the most provincial place on the planet. Two guys named Murph and Sully could run against a New Yorker in this thing, and everyone in Boston would be pulling for the Irish guys, even if they hadn't worked full-time jobs in a few years and one of them had served time.
Door No. 3. Tom Werner and John Henry We're vehemently against this group, for a variety of reasons:
1.
Werner was the principal owner of the San Diego Padres in the early/mid-'90s, nearly driving them into the ground because of the mammoth ownership group he assembled (which didn't have nearly enough working capital to operate a successful baseball team). In 1993, the Pads jettisoned many of their top players, including Fred McGriff and Garry Sheffield, and some season-ticket holders actually sued the team. Even Chris Farley ran his company better during the first hour of "Tommy Boy."
2.
John Henry owned the Marlins until about five minutes ago, when Team Selig expedited his sale of the team so he could be involved with Werner's group. That led everyone here to wonder if the proverbial "fix" was in (that Selig and Company were aboard and Team Werner's eventual approval was a done deal). We love coming up with conspiracy theories here in Boston.
3.
I mean ... John Henry? Would you want someone co-owning your team named "John Henry"? Is that a stage name?
4.
One of the limited partners in this group? The New York Times Co., which owns the Boston Globe. Here's what Beth Healy wrote in a feature about the Henry group for yesterday's Globe: "The Times Co. has stressed that it is primarily interested in the team's controlling stake in the New England Sports Network, which is included in the sale, and has said it would not interfere with coverage of the Red Sox." And if you pull this leg, it plays "Jingle Bells."
5.
Duquette is reportedly tight with the Werner group. 'Nuff said.
6.
According to some reports, Team Werner plans on renovating Fenway Park, rather than building a new stadium. In all honesty, I can't even discuss this premise rationally; the only way I would attend a baseball game at Renovated Fenway is if they staged "Lob Plastic Bags of Your Own Urine At the New Owners" Night.
7.
Werner made his money as a TV producer, so he gives off that "Mr. Hollywood who wants to own the Red Sox to impress his buddies" vibe. Yuk. If that's not bad enough, Werner is engaged to Katie Couric, which could potentially make Katie the First Lady of the Boston Red Sox. I will now light myself on fire.
Q. So which prospective owner has the Sports Guy's vote?
Since the mere possibility of a Renovated Fenway angers me to the point of insanity, Team Werner is out. If they ever announce that they're renovating Fenway instead of building a new ballpark some day, I'm packing my things into a car, grabbing the Sports Gal and heading West like Will Hunting. I'm not kidding.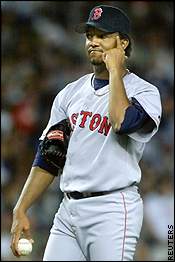 Reuters/Ray Stubblebine
Pedro Martinez buzzed the front office with a couple high, hard ones this offseason.
So that leaves Dolan versus the O'Donnell/Karp group. And honestly, I don't even care. Having the local guys involved would be fun ... but something about Dolan intrigues me. Maybe it's the deep pockets, or the feud with Steinbrenner, or the fact that he has been wildly successful over the years and "Winning a World Series in Boston and Shoving It in Steinbrenner's Face" would represent the crowning achievement of his career. Rich people tend to be rich for a reason: They know what they're doing.
And you have to like Dolan's age (75). It's always exciting to have a crusty old guy owning your favorite team -- you end up having those Leon Hess-esque moments when they snap during a losing streak and start screaming, "I'm 85 years old, and I want to win right now!" Good times. As for the fears about Dolan's New York ties, I have two rebuttals: 1. The Red Sox have had local-based ownership for the past eight decades. Number of championships over that time: Zero. Number of new ballparks built over that time: Zero. And the last 20 years have been an unequivocal disaster from an organizational standpoint -- little definitive direction, no master plan, no accountability. Everything that has been printed about O'Donnell and Karp has been positive, but you wonder if those local ties hinder them more than anything -- too many interest groups pulling them in too many different directions. At least Dolan wouldn't have any ties. 2. Think about this rationally. If you spent $650 million-plus to acquire a baseball franchise, wouldn't it be in your best interests for that franchise to succeed? What's Dolan going to do, move the team to Long Island? The level of paranoia about New York around here never ceases to amaze me. So that's where I stand. As long as Team Werner doesn't get the team, I'm happy. Plus, I won't have to move. Onto some non-sale questions about the team:
Q: How can Dan Duquette still be making decisions for the Red Sox when he's basically a "Dead Man Walking"?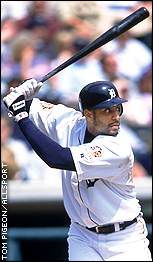 Tony Clark is the newest of Duquette's "If Guys."
Nobody knows. So far he has done minimal damage, making only one major move: Claiming Tony Clark off waivers from Detroit. Classic Duke, through and through. Duquette makes moves like there's a degree of difficulty involved; it's almost as if he has bonus triggers in his contract for every rehabilitation project that pans out. In Clark's case, his UPPPPPPPside is tantalizing -- switch-hitting first baseman with power, only 29, kills lefties, could have a monster year if he stays healthy -- but everything's tempered by one indisputable fact:
Detroit placed this guy on waivers.
It's not like the Tigers even tried to trade him. They said, "You know what, let's cut costs and dump this guy ... we don't even care if we get anything for him." So the Sox rolled the dice and picked him up, hoping Clark could stay healthy (he battled injuries in '99 and '00) and avoid the early-season slumps that have plagued him throughout his career. He's just another "If Guy" on a team that's full of them, the last thing they needed, especially when Clark could command up to $7 million in arbitration this winter (of course, the Sox can waive him before Dec. 20 arbitration for no cost, making this whole discussion moot). Me? I'm tired of these "If Guys." That has been Duquette's modus operandi over the years, for better and worse, and it nearly paid off in the '99 ALCS, when the Sox came within a few breaks of toppling the Yankees (OK, I'm exagerrating here, but bear with me). It just seems that a team hovering near a nine-figure payroll for the second straight season, a team currently revolving around three superstars ...
Nomar, hampered by wrist problems for two consecutive seasons
Pedro, hampered by shoulder problems for three consecutive seasons, and
Manny, whose ability to produce in a high-pressure city like Boston remains in doubt, especially after the way he mailed in the last three months of last season
... shouldn't keep rolling the dice with the Tony Clarks of the world. On paper, it's a defensible move, but after seven years of watching Duquette play craps with his personnel decisions, maybe I'm just ready for a change in philosophy.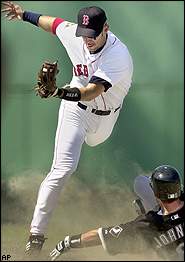 Nomar Garciaparra's career is starting to look too much like Cam Neely's.
And it's not like Duquette has exhibited the best people skills over the years, burning bridges with certain Sox players, pushing people out of town for no reason, rubbing opposing GMs the wrong way, antagonizing certain draft picks and condoning a generally chaotic, shoot-from-the-hip clubhouse (which ended up blowing up in his face last season).
Put it this way: If the Duquette Era were a "Behind the Music" special on VH1, we're long past the part where the band started fighting and the drummer OD'ed on heroin.
Q: Speaking of Pedro, Nomar and Manny, what about those guys? How are they?
Manny got married; that's all we know, other than his agent hoped for a more "stable" clubhouse for Manny this season. Pedro sounded off in the Dominican last month and made "Things better improve in the clubhouse next year or I want out" threats against the front office, which seems a little ridiculous considering he's under contract for three more years. Nomar is still rehabbing his wrist and popping up in the baseball columns and gossip columns from time to time. In other words, nobody knows what to expect out of those guys. Manny gets a mulligan, but it's still a little scary that $140 million and seven years remain on his contract ... and he doesn't like playing in Boston (if the rumors are true). Nomar will always have our unconditional support, but the parallels between his career and Cam Neely's career (derailed just as he was hitting his prime because of injuries) are startling enough that it just made me throw up in my mouth. And Pedro ... well ... there are a couple of problems here. He hasn't pitched more than 217 innings since 1998. He hasn't pitched more than 241 innings
ever.
According to the rumor mill, he acted like a bitchy prima donna behind the scenes last season, causing just as many problems as
Carl Everett
did ... but the local media treated Pedro with kid gloves, hesitant to write unflattering stories about the most popular pitcher in team history (can you blame them?).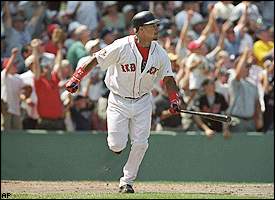 Was Manny Ramirez's late-season slump a sign of trouble ahead?
At 30 -- with nine major-league seasons under his belt, with a skinny body that seems ill-equipped to handle those Clemens/Ryan/Johnson-esque 250-inning seasons (much less those three extra playoff rounds), with a shoulder that hasn't allowed him to pitch pain-free baseball in three years -- you can't help but wonder if Pedro Martinez has already peaked as a superstar pitcher.
Deep gulp. And if he
has
peaked, well ... the chance to watch him pitch every five days for three-plus years was a genuine gift. I don't feel gypped at all. Some people you just don't forget. He was one of them.
Q: What about Carl Everett? What happens to him?
They're still trying to trade him, which should happen right around the same time that Robert Wuhl starts filming "Arli$$: The Movie" and Ryan O'Neal gets a Father's Day card from one of his kids. The $17 million remaining on his contract isn't helping Everett's cause, nor is the fact that he's completely insane. But there have been some nibbles. Tampa Bay offered
Greg Vaughn
, but only if the Red Sox paid the remainder of Everett's contract
and
supplied the hearse to transport Vaughn's body from Tampa to Boston. Colorado offered
Denny Neagle
, who has a mere $48 million left on his contract (yet another savvy signing by the Rockies). The WWF offered Tazz and the Big Show for Everett and cash. The Taliban offered three heat-seeking missiles and some free passports. "Saturday Night Live" offered Tracy Morgan and the rights to Colin Quinn's comeback. You get the idea.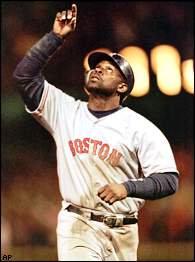 "If you take Carl Everett today, we'll throw in a free set of steak knives."
Q: Which guys are gone from last year's team?
The biggest names are
John Valentin
,
Troy O'Leary
,
Dante Bichette
,
Mike Lansing
,
Bret Saberhagen
,
Darren Lewis
,
Rod Beck
and
Hideo Nomo
(chopping nearly $40 million off last year's franchise record $109 million payroll -- this team would have money to burn if the team wasn't for sale). As for the manager, Joe Kerrigan will apparently return next season, accompanied by new bench coach Whitey Herzog (who was exhumed to fill the Don Zimmer/Tom Hagen role of bench coach/consigliere) and brimming with confidence from his 6-87 record last season after he took over for Jimy Williams.
Q: So what are their winter roster plans? What do they need? Will they be making any moves this month?
Here's what they need, in no particular order: A second baseman, a genuine No. 2 starter, a reliable relief arm, a leadoff hitter, a right fielder, the Best Available Dominican Guy. It's imperative that as many of these people don't speak English as possible. Sift through the marquee names (free agents and guys on the trading block), and it's enough to make you long for the days of Bill Campbell and Richie Zisk. I mean,
Chan Ho Park
,
Johnny Damon
,
Bret Boone
,
Raul Mondesi
,
Jeromy Burnitz
... who wants to overpay for these guys? The only name that seems intriguing is
Moises Alou
, who turns 36 next season. Yikes. So that means Duquette will be operating in the fringes again, rolling the dice on more potential semi-expensive candidates for the Juvenation Machine: the Chuck Knoblauchs, the Ron Villones, the Dave Burbas, the Sidney Ponsons, the Jeff Cirillos, the John Burketts. That's his specialty. All in all, it should be a strange month, wrapping up what has undoubtedly been the goofiest Red Sox season of my lifetime. To recap: Maybe the team will be sold this week ... maybe not. Maybe the right group will purchase them ... maybe not. Maybe Duquette will keep running the team ... maybe not. Maybe he'll make the right moves ... maybe not. Maybe Kerrigan lasts the season ... maybe not. Maybe Fenway will stick around ... maybe not. Maybe Nomar and Pedro come back healthy next season ... maybe not. Maybe Everett comes back ... maybe not. Maybe Manny will find happiness again ... maybe not. Maybe the Sox will win the World Series next season ... maybe not. (OK, maybe that last one was a reach.)
Bill Simmons writes three columns a week for Page 2.