By Bill Simmons
Page 2 columnist
My buddy Gus has a theory that every person has one "I can't believe you haven't seen that yet!" movie. For instance, Gus hasn't seen "E.T." yet. Impossible, you say? I'm telling you, he has never seen it. And the more people tell him, "I can't believe you haven't seen that one yet!" or "Do yourself a favor and see it, would ya?", his defiance becomes even more resolute. He's never seeing "E.T."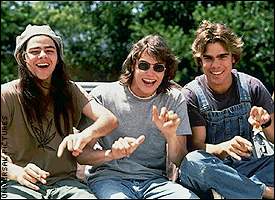 "Dazed and Confused" captures that goofy era of the mid-1970s better than any other movie.
So why am I telling you this? For five years, I refused to see "Dazed and Confused." Maybe it was because I missed it in the theaters, or because I kept missing it on cable, or because too many people pulled the "If you don't see this movie, you should be arrested and beaten with bamboo reeds" routine with me (I hate when people do that -- it's the same reason it took me two years to watch a "Sopranos" episode).
I finally caved in 1998, but on my terms: It was like 2 in the morning, I stumbled across it 20 minutes into the movie, and had no idea what I was watching for the first half-hour. Eventually, I found out that no movie captures the mid-'70s better than "Dazed," that surreal, goofy time between the Vietnam War and the MTV Era, when people did drugs with no repercussions, when unprotected sex was accepted and encouraged, when you could haze and humiliate people without the threat of a lawsuit, when people spent their nights driving around aimlessly, getting high, tossing down brews, knocking over mailboxes and hanging out in abandoned fields. (And if you think "Dazed" went a little overboard, imagine life without the Internet, e-mail, cable TV, Blockbuster, fantasy sports, the fear of AIDS, the fear of DWIs, the fear of any consequences ... and just a staggering amount of free time on your hands. Suddenly, it doesn't seem so overboard, does it?) If that's not enough, no comedy ever used marijuana as a plot device better than "Dazed." Let's face it, marijuana has always been the finest untapped comedy resource in Hollywood. Lines that would never be funny under any other circumstances -- like "Hey, man, watch the leather, man" -- somehow become hysterically funny, simply because of the extenuating circumstances. Hey, I'm just the messenger. Anyway, it took me five years to appreciate "Dazed," but I'm finally on the bandwagon, and that's all that counts. And since you guys voted for it, we're handing out 35 of my favorite quotes and exchanges from "Dazed" to celebrate the relevant players, teams and characters from the 2001 NFL season. Almost seems appropriate, doesn't it? This season left everyone a little dazed and confused. And it isn't even over yet. I'm gettin' my third wind, let's get on the road. We'll run the first half of quotes today and
the final batch Friday
.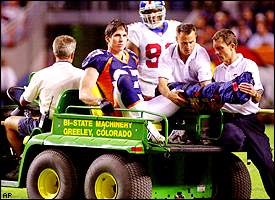 When Ed McCaffrey broke his leg in Week 1 ...
1. "What the hell are we doing? I was getting there! I had my hand up her shirt!"
To the
New York Jets
... who were headed toward the AFC East title on the heels of a "Team Of Destiny" run -- lots of ugly, doin'-it-with-mirrors wins and sneaky comebacks -- before they finally stumbled against Buffalo last week. Now the J-E-T-S JETS JETS JETS need to beat the Raiders in Oakland on Sunday to make the playoffs (unless Seattle stumbles against Kansas City, which could happen). It all goes back to one of my favorite football sayings: "When
Vinny Testaverde
is your quarterback, that means that Vinny Testaverde is your quarterback."
2. "This place used to be off limits 'cause some drunk freshman fell right down the middle and smacked his head on every beam, man ... the autopsy said he only had one beer. How many did you have?"
"Four."
"You're dead, man, you're so dead."
To the
Denver Broncos
... who suffered the single deadliest injury of the year: Ed McCaffrey going out for the season on "Monday Night Football" in Week 1. Some guys just can't be replaced. You just
knew
at the time they were cooked. Honorable mention to the Ravens, who spent the season trying to replace Jamal Lewis with a cast that included Jason, Terry, Moe, Curly and Larry. Speaking of casts ...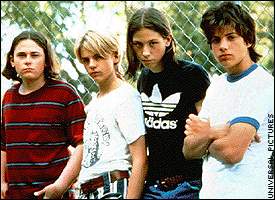 ... the Broncos were as vulnerable as the wide-eyed freshmen in "Dazed."
(Segue alert! Segue alert!)
"Dazed" had the most eclectic cast of young nobodies since "American Graffiti." Check out this list: Ben Affleck (an over-the-top lunkhead); Parker Posey (an over-the-top bitch); one of the London Twins as Randall "Pink" Floyd (not the guy from "Party of Five," the other guy); Joey Lauren Adams (on her way to becoming a Kevin Smith staple); one of Will's cronies from "Good Will Hunting" ("It's a good engine ... it's a good engine"); the cocktail waitress from "Swingers"; the guy from "Saving Private Ryan" who played Chandler Bing's roommate in "Friends" (That Guy!); and Matthew McConaughey as Wooderson (robbed of an Oscar -- more on this later). As an added bonus, three actors earned "That Guy From Dazed and Confused!" status thanks to this movie: Mitch, our eighth-grade hero; Slater, the long-haired stoner; and Don, the wisecracking bully in overalls. I always thought Don was a borderline Comedic Genius ... and yet I can't remember ever seeing him again. Is he trapped under something?
3. "Lemme tell you what, you guys are looking good! Thirteen starters coming back, 22 lettermen. Lookin' tough."
To Buffalo and Dallas ... two young teams destroyed by the salary cap and shaky QB situations, yet they kept playing hard all season, became legitimately "Frisky" by December and emerged as the two leading candidates for those "Basement teams that finish the previous season strong, then receive an immediate boost from the draft and free agency, then whoop up on an easy schedule the following season" slots in each conference (like the Pats and Bears this season).
4. "That's what I love about these high school girls, man. I get older, they stay the same age."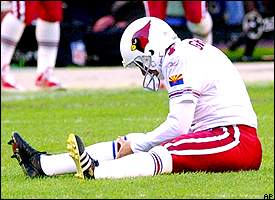 Bill Gramatica's injury was the most infamous moment of the season -- and one of the funniest.
The most famous line in the movie (Wooderson expounding on his love for high school chicks) goes to the most infamous moment of the NFL season ... Arizona kicker Bill Gramatica blowing out his knee while celebrating a field goal (in the first quarter of a meaningless mid-December game at the Meadowlands, no less). Maybe my favorite comeuppance of an annoying athlete or celebrity this year, other than William Shatner getting voted off "The Weakest Link: Star Trek Edition" 15 minutes into the show.
What was funnier there, the fact that Shatner actually lowered himself to appearing on that show with the likes of Will Wheaton, or the fact that he lasted just 15 minutes? We'll be arguing about this one for decades. Even Gramatica hopping off the field and pretending he wasn't hurt couldn't top Shatner walking off the stage with that "I still get paid for the full show, right?" look on his face. As Jim Nantz would say, "What a moment!" (Speaking of Wooderson, who would have thought McConaughey would peak in the first film of his career? It was a Mark Fidrych-type thing -- even when he tried to re-create the magic of Wooderson with "EdTV," it just didn't happen. Now he's relegated to appearing in lousy chick flicks -- he's one more misfire away from his first Skinemax movie. Couldn't they just bring Wooderson back for a '70s-era sitcom, where he hangs out with seniors every year and buys them booze and drugs? Would anyone be against this?)
5. "It's like our sergeant told us before one trip into the jungle: Men, 50 of you are leavin' on a mission ... 25 of ya ain't comin' back!"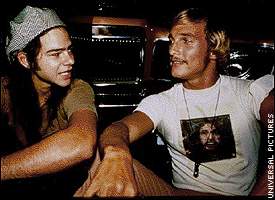 Matthew McConaughey, right, peaked in "Dazed" in Mark Fidrych-type fashion.
To Marty Schottenheimer ... this just sounds like something he might say. And what about the fact that the Redskins might finish 8-8, with Tony Banks, no less! Has to be the stat of the year. If you had to pick one starting QB in football who could blow a 20-point lead in one quarter, wouldn't you pick Tony Banks? All right, maybe Chris Weinke. It's a good debate.
Hey, that reminds me ...
6. "Y'all are an embarrassment to the sport of pool and should be proud that I let you play at my table. You are the worst pool player I have ever seen in my life."
To this year's Crop O' Crappy Starting QBs ... Weinke, Banks, the four-headed monster in Dallas (Wright, Stoerner, Leaf and Carter), surprise entry
Elvis Grbac
,
Matt Hasselbeck
, Evil
Jay Fiedler
(not to be confused with Good Jay Fiedler),
Alex Van Pelt
, and the Holy Trinity in Cincinnati (Kitna, Matthews and Smith -- combined 12 touchdowns, 24 interceptions). Actually, not as bad of a crop as in past years. (The common denominator here, as always: You never, ever,
ever
wanted to wager on any of these guys when they were playing on the road. I mean, ever. Ever. EVER.)
7. "Hey, let's go smoke a joint on the 50-(expletive)-yard line in memory of those glory days."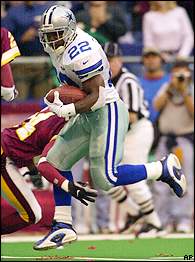 Does any running back have less tread left on the tires than Emmitt Smith?
To Jerry Rice and Emmitt Smith ... who topped, respectively, the 1,000-yard barrier for receiving and rushing this season. Who would have thunk? Does anyone have more miles on the odometer than Emmitt? He rushed for like 5,000 yards in high school, then another 5,000 in college, then 16,000-plus in the NFL. Don't you keep waiting for his appendages to just start falling off during a game, one at a time? Would Pat Summerall even bat an eyelash?
John, I think Emmitt Smith's right arm just fell off. There's blood spurting everywhere. Flag on the play.
8. "We got our report cards today."
"Really, how did you do?"
"Straight A's ... just kiddin'."
To the overrated players and coaches from the 2001 season ... Jim Haslett (we covered him);
Randy Moss
(led the league in outright mail-ins this season); the Ravens D (you couldn't even call them "very good" this season); all the Denver running backs; Tampa's D (although they're heating up); the
Ron Dayne
/
Tiki Barber
combo;
Lamar Smith
(rolled over after Week 4);
Az-Zahir Hakim
(for a highly regarded kick returner, he sure loves putting the ball on the ground);
Eddie George
(at three yards a carry, he doesn't seem to be aging well);
Fred Taylor
(can we officially ram a fork in the "Fred Taylor deserves to be a high fantasy pick" era?); and
Peyton Manning
(actually, let's give him his own quote).
9. "So, you're not gonna go to law school? What do you wanna do then?"
"I wanna dance."
To future Ewing Theory MVP Peyton Manning ... who did an excellent Gregory Hines impersonation in the pocket for the Colts this season. Did anyone order the Happy Feet? Why do TV broadcasters, radio hosts and newspaper columnists continue to discuss this guy so reverentially? Am I missing something here?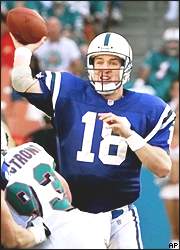 Peyton Manning could become the first double victim of the Ewing Theory.
(Somewhere out there, there's a college QB ready to play Tom Brady to Manning's Drew Bledsoe within the next five years. Mark my words. Never before has someone qualified for the Ewing Theory twice in the same career, but Manning could pull it off -- once after Tennessee won the national championship the year after he graduated, and once in about four or five years, when some no-name QB leads the Colts to the playoffs with Manning on the sidelines.)
10. "If these are the best years of my life, remind me to kill myself."
To the Ravens ... who followed up their dream season with a sequel of "Caddyshack II"/"Fletch Lives" caliber -- tons of injuries, an embarrassing passing-of-the-torch defeat to Pittsburgh three Sunday nights ago, a shocking Week 2 loss in Cincy, the dreadful Elvis Grbac era, and so on -- after Brian Billick jinxed them for the season by agreeing to HBO's "Hard Knocks" concept. Have those documentaries or follow-a-team-for-a-season book projects ever
not
jinxed the team-person for the season? Even in Hollywood, Miramax tried that "Project Greenlight" documentary idea this winter and ended up with that Pete Jones guy, just a whining, unappreciative loser with no redeeming qualities. Of course, there's an even better example from this year that I'm afraid to mention. Put it this way: If ESPN ever requests to film an extended documentary series about my Page 2 column called "The Wacky World of Sports Guy," I'm not doing it unless 1) they cough up seven figures (cash, no checks), and 2) we can film at least one homage to Billick where I'm sitting in a hammock reading Rick Pitino's success book. Buy me the hammock and the book and I'm in, consequences be damned. (Where was I?)
11. "Let me tell you what Melba Toast is packin' right here, all right. We got 411 Positrac outback, 750 double-pumper Edelbrock intakes, bored over 30, 11-to-1 pop-up pistons, turbo-jet 390 horsepower. We're talkin' some (expletive) muscle."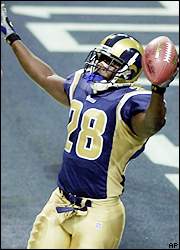 Marshall Faulk and the Rams are clearly the class of the NFC, but a bout with the Bucs could spell trouble.
To the St. Louis Rams ... the class of the NFL this season: Video game-caliber offense, surprisingly capable defense, OK coaching, and they clearly do one thing (score points) better than anyone else does any other one thing. Given that they're playing on turf for the rest of the way, you'd be hard-pressed to come up with a scenario in which a healthy Rams team doesn't win the Super Bowl this season.
Unless ...
12. "I only came here to do two things -- kick some ass and drink some beer. And it looks like we're almost all out of beer."
To the Tampa Bay Bucs ... the one team that doesn't seem afraid of the Rams. Don't you just get the feeling that "Tampa at St. Louis" is looming in a "Ganz vs. Jack Cates in Chinatown at the end of '48 Hours' " kind of way? Like it has to happen? Like it's almost predestined? They need to play one more time. I'm demanding it.
13. "I have a favor to ask you -- take it easy on my brother this summer ... just don't get him more than the other guys. He's kind of little, OK?"
The deadliest idea of the movie -- Mitch's sister asking the Paddle Gang to take it easy when they hazed her brother, getting them even more fired up to paddle him -- goes to the worst idea of the season ... Minnesota giving Randy Moss a mammoth contract extension before the season.
All right, this guy has an attitude problem, he doesn't try some games, it's hard to motivate him, he mails in plays, he won't block anyone ... maybe $80 million and financial security for life will light a fire under him! Yeah, that should do it! Let's give him suitcases of cash!
14. "Oh yeah, Mitch Kramer? Mitchy, Mitchy, Mitchy ... we're looking for you, pal. Your ass will be purple by the end of the day."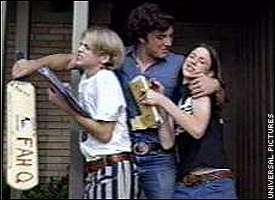 The Paddle Gang caught up with Mitch ... but the Broncos never got their revenge on Eddie Kennison.
To Eddie Kennison ... who went through a messy midseason divorce with the Broncos, signed with the Chiefs, then faced his old team in his first game for K.C. The only difference here was that the boys ended up catching up with Mitch after his Little League game and laying the paddle on him ... with Kennison, not only did the Broncos never get revenge, Kennison caught four passes for 76 yards against them and helped the Chiefs pull off an upset victory that helped knock Denver out of the playoffs. That was no fun.
15. "Behind every good man there's a woman, and that woman was Martha Washington, man, and every day George would come home, she'd have a big fat bowl waiting for him, when he came in the door, man, she was a hip, hip, hip lady, man."
One of the funniest lines in the movie goes to the head coaches with the funniest ongoing sideline gimmicks of the 2001 season ...
Jon Gruden's "I can't believe that holding penalty knocked us out of field-goal range" Face.
Dan Reeves' "I have to stay totally, completely calm or I might go into cardiac arrest" Face.
Mike Holmgren's "I can't believe I willingly went from coaching Brett Favre to coaching Jon Kitna, Trent Dilfer and Matt Hasslebeck" Face.
Marty Mornhinweg's "My eyeballs will fly out of my head if we don't catch a break soon" Face.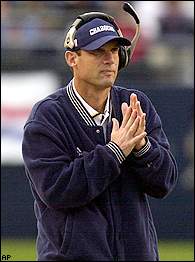 It's the Mike Riley "I just hope I can get through this final game without crying" Face.
Brian Billick's smirking, condescending, "I can't believe these officials are so dumb" Face.
Jim Mora's "Is my QB anatomically correct?" Face.
Mike Riley's "I just hope I can get through this final game without crying" Face (my personal favorite). 16. "I don't think I like people, period ... I'm just trying to be honest about being a misanthrope." To Terrell Owens ... the star of this season's most tiresome running plot: "Terrell Owens doesn't like anybody, not even his own coach." Don't you wish Ronnie Lott was still in the league for that one moment when Owens goes over the middle and extends for an overthrown ball against the wrong strong safety? Hey, at least we can still go after him in video games. 17. "Did you ever look at a dollar bill, man? There's some spooky (expletive) goin' on there. And it's green, too!" To Saints wide receiver Albert Connell ... who should use this quote as part of his legal defense this winter (for allegedly stealing cash not once but twice from teammate Deuce McAllister, once from his locker, once from his car). Hey, it's better than the "I was stealing money from him as a prank" defense. Come on, Albert. Putting Tabasco sauce in somebody's jockstrap ... that's a prank. Stealing more than $1,000 and not telling them about it ... that's larceny. By the way, can we just go right ahead and give Albert the 2001 ESPY for "Strangest Off-Field Incident"? Maybe ESPN can fly last year's winners (Charles Oakley and Jeff McInnis) into Vegas to present it to him. We could even promise Winona Ryder some free clothes to be Albert's date. The possibilities are endless. Check out Part 2 of this column Bill Simmons writes three columns a week for Page 2.