By Bill Simmons
Page 2 columnist
I'm still stumbling around in a daze. We won? We really won? That's how everyone in New England feels. Improbable game, improbable weather conditions, improbable finish ... and the freaking Patriots ended up winning the game.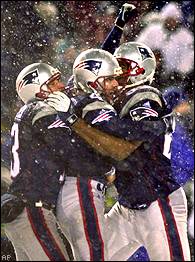 Adam Vinatieri's game-winning field goal in overtime sent all of New England into a frenzy.
My father summed it up best. We had just finished watching Saturday's Pats-Raiders game at his house -- just an excruciating rollercoaster ride, one of those games that leaves you emotionally spent in a "I just broke up with my girlfriend for the last four hours" kind of way -- and we were sitting there like zombies on the couch. Happy zombies, but zombies.
So Dad finally pipes up, "I mean, we NEVER win that game." You really have to be a Patriots fan to understand that sentence. We're always the team on the other side. We're the team that blows a 13-3 lead in the final 10 minutes. We're the team that forces the game-ending fumble, then watches in horror as the play gets overturned. We're the team that looks on, incredulous, as a 45-yard duck disguised as a field goal somehow wobbles through the snowflakes, keeps going, keeps going ... and just makes it over the crossbar before dropping like it has been shot. We're the team that loses the overtime coin toss -- hell, that's a Patriots tradition. We're the team that can't seem to make a single defensive stop during an eight-minute OT drive. We're the team hoping for miracles that never come, like a field-goal kicker missing a 25-yard chip shot. We're the team that stumbles off the field, covered in snow, shellshocked, looking for answers. We're the team that bitches and moans after it's over, claiming we've been robbed, claiming it's a conspiracy, claiming life just isn't fair. That's the team I grew up with. Those are my Patriots. Last Friday afternoon, I appeared on a San Francisco radio show and found myself trying to answer a "What's your favorite memory of Foxboro Stadium?" question. And I made some jokes about the guy who threw up on my buddy Geoff, or the time we booed Tony Eason at the 10-year celebration for the '85 Super Bowl team, finally saying that I didn't really have any classic favorite memories. Even when the Pats won two playoff home games in '96 to advance to the Super Bowl, neither game was really that memorable.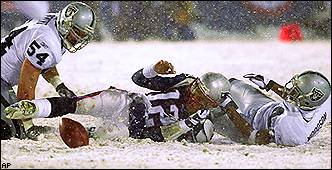 AP
Tom Brady's non-fumble is the type of call that has traditionally gone against the Pats.
"Surely there must be one game that comes to mind, right?" the host asked again.
"No, not really," I said. "I swear, I'm not making this up. We haven't really had an important, memorable game there. It just hasn't happened." A little more than 24 hours later, it happened. The snow started falling around 5 p.m., about an hour after the first wave of tailgaters had arrived. Sitting at my Dad's house, I found myself alternately excited that I wasn't in attendance -- I had tickets lined up that fell through at the last minute -- and kicking myself that I just didn't drive down to the game and scalp a pair or something. There just seemed to be the potential for real greatness in the air. I mean, when's the last time you remember a Saturday night playoff game with snow? Has that ever happened? There were 60,000-plus people in attendance, but within a few years, this will be like Clemens' first 20-strikeout game, or Game 6 of the '75 Series -- the number will keep rising. Everyone will claim that they went. It was just one of those magical nights. According to my buddy J-Bug (who was there), people remained in their seats after it was over, covered in snow, chilled to the bone, chanting the names of various Patriots players, cheering, throwing snowballs at one another in good fun. Then they headed out to the parking lot for a few nightcaps before making the interminably long, bumper-to-bumper ride home. J-Bug walked through his front door at 2:30 a.m. ... with a smile on his face. And yes, I'm jealous. I should have been there. Four other things warrant mentioning:
1.
Life works in mysterious ways. You might remember
my Patriots column from last Friday
, when I mentioned the Pats-Raiders playoff game from '76 -- when Ben Dreith called roughing-the-passer on "Sugar Bear" Hamilton to keep Oakland's winning drive alive, one of those one-sided games that people still bitch about around here. Well, it took 26 years ... but we finally evened the score.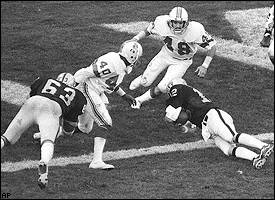 Ken Stabler and the Raiders ended the Pats' season in the 1976 playoffs after a controversial penalty gave Oakland new life.
Right when it happened, when the Raiders were celebrating the game-ending fumble and the cameras showed the red "Coach's Challenge" flag on the field, my father and I looked at one another and raced to make the "Revenge of Ben Dreith?" joke. And it happened! It actually happened. The Patriots benefited from a dubious call and turned their second life into an improbable comeback victory. You couldn't make this stuff up.
2.
I'm not sure how history will remember Tom Brady twenty years from now, but even if he tosses six picks in Pittsburgh next week, you can't change what happened over the past four months, or the way he willed the team back into Saturday night's game. Whether he's having one of those lightning-in-a-bottle, "Lonborg in '67/Lynn in '75"-type seasons remains to be seen. Personally, I think Brady will be around for the long haul. He's a game manager, one of those Starr/Griese/Montana types. You never see him bounce a screen pass. You never see him miss an open guy downfield. He gets better as the game goes along. He took some hellacious licks this season and bounced up quickly every time. His boundless enthusiasm and energy had a dramatic effect on the personality of this team. He played so well this year that a potential Hall of Fame quarterback is sitting on the bench -- in the prime of his career, no less -- and nobody even questions it. And if that weren't enough, Saturday night's heroics at least catapulted him into Gerald Henderson/Dave Henderson/Bernie Carbo territory. Whatever happens from here on, he will always be remember fondly.
3.
It's difficult to express how much this area needed one of the local sports teams to succeed. We haven't won a title since '86. We only put one team in a championship game/series in the past decade (the Pats in '96). The year 2000 was the first year since 1947 that none of our teams made the playoffs. We were only on the winning side of one ESPN Classic-type game in the past 10 years (Game 5 of the Sox-Indians series in '99). Basically, we were getting a complex. Now we have two potential playoff teams (the B's and C's), a Red Sox team that features Manny, Pedro and Nomar, and a football team that just squeezed out the greatest home victory in the history of the franchise (and sits one victory away from the Super Bowl, no less). Good times ... good times.
4.
Late Saturday night, after a snowy drive back to Boston, I dragged the Sports Gal out for a couple of beers and basically babbled like an idiot about the Pats as she nodded and tried to pretend she was interested. At one point, we fell silent, and she was glancing around the bar while I sat there grinning like an idiot. I looked like Andy Dufresne during that scene in Shawshank when he does the prison guard's taxes in exchange for beers for his buddy, and they're all drinking the beers while Andy sits there with the dumb smile on his face. That's how I looked. So she said to me, "I don't understand ... I've never seen you like this after a game." "You don't understand," I told her. "We never win that game. The Patriots NEVER win that game." Until Saturday.
My 12 best Boston sports moments
While we're here, we might as well revamp my "Greatest 12 Boston Sports Moments of My Lifetime" list, just for kicks. Please keep in mind, this is MY list. Yours might unfold a little differently. Anyway...
12. Sox-Mariners, April '86
Clemens strikes out 20 Mariners to break the major-league record, one of those surreal games when somebody realized their potential and a pretty good team came together, both on the same night. Who would have known that he would turn out to be such a jerk?
11. Boston College over Miami, November '84
Flutie throws The Pass to save the day (a Hail Mary to Gerard Phelan), one of those "Where were you when JFK got shot?"-type moments (everyone in New England remembers exactly where they were when it happened). This gets downgraded only because it made Boston College alumni happy.
10. Red Sox over Indians, Game 5, ALDS
The Pedro Game: Battling arm problems, Pedro comes out of the bullpen and tosses six no-hit innings to slam the door on Cleveland, capping off an improbable comeback from a 2-0 deficit. I won't forget the sight of Pedro walking out of the bullpen like the Terminator -- as the Indians fans went silent -- any time soon. 9. Pats over Raiders, 2002 Playoffs, Round Two
This feels about right. Years from now, we'll remember it as The Snow Game. 8. Celts over the Suns, Game 5, 1976 Finals
The Triple-OT Game... bonus points because the young Sports Boy was in attendance at the Garden ... this game started at 9 p.m. for CBS, so everyone was pretty blitzed by the time it finally ended ... just a wild night ... also considered to be the greatest NBA game ever played, even now. 7. Celts over Sixers, Game 7, Eastern Conference Finals, May '81
Capping off the greatest comeback of all time: Down by six in the final 90 seconds in Game 5 ... down by 20 in Game 6 at the Spectrum ... down by eight in the final five minutes of Game 7 ... huge bonus points here because this was the first time The Basketball Jesus ever really took over in a huge game ... I also remember leaving the Garden that day and people were celebrating in the streets, like it was Mardi Gras or something ... nobody wanted to leave.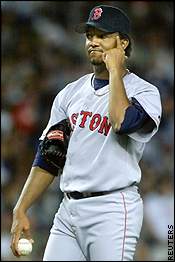 Reuters/Ray Stubblebine

Pedro Martinez came out of the pen to gun down the Indians in the 1999 ALDS.

6. Celts over Pistons, Game 5, Eastern Conference Finals, May '87
Bird steals the ball from Isiah and passes to DJ for the winning lay-up, saving the series ... the only time I ever saw the balcony in the Garden actually shaking ... I don't think I've ever been so excited in my life ... and you think I'm kidding.

5. Red Sox over the Angels, Game 5, October '86
Hendu's homer keeps the Sox alive ... another one of those "I remember exactly where I was" sports moments ... people forget how great this game was AFTER the homer -- it was a one-hour long rollercoaster ride ... an ESPN Classic classic. 4. Pats over the Dolphins, AFC Championship, January '86
The "Squish the Fish" game. Culminated a three-week span when the Patriots exorcised all their demons (New York, Oakland, Miami). Until last weekend, this was the only time the Pats ever made us truly happy. Even in the '96 Super Bowl year, it wasn't nearly this good. Things were different in '86. They just were. 3. Bruins over Blues, Game 4, NHL Finals, May '70
Orr soars through the air... the B's win their first Cup in five decades. I was too young to remember this one, but I'll take everyone else's word for it. And who can forget the famous photo? 2. Red Sox over Reds, Game 6, '75 World Series
Carbo keeps them alive, Evans saves the day, Fisk hits the foul pole... and the Sox live to fight another day. Pass the chills please. 1. Celts over the Lakers, Game 7, NBA Finals, October '84
A fitting culmination to the greatest NBA playoff series of all time, the ultimate battle of good against evil. The Celtics honestly won this thing because they were tougher and because they had more heart. Absolutely, positively my most satisfying sports moment. (BEAT L.A.! BEAT L.A.! BEAT L.A.!) Bill Simmons writes three columns a week for Page 2.