By Bill Simmons
Page 2 columnist
Nothing makes a New England winter move along faster than the Patriots playing deep into January. Turn on any TV station and they're showing a Pats-related story. You see Patriots bumper stickers on toll-booth buckets and telephone poles. At my local bank, there's a Patriots sticker on one of the windows. At Monday night's Celtics game, the crowd cheered every time the Jumbotron showed someone in a Pats jersey. Visit any local coffee shop and there are six concurrent Patriots-related conversations happening at the same time.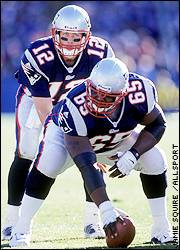 Everyone seems happier. On Thursday, I was driving home and a fellow driver actually let me cut into the left lane on Storrow Drive, the first time I can remember that happening in months. Readers include me on e-mail threads with their buddies, all which center around themes like "The greatest game ever!" and "Is this the year?" On our local sports radio stations, callers babble incoherently about our black sheep Pats finally getting some breaks. Even the grizzled members of the local media are playing along, writing positive stories and facilitating happy Pats talk (at least until things turn and they start kicking us in the teeth again).
Like everyone else, I find myself wondering about goofy, illogical things. For instance, Pats linebacker Tedy Bruschi believes the late Dick Rehbein -- the team's quarterbacks coach who died suddenly before the season -- was watching from above and helping out in the Breaks Department. I spent an entire car ride from Burlington to Boston mulling this over. Does stuff like that actually
happen
? How else would you explain the call getting reversed in the Oakland game? Or the fact that this team always seems to recover every one of its fumbles? Or the game when David Patten was knocked out cold during a crucial possession in Buffalo, fumbled but retained possession because his unconscious head was out of bounds? Or when Vinny overthrew the winning receiver in the second Jets game? Or the way an improbable chain of late-season events unfolded with the Raiders and Jets that resulted in New England getting a first-round bye? Good God, how do you explain everything that's happened with Tom Brady? Maybe Rehbein
is
watching. I keep thinking about the Pittsburgh game. Don't we match up with Pittsburgh pretty well or am I crazy? Isn't the Kris Brown thing going to rear its ugly head before everything is said and done? Won't Belichick come up with something to stop Kordell? Haven't we had significant success against Bettis over the years? Isn't it a sign that we reached the Super Bowl two other times, both games were in New Orleans ... and the Super Bowl is being held in New Orleans this year? And what about the fact that ESPN.com is sending me to the Bayou next week, my first-ever Super Bowl Experience? What if the Pats make it? How do I balance being there as a columnist and being there as a fan? Will I make it out of there alive?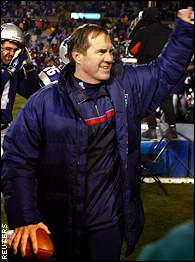 You can bet Bill Belichick will have a special game plan cooked up for Kordell Stewart.
(All right, the answer to that last question is, "No, definitely not." But just bear with me.)
I find myself using the word "We" all the time. Why? I don't know. Usually, I hate when fans use the word "We" when discussing their favorite team, but in this case, I really feel like I'm a part of everything that's happening here. This is
my
team. I grew up with them. I watched every game during every crummy season. I sat through every catastrophic draft. I reeled with every bad break (and there were a ton of them). I struggled for comebacks every time one of my friends poked fun at them. So, yeah, I'm a part of this, too. Forty-five players and 10 coaches are directly involved in Sunday's game, but there are tens of thousands more just like me, the diehards, the ones who truly care. We're playing the Steelers on Sunday. If we win, we're going to the Super Bowl. And that's why it's 32 degrees and drizzling here today ... and it doesn't seem nearly that cold.
Other random thoughts heading into Championship Weekend:
The most surreal moment of last Saturday's Pats-Raiders game -- and that's saying something, considering the weather and everything that happened -- had to be the sight of Drew Bledsoe coming out to midfield with the other Patriots captains for the overtime coin toss. Just plain eerie. Like seeing a ghost. I can't imagine anyone ever could have predicted the chain of events leading up to that moment.
Reader George Muldoon was sitting in Row 11 of the south end zone for Vinatieri's game-tying field goal last week and sent this account along. I thought it was pretty neat: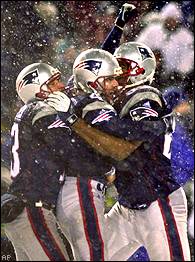 Adam Vinatieri's game-tying field goal needed any help it could get to clear the crossbar.

"You couldn't see that well because the snow was blowing right in your eyes from the corner of the end zone (where the visiting team's locker room is). Everyone got really quiet ... you looked around and everyone was just locking arms with their buddies, hoping for a minor miracle -- a 45-yarder in the snow. Vinatieri has trouble kicking those in the practice bubble. So normally I'm thinking there's no way they could make that kick. But this time it was different, it just felt different ... just the way things seem to be falling in place for the Pats, you knew there was a chance that Vinatieri could somehow find a way to make that ball get through those uprights ... somehow ...

"From where we were sitting, you could see the movement on the line, you could see Vinatieri's approach and follow through. ... You knew it cleared the line of scrimmage only because the Raiders immediately turned to watch the flight of the ball. No one could see the football for a good second or so. The Raiders immediately started signaling 'No good.' I had a terrible feeling in my stomach ... until about the 5- or 10-yard line! There it as, an oversized Tim Wakefield knuckleball dancing toward the crossbar. The most untrue spin I've ever seen on a football kick, other than an onside kick. It looked like it wasn't going to get there, but it somehow kept floating (I think the wind might have helped it out at least a yard or two along the way). "Turns out, it needed every bit of that push. It barely made it over, maybe by about 2 feet, and the split second it did make it over the crossbar, the float was gone .... and the ball just dropped to the snowy ground. TIE GAME! Pandemonium. Pure bliss. After the signal was made that the kick was good, the whole section basically fell down on each other. I'm not kidding. I had a guy lying on top of me who sits five rows behind me. Fists in the air, momentary insanity, hugs all around, pure bliss. Never in my life have I seen such happiness at a sporting event, or any event for that matter. You knew after that the Pats would find a way to win this game in OT. You just knew it."
My feelings about the dubious rule which kept the Pats alive: Removing the obvious "Revenge of Ben Dreith" and "Pats never catch a break" ramifications (which we covered in Monday's column, anyway), the fact remains that the Pats still drove for another first down, made an improbable 45-yard field goal in the snow, won the coin toss, drove down the field in OT, completed a fourth-and-4 pass to keep the drive alive, drove inside the 10, then made the winning field goal.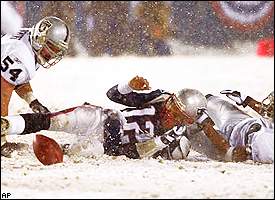 The Raiders had plenty of chances to put the game away before Tom Brady's controversial non-fumble.
And while we're here, the Raiders blew a 10-point lead in the fourth quarter, and they also had a chance to put the game away in the final three minutes -- Gruden called two conservative run plays (on second-and-3, no less!) when they could have iced the game. If I were a Raiders fan, I would be wondering why my team couldn't put the Patriots away before it ever reached the point that a dubious rule gave the Pats a second life.
Along those same lines, why is Gruden considered to be God's gift to coaching? Haven't the Raiders blown their share of close games over the past few years? If Tony Dungy ultimately failed in Tampa, why haven't we said the same about Gruden in Oakland? From what I've seen over the last few years, the only NFL coaches that truly matter are Mike Shanahan, Bill Belichick, Andy Reid, Bill Cowher and Bill Parcells. Everyone else is playing musical chairs.
Speaking of Belichick, I appeared on Sean McDonough's radio show last week with former NFL player Steve DeOssie -- yes, you can hear my Michael J. Fox-esque pipes on the radio from time to time -- and Phil Simms called in as one of our guests. Since DeOssie and Simms have Parcells/Belichick ties from their days on the Giants, DeOssie asked if he was surprised that Belichick was thriving in New England after a choppy regime in Cleveland. Simms responded with something along the lines of, "Hey, Steve, if you had a chance to re-live your playing career again, are there some things you would do differently? Would you have learned from the mistakes you made the first time around?" DeOssie quickly said yes. Absolutely. Simms (I'm paraphrasing): "So then why is everyone so surprised that Belichick is doing well in New England? He had a second chance, he learned from his mistakes and he's a much better coach for it." (I thought that was really interesting for some reason. Makes a ton of sense, and there's another excellent example: Shanahan in Denver. Is Tony Dungy looming as the next example? Stranger things have happened.)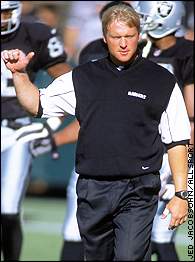 What has Jon Gruden done in Oakland that Tony Dungy didn't do in Tampa?
Another kooky side effect from having your team make Championship Weekend: The media hype becomes almost staggering. You should hear the stuff people are saying around here -- everybody has turned into Amos Alonzo Stagg. On Thursday, I heard someone on WEEI tell me how the key to this week's game would be how Tom Brady matched up against Pittsburgh's zone blitz packages. Last week, I heard a Pats beat writer on the radio -- someone who was answering phones, editing box scores and putting mail in people's mailboxes when we worked at the same newspaper a few years ago (and I was even lower on the totem pole) -- suddenly babbling about how Oakland's linebackers like to shoot the gaps or some nonsense. What is it about football that gives media people the urge to sound like actual football experts? Believe me, there are two types of football knowledge -- people who diligently follow the game like you and me, and people who played and coached and actually know what the hell is going on out there. I found this out the hard way when I sat in on those meetings at the Galleryfurniture.com Bowl. There's a whole different world of X's and O's out there ... it just seems kind of dopey to pretend we know what's going on. Two other things that crack me up from a media perspective: 1. During every prolonged playoff run, someone always has to play the party pooper. I'm not sure why. Here in Boston last week, the eminently respectable Bob Ryan -- who usually has his finger right on the pulse of Boston sports fans -- has been pulling the "It wasn't a great game; it was a memorable game" and "That was a tainted victory because of the Brady non-fumble" routines, much to the chagrin of just about everyone (I appeared on a radio show with him this week, and we had a good-natured battle about those two points for much of the show). If I'm ever playing the Turd In The Punch Bowl some day when a Boston team is doing well, just shoot me in the head. I'm serious.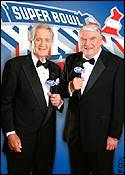 Pat Summerall and John Madden will part ways after the Super Bowl.

2. As the game approaches, you can always count on a writer from one of the two cities involved to try and stir things up ... and it's usually done poorly. In the case of Pittsburgh-New England, some schmuck from a Pittsburgh paper attempted a "Even though the Patriots perennially stink, here are some ways Pittsburgh fans can summon enough hatred to root against them this week" column on Tuesday, which fell flatter than the Olson Twins. I've been to funerals that were packed with more comedy than this thing. Sometimes I can't believe I'm in this business.

(And for someone from Pittsburgh to seem condescending about New England ... I mean, geez. We gave the world "Cheers," they gave the world "Queer as Folk." We gave the world Sam Adams, they gave the world Iron City Light. For God's sake, they can't even support four professional sports teams. Don't even get me started.)
One shocker this week: The announcement that Pat Summerall and John Madden were splitting up. Kind of like hearing your parents are getting divorced. To be honest, I thought they were using computer animation and the voice recognition technology from "Madden 2002" to handle play-by-play... PAT: Warner ... to Bruce ... touchdown! JOHN: The Rams are putting this game away.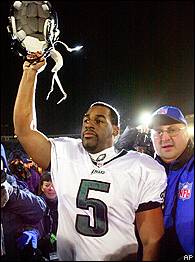 AP

Donovan McNabb is playing as well as anyone right now.

PAT: 35-10, St. Louis.

(Shot of Bruce and Warner hugging) JOHN: This is what it's all about. ... but apparently they were still doing the live broadcasts for Fox. I've stopped trying to figure it out.
One team that was overshadowed by everything last weekend: Philly. The Eagles went into Soldier's Field and throttled the Bears, knocking them all over the field, out-physicaling them (to borrow a phrase from the immortal Brent Jones) and basically kicking the crap out of them in every way possible. And if that's not enough, Donovan McNabb is playing better than anyone in either league right now. So what happened? First you had the drama of the Snow Game in New England, followed by the subsequent fallout from the Brady non-fumble fumble. Then you had two more games on Sunday, including the demise of the Ravens and Brett Favre pulling a Ty Detmer in St. Louis. By the time everything was done unfolding, everyone forgot about the poor Eagles, who only went into one of the toughest stadiums in the league and beat up a 13-3 team.
Sports Dog's picks
He had a better winning percentage than more experienced NFL prognosticators, such as Bill Simmons, The Swami and Norman Chad, so Bailey The Sports Dog (39-27-2 in the regular season) is letting it ride for the playoffs. Bailey didn't lose in the divisional playoffs weekend, going 3-0-1 to run his playoffs record to 5-2-1.

Bailey

Here are Bailey's predictions for the conference championship games.

Philadelphia plus 12 over St. Louis: Rams 27, Eagles 18 (Philadelphia covers) Pittsburgh minus 9½ over New England: Steelers 30, Patriots 13
Could Philly pull off another upset in St. Louis? Vegas isn't giving them much of a chance -- they're 11-point underdogs, and climbing -- which seems a little ludicrous. For one thing, the Rams struggled against physical teams like New England and Tampa Bay earlier this season, and the January 2K2 Eagles are better now than either of those teams were at the time. And then there's McNabb, the one guy in the league who could singlehandedly give the Rams a run for their money. Sports Guy's Championship Weekend Picks Hey, that reminds me ... I need to make picks! In this space, I'm 5-2-1 for the playoffs (not too shabby, but nothing to really write home about, either). There are two major rules for Championship Weekend: 1. At least one home team covers. 2. Much like Thanksgiving Day, one game always ends up close, one game always ends up being a blowout. This happens every year, without fail. This weekend is tough because you have two huge home favorites -- the Steelers giving 10, the Rams giving 11. NFC Championship: Eagles at Rams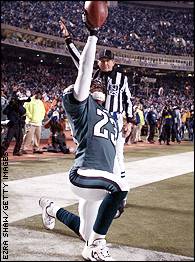 Without a healthy Troy Vincent, it's hard to see the Eagles upsetting the Rams.

Three reasons to back Philly here: They're playing as well as anyone right now; they blitzed Warner practically to smithereens in Week 1; and McNabb gives them a puncher's chance. I almost talked myself into them as an underdog pick ... almost ... until I read about Troy Vincent struggling with that strained groin. You can't have your best cornerback playing at half-speed (or not at all), not this late in the season and especially not against the Rams.

It sounds dumb ... but in good conscience, I just can't take them. Nothing would be worse than picking the Eagles and getting 11 points, then watching them trying to match up with all those Rams receivers, as Madden says things like, "The Eagles are going with six defensive backs here, but the dime back is actually a converted linebacker" or "See, if Troy Vincent was healthy, there's no way Isaac Bruce would go by him like that." You need to be healthy and lucky to beat the Rams in St. Louis ... and the Eagles aren't healthy. Too bad. The Pick: St. Louis 38, Philly 24
---
AFC Championship: New England at Pittsburgh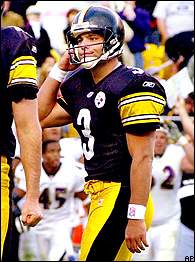 The Steelers know that kicker Kris Brown could cost them a game at some point.

Forget about the fact that I'm a Patriots fan for a second... there's no way in hell that they should be plus-10 in Pittsburgh. For one thing, they haven't been blown out of a game since Week 4 in Miami. Look it up. Even when they lost by 11 in Denver (Week 6), Brady was driving them for a game-winning touchdown in the final few minutes. Even when it isn't their best day, this Patriots team has shown an astounding capacity to hang in games. If the Pats played Oakland under better weather conditions, and if Pittsburgh had played a team with a competent quarterback last week, this line would be in the 6- to 7-point range.

You have to admit, it's a pretty good matchup. Pittsburgh's biggest problem has been scoring inside the 20; New England's biggest strength has been stopping teams inside the 20. New England's biggest problem has been protecting its QB against good defenses; Pittsburgh's biggest strength has been blitzing the QB. If you're a Pittsburgh fan, deep down, you wonder about Kordell coming through in a tight game. If you're a New England fan, deep down, you wonder if it's too much to ask from a first-year QB (Brady) to win in Pittsburgh, especially with these stakes. These are two similar teams -- hard-nosed, well-coached, aggressive, well-balanced, everything you would want -- and when two teams seem pretty close, it comes down to coaching and special teams... and that means Kris Brown officially becomes a factor. Football is a strange game; the weakest link on a particular team usually rears its ugly head when it matters most. For the Steelers, it's their kicker. And they know it. The Pick: New England 19, Pittsburgh 17. Bill Simmons writes three columns a week for Page 2. Starting Monday, he'll be filing daily "Postcards from New Orleans" for the Super Bowl.