By Bill Simmons
Page 2 columnist
WASHINGTON (Thursday, 1:30 p.m. ET) -- Picture this: I'm sitting in Tony Kornheiser's radio booth at the ESPN Zone in D.C., flanked by my buddy Joe House and his brother Rich. March Madness just tipped off. We're staring at three different televisions carrying NCAA games. We're getting coddled by our own personal waiter. We're drinking bloody Mary's. Everything's getting charged to ESPN (well, thank you, Disney!).
Outside, through glass windows, we can see all the patrons eating and drinking outside, as well as another giant big screen showing the Interesting Game Du' Jour. We're going to be here for the next 11 hours. And just for kicks, my clothes reek of cigar smoke after spending an hour in Red Auerbach's office this morning.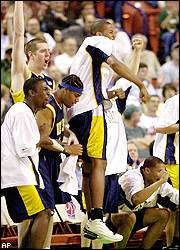 The day got off to a nice start as Kent State upset Oklahoma State.
I ask you ... is this heaven?
Of course, all the good vibes could be sidetracked by America's favorite Day One subplot: "How fast will Bill Simmons get knocked out of his NCAA pool?" Usually, there's a giant salad fork sticking out of me by late Friday night. But if I have my anti-Nostradamus game working particularly well, I could even lose hope by the end of Thursday's games. We'll see.
1:39 p.m.
We're immediately captivated by the Kent State-Oklahoma State game, mainly because Eddie Sutton finally combed his hair straight. That's the most important jettisoning of a bad perm since Hubie Brown in '97. For some inexplicable reason, I put Kent State into my Sweet 16. Nobody's worse at NCAA pools than me. I'm the L.A. Clippers of NCAA pool pickers. (My final eight: Duke over Pitt, Gonzaga over Miami, Maryland over N.C. State, Illinois over Pepperdine ... then Duke over Illinois in the Finals. OK, you can stop laughing. All right, seriously. Stop it. I get the point.)
1:44 p.m.
Hey, it's Dick Enberg ... and the shark is heading right at him! Jump, Dick! Jump!
1:49 p.m.
The first wave of food arrives. I'm starting off with a Buffalo chicken sandwich, covered with blue cheese, accompanied by fries. I'd like to order the heart attack, please?
1:54 p.m.
Burrrrrrrrrrrrrrrp.
2 p.m.
I have Miami going to the Final Eight ... and of course, they're losing by 15 with 13 minutes remaining against Missouri. Did you know that one of my Final Eight teams has to get knocked out by 2:45 of Day One every year? Little-known rule.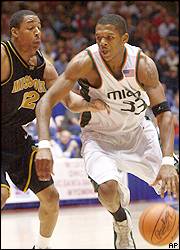 Miami and James Jones were one of The Sports Guy's picks for the Elite Eight ... but they exited quickly.
2:05 p.m. People are staring at us through the fishbowl window. Who woulda thunk? I'm getting recognized. I've already been passed two notes and settled an argument from my Sports Fan Rules column for two readers. This could get ugly. Just for the record, the same rules for bachelor party strippers also apply to seeing me in public -- you can't approach me without asking the bouncer first, you can't touch me below the waist, I will accept free drinks, and you only get one song per lap dance.
2:10 p.m.
Joe House pointed out that Kent State's band just played P-Diddy's "Bad Boys 4 Life." That's why he's here. He's my only friend who could have picked that up. As an added bonus, they're about to pull off the first upset of the day. I'm 1-0! Woo-hoo!
2:20 p.m.
Miami just ran its favorite set play: Guard comes off a pick, falls down, mistakenly kicks ball to the center, who dives for the ball and gets tied up. Nobody works the possession arrow better than Miami; they're working it like a speed bag. Have I mentioned they're in my Final Eight? I should have just taken my $20 entry fee and lit it on fire.
2:33 p.m.
Andy Pollin (from the Tony Kornheiser Show) is visiting right now -- we can't decide whether Missouri coach Quin Snyder looks like a member of the Brat Pack or the guy from "American Psycho." I'm arguing that he has an Andrew McCarthy thing going. When will Quin start bugging his eyes and telling Judd Nelson, "I love her, man"?
2:41 p.m.
Wesley Stokes' hair just sparked a spirited discussion about the topic, "If you were an African-American basketball star, how would you keep your hair?" Rich would grow the cornrows. Joe House would also grow cornrows and adds, "If I could do my hair like that right now, I would." Andy would go for the giant 'fro. I'd bring back the box haircut and try to get that going again. There was comedy, there was high comedy, and then there was the Box Haircut Era.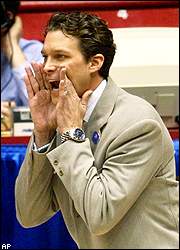 Missouri coach Quin Snyder has a definite Andrew McCarthy vibe going on.
2:54 p.m. Miami officially falls to Missouri. My first loss. Put it this way: Miami's player of the game was Marcus Barnes ... he went 4-for-13 with two rebounds. Big game. By the way, can I just mention how much it kills me that I can't make fun of the announcers right now, especially with Gus Johnson involved? I'm getting the shakes.
2:59 p.m.
The "Boogie Nights" jokes are flying. When we made fun of Rich for ordering his third beer, Rich screamed, "You're not the boss of me!" When I said that Miami didn't really play well today, Joe said, "Oh, you think so, Doctor?" Then Joe suddenly demanded, "I'd like you to call me The Colonel. For the rest of the column. I want to be known as The Colonel." After I told him OK, he said, "Well, thank you, Eddie." These are the conversations you have during Day One of March Madness.
3:09 p.m.
20 years now ... where'd they go? 20 years now ... I don't know. I sit and wonder sometimes ... where they go ... LIKE A ROCK! Ohhhhhhh like a rock!
(Just wanted to get that running through your head ... I hate Chevy.)
3:15 p.m.
New topic: "Favorite March Madness Buzzer-Beater of All-Time." Rich goes with Lorenzo Charles. The Colonel went with Kenny Anderson. I went with Bryce Drew. Saw that game in Vegas at Treasure Island. Good times ... really, really, REALLY good times. Normally, I'd be jealous of everyone in Vegas watching the games right now, but, I mean ... have I mentioned this set-up at the ESPN Zone right now? Have I mentioned we're watching three TV's right now? Have I mentioned this?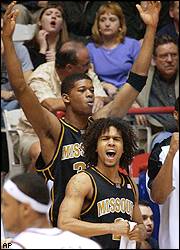 Missouri and Wesley Stokes, front, celebrate a hair-raising victory.
3:20 p.m. Ohio State and Davidson tip off. This is the first NCAA Hoops Tournament since 1989 that didn't involve Scoonie Penn.
3:25 p.m.
Halftime score: Wake Forest 38, Pepperdine 31. I have Pepperdine making the Final Eight. It's almost like I mutilate my own NCAA pools on purpose.
3:40 p.m.
Not only did Pepperdine make a strong comeback to take the lead in the second half, not only is Florida Atlantic threatening to pull a "Hoosiers" against Alabama ... but there's a heated battle developing between CBS's "JAG" promos and the Colonel checking his voice mail at work. Jag is leading the Colonel 7-6. Meanwhile, Tim Brando wants you to know that Pepperdine seems a little more "loosey-goosey" this half. I think I'm developing another eye tick.
4 p.m.
New topic: Why doesn't Clark Kellogg ever look at the camera? We can't figure it out. It's like he just saw the Blair Witch.
Clark, Camera Two. Camera Two!
4:03 p.m.
The Colonel: "Do we get Spice in here? Can we order Spice on one of the TVs?"
4:07 p.m.
Coming up Monday, CBS premieres something called "Baby Bob." I'm speechless. And we can't figure out how there are three commercials showing on our three TVs at the exact same time. What are the odds? The dreaded triple whammy. It's amazing how much this happens in a sports bar. There are like 12 TVs going on the giant wall in the main room of the ESPN Zone ... I wouldn't be surprised to see a 12-Tuple Whammy tonight.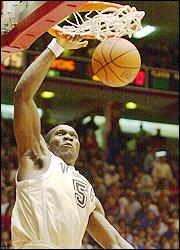 Be careful or your Uche Nsonwu-Amadi will fall asleep.
4:17 p.m. I've been sitting down for so long that my Uche Nsonwu-Amadi just fell asleep.
4:26 p.m.
Pepperdine just blew it, falling to Wake Forest by nine. I just lost two of my Final Eight teams within the first four hours of Day One. That has to be some kind of record, right? I'm telling you, nobody's worse at this than me. I need to enter some sort of Anti-Pool.
4:40 p.m.
Quick Update: Ohio State 35, Davidson 34; Tulsa 59, Marquette 54; Alabama 74, Florida Atlantic 66; The Colonel 12, "JAG" 8. And just so you know, Dick Enberg and Matt Guokas are openly playing canasta during breaks in the Tulsa-Marquette game.
4:45 p.m.
New topic: "What's the most common March Madness player name -- Kenny Walker, Chris Smith, John Thomas, Kevin Johnson or Mark Jackson?" We can't decide. Somebody needs to recruit all of these guys at the same time.
4:52 p.m.
Marquette misses a Lorenzo Charles-esque "Alley-oop off the missed shot" at the buzzer! Tulsa (No. 12) wins it! My second upset pick of the tournament! Doesn't even come close to losing two Final Eight teams, but anything's a moral victory for me when the NCAAs are involved. The ESPN Zone went crazy on that one. I couldn't be enjoying myself anymore. It's not possible.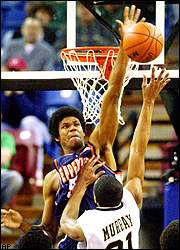 Pepperdine and Cedric Suitt made a valiant comeback, but the Waves' upset bid fell short.
5:02 p.m. New topic: "Making fun of this year's crop of coaches." Always good for some laughs. So far we have the Tulsa coach (looks like he was missing his front row of teeth), the Marquette coach (looks like a serial killer) and the Oregon coach (sending a Bernie Mac/Flip Wilson vibe). Nothing beats cracking on March Madness coaches -- just a great place to spot a bad toupee, cheap dentures, cheesy jackets and/or multi-colored hair. Everyone looks like they're ready to sell you an '89 Impala.
(And just wait until the UNC-Wilmington game in a few hours -- their coach looks like he might have that perennial coffee-cigarette breath. Did you have a coach or a professor like that in high school -- you can still close your eyes and smell his hideous breath? It's like a permanent indentation on your brain? I think we all did.)
5:05 p.m.
All right ... drunken readers! Just met four guys from the University of Maryland who have been here all day ... one of them was wearing a Red Sox shirt. It's getting rowdy. So far I've had three offers to buy me drinks, and the pilot is turning off the "No drinking" sign for the column at 7. Run for your lives!
5:09 p.m.
Davidson 59, Ohio State 58, three minutes to play ... and they just showed the classic shot of everyone on the underdog's bench jumping up and down all over each other. TREEE-mendous. "Day One and Day Two of March Madness should be national holidays," says Rich, who's on his sixth beer. If this were a blackjack table in Vegas, they would have turned the overhead camera on him by now.
5:18 p.m.
Davidson ends up falling short, losing to Ohio State by five. They should have played Merle and Flatch more down the stretch. Gus Johnson calls it a "white knuckler." He was feeling pretty loosey-goosey when he said that.
5:11 p.m.
Oregon's center is named Chris Christofferson. Frankly, I'm not sure what to do with this information. Time for an extended break ... ******
7:10 p.m.
Before we move to Part Two, quick props for the ESPN Zone in Washington: Very helpful employees, good Happy Hour, great video game room, good service, solid grub. Thumbs up all around. I just wanted to get that in here before the pilot turned off the "No Drinking" sign. But the big story ... Holy Cross is coming up in 20 minutes! Get your Cinderella slippers ready.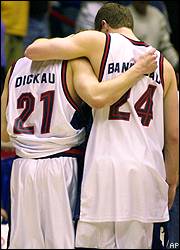 AP
It was sad to see Gonzaga, a k a "America's Team," go out early.
7:25 p.m. The Colonel: "Can we get the Spice Channel in here?"
7:25 p.m.
After being told that he already asked that question: "But you never answered it. Can we get Spice in here?"
7:47 p.m.
Just to liven things up for the night games, we had a gambling draft: Everyone picking the eight night games against the spread, one "Best Bet" (counts as two) per person, $20 an entry, winner takes all. Me, the House brothers (Rich, Tim and the Colonel) and our friend George. $100 at stake. I took all the favorites except for Utah (best bet, plus-6 over Indiana), UCSB and my alma mater (Holy Cross, 29-point dogs). (Just for the record, this was my idea. I could figure out a way to gamble on anything. That's what happens when your Mom is a Boston College grad; it's like getting a genetic gambling problem right from the womb.)
7:53 p.m.
Holy Cross takes the lead! 4-2! Can we stop this game now?
8 p.m.
George and Tim dispense tips for "Things you can do for your wife in the weeks preceding March Madness that will make it easier to watch as many games as possible." Some of my favorites:
Suggest an impromptu drive to see the in-laws; suggest she invites her friends up for the weekend; suggest a day of house-hunting; and (when pregnant) purchase as much ice cream as possible.
Somebody needs to write a whole book about this stuff.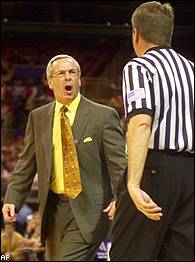 AP
Roy Williams narrowly avoided another embarrassing early exit.
8:05 p.m. Impossible quandary: Holy Cross is winning by one midway through the first half -- GOOD GOD!!! -- but our studio's audio is blaring the Charlotte/Notre Dame game (because we didn't want to jinx the Cross). Now we're debating an audio switch-over to HC, but we don't want to jinx them. Is there a right move here? Agonizing. We're holding off.
8:10 p.m.
New topic: Has Gonzaga officially become America's Team? Is it official yet? Does anyone not like these guys? And couldn't somebody twist this into a borderline racial thing? This is right in Ralph Wiley's wheelhouse. Where's the Road Dog when you need him?
8:12 p.m.
HC up 18-15, 11 minutes left in the first ... just did the audio switch. Had to do it. Everyone at the Zone is officially ready to jump on the bandwagon. No event is more tailor-made for a sports bar than the NCAAs. The ESPN Zone is
rocking
right now.
8:16 p.m.
Enberg keeps screwing up Holy Cross's pronunciation -- it's not HO-ly Cross or Holy-CROSS ... it's just Holy Cross. No accents. Everyone screws this up. Jeez, it's not rocket science. By the way, 23-22, Kansas, 7:48 left in the first.
And then David took the stone out of his bag, and aimed it at the Philistine, and he couldn't believe the Philistine wasn't pressing him ...)
8:32 p.m.
Tie game. Two minutes left, first half. I just ... I ... I mean ...
8:36 p.m.
Our halftime score: Holy Cross 37, Kansas 35 ... and Kirk Hinrich was just helped off with a sprained ankle. There are no words. How weird is this? I just drew up the blueprint for an upset with
Wednesday's column about the HC-Kentucky game
from last March.. And here we are again. Isn't this surreal? (This diary has officially gone in the tank. If I were a starting pitcher, there would be two relievers quickly warming up in the bullpen, as the catcher came out to talk to me.You understand.)
8:50 p.m.
Just realized, Holy Cross is playing the University of Kansas in St. Louis. The Pats beat St. Louis to win the Super Bowl six weeks ago. (I am having some CRAZY thoughts right now.)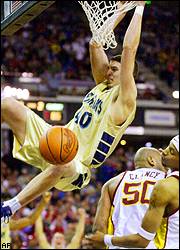 AP
Stewart Hare and UNC Wilmington busted a lot of brackets with their upset of USC.
8:56 p.m. The sideline reporter's first question to Roy Williams: "Roy, how tight is your sphincter right now?" Actually, I asked him that. We also want to know why Williams hasn't unleashed a full-court press on the Cross yet. Why let the Cross dictate the pace of the game, especially when your guys have 10 times as much athletic ability? Coaches are so dumb sometimes. I swear, I could take any Div-1 team to the NIT within two years. I'm not kidding.
8:59 p.m.
Holy Cross 40, Kansas 35, 17:38 left. Enberg says Hinrich won't return -- everyone in our room applauds. That's too bad. Crying shame. I can't even imagine how quiet it is on the Kansas campus right now. Everyone probably turned off their tractors and everything.
9:02 p.m.
Holy Cross 42, Kansas 37, 15:46 left. Just like seeing it in print.
9:03 p.m.
If this diary was a movie scene, it would be the scene from "The Fugitive" when the train comes careening off the tracks. I don't even know my own name right now. We're hanging with No. 1 seed Kansas on Day One. You expect me to write coherently about this?
9:05 p.m.
My Dad just answered his phone, "Do you believe in miracles????"
9:14 p.m.
(Speechless)
9:17 p.m.
Shhhhhhhhh...
9:23 p.m.
Up by one, 8:45 left.
9:28 p.m.
Shhhhhhhhh...
9:32 p.m.
Argggggh!
9:37 p.m.
Kansas up by three, four minutes left. Are the Kansas boosters paying these refs in cash, or do they take checks? It's not helping that none of our big guns can make an outside shot. We haven't even gotten the "Everyone on the underdog's bench jumping up and down all over each other" camera shot yet. Might not even happen. I feel gipped.
9:41 p.m.
In other depressing news, Gonzaga falls to Wyoming. I've now lost three Final Eight teams and one Final Four team ... and it's not even 10 yet. Horrifying. Meanwhile, HC trails by five with 2:35 left. Still hope. Faint hope ... but hope. Thank God for Roy Williams, who keeps refusing to press. Muchos gracias, Roy. You can now proceed to your quarterfinal match against Gary Williams in the "Overrated NCAA Coaches" Tournament.
9:46 p.m.
This ain't happening. We missed two big shots down the stretch ... now we're down seven with 29 seconds left. Here in the studio, we're giving the Cross an extended golf clap now. Good run. Very good run. I'm proud of my team.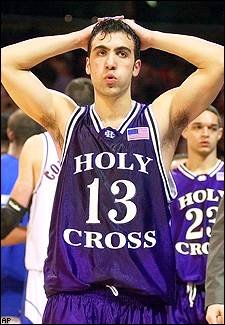 AP
Holy Cross' Ryan Serravalle is dejected after the Crusaders' upset bid fell short.
9:52 p.m. Final score: Kansas 70, Holy Cross 59. Our two best players (Serraville and Szatko) shot a combined 6-for-30, we were a No.16 seed, and still, we gave them a genuine scare. "The score doesn't indicate how close this was," says Enberg. Yessir.
10 p.m.
Sipping his 19th Miller Lite, Rich looks like a mortal lock to pass out before midnight. Tim just assaulted a plate of nachos. The Colonel (another HC grad) is making himself feel better by ripping Roy Williams ("He got schooled by Ralph Willard! Schooled!"). And I'm trying to get excited that USC made up a 22-point deficit in the second half, tied 13th-seeded UNC-Wilmington on a 3-pointer in the final seconds, and somehow forced overtime. Not really working. The buzzards are circling. We all expended too much energy during the Cross game. Could be time to go soon.
10:20 p.m.
Another game, another upset: USC falls to Wilmington in OT. Of course, I had them winning two games. My pool is officially kaput. I've lost four Sweet 16 teams, three Final Eight teams, one Final Four team and barely lost out on the greatest upset in Day One history ... and we haven't even gotten to the fourth set of games tonight. Just a bloodbath. At least you finally have your answer to America's favorite running subplot, "How fast will Bill Simmons get knocked out of his NCAA pool?" (The answer? Thursday night, Day One, 10:20. Might be a new record.) Now I'm exhausted, a little tipsy and just a tad heartbroken. After a full week trying to figure out the D.C. sports scene, after pumping out five columns in five days, after catching a Caps game, a Wizards game, a White House visit, lunch with the Hogs, a visit to Red Auerbach's office, a full day of March Madness
and
my alma mater nearly pulling a Hickory High ... it's time to hang up my laptop for the week. Good times. Thank you, D.C.
Bill Simmons writes three columns a week for Page 2.