By Bill Simmons
Page 2 columnist
Only 12 months ago, I penned an NBA playoff preview mixing pro hoops with "Survivor," which made sense because "Survivor" was a genuine water cooler show and borderline cultural phenomenon. Those days are long gone -- I don't know a single person who religiously still watches that show, mainly because CBS pounded the gimmick into the ground -- but the "Survivor"-NBA connection still works.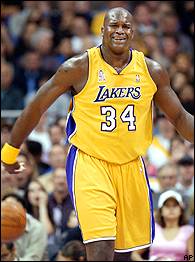 If they can get through the tough West, Shaq and the Lakers could make like Richard Hatch.
Think about it. Sixteen entrants. One prize. A battle against the elements. Cameras everywhere. Physical and emotional challenges galore. Catfights and arguments. Tons of emotional stress. Upsets and surprises. Tons of tattoos. Chemistry and character usually prevailing in the end. And each of the contestants get knocked off, one at a time, until only one team remains.
That's the NBA playoffs, isn't it? The only real difference is that "Survivor" doesn't feature police finding a pound of weed in the contestant tents. Here's the premise: We're breaking down the playoffs in "Survivor" fashion, voting off each team until one remains. Just so you know, my track record with NBA playoff predictions is superb. For instance, last year I predicted San Antonio would outlast Miami in the Finals, which could have happened if the Heat hadn't gotten swept in the first round, and the Spurs hadn't gotten swept in round two. I missed perfection by
that
much. So I'm feeling pretty confident this spring, especially after Year Two with DirecTV's NBA package (one of the life-altering inventions of the past few years, right up there with Red Bull, CD Burners, whatifsports.com, those Listerine breath patch thingies, and Spectravision movie titles not showing up on hotel bills). One more thing. The playoffs boil down to three or four crucial fourth quarters per series, when it's five-against-five, everything slows down and only four things matter:
Is your team smart enough to get the ball to the right guys at the right times?
When you need a defensive stop, can you get it?
Can you stay focused, keep your poise and not left the referees, opposing fans and bad luck get to you?
And, most importantly, do you have a Go-To Guy (GTG) who can make a basket when you absolutely need one?
Keep those basic questions in mind during this column, because they affect everything you're about to read:
Round One
16. Indiana Pacers (voted off by New Jersey, 3-0)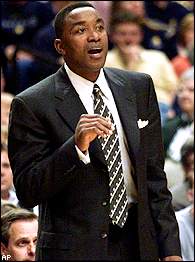 You think the Pacers are a legitimate sleeper? Not with Isiah Thomas on the bench.
Apparently, we live in a world where the Pacers -- the worst-coached team in the playoffs (maybe the worst since the Butch Carter Era), a team with no discernable substitution patterns, a team that doesn't have any idea what it's doing from night to night, a team that lacks any semblance of chemistry, emotion and continuity, a team that probably blew more double-digit second-half leads than any team in NBA history -- can be awarded Viable Playoff Sleeper status because they "look good on paper." You know what else looked good on paper? "Vanilla Sky." And that didn't work, either.
(Random plea: Just watch Isiah during this series. I'm begging you. Watch the way his team plays. Watch the moves he makes. Watch his substitution patterns. Just watch. Trust me. Even the coach who went against Hickory High in the 1952 Indiana state finals wasn't this inept.)
15. Utah Jazz (voted off by Sacramento, 3-0)
The Jazz almost suck you in here with that whole, "If they can slow down the Kings, control the tempo, keep each game in the 80s and whittle it down to five or six possessions determining each game" routine, which might have even worked two years ago against these Kings ... but not this year. Malone and Stockton have slipped, none of Utah's swingmen can knock down shots when it matters, and the Jazz don't have anyone who can handle Vlade (always an underrated force in the playoffs). Just feels like a mismatch. The Kings are too good to mess around this year. (Random thought: After I wrote last year that Rick Adelman's mustache made him look a little like Adolf Hitler, he dumped that mustache in favor of a rugged-looking beard. Now he doesn't look like Hitler anymore, he looks like a heavier John C. McGinley. And yet McGinley and Hitler don't look anything alike. I'm not sure what this all means. Every time they show Adelman on the sidelines, I end up thinking about it. I'm babbling.)
14. Minnesota Timberwolves (voted off by Dallas, 3-0)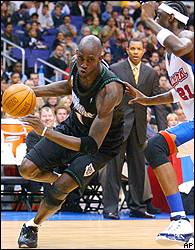 AP
Kevin Garnett isn't capable of carrying the T-Wolves into the second round.
I'm not giving the T-Wolves even a token win here; I hate the way they played down the stretch (confused, selfish and skittish -- Terrell Brandon's injury ended up hurting them more than anyone believed). And Dallas was the worst possible matchup for them.
You can't play run-and-gun with the best offensive team in the league without a reliable go-to-guy, which harkens back to the root of the problem with the T-Wolves -- their best and most expensive player (Kevin Garnett, $20 million per season) can't score when it matters. So where does that leave you? Nowhere good.
13. Portland Trail Blazers
(voted off by L.A., 3-1)
Dammit. Or is it damnit? Or damn it? Can I get a ruling on this? Anyway, dammit. The Blazers were the one team looming as a legitimate playoff sleeper, and they ended up drawing the one team they can't beat under any circumstances in the first round. Too bad. I love the way Portland played over the last three months -- tenacious defense, intelligent coaching, everyone on the same page, deep bench, Rasheed and Bonzi at crunch time ... I mean, everything's working here. Throw the Blazers in the East, and they probably come out alive in June. But not against Shaq. Some guys just have your number.
12. Seattle SuperSonics (voted off by San Antonio, 3-1)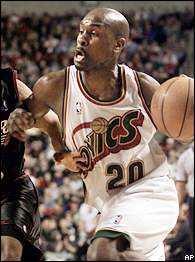 Seattle's Gary Payton will have a big edge in his matchup with Spurs rookie Tony Parker.
If you're a Spurs fan, this matchup scares the Alexei Zhitnik out of you. For 82 games, the Sonics were one of those retro-'80s, run-and-gun, "When they're making their jumpers, they can smoke anyone in the league" teams (they even surprised the Spurs twice). Seattle features a bona fide fan favorite in Peja Drobnjak, also known as "Drop Kick" and "The Drobber," who clearly needs his own shoe commercial at this point. And there isn't a player on the Spurs roster capable of handling a fired-up Gary Payton (you always forget how good he is).
Unfortunately, Tim Duncan could notch 175 points and 75 rebounds if this series goes five games. The Sonics just don't have an answer for him. I love The Drobber. You love the Drobber. Everyone loves the Drobber. But when the Drobber is guarding Tim Duncan at crunch-time ... I mean, that's just plain scary. Certain things just shouldn't happen come playoff time. (Random question: Brent Barry was the best American-born white player in the league this season, wasn't he? This should be an award -- they could call it "The Mokeski." I think Barry edges out Wally Szezcerbiak, personally -- better all-around season, better teammate. Raef LaFrentz, Keith Van Horn and Mike Miller round out the top five. And Travis Knight was last.)
11. Detroit Pistons (voted off by Toronto, 3-1)
There's always one random, inexplicable first-round upset, every year, without fail ... welcome to "Raptors 3, Pistons 1!" Forget Toronto's momentum, or the overwhelming forces of the Ewing Theory (in full bloom right now). Everything the Raptors have been doing for the past few weeks was right from Detroit's playbook -- defense and rebounding, various role players stepping up, everyone on the same page, the sum being greater than the parts -- only they're doing it a little bit better. Follow this train of thought: Toronto has the deepest, biggest frontline in the league (Antonio Davis, Jerome Williams, my man Keon Clark and even the Artist Formerly Known as Hakeem) ... which means the Ben Wallace Factor gets neutralized (not as many second-chance baskets) ... and Corliss Williamson can't operate in the low-post as effectively ... that means the Pistons will rely on jumpers at crunch time ... and I'm not sold on Atkins, Stackhouse, Barry & Robinson pushing Detroit to the second round with 20-footers and threes. Seems like too much of a reach.
10. Orlando Magic (voted off by Charlotte, 3-2)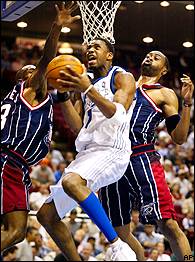 Tracy McGrady's back injury could hold back the Magic.
From a talent standpoint, "Orlando vs. Charlotte" isn't even close. Nobody other than T-Mac could crack Charlotte's starting five, and Darrell Armstrong is the only other Magic player who'd be in Charlotte's nine-man rotation.
On the flip side, Charlotte seemed disjointed coming down the stretch -- Baron Davis slowed down as the year progressed, and Paul Silas broke the cardinal NBA rule, "Thou shalt not play too many players in your rotation." If McGrady were healthy, you could make a strong case for the Magic pulling this out in five ... but I don't trust bad backs, especially ones that flare up right before the playoffs. (Random note: This is the annual "Matchup that lacks so much marquee potential that TNT will get stuck with every game!" I love these. You can almost picture the NBC execs giggling and saying, "Here's the one we'll give to TNT.")
9. Philadelphia 76ers (voted off by Boston, 3-2)
Forget about the fact that I almost just wet my pants remembering that my beloved Celts made the playoffs this season, as a No. 3 seed, no less. Would you agree that this is unquestionably the marquee matchup of the opening round? The Sixers vs. the Celtics? Iverson vs. Pierce? The Guys Who've Been There vs. the The Fledgling Upstarts? The league certainly felt that way, stretching the series out over 14 days -- Sunday, Wednesday, Sunday, Wednesday, Saturday -- in a blatant attempt to help Iverson recuperate from his fractured wrist, and leaving the Celtics feeling like Fletch (using the whole fist, Commissioner Stern?).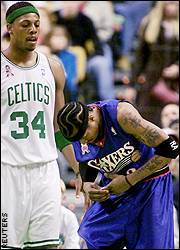 Reuters
Allen Iverson, right, will probably be a little rusty when he takes on Paul Pierce and the Celtics.
With a healthy Iverson, I think the Sixers roll in four. They possess tons of confidence against the Celts, for whatever reason -- nobody on Boston can guard Iverson, Mutombo psyches out Antoine (who avoids the paint entirely during Philly games), and the role players (Snow, Coleman, even Speedy Claxton) seem to step it up a notch. But Iverson's injury changes everything. A rusty Iverson -- and he would have to be a little bit rusty after missing more than a month, correct? -- means that Paul Pierce becomes the best player on the floor, and there isn't a single Sixers player who can guard him. I watched The Truth all season -- he's the real deal. You'll find out soon enough.
(Random guarantee: Regardless of how it plays out, the team that wins this series will advance to the NBA Finals. Mark my words. By the way, the Celtics believe that Philly intentionally tanked the last three games -- by resting Mutombo and Coleman with bogus injuries -- because they wanted to slide into the No. 6 seed and avoid Charlotte and Orlando, feeling they matched up better against Boston. Translation: There's already bad blood, and the series hasn't even started yet. Just like the old days!)
Round Two
8. San Antonio Spurs (voted off by L.A., 4-0)
When Beecher moved into Schillinger's cell during the first season of "Oz," within a few weeks, Beecher was dressing up as a woman, performing lewd acts and calling Schillinger "Sir." Of course, even Schillinger didn't own Beecher as badly as Shaq owns David Robinson. You have to feel for the Admiral. He spent the prime of his career getting used and abused by Hakeem; now he's settled into the "Gracefully aging, yet still effective" stage of his career ... and he has to deal with Shaq every spring. It's almost unfair. And if that's not enough, there isn't a player on San Antonio's roster who can handle Kobe. What else can you say?
7. Sacramento Kings (voted off by Dallas, 4-2)
Remember that "SNL" skit with Martin Short and Harry Shearer as synchronized swimmers, when Chris Guest played their fey swimming coach and was trying to teach them how to point at one another?
No, no, you're not arguing with him. You're pointing at him. You're saying, "Hey, you ... I know you, I know you."
Remember that one?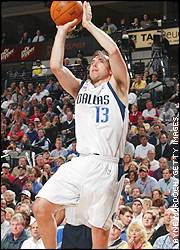 Steve Nash leads a Dallas offense that is stocked with weapons.
Well, I'm not arguing against the Kings. I'm just pointing at the Mavs. They're a little more explosive (games routinely in the 110s) ... a little more unpredictable (five guys on the floor who can score from anywhere on the court) ... a little better-equipped at crunch time (Nowitzki over that "We're not really sure who should be shooting here" combo of Peja and C-Webb) ... a little better in the coaching department (Rick Adelman's teams always seem to self-destruct in the spring) ... a little bit more overboard in the Crazy Owner Department (Mark Cuban over the Maloof Brothers, which definitely deserves its own Dr. Jack breakdown at some point) ... and even just a little bit more crazy, period (have we mentioned that Nick Van Exel is prominently involved here?). The total package just works for me. Something special is happening in Dallas.
One other thing: Since MJ retired, the best single playoff series was the Lakers-Pacers Finals in 2000 (two very good teams that brought the best out of one another). But a Mavs-Kings series possesses an UPPPPPPPPside greater than any series since the Bulls and Suns met in the '93 Finals -- run-and-gun, totally unpredictable, different players stepping up, off the charts on the Charisma Scale, quirky characters, great fans and genuine star power on both sides. I would go out of my way to watch every minute of that series. And in the end, I think the Mavs prevail. (Hey, you ... I know you, I know you ...)
6. Toronto Raptors (voted off by Boston, 4-2)
The Ewing Theory can only take you so far. Deep down, I was hoping Vince would recover in time to get activated for this series, throw the Raptors off track in the process -- a classic Ewing Theory wrinkle if there ever was one (remember Ewing returning for the Indiana series in 2000?). Regretfully, the Raptors decided not to place Vince on the playoff roster, under strict orders from the team gynecologist. No matter. (By the way, in case you were wondering, we're in the second round and still haven't come across a player in the East who can guard Paul Pierce.)
5. Charlotte Hornets (voted off by New Jersey, 4-3)
Seems like destiny, doesn't it? The two playoff teams with the worst fan support going head-to-head -- you can almost imagine the NBA pulling an Eric Bischoff and asking all the Hornets fans to move to the same side of the arena so the game looks like a sellout on TV. What a nightmare. And if that's not bad enough, let's just say that the phrase "New Jersey vs. Charlotte" doesn't send the Nielsen families diving for the remote. On the bright side, I like the Kidd-Davis matchup, and Kenyon Martin could always liven things up by trying a DDT on someone. But the Hornets aren't playing well enough to make this series interesting. Looks like a yawner. (Random prediction: This series will go seven, because it qualifies under the little-known NBA rule: "The least appealing second-round series must go the maximum amount of games, without any exceptions.")
Round Three
4. New Jersey Nets (voted off by Boston, 4-2)
This is one of those "Mirror Image" series, because both teams relied on the same formula all season: Keep every game close, then count on defensive stops and clutch baskets down the stretch. Sounds simple, right? And yet only a handful of teams get those defensive stops when they need them: L.A., Portland, Detroit, Boston, Philly, New Jersey and San Antonio. And only seven players in the league can consistently make those clutch baskets: Duncan, Shaq, Kobe, Nowitzki, Iverson, McGrady and Pierce (who led the league in fourth-quarter points).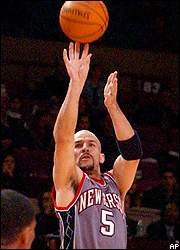 Jason Kidd is the Nets' leader, but he doesn't qualify as a "go-to guy."
Notice the Nets didn't have a guy on that second list. So how were they getting those clutch baskets? Mostly from Jason Kidd, either through transition, kickouts off penetration, or by taking it himself. But Kidd isn't a classic Go-To Guy -- he's only averaging 15 points a game -- which means the Nets frequently play "Who wants to shoot?" roulette at crunch-time, although they possess a surreal ability to get off-the-cuff baskets when it matters (tip-ins, 2-on-1's or whatever). But that only lasts for so long. Not since the late-'70s has somebody made the NBA Finals without a certifiable Go-To Guy. You can look it up. And no, we're not counting the '99 Knicks, because the '99 playoffs never happened. Neither did that entire season. You hear me? It never happened.
As for the Celtics ... we are now in the third round, and we still haven't come across anyone who can handle Paul Pierce. You think I'm kidding. (Random follow-up: The '79 Sonics were the last team that made the Finals without a certifiable Go-To Guy, although I would certainly listen to arguments that Gus Williams was unstoppable at the time. Before them, it was probably the '77 Blazers, who didn't need a Go-To Guy because they played so beautifully together. Can you tell I'm excited that the NBA playoffs are kicking off?)
3. Dallas Mavericks (voted off by L.A., 4-3)
As I wrote last week, it's going to take a gimmick to topple L.A., and "Five Guys Who Can Score From Anywhere" certainly qualifies. Team Cuban created the perfect team to surprise the Lakers, who have always looked vulnerable against the following things:
Anyone with a jump-shooting center who could lure Shaq from the basket (CHECK).
Anyone with a power forward who could score down low (CHECK).
Anyone with a point guard who could penetrate into the paint (CHECK).
Anyone who could make Kobe work on defense (CHECK).
Nick Van Exel (CHECK).
Another underrated factor here: Shaq and Kobe's supporting cast, which isn't nearly as accomplished as it was even last season. And Shaq has been nursing his big toe, skipping around town, hanging out with major celebrities like Tommy Davidson and Michael Colyar ... you wonder how many years running that he can put himself on cruise control, pace himself for the playoffs, and flick that on/off switch when it matters. With all of that said ... I can't go against Shaq and Kobe. I just can't. Until somebody beats them, I'm picking them. Of course, the original draft of this column had Dallas winning it all. (I almost pulled the trigger. Almost.)
NBA Finals
2. Boston Celtics (voted off by L.A., 4-2)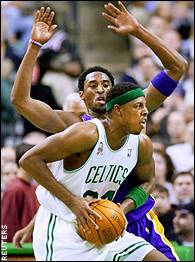 Reuters
Paul Pierce might not run into a player who can stop him until he meets Kobe Bryant in the Finals.
Let the Bird-Magic flashbacks begin! Could NBC bring back CBS' old mid-'80s Finals music for this one? Could Dyan Cannon get another facelift? Could we have Rodney Rogers and Bob Horry re-enact the McHale-Rambis clothesline? Could we bring back the bad hairdos and tight shorts? Actually, scratch that last one.
So you're reading this and asking yourself, "Can the Celtics
really
make the Finals this season?" Well, they have the best healthy star in the East (Pierce), which counts for something, as well as the most consistent defensive team other than Philly. And they can beat anyone on any given night when they're hitting from outside. I don't think they would beat Philly in a seven-game series if everyone on both sides were healthy, but we won't have to worry about that this season. No other team in the East has mastered the "Keep it close/get some stops/get a few key baskets" routine better than them. All of their problems are nagging, minor problems -- Pierce's tendency to pick up cheap fouls, Antoine's inability to take a backseat in big moments, Antoine taking too many threes, Antoine forgetting to rebound, the supporting cast failing to step up, the coaching staff struggling to come up with a Plan B if Walker and Pierce aren't scoring -- but they feature most of the strengths that Milwaukee (a team that almost made the NBA Finals) featured last season, only with better defense. Seeing Boston in the Finals doesn't seem farfetched to me; it didn't back in February, and it certainly doesn't now. But seeing them
win
the Finals ... that's a little farfetched. (Put it this way: After everything that happened to this franchise over the past 10 years, the fact that we're even having this discussion and you're not sending me a "You're %$%#%! crazy!" e-mail is victory enough. Good times. Very good times.)
1. Los Angeles Lakers (The Survivor)
If they squeeze by the Mavericks in the Western Finals, the Lakers cruise to a threepeat. The tribe has spoken.
Bill Simmons writes three columns a week for Page 2.