By Bill Simmons
Page 2 columnist
Thanks to baseball's staggered schedule, my beloved Red Sox play 48 percent of their 162 games against the American League East (a whopping 76 games in all). On paper, this isn't necessarily a bad thing. Nineteen of those games are with the Yankees -- always fun, always interesting -- and 57 of those games are with the rebuilding Orioles, the hideous Blue Jays and the ultra-hideous Devil Rays. How's that for an advantage? The Sox could finish 40-17 against those three doormats this year -- a realistic goal, when you think about it -- finish .500 against every other team and still cruise to 93 wins. That's right, 93. Start printing those playoff tickets now.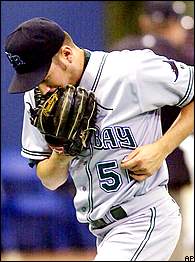 AP
How bad are the Rays? Bad enough to make you throw up in your glove.
Of course, as DeNiro said in "Heat," there's a flip side to that coin: Red Sox fans actually have to watch those 57 games against the charisma-less Orioles/Rays/Jays troika. Since the average baseball game lasts about three hours, die-hard Sox fans could spend 170-plus hours this season suffering through games with unwatchable opponents. Not good times. Bad times.
For instance, on Monday night, the Sox played the Devil Rays for the sixth time in the last 11 days. Have you ever been flipping channels late at night and stumbled across one of those low-budget soft-core porn movies on Cinemax, where the actresses look like they bought their silicone implants on eBay and installed them themselves, and there's no stars, no plot, no semblance of hope, no chemistry, nothing? That's the Devil Rays. They're a 25-man car wreck. I wish I could adequately describe the feeling of watching TV at 7 p.m., wondering, "Hey, who are the Sox playing tonight?", happily turning to the Sox game ... and seeing Jason Tyner just as he's in the process of botching his 100th consecutive drag bunt attempt of the season. It's the TV equivalent of getting kicked in the groin. Anyway, since the Devil Rays have been torturing me for the past two weeks, I thought they could torture you. Here's a running diary of last night's Rays-Sox game ...
7:15:
We're looking live at Tropicana Field in St. Petersburg, Fla.! I'm joined by NESN announcers Don Orsillo and Jerry Remy, as well as a plate of pork chops (the Sports Gal's cooking), some Orange Crush soda and about 8,000 fans at the Trop. Right now they're panning the camera around ... it looks like the game finished and most of the fans already left. Very depressing. Can you believe that the MLB expanded to Tampa just five years ago? The word "unbelievable" might be the most overused phrase on the planet right now, just ahead of the word "literally," but I mean, isn't that literally
unbelievable
? Six years ago, Team Selig decided to themselves, "We need to get some more expansion money ... let's put a team in Tampa! It's always 90 degrees there, and the average resident is 92 years old. We'll sell tickets like hot cakes!" Good thought process there. You almost wish they had promoted it like a movie preview:
From the people who brought you the cancellation of the 1994 playoffs and World Series games finishing after midnight ... it's Baseball In Tampa!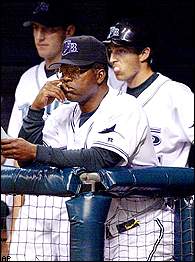 AP
Hal McRae is the mastermind behind the D-Rays Machine.
7:15: Forgot to mention, there's some bad blood between the Rays and the Sox, stemming from Sunday night's beanball exchange and dating back to a bench-clearer two years ago. I love how the Sox are feuding with the Devil Rays ... it's vaguely reminiscent of that scene in "The Warriors" when the Warriors pass through Brooklyn and run into the lowly Orphans gang, eventually rumbling with them just out of principle. All the Devil Rays are missing is a manager with a giant, disorienting lazy eye. And yes, only like four people got that last joke ... I don't care.
7:17:
Pitching for the Rays: Tanyon Sturtze. That has to be a stage name. He quickly retires the Sox in the first.
7:22:
228, 229, 301, 113, 354, 198, 267, 208, 183. (Those aren't apartment numbers ... those are the batting averages of Tampa's starting lineup. No, I'm not kidding.)
7:23:
Leadoff hitter Brent Abernathy singles off Sox starter Darren Oliver, who's two more quality starts away from being The Officially Rejuvenated Darren Oliver. Jason Tyner (batting second tonight) used to lead off, until Hal McRae realized Tyner was hitting .229 with a .261 on-base percentage. That was kind of a problem. Also, Tyner hasn't hit a home run since high school (seriously). And he has two extra-base hits in 118 ABs this season. And he looks like a little like Daniel LaRusso. Besides that, he's pretty good.
7:26:
With Abernathy on second, Tyner drags a bunt that pops in the air and gets caught in foul territory by catcher Doug Mirabelli. The Sox had the Tyner Shift going there -- all nine defensive players were standing between the first base side and the on-deck circle. Savvy move by Grady Little.
7:28:
Have I mentioned that Randy Winn's batting third for Tampa? Did you ever think you'd hear the phrases "batting third" and "Randy Winn" this season? Well, you just did.
7:30:
With two outs and Abernathy on third, cleanup hitter Greg Vaughn strides to the plate, hitting .133 with 0 homers, 7 RBI and 35 strikeouts. His OPS is .335. He's hitting .086 during the day, .127 at night, .107 at home, .120 on the road, .105 on grass and .118 on turf. He has enjoyed his most success all season against Detroit (.238, 5 walks, 3 RBI). When the count is either 0-2 or 1-2, he's batting .000 (0 for 33). With runners in scoring position, he's batting .143. In close/late situations, he's batting .118. And his EqA rating is "Really, really, reprehensibly bad." Just a tough year all around.
7:30:
"Vaughn is really struggling this year," Orsillo says. That might be the understatement of the year. Meanwhile, Vaughn pops out. He's down to .112. Pretty soon, he won't even be able to fail a Breathalyzer test with that average.
7:35:
Doug Mirabelli knocks in an RBI single as the crowd erupts. 1-0, Boston. The crowd seems split 50/50 between Sox and Rays fans. Can you imagine showing up at a Major League Baseball game and getting seats in the 10th row, or cheering for the other team with no fear or retaliation from any of the home fans? It's almost unfathomable.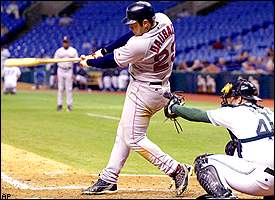 AP
There were plenty of good seats available to get a view of Brian Daubach's home run.
7:40: Rey Sanchez doubles (2-0, Sox). By the way, every time they show a close-up of Sturtze, it looks like he's pitching in a completely empty stadium, like it's a bad baseball movie and they couldn't afford to hire extras for the close-up game scenes. Tampa Bay should digitally enhance the crowd or something.
7:42:
The Sports Gal on Tampa: "How young is this team? They look like they're all out of high school."
7:42:
The Sports Gal again: "Is it raining there? It's not raining? Where are all the fans? Why are you writing about this? Is this, like, the worst game ever?" I think the pilot just turned on the "You're Bothering Me" sign.
7:45:
Hey, remember my fantasy team I wrote about last month, the one I picked with my Dad? Well, the newest addition to the team -- Tampa 1B Steve Cox -- just struck out. Even if he doesn't pan out, it was still worth picking him up, just for when Dad and I were on the phone discussing potential replacements and Dad said, "Let's grab Cox." You can't put a price on that kind of fun. Adding Cox also allowed us to take the floundering Tony Clark behind the fantasy garage and shoot him in the back of the head, execution-style. That was fun, too.
7:49:
Every time they show the Tampa Bay dugout, the players all have an "I can't believe I'm on a major-league team, and I can't even get lucky" look about them. Too bad. The Buccaneers probably snare all the hot Hooters waitresses. And while we're on the subject of trying to get lucky, rookie catcher Toby Hall has one of those Mike Piazza "Extended mustache with the little fu manchu points" thingies going. Warrants mentioning.
7:55:
Sturtze is taking about 25 seconds between pitches. Gotta hate that. Why do some pitchers take so long? What do they think about?
Man, that was a close strike ... my motion felt good that time ... I like this ump ... I wonder if I left the toaster oven on ... why did NBC follow up the Twin Towers footage with a Mr. T sketch on Sunday's 75th anniversary show? ... and why couldn't Lisa Bonet make it? ... was she busy? ... I mean, it's Lisa Bonet! ... all right, I have to throw another pitch ... no, not a slider ... how 'bout a fastball ... yes, fastball ... STRIKE! ... cool ... maybe I'll go pick up the resin bag ... where do they find resin, anyway? ... boy, I sure could go for some eggs right now ... why isn't anyone at this game? ... I need to adjust my protective cup ... maybe I'll wait until after the inning ... screw it, I'll do it now ... yeah ... that feels good ...
7:58:
Clark hits into a bases loaded, inning-ending double play, dropping his average to .188. The Tampa front office immediately approaches Boston about a possible deal.
8:02:
Remy tells us that RF Bobby Smith (batting in the No. 9 hole) has struck out 25 times in 60 ABs. Those are Timmy Lupus numbers. The Rays have three power positions -- LF, RF and DH -- batting .225, .188 and .133, respectively. Unprecedented.
8:10:
The comedy highlight of the night: Trot Nixon lines a foul ball down the left-field line, right into a section called "The Bullpen Party Area," which features picnic tables and chairs hugging the field. Of course, there isn't a single fan sitting in the Party Area ... so as the ball bounces around, we see a senior citizen vault the fence and scamper over to grab it. "Not much of a party tonight," jokes Jerry. You couldn't make this stuff up.
8:15:
With no outs in the fourth inning, the Sox have the bases loaded, four runs and 11 hits so far. No action in the Devil Rays bullpen. "Does it seem a little strange that nobody's warming up?" wonders Remy. Unfortunately, Hal McRae is busy working on his résumé in the Tampa dugout. Could somebody jostle him or something? (Note: In Saturday's game, the Sox rallied for five runs with two outs in the bottom of the ninth -- including an RBI double by Nomar and a go-ahead grand slam by Shea Hillenbrand off the Trop catwalk, followed by a four-pitch walk -- before McRae finally started warming up someone to replace the embattled Victor Zambrano. Poor Zambrano kept self-consciously glancing over to the Tampa dugout and looked like he might start crying. You really had to see it. A classic "Throw the damn towel!" moment. It was almost Aron Garcia all over again.)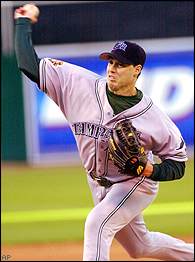 AP
"We plan to vacation in Tanyon Sturtze. It's beautiful there this time of year."
8:24: Hey, doesn't "Tanyon Sturtze" sound like a place you would take a vacation? Like you might say, "My girlfriend and I are headed to Tanyon Sturtze next month ... it's beautiful there."
8:32:
Depressing "state of the game" intervention: In the irony of ironies, the floundering Vaughn (0-for-2, down to .111) will earn $8.75 million this season, more than one-quarter of the Devil Rays $34.4 million total payroll. Only four Devil Rays earn more than $3 million per season, just seven Devil Rays have seven-figure contracts, and 18 players on Tampa Bay's roster earn $300,000 or less. By contrast, the Red Sox have a total payroll of $108.3 million. Manny, Pedro and Nomar earn $38.5 million combined, $4 million more than Tampa Bay's entire team. Ten Red Sox players make $5 million or more. Seventeen Sox players earn $1.9 million or more. The 23rd highest-paid player on the Boston roster (Rickey Henderson) earns $50,000 more than the 11th highest-paid guy on Tampa's roster. In a related story, Boston is 20-7; Tampa is 9-20. This isn't rocket science.
8:34:
The game's getting delayed for a few minutes, because a bank of lights has inexplicably gone out. That's a Trop tradition. It's so quiet right now that you can hear the ancient Tampa fans clearing their throats. Anyone up for another round of Bingo? First number ... B-7!
8:36:
Toby Hall nearly lines one into the Bullpen Party Area. That place absolutely kills me. I think there's a chalk outline of a body under one of the tables.
8:38:
Scintillating baseball strike talk from Don and Jerry. They're on Page 42 of their "Discussion items to fill a boring game" manual. I'm not sure I could ever announce baseball; I'd end up snapping during a boring game and spouting out things like, "Do you think catchers ever fart during games?" (But seriously ... do you think that ever happens? This might have to be the topic of Bob Ley's next "Outside The Lines" show: "Our next guest is Biff Pocoroba, who once knocked home-plate umpire Eric Gregg unconscious with a barrage of gas during a doubleheader in San Diego back in 1979. Biff, you had Mexican food the night before, correct?")
8:40:
After five, it's 4-0, Sox. Oliver is working on a two-hitter for Boston. I don't even have a joke here.
8:45:
Just spent some time surfing the 'Net to find out more Devil Rays info. Here's the beginning of a post from the Devil Rays board on ESPN.com, courtesy of Dog2925: "This is the first year that I have not killed myself over the Rays' terrible record. Last year, when they (bleeped) this bad I would break everything in sight." Sounds like a fun franchise.
8:48:
The Devil Rays mascot ("Raymond") looks like a cross between Elmo, Frank Layden and Wilford Brimley. The camera just caught him pulling out a Tampa fan's catheter as urine sprayed everywhere. Everyone's having fun.
8:50:
Sturtze cruises through the top of the sixth. If there has been a silver lining for the Rays this season, it has been their starting pitching: Paul Wilson (3.41 ERA), Joe Kennedy (3.72), Ryan Rupe (4.30) and Sturtze (4.78) are averaging nearly seven innings a start. All right, maybe it's not a silver lining, but it's some sort of lining.
8:55:
Abernathy slams a solo homer down the left field wall, putting the Rays on the board (4-1, Boston). The crowd responds as if a drunk guy just ran out on the field and pulled down his pants -- half-hearted cheering, some noise and a little jostling. Just for the record, 11,564 are allegedly attending this game ... and if you believe that, I have some AOL stock I want to sell you.
8:59:
When are they revolving an episode of "Six Feet Under" around Greg Vaughn? After a fly-out to left, his average just dropped to an incomprehensible .110 -- he's 0-for-3 tonight -- and yet Hal McRae keeps hitting him fourth. Apparently Vaughn fits all of McRae's qualifications for a cleanup hitter -- he has two arms, two legs and a head.
9:08:
Brian Daubach homers ... it's 5-1, Sox, in the seventh. And the ovation for him was louder than the ovation for Abernathy. Sturtze is working on a 13-hitter.
9:10:
Tampa's pitching coach: Jackie Brown, who's a dead ringer for John Clayton. Add Brown and Grady Little to the ever-expanding list of "Guys whose names make you think they're one race when they're actually another," or as we're officially calling it from this moment on, "The Reggie Cleveland Group."
9:16:
Fresh off an 0-for-28 slump last week, Toby Hall goes on a rawhide joyride -- a two-run blast that cuts Boston's lead to two. Loudest noise yet at the Trop. People are stomping their walkers in unison. Free tapioca for everyone!
9:28:
Jorge Sosa relieves Sturtze (an astonishing 17 baserunners allowed in seven innings) and retires the side 1-2-3. He looks like a young Jorge Julio. Tim Wakefield quickly responds by shutting down Tampa in the eighth. You know, I make this joke every season, and it's worth making again: Tim Wakefield is like Steve Sanders in "Beverly Hills 90210." In other words, he's fun to have around, but you don't actually want him involved in any key plots. A 5-3 ballgame in Tampa? Perfect.
9:35:
Unbelievably, Sosa gets through two innings unscathed. We're headed to the bottom of the ninth. (That was no small feat for Tampa. The Rays' three "best" relievers -- Victor Zambrano, Esteban Yan and Jesus Colume -- have given up a combined 35 runs over 43.2 innings, allowing 79 baserunners over that span, striking out 29 and blowing eight of 12 save opportunities. Last weekend, they became the first team in major-league history to have three different relievers blow three consecutive victories with two outs in the ninth inning. And if that's not enough, the immortal Hal McRae is pulling the strings. Everything's working against them. It's reverse kismet.)
9:41:
With the Rays down to their last three outs, Greg Vaughn leads off and walks. The umpires immediately stop the game to help him find first base.
Nope ... keep going ... follow that white line ... it's that white square thing ... you're almost there ... 10 more feet ...
9:44:
Wakefield handcuffs Cox on a knuckler, but tosses the ensuing chopper over the head of Nomar, ruining a potential double play. And that's what actually happened. We'll be back on the Spice Channel after these messages.
9:47:
Bases loaded, one out, ninth inning ... and somebody named Russ Johnson is up. You know, Russ Johnson? Needless to say, he grounds into a game-ending double play. Game over. Thank God. That one flew by -- just 152 minutes. Mercy. So, to recap ... The Sox get a four-game sweep, Tampa Bay loses its 11th straight ... and you suffered for 150 minutes just as much as I did. Better yet, Red Sox fans won't be subjected to the Devil Rays again until after the All-Star Break. And our team has six games looming this week in Oakland and Seattle. Real teams! Real players! Real baseball! No more Jason Tyner! No more Greg Vaughn! No more Bobby Smith! (And once we drop a few on the West Coast, I'll be longing to see them again.)
Bill Simmons writes three columns a week for Page 2. Sometimes he even writes three columns in the same week.