By Bill Simmons
Page 2 columnist
It's time for my Dow Report for the second round of the NBA playoffs. Here's whose stock rose and dropped:
UP: Mike Bibby
... made himself a lot of money with the way he abused Steve Nash in the final three games of the Mavs-Kings series. Bibby always possessed "The Next Mo Cheeks" potential in college, but you wondered if he would ever get it together after three lackluster seasons in Vancouver. Some guys just play better on winning teams. Looks like he's one of them.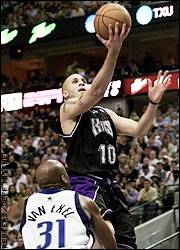 The Kings made a major upgrade when they acquired Mike Bibby for Jason Williams.
(And if that's not enough, Bibby isn't White Chocolate -- you can actually play him at the end of games without him getting killed on defense or taking ill-advised 25-footers with 20 seconds left on the shot clock. That trade wasn't just addition by subtraction for Sacramento, it was addition by subtraction and addition.)
DOWN: Nick Van Exel
... could somebody tell Nick The Quick that the Mavericks-Kings series started? Oh wait, it's over. (Check out these numbers by Little Nicky: 34 minutes per game, 10.2 ppg, 36 percent shooting, no defense to be seen, a number of back-breaking bad shots. Bobby Jackson officially petitioned the league yesterday to allow him to play all 82 regular-season games against the Mavs. Hey, at least the Mavs aren't stuck with Van Exel's $22 million-plus contract over the next two seasons. Ummmm ...)
UP: Uncle Cliffie
... after a rousing playoffs, he's in perfect position to battle Charles Oakley for that coveted "Veteran Who Signs With L.A. For The Free-Agent Exemption To Win A Ring" slot. They can even give him Mitch Richmond's locker.
DOWN: Raef LaFrentz
... he blocks shots, but he isn't an intimidating shot-blocker (not in the Wallace-Mutombo mode). He isn't a reliable rebounder. He runs the floor OK. He looks good shooting open 3s, but only if he's wide-open. He can't play with his back to the basket. You couldn't hide him defensively in the Kings series. He isn't very reliable at crunch time, at least not yet. He doesn't make his teammates better. He has never been able to carry a good team for stretches at a time, either in college or in the pros.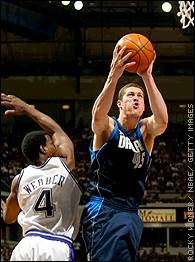 Raef LaFrentz was exposed during the series with Chris Webber's Kings.
Here's my point: I know basketball pretty well, and I can't envision any circumstance in which Raef LaFrentz will ever be anything more than a complementary piece for a contending team. So why shell out $60 million for him (which could happen this summer; he's a restricted free agent)? Wouldn't you rather have someone like Rodney Rogers for one-third the price? Maybe I'm nuts.
UP: Jason Kidd
... I didn't even think his stock could rise any higher, but that Game 4 performance (24/11/8) with 15 stitches over his right eye was remarkable. It's difficult to decide whether he's taking it up a notch from his Phoenix days, or if the competition in the East is simply that bad. When you think about it, if the Nets played in the West, wouldn't they have been knocked out in three or four games in Round 1, just like any of Kidd's old Phoenix teams? Probably. So nothing really changed. Maybe we're just being put in a position where we can appreciate Kidd more.
UP: You'll Just Have To Guess
... remember that scene in "So I Married An Ax Murderer," when Mike Myers was playing the Scottish father, and he was making fun of his son's giant head? The whole "Look at the size of that thing ... it's like Sputnik! It's got it's own planetary system!" routine? Remember that one? Well, hopefully you know where I'm going with this ... let's just say it's been the running joke at the Sports Guy Mansion during every Nets playoff game. (BOY ... HEED ... PANTS ... NOW!!!!!!)
DOWN: Owner Paul Gaston and the Boston Celtics front office
... for not having the good sense to bury the hatchet with the Basketball Jesus and invite him to one of these playoff games in the Juvenated Fleet Center. Now that the franchise has turned things around, now that people in Boston care about basketball again, the most popular Celtic of all-time
has
to be involved. The place damn near explodes every time they show Russell, Red, Cooz, Heinsohn, Jo-Jo and every other former Celtics great in the stands, but the roof would come off if Larry Legend ever made an appearance. How can they not play this trump card during the Nets series? Between Larry, Red, Russell and Gino, the Nets wouldn't have a chance.
REALLY UP: Kevin Harlan
... Harlan could broadcast a JV women's basketball game and make it exciting. I've said it before, I'll say it again: He would have been the greatest WWF announcer of all-time.
Right between the eyes!
"THROUGH THE BASEMENT" DOWN:
That damn Lenny Kravitz song ... my ears are bleeding ... make it stop ... FOR THE LOVE OF GOD, MAKE IT STOP!!!!!!!!!!
UP: The NBA
... for allowing reporters inside the ping-pong room for this year's lottery, just so we can see firsthand how things will be fixed for the Knicks to get the first pick. I'm giddy.
DOWN: The NBA
... does Team Stern realize that, out of the four major professional sports, they have the worst set of officials
by far
? I watched more games spiral out of control this season then in the past five seasons combined (including Game 3 of the Pistons-Celts series, which turned into a rugby match by the second quarter). You can't even claim that the refs are biased anymore; they just stink. This will rear its ugly head before the end of the playoffs, in a "Don Denkinger in the '85 World Series" kinda way. Mark my words.
DOWN: The NBA again
... for stretching out the first four games of both conference finals to ensure that NBC gets three games on Memorial Day Weekend (God forbid they get stuck showing a two-hour celebrity "Fear Factor" or something). That means Games 1 and 2 of the Nets-Celts series are scheduled for this Sunday and Tuesday in New Jersey ... and Game 3 isn't until Saturday in Boston. Geez, why not just stretch the series out over the course of the entire summer? They could play every Saturday until somebody wins four games, like a reality-TV series. I hate the NBA sometimes.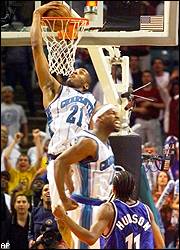 AP
Jamaal Magloire greatly improved his stock as a free agent.
UP: Jamaal Magloire ... the winner of the Todd McCulloch Memorial Award for "Bench Player Who Played Well Enough In the Playoffs To Become A Viable Free Agent Commodity At Some Point" spot.
DOWN: Todd McCulloch
... for not growing the red beard to complete the Mike Gminski effect. Come on, Big Mac. You owe it to the 25 die-hard Nets fans who have stayed with the franchise all these years.
UP: Kobe
... the "Jump nine feet in the air, grab the big rebound with the left hand, come down, switch hands and go up strong for the winning hoop" play in Game 4 at San Antonio was positively MJ-esque. Heck, just about everything about Kobe over the past few years has been MJ-esque, especially his innate knack to be in the right place at the right time, and his flair for the dramatic. Nobody's better in the league right now when it matters. And here's the best part: Unlike MJ, Kobe actually has three rivals at his own position (McGrady, Pierce and Carter) who will keep pushing him to improve as the years pass. Poor Jordan only had Clyde Drexler, and he tortured Clyde in the '92 Finals and the '92 Dream Team practices to so badly that Clyde was never the same. I always thought that was why MJ ended up playing baseball -- there just wasn't anyone around to challenge him anymore. Kobe won't have that problem.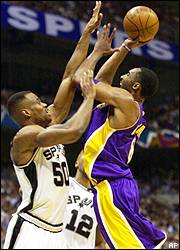 AP
Nearly everything Kobe has done during these playoffs has been MJ-esque.
(It's impossible to put a ceiling on a "Kobe vs. Pierce" rivalry at this juncture. Two visible stars playing the same position this deep into the playoffs, roughly the same age, roughly as talented, roughly as good in crunch time, both competitive, both charismatic as hell. When's the last time that happened? We wanted it to happen with Jordan-Drexler, but Clyde wasn't up to the challenge. We wanted it to happen with Hakeem-Ewing and Barkley-Malone, but those matchups just weren't absorbing enough. You would have to travel all the way back to "Magic-Isiah" and "Bird-Dominique" in the late-'80s for an accurate comparison. Again, it's wayyyyyyyy early to discuss this in detail ... but we can at least bring it up.)
UP: Tony Parker
... the 19-year-old French kid who turned out to be San Antonio's second-best player in the playoffs. If they did the 2001 draft over again, he probably goes seventh behind Pau Gasol, Tyson Chandler, Kwame Brown, Shane Battier, Eddy Curry and Eddie Griffin, right ahead of Richard Jefferson. I'm just ticked that Marv Albert never said, "Tony Parker ... oui!" after a Parker basket.
DOWN: Steve Smith and David Robinson
... were those identical salad forks sticking out of their backs, or were they just passing one fork back and forth during the game?
UP: Celts GM Chris Wallace
... right before the trading deadline, he desperately wanted to trade Joe Johnson, Randy Brown and Kenny Anderson to the Nuggets for Nick Van Exel, but only if Van Exel agreed to waive the final two years of his contract (so it expired after the 2003 season, not 2005). While Van Exel and his agent were hemming and hawing, the Suns approached Wallace about a Rodney Rogers-Tony Delk deal. Feeling he needed to move Johnson before his stock totally plummeted, feeling he needed to make some sort of move to bolster the roster, Wallace pulled the trigger. So instead of just getting Van Exel and changing the dynamic of their team, the Celts ended up with Rogers (now their sixth man) and Delk (now their third guard)
and
kept the completely, totally, utterly and improbably rejuvenated Anderson, who has emerged as the biggest surprise of the playoffs. That's three-eighth of their eight-man rotation right now. Sometimes you need to be lucky to be good. (And yes, that trade almost made up for the fact the Celtics botched last year's draft. Almost. That reminds me, I was surfing eBay last week and a game-used Joe Forte was going for $59.00. I'm not talking about a Joe Forte jersey ... I'm talking about Joe Forte himself. Any takers? Anyone?)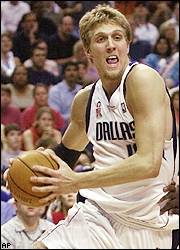 Sure, Dirk Nowitzki can score ... but the rest of his game clearly needs some work.
DOWN: Dirk Nowitzki ... no defense to be seen. None. Not a lick. Zero. Zilch. I would say that C-Webb and Divac ate him alive, but that would be giving them way too much credit. It's difficult to criticize a 23-year-old player who has only been playing professional basketball in America for four years ... let's just say that, at this stage of his career, if his shot isn't falling, Dirk lacks the ability to help his team in other ways, like the way a struggling Pierce adjusted his game in Game 4 of the Pistons series (17 boards, superb defense on Stackhouse). And Dirk hasn't shown any signs of raising his game when his team needs him most.
(You almost wonder if he's destined for one of those "Better version of Tom Chambers" careers. Yeah, it's early. Absolutely. Just remember, in the last 30 years, there hasn't been a single NBA champion whose best player didn't make an impact on both ends of the floor. There's a reason Dominique Wilkins never won a championship.)
UP: Bob Horry
... as always. It's spring. Gotta love Bob Horry.
DOWN: The Lakers front office
... they had a $4.5 million free-agent exemption to spend last summer and wasted it on Samaki Walker and Mitch Richmond, when anyone would have killed to play in L.A. Throw in the bizarre decline of Lindsay Hunter and they're stuck basically playing a five-man rotation for the playoffs, which somehow hasn't been a problem yet. Can you imagine being Phil Jackson in the Finals, looking down the bench when Horry has three fouls ... and seeing Mark Madsen smiling back at you? Yikes.
UP: Antoine Walker
... matured into a significant force over the past four weeks, becoming the odds-on favorite for the Double-Down Trent Memorial "My Baby's All Growns Up" Award for this year's playoffs. Even the Fleet Center fans are warming up to him, giving him a passionate, heartfelt Standing O as Game 4 wound down last Sunday, the first of his entire career. Who would have thought the Boston fans would ever respond to him? I sure didn't.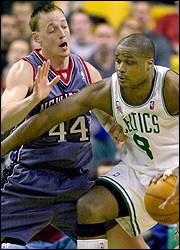 AP
Antoine Walker has won over his toughest critics -- the fans of Boston.
(Quick plea to Celtics fans: We need to come up with a chant for poor Antoine, who desperately needs some love from the fans in the face of the ubiquitous "M-V-P! M-V-P!" chant for Pierce; he's like the neglected midddle child who doesn't get enough attention. My suggestion is to steal New York's tradition of chanting every syllable of a Yankees's name, then clapping -- "Deh-rick Jeee-ter! Clap, clap, clap-clap-clap Deh-rick Jeee-ter! Clap, clap, clap-clap-clap" -- and use that chant for Antoine. Follow me? "An-twan Wah-ker! Clap, clap, clap-clap-clap An-twan Wah-ker! Clap, clap, clap-clap-clap." Please spread the word in time for Game 3 of the Nets series. End of plea.)
DOWN: Pistons fans
... for bolting to beat the traffic before Games 2 and 5 were decided in the Celtics series. Nice homecourt advantage. I'm glad we're holding next year's Super Bowl in such a hotbed for professional sports. Maybe the 2004 Super Bowl can take place in Charlotte.
UP: Rick Carlisle
... just for winning 50 games with that Pistons team. One true offensive threat, one true rebounder, three guys in the rotation who can only do certain things (Cliff Robinson, Corliss Williamson and Jon Barry), and the worst set of point guards you can possibly imagine (Chucky Atkins and Marlon Wayans). Somebody needs to look this up ... was that the worst second-round team of the past 20 years? They have to be up there, right? (Here's the thing: The Pistons have loads of cap space this summer, plus they have four first-round picks, including Memphis' pick if it falls below No. 5. Now here's the team that should make a run at Kevin Garnett or Rasheed Wallace.)
UP: Jim O'Brien
... who got swamped in the "Coach of the Year" voting by Carlisle, then coached the pants off him in their five-game series. That reminds me, I'd like to extend thanks on behalf of every Celtics fan to Carlisle, for burying his third-best offensive player on the bench (Jon Barry) until the second half of Game 5. Thank you, Rick!
DOWN: Paul Silas
... no coaching rotations to be seen, plus he allowed his offense to turn into an homage to Marbury's 2001 Nets team (everyone standing around while the point guard shoots 25 times per game). This Nets-Hornets series should have been more competitive, regardless of Mashburn's absence.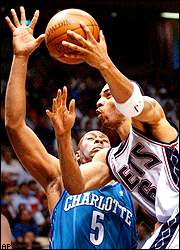 Isn't it fun to have villains like Kenyon Martin in the playoffs?
UP: That game-clinching alley-oop from J-Kidd to Kenyon Martin in Game 5 of the Charlotte series ... one of the more memorable NBA dunks of the past few years.
(Plus, between Walker and Martin, the NBA has two bonafide "Guys you love to hate" going deep into the playoffs for the first time since Rodman and Laimbeer in the early-'90s. The villains are back!)
DOWN: Jerry Stackhouse
... and not just because of his repeated no-shows over the past few weeks. Don't you love how a player plays selfishly for his first six years in the league, with no regard for his teammates and no regard for what it takes to become the key player on a winning team, and then he finally meets a coach who convinces him to put the team ahead of himself, so he sucks it up and does it, and the team starts winning ... and everyone reacts like the player just cured cancer? That's one of the all-time Nell Carters. You know, Gimme A Break? Nell Carter? The star of "Gimme A Break"? Aw, forget it. (You have to love the sports world; it's the only place where people are commended just because they stopped acting like a selfish jerk.
Bravo, Jerry! Nice job not being a selfish jerk anymore! Well done! Kudos to you! Somebody call the Nobel Prize Committee! We must lavish this man with as much praise as possible!
)
UP: Tim Duncan
... he should have won two MVP awards for winning 50-plus games in the West with that supporting cast. Would the second-best player on the Spurs even crack Sacramento's eight-man rotation?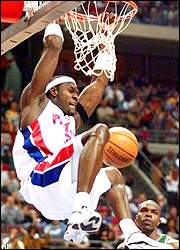 Ben Wallace is a great rebounder and defender ... but he couldn't help the Pistons when they needed him.
DOWN: Ben Wallace ... just a little. Tremendous defensive player, unreal rebounder ... but he was exposed in this series as a complete non-offensive threat (not that this was a news flash). Unless you have an MJ-Scottie or Kobe-Shaq tandem running your offense, you can't advance past Round 2 playing 4-on-5. The defenses just become too good. Too bad Wallace can't play for Dallas.
UP: Everyone who ever loved the NBA
... we could be two weeks away from another Celtics-Lakers Finals. Giddy up! Do you think my next-door neighbor will mind when I hand him a Kurt Rambis jersey and a basketball, ask him to put the jersey on, then clothesline him repeatedly?
DOWN: Everyone who ever loved the NBA
... another Celtics-Lakers series also means two weeks of interviews, sound bytes, talk-show appearances and during-the-game appearances from America's Houseguest From Hell, Mr. Magic Johnson! Can't we send him to Hong Kong or something during the Finals? What's the furthest possible spot from America? Can we send him there? Please?
THUMBS SIDEWAYS: Chris Webber
... I was watching the "SportsCentury and Beyond" episode on Webber a few weeks ago, when it struck me that the ending hadn't been written yet. Think about it. One of the most ballyhooed high school players of all-time. The best player on one of the most memorable college hoops teams of all-time. One of the most anticipated NBA rookies in recent memory. One of the biggest NBA disappointments of all-time. One of the greatest NBA reclamation stories of recent memory. Now he's at the crossroads, the best player on the best all-around team in the league ... and after all these years, we still don't know if he can take his game to the next level when it truly matters. So within the next month, we'll have our ending. The Lakers will never be more vulnerable than they are this spring. The Kings will never be better than they are this spring. And Webber will never be better than he is this spring. The stars have aligned. Your move, C-Webb.
Bill Simmons writes three columns a week for Page 2.