By Bill Simmons
Page 2 columnist
After an NBA playoff weekend featuring not one, not two, but three tormenting losses, it seemed like the perfect time to break out my "Levels of Losing" gimmick (a work-in-progress over the years).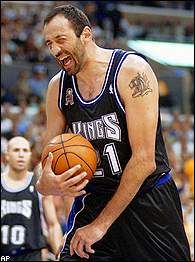 Vlade Divac's Kings got hit with a stomach punch Sunday in L.A.
For instance, while watching the Nets blow a 26-point lead in the final 13 minutes of Game 3 (Nets-Celtics), I was thinking to myself, "This is a Broken Axle game." After Big-Game Bob Horry nailed his game-winning 3-pointer in Game 4 (Kings-Lakers), I thought, "That's a second-level Stomach Punch Game." When the Nets kept taking it to the Celtics in Monday's Game 4, it took on "This Can't Be Happening" proportions for three quarters, then shifted into second-level "Stomach Punch" proportions down the stretch (Pierce missing the game-tying free throws, then Tony Battie nearly making a game-tying putback at the buzzer).
This doesn't make sense yet? Don't worry ... it will. Without further ado, here's my updated guide to the "Levels of Losing," culled from years of unfortunate experiences as a sports fan. Please note that we're ignoring run-of-the-mill losses and concentrating on memorable defeats (buzzer-beaters, blowouts, choke jobs, etc.) in big moments (pivotal games in a playoff series, Game 7s, NFL playoff games, losses that submarine regular seasons, etc.). Here are the 13 (appropriate number, eh?) levels I unearthed, from least painful to most painful:
Level XIII: The Princeton Principle
Definition:
When a Cinderella team hangs tough against a heavy favorite, but the favorite somehow prevails in the end (like Princeton almost toppling Georgetown in the '89 NCAAs) ... this one stings because you had low expectations, but those gritty underdogs raised your hopes ... also works for boxing, especially in situations like Balboa-Creed I ("He doesn't know it's a damn show! He thinks it's a damn fight!") ... the moment that always sucks you in: in college hoops, when they show shots of the bench scrubs leaping up and down and hugging each other during the "These guys won't go away!" portion of the game, before the collapse at the end.
Personal Memory:
The first round of the '95 NBA playoffs between Boston (No. 8 seed) and Orlando (No. 1 seed), the final season of the Boston Garden, when the C's (with a motley group of has-beens and nobodies) split the first two games in Orlando, then nearly polished off the Magic at home before Shaq, Penny and the gang prevailed. Those Celtics were woefully overmatched, but it was the magical Garden's last gasp; the electric atmosphere suckered us into thinking, "Damn, we might actually win this thing!" It was
extremely
tough to leave that place after Game 4.
Level XII: The Achilles' Heel
Definition:
This defeat transcends the actual game, because it revealed something larger about your team, a fatal flaw exposed for everyone to see ... flare guns are fired, red flags are raised, doubt seeps into your team ... usually the beginning of the end (you don't fully comprehend this until you're reflecting back on it).
Personal Memory:
And only because I wagered on the losing team ... but do you remember the Sunday night game when the Steelers rolled over the Ravens in Baltimore last December? Even though the Ravens had been underachieving all season, they were still considered to be the sleeping giant in the AFC. Not after that game. They were never the same. You just
knew
the torch had been passed in the AFC Central.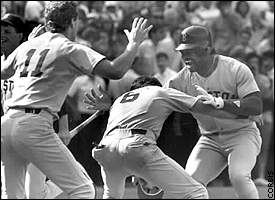 After Dave Henderson's dramatic homer in Game 5, there was no need to play the rest of the 1986 ALCS.
Level XI: The Alpha Dog
Definition: It might have been a devastating loss, but at least you could take solace that a superior player made the difference in the end ... unfortunately, he wasn't playing for your team ... you feel more helpless here than anything ... for further reference, see any of MJ's games in the Finals against Utah ('97 and '98).
Personal Memory:
Flipping things around, remember Game 5 of the '99 ALDS (Red Sox-Indians), when Pedro Martinez came out of the bullpen and slammed the door on Cleveland's season? Six innings of no-hit ball with an injured shoulder? Nothing you could do about that. Pedro came jogging in from the bullpen like Clint Eastwood ... and Indians fans knew they were finished. See you next year.
Level X: The Rabbit's Foot
Definition:
Now we're starting to get into "Outright Painful" territory ... this applies to those frustrating games and/or series where every single break seemingly goes against your team ... unbelievably frustrating ... you know that sinking, "Oh, God, I've been here before" feeling when something unfortunate happens, when your guard immediately goes shooting up? ... yeah ... I'm wincing just writing about it.
Personal Memory:
The Red Sox-Yanks playoff series from '99, when everything went against the Sox -- two potential homers bouncing off the top of the wall, egregiously bad umpiring, seeing-eye singles and bloop hits and everything else. After a while, you start battling that nagging, unshakable, "It's not our year" feeling, which takes on a life of its own and swallows your team whole. Nothing destroys a season faster than bad karma.
Level IX: The Sudden Death
Definition:
Is there another fan experience quite like overtime hockey, when every slap shot, breakaway and centering pass might spell doom, and losing feels 10 times worse than winning feels good (if that makes sense)? ... there's only one mitigating factor: when OT periods start piling up and you lose the capacity to care anymore; invariably you start rooting for the game to just end, just so you don't suffer a heart attack ... bonus points because one of these happened last night: Colorado's game-winning OT goal against Detroit.
Personal memory:
Game 1, Bruins-Oilers, 1990 Stanley Cup Finals, the tail end of my sophomore year in college, when everyone from school trekked down to Cape Cod for seven days of drinking and general mayhem. On this particular night, my buddy Sully and I skipped out of a party to watch the third period at a Hyannis bar. Just the third period, right? It ended up being the first OT. And the second OT. And the third OT. Imagine the most nerve-wracking moment of your life, then imagine it ballooning to three-plus hours. That's playoff hockey. Anyway, by the time Edmonton's Petr Klima drove a stake into our hearts around 1 a.m., we were drunk, drained, jittery and semi-suicidal. I don't even really remember what happened after that. I think we ended up walking down Route 6 and hitchhiking or something. Who knows? We didn't even know what to do. If I bumped into Sully 50 years from now, "Glen Wesley missing the net in the second OT" would be the first thing we brought up. I can't even talk about this anymore.
Level VIII: Dead Man Walking
Definition:
Applies to any playoff series when your team remains "alive," but they just suffered a loss
so
catastrophic and
so
harrowing that there's no possible way they can bounce back ... especially disheartening because you wave the white flag mentally, but there's a tiny part of you still holding out hope for a miraculous momentum change ... so you've given up, but you're still getting hurt, if that makes sense ... just for the record, I thought this would apply to the Nets after their Game 3 collapse (I couldn't have been more wrong).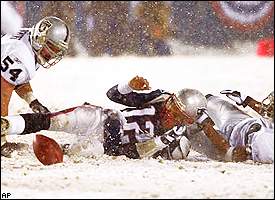 Tom Brady's fumble/non-fumble in the Snow Game still bothers Allen.
Decent Example: Remember Game 5 of the Eastern Conference Finals in '93 (Knicks-Bulls), when Charles Smith had all those chances to make the winning layup and kept getting stuffed, so the Knicks lost home-court advantage and had to travel to Chicago for Game 6? They didn't have a chance in hell. Bring this game up to a Knicks fan and they invariably start dropping F-bombs.
Personal Memory:
Two quintessential examples, both from the '86 baseball playoffs.
Games 6 and 7 of the ALCS (Red Sox-Angels), following the dramatic Game 5 when the Angels (three outs from the World Series) blew a 5-2 lead in the ninth inning (capped off by Dave Henderson's go-ahead homer with two strikes and two outs in the ninth, as policeman surrounded the field and the Angels bench was ready to run onto the field). If that wasn't bad enough, the Angels tied the game in the bottom of the ninth, had two chances with the bases loaded to score the winning run, then blew the game in the 11th. Then they flew cross-country to Boston to play Games 6 and 7, which they promptly lost by a combined score of 132-2. Talk about Dead Man Walking.
Game 7 of the '86 World Series, when we knew the Red Sox could never recover from the 10th inning of That Game -- WE %$$#%@% KNEW IT! -- yet they pulled the Michael Corleone "Just when I thought I was out, they pulled me back in!" routine by staking Bruce Hurst to a 3-0 lead in the early innings. I hate this game. Just thinking about it makes me angry -- how the %$%# did they rope me in again after Game 6? Let's just move on before I start slamming my head against the desk ... Level VII: The Monkey Wrench
Definition: Any situation where either A) the manager/coach of your team made an idiotic game decision, or B) a referee/umpire robbed your team of impending victory ... the Monkey Wrench game gains steam as the days and months roll along ... the Patriots and Raiders deserve special mention here because they played two Monkey Wrench games 26 years apart -- the '76 Playoff Game (where Ben Dreith's dubious "roughing the passer" call on "Sugar Bear" Hamilton gave the Raiders second life), and this January's Snow Game (the Brady fumble/non-fumble) ... funny how life works out.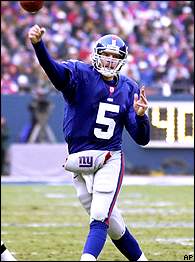 Kerry Collins and the Giants tortured Vikings fans for three-plus hours in the 2001 NFC Championship.

Best Example: Don Denkinger's famous call in Game 6 of the '85 World Series (Cardinals-Royals). We don't even need to go there.

Personal Memory: The ninth inning of a tie game during Game 7 of the '75 World Series, when Red Sox manager Darrell Johnston pitched untested rookie Jim Burton. I was 5 years old at the time ... even I knew this was a bad idea. Peter Gammons always mentions a funny story about being in a bar two months later and watching a drunken Sox fan scream out, "Why did they pull Willoughby and bring in Burton???" before passing out on the bar. That's the classic Monkey Wrench story. Level VI: The Full-Fledged Butt-Kicking
Definition: Sometimes you can tell right away when it isn't your team's day ... and that's the worst part, not just the epiphany but everything that follows -- every botched play, every turnover, every instance where someone on your team quits, every "deer in the headlights" look, every time an announcer says, "They can't get anything going," every shot of the opponents celebrating, every time you look at the score and think to yourself, "Well, if we score here and force a turnover, maybe we'll get some momentum," but you know it's not going to happen, because you're already 30 points down ... you just want it to end, and it won't end ... but you can't look away ... it's the sports fan's equivalent to a three-hour torture session. Best Example: The 2001 NFC Championship Game (Vikings-Giants). The Giants took the kickoff, rolled down the field and scored in four plays ... Minnesota fumbled the ensuing kickoff ... now the New York crowd was going bonkers, a sea of blue ... Collins lofted a TD pass to the fullback ... 14-0 ... Fox's cameras caught Green staring at the field in shock ... the Giants were whooping it up ... Minnesota couldn't respond on offense ... Madden was saying things like "There's just no fire on that Minnesota sideline" and "They just don't look crisp at all" ... Culpepper tossed an interception, followed by a Giants field goal (17-0) ... and that's when my buddy, Geoff (a die-hard Vikes fan) left a despondent message on my answering machine: "It's over."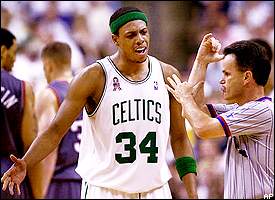 Paul Pierce's two missed free throws added up to a Level 2 loss for the Celts in Game 4.

Personal memory: January '86. Pats-Bears. Super Bowl XX. Ugh. I was so nervous before that game, I watched it by myself, surrounded by all kinds of junk food, various magazines and newspapers and everything else you could imagine, like I was headed for Sports Fan War. And within 30 minutes, it was over. Watching Eason fold like an accordion, watching Grogan standing helplessly on the sidelines, watching the Bears dancing and jiving, watching the Pats roll over and die, watching the Bears whooping it up, and worst of all, watching the freaking Fridge score a touchdown ... good God almighty.

Level V: The "This Can't Be Happening" Game
The sibling of the Full-Fledged Butt-Kicking ... you're supposed to win, you expect to win, the game is a mere formality ... suddenly your team falls behind, your opponents are fired up, the clock is ticking and it dawns on you for the first time, "Oh my God, this can't be happening." Best Example: Round 2 of the '97 Playoffs, when Brunell and the Jaguars stunned the No. 1 seed Broncos at Mile High. Watching that one on TV, you could feel the collective sphincter of the Broncos and their fans tightening as the game went along. This can't be happening, this can't be happening ... Personal memory: Game 7 of the '82 Eastern Conference Finals, when the Celts rallied from a 3-1 deficit to force a seventh game against Philly at home (just like they did the previous spring, when they eventually won the title). Not only had the Celts never lost a Game 7 at the Garden, during a Game 5 comeback that Wednesday, Boston fans chanted, "See you Sunday! See you Sunday!" at the Sixers bench (inferring that the C's would win Friday's Game 6 in Philly, which they did). Needless to say, our confidence had surged to dizzying heights. It never even entered our minds that we might lose. I remember seeing fans walking around the Garden wearing white sheets and dressed as "The Ghosts of Garden Past" -- an unreal atmosphere, certainly an impossible place for Philly to win. Um ... right? Unfortunately, Andrew Toney (one of the truly underrated NBA stars of my lifetime) had other ideas; nobody on the Celts could guard him. And you could feel that twinge of "Uh-oh" in the air, as we slowly realized things weren't working out like we had planned. Wait a second ... this can't be happening ... Level IV: The Broken Axle
Definition: When the wheels come flying off in a big game, leading to a complete collapse down the stretch ... this one works best for basketball, like Game 3 of the Celtics-Nets series this year, or Game 7 of the Blazers-Lakers series in 2000 ... you know when it's happening because A) the home crowd pushes their team to another level, and B) the team that's collapsing becomes afflicted with Deer-In-The-Headlitis ... it's always fascinating to see how teams bounce back from the Broken Axle Game ... by the way, nobody has been involved in more Broken Axle games than Rick Adelman.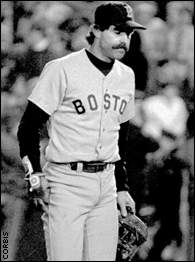 Only one game has ever combined The Guillotine and The Stomach Punch.

Best Example: I hate bringing golf into this, because it isn't a team sport, but remember that Masters Tournament when Greg Norman blew the six-stroke lead to Nick Faldo, then ended up losing by, like, five strokes? That was the all-time Broken Axle moment. Plus, writing a "Levels of Losing" column and not mentioning Greg Norman would have been almost sacrilege.

Personal Memory: With 1:06 remaining in the Celts-Nets game on Saturday, the Celts whittled it down to one and the Fleet Center roof was blowing off. So Byron Scott calls time out and tries to pull the George Karl/Pat Riley routine; in other words, he stands about 10 feet away from the bench, his back turned, staring out to the court and hoping that his guys will talk things out and band together. Of course, the five Nets starters were sitting there, heads down, elbows on their knees ... and nobody said a word. In three decades of Celtics games, I've never seen a team look more demoralized. You couldn't have dug a ditch big enough for them. Level III: The Guillotine
Definition: This one combines the devastation of the Broken Axle game with sweeping bitterness and hostility ... your team's hanging tough (hell, they might even be winning), but you can feel the inevitable breakdown coming, and you keep waiting for the guillotine to drop, and you just know it's coming -- you know it -- and when it finally comes, you're angry that it happened and you're angry at yourself for contributing to the debilitating karma ... these are the games when people end up whipping their remote controls against a wall or breaking their hands while pounding a coffee table ... too many of these and you'll end up in prison. Best Example: Game 7 of the '97 World Series (Indians-Marlins), when Cleveland's Jose Mesa gave up the game-tying run in the ninth inning. Every Indians fan knew it was coming. Of course, the '97 World Series never happened, so it's probably a moot point. We need to get that one wiped out of the record books. Personal Memory: Just about every crucial Bruins-Canadiens playoff game from the '70s, especially the unforgettable "Too Many Men on the Ice" game in '79, when the B's blew a chance to advance to the Cup finals by getting called for one of the lamest penalties in hockey (Guy Lafleur tied the score in the final minute, then the Habs finished us off in OT). One of two games that actually made Young Sports Guy cry in the '70s (along with the '78 Yanks-Sox playoff game); I couldn't figure out how I was 8 years old, yet I knew the Canadiens were coming back. Just excruciating. Level II: The Stomach Punch
Definition: Now we've moved into rarefied territory, any roller-coaster game that ends with A) an opponent making a pivotal (sometimes improbable) play, or B) one of your guys failing in the clutch ... usually ends with fans filing out after the game in stunned disbelief, if they can even move at all ... always haunting, sometimes scarring ... there are degrees to the Stomach Punch Game, depending on the situation ... for instance, Sunday's Kings-Lakers game and Monday's Celts-Nets game featured agonizing endings, but they weren't nearly as agonizing as Cleveland's Earnest Byner fumbling against Denver when he was about two yards and 0.2 seconds away from sending the Browns to the Super Bowl). Best Example: Wouldn't it have to be the Titans-Bills playoff game from '99, when the Bills kicked the alleged game-winning field goal in the final seconds, then Tennessee pulled off that miracle Wycheck-to-Dyson lateral play for the game-winning TD (on the kickoff, with no time remaining)? Not only was that a Top 5 Stomach Punch game, it doubled as the greatest Gambling Moment of all-time (since Tennessee ended up covering by a half-point). That was un-beeeeeeeeeeeeeee-lievable. Personal Memory: Magic draining that baby sky hook to topple the Celts in Game 4 of the '87 Finals, capping off a Celtics collapse and preceding Bird nearly saving the game at the buzzer (he missed a 25-foot prayer by about 1/100th of an inch). Fifteen years have passed and I still haven't fully recovered from that chain of events. Unreal. Level I: That Game
Definition: Game 6 of the 1986 World Series ... one of a kind ... given the circumstances and the history involved here, maybe the most catastrophic sports loss of our lifetime. Personal memory: The only game that actually combined The Guillotine and The Stomach Punch. No small feat. Let's just hope we never travel down that road again. Bill Simmons writes three columns a week for Page 2.