By Bill Simmons
Page 2 columnist
I'm not a morning person. I can't emphasize that strongly enough. When I was a kid, my parents would try to wake me up for school and I would re-enact various scenes from "The Exorcist," replete with swear words and my head doing 360s. In college, my classes were selected solely by the times -- there was one semester when I didn't have a single class that started before 1 p.m. Basically, I had to become either a bartender, a writer or a toll collector when I grew up. I can't even handle buying a cup of coffee before 9. I just can't. I can't function.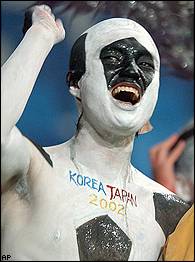 Nope, this isn't Bill Simmons at 7 a.m., it's an admirably passionate soccer fan at the Poland-U.S. match.
So when my bosses asked me to keep a running diary of the United States-Poland World Cup game -- which kicked off at 7:25 Friday morning on ESPN -- I obviously told them to go to hell. And then they said the magic words: "Well, we could always have someone else do it." I hate when they appeal to my competitive side.
Anyway, here's what transpired:
6:45 -- Snooze button.
6:54 -- Snooze button.
7:03 -- Snooze button.
7:12 -- Dammit.
7:15 -- We're live from Daejeon Stadium, South Korea, for the U.S.-Poland game! Our ESPN announcers today: Jack Edwards and Ty Keough. Mine eyes have seen the glory! Keough says that Poland has "a very slow defense." And they aren't that fast, either.
7:18 -- My buddy Stoner (a k a ESPN's Rob Stone) does a pregame feature on Clint Mathis and Brian McBride. The last time I saw Stoner this early, he was throwing up during his bachelor party in Hartford, Conn. And by the way, these are three words you never want to see in the same sentence -- "bachelor party" and "Hartford." Not good times.
7:21 -- Vegas sets the over-under for "References to the Sly Stallone soccer classic 'Victory' that the Sports Guy will make in this column" at 4½.
7:24 -- I'm not even close to being awake right now. Poland wearing white, USA wearing blue, Sports Guy wearing a T-shirt and boxers. By the way, the U.S. team can clinch a spot in Round 2 with a win. Feel the drama.
7:25 -- Time for the Polish national anthem, which sounds like it was hastily written last night. Poland's players have that terrified, "If we lose this one, I hope they allow us back in the country" look going. That's followed by the U.S. national anthem, which is greeted by loud applause. Pretty festive, pro-U.S. atmosphere in South Korea today. The stadium is about three-fourths full.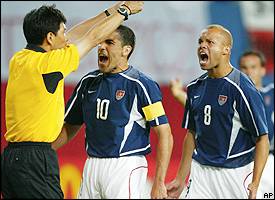 Claudio Reyna, center, and Earnie Stewart, right, protest referee Lu Jun's decision to disallow a U.S. goal.
7:28 -- Just so you know, U.S. head coach Bruce Arena looks like Poppy from "Seinfeld," so we're calling him "Poppy" for the rest of the diary.
7:31 -- USA comes out in a 4-4-2. Coincidentally, I use this same alignment on FIFA World Cup 2002 (on the PlayStation 2). Poland accidentally comes out in the 7-7-5.
7:32 -- Names from Poland's starting lineup include: Kozminski, Zielinski, Glowacki, Zurawski, Kucharski, Murawski and Kryszalowicz. If it were up to me, FIFA would force Poland to field an entire team of guys whose names end in "ski." There's Kowalski, passes to Koharski, over to Jumapowski ...
7:34 -- Score! Poland knocks one in off the corner kick at the 2:48 mark. Of course, the guy who scores it is the Nigerian guy (Emmanuel Olisadebe) who got expedited Polish citizenship right before the World Cup started. Yeah, that wasn't shady or anything. I'm bitter.
7:34 -- Unbelievable! USA answers right back with a Landon Donovan goal off a header, but the ref says Donovan pushed the defender out of the way right before. All that was missing was the English announcer from "Victory" screaming, "The goal has been disallowed! The goal has been disallowed!" Very shady call by the Chinese referee, Lu Jun Bavetta.
7:35 -- Good God almighty! Poland scores again ... we've just had two goals and a disallowed goal in 95 seconds (and I missed the last two live because I was typing). That was a nice little give-and-go. If soccer was this much fun all the time, I might actually watch it. "It's falling apart for the U.S.," Edwards says. Meanwhile, Apollo Creed's trainer tells us, "Poland doesn't think it's a damn show. They think it's a damn fight!"
7:37 -- Keough and Edwards are hammering U.S. stopper Jeff Agoos right now. Agoos was partly responsible for both Poland goals and screwed up twice during the U.S.-Portugal game; he's unquestionably the weak link for the U.S. team. Fortunately, this isn't South America, where Jeff would be immediately be given a Colombian necktie when he returned to the country.
(One thing about Agoos -- he would have made the greatest "Miami Vice" villain of all-time. You really have to see him. He's my favorite guy on the U.S. team -- they can't show enough closeups of him.)
7:40 -- Brian McBride gets a decent chance and gets stuffed. "There are openings in the Polish defense," Keough tells us. I don't even have a joke here.
7:41 -- Highlight of the game so far: The Sports Gal bringing me coffee, an onion bagel and a cattle prod from Sorelle's Bakery. God bless her. I was just starting to fade. "You owe me," she says. Uh-oh. Looks like I have "Secrets of the Ya-Ya Sisterhood" in my future this weekend. Could somebody just shoot me in the head right now?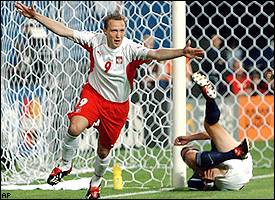 Pavel Kryszalowicz leaves Jeff Agoos tumbling on the ground after scoring Poland's second goal.
7:43 -- Clint Mathis rips a long shot that goes just wide. He's the guy who appeared on Sports Illustrated before the Cup started; now he's wearing a Mohawk to make himself stand out. NBA players get tattoos and piercings; soccer players get Mohawks. Edgy.
7:44 -- Mmmmm ... hot coffee. I think I'm actually starting to wake up.
7:48 -- "This crowd has turned strongly for Poland," Edwards says. They're pulling an Ivan Putski and feeling the Polish Power. Meanwhile, ESPN shows the following graphic: "The USA has never come back from a 2-0 deficit in World Cup history." Poland's in the 0-0-11 alignment right now.
7:52 -- A McBride header off the corner kick gets stuffed. The United States can't buy a break right now. By the way, that's reason No. 124 why I never could have been a soccer player -- headers. Those things hurt.
7:59 -- Brad Friedel! The U.S. goalie just singlehandedly saved the game -- two huge saves at point-blank range. Jeff Agoos is getting worked like a speed bag right now.
8:01 -- "Is there enough variety in USA's attack?" Edwards wonders. You mean, the whole "No passing, no timing and lots of long lob passes" routine isn't quite working for you, Jack?
8:03 -- Reason No. 125 why I never could have been a soccer player: Those four-man walls where everyone holds their hands over their packages and then the other team kicks the free kick right into them. That's about as fun as a car crash. It's funny, soccer players always have a reputation for being wusses, but this game is much more dangerous than baseball or basketball. The problem here is that we all went to high school and college with soccer players, and we know they're the types of guys who say "Dude" all the time and hit on your girlfriend when you're away for the weekend. Hence, the anti-soccer backlash. All right, I'm babbling.
8:05 -- Agoos goes out with a calf injury ... can't say that's an enormous loss. DaMarcus Beasley comes in as Poppy officially says, "We're going with the offense, baby!"
(I'm a huge Beasley fan. He's firmly entrenched in his "The Rock when he was still called 'Rocky Maivia' and hanging with the Nation of Domination" stage of his career right now. ETA for him making The Leap: summer, 2004.)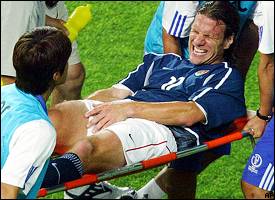 Agoos, mercifully, is taken off on a stretcher in the first half.
8:14 -- USA's John O'Brien misses a left-foot blast by about three feet. That thing had a bigger hook than Shaq. Meanwhile, the Polish goalie just got a yellow card -- not sure why. Gotta love the random yellow card.
(Shouldn't every sport incorporate the "Yellow/Red Card" system from soccer? Especially the NBA -- yellow cards would be much more fun than double technicals. Plus, it would be funny to see the NBA refs running up and down the court with cards sticking out of their back pocket. This definitely needs to happen.)
8:17 -- Another sprawling save by Friedel on a 25-foot Polish bullet. Poland very easily could have scored four times in the first half. Can't the U.S. players start making Polish jokes on the field to knock them off their game? That's what I do whenever my Uncle Mark comes to the plate during the annual Simmons Family Softball game.
(Doesn't every family have one Polish person who marries into the family and takes an inordinate amount of abuse for the rest of their lives? Mine is my Uncle Mark, a very good guy who operates a barbecue grill with the best of them, with the added bonus that he's served as a lightning rod for family jokes since 1977. And it's the comedy that keeps giving, because even when they have kids, you can make fun of the kids for being half-Polish. It never ends. Wait a second, am I thinking out loud again?)
8:19 -- Halftime. Poland 2, USA 0. Absolutely unbelievable.
8:23 -- Hey, it's the Stoner! He's serving as host of the Volkswagen Halftime Report with Dave Dir, who has a Peter King thing going. Just so you know, Stoner is the host of a variety of shows from Charlotte during the Cup and logging this schedule -- go to sleep at 1 in the afternoon, wake up at 7 at night, shower and get dinner, work for about 14-15 straight hours through the night, then head back to sleep at 1 in the afternoon. Needless to say, he's starting to look like Steve Buscemi. He doesn't even know what day it is. I know the feeling.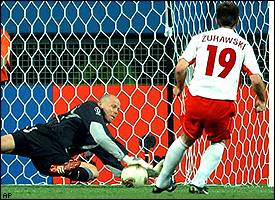 The amazing Brad Friedel stops Maciej Zurawski's penalty kick.
8:30 -- Quick plug for the World Cup: I'm not a soccer guy by any means, but I enjoy any sporting event when the following things apply -- 1) Players are playing at a world-class level, 2) the level of intensity is through the roof, and 3) the crowds are fantastic. I could watch a kickball match if those three things applied; hell, I could watch two guys playing dominoes. So for anyone to say that they can't watch the World Cup because they don't like soccer ... I just don't get it. I can't think of a more dramatic sporting event.
For instance, Monday's South Korea-U.S. match featured the best crowd I've ever heard for any sporting event. I mean, ever. I'm not kidding. They spent two solid hours screaming their heads off, organizing cool chants, rocking in rhythm, maintaining an unreal level of intensity ... it was amazing to watch and hear, giving the game almost a primal feel. The fact that the United States held on for a 1-1 tie was even more amazing. Just an unforgettable game. And if you can't appreciate something like that, I don't know what to tell you.
(We'll be back on the "Sports Reporters," after this.)
8:35 -- Time for the second half ... I'm about 75 percent awake at this point. Just so you know, if the United States doesn't score and Portugal-South Korea ends in a 0-0 tie, the U.S. team is out of the second round. Yikes. We might actually get bounced by Poland?
8:36 -- One of the Polish offensive players gets a yellow card for taking a dive. I enjoyed that one. You're such a scumbag for doing that, I have no choice but to give you a yellow card.
8:38 -- Time for a new face to enter the Pantheon of Faces: The Bruce Arena "I can't believe we're blowing the World Cup and losing to freaking Poland" Face. He looks like he just threw up in his mouth.
8:48 -- Very enjoyable game so far -- not too many dives and flops, no cheap stuff, lots of intensity. Meanwhile, in the Portugal-South Korea game (happening at the same time), Portugal is playing nine guys, because of two red cards. if Korea takes advantage and scores the go-ahead goal, USA might sneak into the second round by the olddddddddd back door.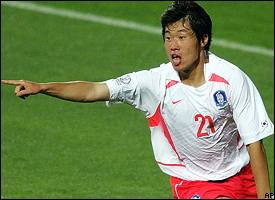 South Korea's Park Ji Sung celebrates his goal against Portugal.
8:53 -- I've been sitting down for so long that my Arkadiusz Glowacki just fell asleep.
8:55 -- Poland just headed in a cross. Poland 3, USA 0, 66-minute mark. Edwards sounds semi-suicidal. Come on, South Korea!
8:56 -- Lots of pressure by the U.S., capped off with Clint Mathis lifting a lofter over the goalie and just over the crossbar. That one hurt. On the bright side, South Korea just scored (South Korea 1, Portugal 0). Would the U.S. team even feel good about making the second round this way? Hell yeah! USA! USA! USA!
8:58 -- The first morning casualty at the Sports Guy Mansion: An inexplicable bloody nose. Am I the only person older than 10 who still gets random bloody noses? And is there anything worse than Bloody Nose Breath? My body is simply rejecting being up this early. It's that simple.
9:01 -- All right, I'll ask: Couldn't they just ban "offsides"? Would anyone object to this?
9:03 -- Another reason why you have to love the World Cup: The random matchups. For instance, Spain is playing Ireland on Saturday. I like when they have those matchups with historical implications, like Germany against England or something. Those always put a hop in my step. Germany! England! It's World War II all over again, live on ESPN2 tomorrow at 4:45 in the morning!
9:04 -- Poland turns a 4-on-3 into a penalty kick ... another shady call from Jeung-Song Bavetta. Hmmm. And then ... FRIEDEL STOPS THE PENALTY KICK!!!!!!! Good God! He's stopped not one but two penalty kicks this round. I thought that only happened in movies ... you know, like when ... (do I even have to say it?).
9:06 -- That reminds me, here's my random ESPN complaint: Couldn't they have filmed a World Cup commercial where the U.S. team was standing underneath a tunnel at halftime of a mock World Cup game, ready to escape, and DaMarcus Beasley stops everyone and says, "Guys, if we run now, we lose much more than a game" and urges everyone to come back for the second half? He could have even used a Pele-style accent. I can't believe this didn't happen. They could have run it at halftime during this game -- would have been perfect. I'm telling you, I should be running this network.
9:09 -- We're at the 79-minute mark. Meanwhile, South Korea's up one at the 81-minute mark. Could somebody open the back door please? Could you just leave it a little ajar? Thanks.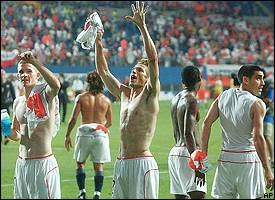 After their loss, U.S. players -- from left -- John O'Brien, Frankie Hejduk and Claudio Reyna got some sweaty Polish shirts.
9:11 -- Stoner calls to tell me, "Turn the South Korea-Portugal game on ESPN2. This USA game means nothing now. We could lose 8-0 and it wouldn't matter if Portugal loses." I didn't even know that game was on. Now I'm doing some serious back and forth flipping right now ... I'm in the Remote Control Zone. I've said it before, I'll say it again: Nobody works the remote better than me. Nobody.
9:12 -- Just as Landon Donovan scores (cutting it to 3-1, Poland) on ESPN, Portugal botches an easy chance to tie their game on ESPN2! Crucial turn of events right there.
9:16 -- Friedel foils a 2-on-1 breakaway by Poland. Amazing game by him. Meanwhile, on ESPN2, Portugal hits the post ... if that shot was an inch to the right, the United States is out of the World Cup. I feel physically ill. This is wayyyyyyy too much excitement at 9:16 in the morning.
9:19 -- A Polish defender is knocked groggy after a collision with his own goalie. Insert joke here. Meanwhile, Portugal gets another great chance on a close-range blast and gets stuffed. How are they doing this with nine guys? Could this game end, please?
9:21 -- It's over! South Korea wins it! The U.S. team has advanced in "the strangest way imaginable," as Edwards puts it. USA! USA! USA!
9:25 -- Game over: Poland 3, USA 1. We've now seen another Bruce Arena Face -- the smiling, embarrassed, "I can't believe we blew this game, and we're still going to the second round" face. You don't see that one too often. As Stoner says in a giddy phone call, "Only in international soccer can you advance in the playoffs when another team wins in another part of the country."
9:27 -- Time for the weirdest World Cup tradition: The end of the game, when the teams switch jerseys and put the opposing jerseys on. Would you want to put on the sweaty jersey of a guy from another country who was just running around for two straight hours? Me neither.
9:30 -- One of the shirtless U.S. players turns to the camera, sheepishly smiles and says, "We'll take it, we'll take it, next round!"
That sums up everyone's feelings. Coming up next for the U.S. team ... Mexico in the Round of 16. Now if you'll excuse me, I'm going back to sleep.
Bill Simmons is a columnist for Page 2 and ESPN The Magazine.