By Bill Simmons
Page 2 columnist
With Wednesday night's NBA draft looming, I was planning on watching the draft from my father's house and keeping a running diary, when something struck me: Hey, I've been doing this for awhile.
As it turns out, Wednesday night will mark my sixth straight Draft Diary from Dad's house. And sure, just about every joke has been made at this point, and yeah, I'm probably beating a dead horse into the ground. But I can't give it up. I just can't. Even if it's the same column and the same jokes every year, it's still my favorite column to write. The clothes, the posses, the interviews, the dopey comments, the unintentional laughs, the screw-ups, the trades, the hugs, even the drama ... for some reason, it never gets old for me. Hopefully, you feel the same way. It's the goofiest sports day of the year.
But in case you're not totally sold, I'm delving back over the past five years and picking out my "Top 50 Favorite NBA Draft Moments," which we're presenting in reverse order from 50th best to first best. Proceed at your own risk: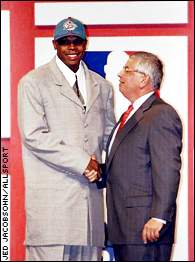 Commissioner David Stern compliments Bonzi Wells on coordinating his posse's attire.
No. 50
From 1998 ... With the 3rd pick, Denver passes up Paul Pierce, Dirk Nowitzki and Antawn Jamison to take Raef LaFrentz. If that wasn't tough enough for Nuggets fans, TNT guest analyst Rick Majerus promptly compares LaFrentz to Adam Keefe. Now there's a quote that didn't turn up in the next Nuggets media guide.
No. 49
From 1998 ... after Detroit takes Bonzi Wells at No. 11, we see Bonzi surrounded in the Green Room by family members in white fedoras, all looking like extras in a Notorious B.I.G. video. Tremendous "posse coordination" at such an early age. Very impressive.
No. 48
From 1998 ... TNT reporter Peter Vecsey reports that Golden State and Toronto are swapping picks: Toronto takes Antawn Jamison for G-State at No. 4, then G-State takes Vince Carter for Toronto at No. 5, and "There's also some money changing hands." We later find out that Toronto gave up Jamison for Vince Carter, Baltic Avenue, Park Place, $200 and three immunities.
(As an added bonus, Carter and Jamison seem to be wearing the exact same three-piece suit, which leads to my dad's award-winning theory that there was only one three-piece suit in the Green Room and every draft pick had to pass it along to the next pick.)
No. 47
From 2000 ... Commissioner Stern announces the first-ever All-Stiff Draft Night Trade: Houston deals Joel Pryzbilla to Milwaukee for Jason Collier and a future No. 1. This trade was approved by the NBA's official coroner, Dr. Sam Quincy.
No. 46
From 2001 ... One year after targeting the Best Head Case Available and taking Erick Barkley at No. 28, Portland agonizes between Jamaal Tinsley and Zach Randolph before finally pouncing on Zach Randolph at No. 19. You couldn't make this stuff up.
No. 45
From 2001 ... The Bulls take Eddy Curry at No. 4, leading to TNT guest analyst Rick Pitino congratulating Bulls GM Jerry Krause on a successful good bluff (making everyone think the Bulls wanted Pau Gasol at No. 4). Isn't that the kiss of death -- getting complimented on a front office move by Rick Pitino? Somebody should have just thrown a black cat on the stage.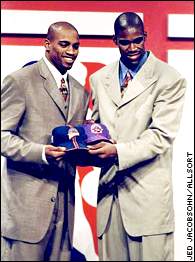 Vince Carter, left, trades hats and destiny with Antawn Jamison in 1998.
No. 44
From 2000 ... TNT's Craig Sager interviews new Chicago pick Jamal Crawford, his father (Clyde) and baby son (Eric, who's completely unintelligible). It's three generations of Crawfords! By the way, you know the NBA draft is happening when somebody named "Clyde" is being interviewed.
No. 43
From 2001 ... Near the end of the first round, after Vecsey reports that the Knicks don't have enough to trade for Chris Webber, the New York fans in the building respond by starting an impromptu, "Vecsey sucks! Vecsey sucks!" chant on live TV.
No. 42
From 2000 ... The Green Room Watch finally ends as the Suns take 7-foot-2 Greek center Jake Tsakalidis at No. 25 (the last guy in the Green Room who hadn't been picked, only because he was having trouble getting out of his European contract). That leads to this exchange:
-- Sager: What's your (contract) status?
-- Translator: (Doesn't speak for some reason)
-- Tsakalidis: Ehh, ahhh, rsxcdsrs no contract, no, jhdgssfsa fine, ahhh. Errr.
-- Sager: So you're saying you can play for the Suns next year?
-- Tsakalidis: Ahhhh... I play. Mrrteggwgs. Next year. Grrsfsfsf. Ahhh. Errrrr. Ahhh. Errrr.
-- Translator: Cheeseburger cheeseburger cheeseburger.
No. 41
From 1999 ... looking for the best white guy available, Golden State takes Jeff Foster at No. 20. Majerus sums it up best by saying, "He's not gonna come in right away and impact the Warriors in any way, shape or form."
No. 40
From 2001 ... Stern announces No. 26 pick Samuel Dalembert being selected by the Sixers, followed by Dalembert suddenly and inexplicably hopping out of the stands to shake hands with a clearly terrified Stern. These are the things that happen when you get rid of the Green Room.
No. 39
From 1999 ... TNT's John Thompson utters the phrase "He should have stayed in school" 15 times in the course of one night. Of course, the same could have gone for John Thompson.
No. 38
From 1997 ... Near the end of the first round, Vecsey reports that the Timberwolves and Clippers just made a trade. Dad and I move to the edge of our seats, giddy with excitement, only to have Vecsey tell us that Minnesota traded Stojko Vrankovic to the Clippers straight-up for Stanley Roberts. Can I get fries with that?
No. 37
From 1999 ... Shawn Marion (No. 9) puts on a black Suns hat with a gray suit and bright-blue shirt. Very nice. An excited Majerus calls Marion "the sleeper of the draft ... I just like him very much ... as you can tell, I'm very high on him." He then gets electroshocked by the TNT producer.
No. 36
From 1998 ... Unhappy with the American white stiff center they selected last June (Paul Grant), Minnesota takes a Slovenian white stiff center (Radislav Nesterovic).
No. 35
From 1997 ... The Mavs take center
Kelvin Cato
, a former dishwasher who ended up at Iowa State after a growth spurt. TNT's two "draft facts" about him are "Never played high school basketball" and "Owns a 9-foot Burmese python snake." Apparently rattled by these facts, Dallas immediately deals Cato to Portland for the No. 18 pick (Chris Antsey) and monetary considerations.
No. 34
From 2001 ... TNT's Hubie Brown talks for 36 uninterrupted seconds, even using the rare "second person" for part of the time. Now, you're Hubie Brown. You're going to be speaking, uninterrupted, without taking a breath, for the next 36 seconds ...
No. 33
From 2000 ... An actual transcript of TNT's Charles Barkley's attack on the Clippers: "I don't think the Clippers are a good environment for (new No. 1 pick Darius) Miles. They're a terrible organization ... I hope he gets out of there ... The Clippers are one of the problems in sports. People think you have to win to make money -- the Clippers are a perfect example of a team that lets all their good players go every year ... they're giving their fans a bad product ... that's one of the problems in sports today. There's just no excuse for what the Clippers have been doing for the past 10-15 years, letting all their good players go."
(You gotta love Chuck! The best part was seeing Ernie Johnson's face tighten on the split screen as his producer screamed in his earpiece, "Cut him off ... cut him off ... CUT HIM THE *$%# OFF!!!!!")
No. 32
From 1999 ... The Knicks take 7-foot-3 French star Frederic Weis with the No. 15 pick, the funniest pick of the last five years. "Bonjour, Latrell! Bonjour, Marcus! Flustered by the pick, Johnson swings it to a startled Peter Vecsey, who's completely out of info. Vecsey makes up a "Steve Smith for Isaiah Rider" trade rumor on the spot.
No. 31
From 2001 ... The Clips trade the rights to No. 2 pick Tyson Chandler to Chicago for Elton Brand. That's right, after 47 years, Elgin Baylor finally made a good trade! Watching the draft live, Dad and I immediately start stockpiling water and canned goods and preparing for the Apocalypse.
No. 30
From 1999 ... Corey Maggette's agonizing Green Room wait ends when Seattle snaps him up at No. 13 (the second time in two years that they saved someone from the Green Room; more on this in a second). After Johnson says Maggette has "unlimited" potential, John Thompson quickly adds, "Very unlimited."
(So if you're scoring at home, Maggette didn't just have unlimited potential ... he had very unlimited potential.)
No. 29
From 1997 ... While watching an interview with Golden State No. 8 pick Adonal Foyle (who hails from the Caribbean and has an accent that makes him sound like a cross between Bob Marley and Michael Caine), my squinting father wonders, "Where's this guy from again?" About two hours later, after nodding off and waking up again, Dad sees TNT's John Thompson babbling on the screen, squints and wonders, "Where's this guy from again?" That shatters Dad's "Where's this guy from again?" record, set during the '94 draft.
No. 28
From 1999 ... Charlotte selects point guard Baron Davis at No. 3, who's wearing a white gangtsa suit from the Kenny Smith collection. He immediately puts a teal Hornets hat on his head for the retro-"Miami Vice" look. Snazzy combo. Maybe the best post-selection look of the past five years.
No. 27
From 1998 ... Talking about Kings pick Jason Williams, Majerus says, "He's got great 'feel for the game,' and you can't coach 'feel for the game.' "
(We later find out that Williams also had great "feel for the bong.")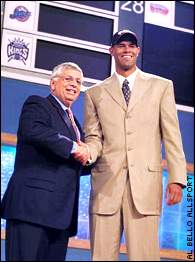 Stern can't hide his glee while greeting well-schooled Shane Battier in 2001.
No. 26
From 2001 ... You knew Shane Battier was headed to the Grizzlies at No. 6, because Stern looked happy walking to the podium for the first time all night. All right, it's a four-year senior! As an added bonus, Battier becomes the first draftee in history to use the word "archaic" in his post-pick interview. A confused Sager immediately throws it back to Johnson.
No. 25
From 1999 ... As the second round winds down, Majerus calls No. 44 pick Lee Nailon a high-energy guy, "like a pingpong ball in a bathtub." Sounds like my prom date.
No. 24
From 1999 ... Minutes later, after Johnson tells us that stiff center Todd MacCulloch (No. 47) enjoys bungee-jumping, parachuting, parasailing and cliff-diving and has a dog named Chainsaw who once got his tongue stuck to a frozen pole, Majerus deadpans, "Is there a 'developing a hookshot' story in there?"
(The lesson, as always: You know it's getting late when Rick Majerus makes you laugh out loud.)
No. 23
From 1997 ... After Houston picks Rodrick Rhodes, Hubie describes him as having "incredible upside." Not just upside, folks ... incredible upside.
No. 22
From 2000 ... After the Nets take Kenyon Martin at No. 1, the TNT cameras show Martin hugging various women in the Green Room while Dad and I have the following exchange:
-- Dad: He's hugging all the mothers of his kids.
-- SG: No, no, that's Marcus Fizer. Fizer's the one with all the kids.
-- Dad: Oh. (pause) How many kids does Martin have?
(Don't you just love the NBA draft?)
No. 21
From 1999 ... As the first round winds to a close, TNT's cameras hone in on a distraught Jumaine Jones (the winner of the "Last Guy in the Green Room" contest), as Majerus keeps saying, "He should have stayed in college ... he should have stayed in college." Just an emotionally scarring five minutes. Although not nearly as emotionally scarring as ...
No. 20
From 1998 ... High schooler Rashard Lewis sets the NBA record for "Most Time Spent In The Green Room" -- improbably lasting through the first round, surviving two "Why hasn't Lewis been taken yet?" highlight montages, surviving at least 35 "There's Rashard sitting by himself in the Green Room" closeups, even getting passed on by his hometown Rockets -- before the Sonics mercifully take him as the 32nd overall pick, which means he doesn't even get to shake hands with David Stern. The entire chain of events brings Lewis to tears. They should show this as a cautionary video to anyone thinking about coming out early.
No. 19
From 2000 ... With their 29th pick, the Lakers execute a little-known league rule by using a WNBA territorial pick to take Mark Madsen.
No. 18
From 1999 ... Johnson tells us that No. 26 pick Vonteego Cummings got his first name after a neighbor combined the names of two cars, "The Volkswagen and the Montego." I don't even have a joke here.
No. 17
From 2001 ... Pitino says that the Celtics could be looking at "Troy Parker" at No. 21. Troy Parker? Wasn't he in "Boogie Nights"? After the Spurs take Tony Parker later in the round, Barkley says, "I don't know that much about him, but they got him in the first round, so he must be a good player." Insightful work by the TNT crew.
No. 16
From 1997 ... the Sixers take Keith Van Horn, who's forced to wear a Sixers hat and endure an interview with TNT's Craig Sager even though he's headed to New Jersey in a draft-day deal (which can't be announced until after the first round). That leads to a new face for the Pantheon of Faces -- the Keith Van Horn "I was excited to play in Philly, but now I have to spend my career in New Jersey, yet I still have to pretend that I'm excited to play for Philly until this trade is announced" Face.
No. 15
From 2000 ... the Pistons take Mateen Cleaves, who immediately gets congratulated by the stunt double from "Big Momma's House" whom TNT hired to play the role of everyone's Mom for the night. Excited to play for his hometown team, Cleaves looks into the camera and says, "Wassup, Flint, I'm coming home, baby. Tony, I love you, boy. I'm coming home, baby. Yeah, baby, yo. Yeah, baby!" Word up, 'Teen.
No. 14
From 1998 ... After Houston takes Turkey's Mirsad Turcan near the end of Round 1, Majerus compares Turcan to Moses Malone and officially gets cut off by the bar at the Vancouver's GM Place.
No. 13
From 1999 ... the Bulls snare Ron Artest at No. 16, who looks ecstatic just to get out of the Green Room. Artest repeatedly points at the camera, his friends, the crowd, even a stunned David Stern (who repeatedly implores him to look at the camera and finally just gives up). In his subsequent interview with Sager, Artest develops some rare form of draft ADD, resulting in this exchange:
-- Sager: The only other person from Queens Ridge is the rapper Nas. What would he say about this?
-- Artest: (crying, pointing at crowd, more crying)
-- Sager: (finally tapping Artest on the knee)
-- Artest: Um, what'd you say?
No. 12
From 1998 ... while talking about Michael Olowokandi, TNT's Doc Rivers uses the word "upside" three times in 10 seconds, shattering the world record. That's right up there with Joe DiMaggio hitting in 56 straight games; you will never see that one get broken.
No. 11
From 1998 ... Clippers GM Baylor tops Rivers five minutes later, referring to the player he just drafted with the No. 1 overall pick as "O-oh-lah-kanda." Then Baylor mentions his "upside." Everyone likes the KandiMan's upside. Looking back, it was quite an upside, as far as upsides go.
No. 10
From 2000 ... after Donnell Harvey (Knicks) and Deshawn Stevenson (Jazz) get tabbed, the Bulls select a Croatian center named Dalibor Bagaric at No. 24. Confused, my dad looks up from his Sporting News and says simply, "He's not on my list."
(Maybe my all-time favorite "Dad at the draft" moment. You really had to be there.)
No. 9
From 1997 ... During a draft night party at the Fleet Center for Celtics fans and assembled media, Rick Pitino takes Chauncey Billups (No. 3) and Ron Mercer (No. 6), then calls his new rookie tandem "my dream backcourt for the next 10 years." They end up playing just 171 combined games in Boston uniforms before the Rick-tator sends them packing.
No. 8
From 1999 ... Ernie Johnson tells us that soon-to-be-lottery pick Steve Francis brought 300 members of his extended family to the draft in Washington. Do you even know 300 people? That one might never be topped.
No. 7
From 1999 ... with the Clippers on the clock at No. 4, we were waiting breathlessly to see if they would be dumb enough to take Lamar Odom, this year's resident head case. As Dad put it, "The Clippers can't take Lamar Odom ... the league shouldn't allow it ... Stern should just rip up the card if they take him and announce Wally Szczerbiak's name." Of course, the Clippers end up taking Odom, who tells Sager that he's "looking forward to being an L.A. Clipper." Dad adds, "It was destiny." You couldn't make this stuff up.
No. 6
From 1999 ... more from Sager and Odom (following Odom getting taken No. 4):
-- Sager: Lamar, how much does this mean to your grandmother?
-- Odom: It means everything. I made a promise to her that I would finish school and that I would make the NBA."
-- Dad (doing a double take): Wait a second ... he left school after one year, didn't he?
-- SG: Yeah. He's only 19.
-- Dad (still confused): What school was he talking about, elementary school?
No. 5
From 2000 ... On location in Los Angeles, TNT's Reggie Theus reports that he just spoke with the Clippers GM, calling Baylor a "veteran of the lottery process." That's like calling Art Schlichter a "veteran handicapper." Can you think of a better way to describe Baylor's career as an executive? He's a veteran of the lottery process. Just perfect.
No. 4
From 2001 ... During the "We're live at the NBA draft!" montage at the beginning of their telecast, TNT shows a closeup of potential lottery pick Eddie Griffin (coming off a checkered season at Seton Hall). So Griffin looks into the camera and smiles with one of those "I'm a nice guy ... I'm sensitive ... I'm not gonna punch you" looks. Unequivocally the highlight of the 2001 draft.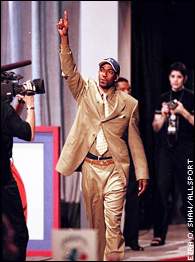 Rip Hamilton just needs a hug, but his 1999 embrace of Stern would be topped a year later.
No. 3
From 1998 ... TNT shows probable No. 1 pick Olowokandi, the Nigerian import who's wearing a brown pinstriped shirtsuit with a baby blue shirt, leading to this actual dialogue between me and Dad:
-- Me: How would you describe that suit?
-- Dad: Rented.
No. 2
From 2000 ... After the Clips stun everyone by taking high schooler Miles, he immediately throws on a blue Clippers hat to top off his cream-colored suit, then comes out and hugs a stunned David Stern -- a full-body, waist-to-waist, genitals-on-genitals hug that even surpassed Rip Hamilton's hug in the '99 draft. Can you put a price on this kind of comedy?
No. 1
From 1999 ... after the Grizzlies select Stevie Francis second, a disappointed Francis puts on a Grizzlies hat, shakes hands with Stern and tries to pretend he's happy. But when he and his grandmother head on stage for an interview with Sager, Francis becomes steadily more distraught by the realization that he's heading to Vancouver. When Sager asks him, "How does it feel?", Francis rolls his eyes, holds back tears, leans back in his seat, stares up at the roof in dismay and looks like he might start screaming. Sager quickly throws it back to Ernie.
(The NBA ... it's FANNNNNN-tastic! I love this game!)
Bill Simmons is a columnist for Page 2 and ESPN The Magazine.