By Bill Simmons
Page 2 columnist
Before we tackle Part 2 of my NFL Preview (33 "Caddyshack" quotes for the upcoming season, click here for Part 1), I forgot to mention one thing in yesterday's "Here's why I love this movie" section: No movie influenced the way people play a particular sport more than "Caddyshack." Think about it. Have you ever played golf without dropping at least one "Caddyshack" line? It almost feels like you haven't really started the round until someone makes a reference to the movie. Warrants mentioning.
WHAT HAPPENED
ON THE 18TH HOLE?
At least once a week, one of my readers wonders, "What happened on the 18th hole of the match between Ty & Danny and the Judge & Dr. Beeper?" Here's a quick explanation:

The match was tied going into the 18th hole. Dr. Beeper and Ty both missed their putts, settling for pars. The Judge pulled out Billy Baroo and made his birdie. So Danny needed to make his putt to halve the hole (and salvage a tie for the match) ... if he missed it, his team lost the match.

As Danny stood over his putt, Al Czervik made his "Double or nothing that he makes it" offer to Judge Smails, which the Judge accepted. In other words, the Judge gave up his "If he makes it, we tie ... if he misses, we win" position for a chance to double his winnings if Danny missed. When Danny made the putt, the Judge suddenly had to pay twice the initial wager. In retrospect, it was a savvy gamble by Al -- who had nothing to lose but more money -- and a colossally stupid move by the Judge.

We'll be back on "Alcoa's Great Moments in Gambling History" after this.
On to Part 2:
17. "I want a hamburger -- no, a cheeseburger. I want a hot dog. I want a milk shake. I wan-."
"You'll get nothing and like it!!!"
The finest upbraiding in the film (Judge Smails berating his nephew) goes to ... Oakland and Pittsburgh, both of whom were toppled by the Patriots in January and haven't stopped yapping since.
First, the Raiders haven't gotten over the Brady nonfumble-fumble call, even though A) the "tuck" rule was interpreted correctly, B), the "tuck" rule was kept for this upcoming season, C) Charles Woodson illegally hit Brady in the head on the play, and D) Oakland should have put the game away (remember that 10-point lead in the final quarter, or second-and-2 with three minutes to play and a three-point lead ... does any of this ring a bell?). Boys, if you had taken care of business, it never would have reached the point where the game could turn on a little-known rule that was interpreted correctly. Look in the mirror.
Then we have the Steelers, who pranced around all summer like they were the proverbial "Team to Beat" in the AFC, exemplified by Hines Ward's immortal quote, "We basically went to the Super Bowl last year." Sorry, I have the game on tape -- they were playing at home, they knocked New England's starting quarterback out of the game in the first half, and they still lost the game handily. And last time I checked, Kordell Stewart was still playing quarterback for the Steelers ... the same guy who played the fourth quarter of the aforementioned game with both hands wrapped around his own neck. Please, win something before you start talking. You can start on Monday night in New England.
(That reminds me ...)
18. "You're a lotta woman ... wanna make $14, the hard way?"
One of Rodney's finest moments goes to the Dangerfield team of the 2002 season ... the "We don't get any respect" Patriots. Yeah, I know, I know ... it's getting annoying. But didn't they improve last year's roster (keeping all their relevant starters, upgrading at tight end and wide receiver)? Don't they have one of the best coaches in the league? Don't they have six "big play" guys (Troy Brown, Ty Law, Lawyer Milloy, Richard Seymour, Tom Brady and Adam Vinatieri)? Won't Brady look better this season with a year of "I'm the No. 1 guy" experience under his belt? And won't all the offseason snubbing and poo-pooing give them more motivation this season then the typical Super Bowl champ?
(As for Rodney ... what happened to that guy? How can you help carry two comedy classics -- "Caddyshack" and "Back to School" -- and then completely lose your fastball? Was "Ladybugs" that much of a career-ender? Can somebody get Bob Ley to investigate this for the next "Outside the Lines"?)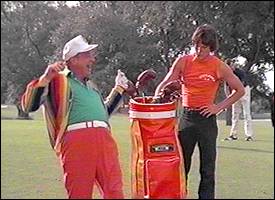 Either Bob Ley or the "E! True Hollywood Story" needs to find out what happened to Rodney Dangerfield. Scott Colomby, as caddie Tony D'Annunzio, we'll let play through.
19. "Fifty bucks the Smalls kid picks his nose."
The most reliable laugh in the movie goes to the most reliable laugh of the season ... that's right, it's the Jon Gruden face! Can you imagine how Gruden will look after an offseason of "They traded two No. 1's to bring me here" pressure, intensified by every Martin Grammatica celebration, every outlandish Keyshawn Johnson/Warren Sapp quote, every Mike Alstott fumble, every Michael Pittman injury and four months of playing QB Roulette with his Revolving Johnsons? This could be the year Gruden's head explodes, "Scanners"-style.
(As for Spaulding picking his nose, that scene has cracked me up more times than any other movie scene over the past 20-plus years ... I was laughing when I was 10, I was laughing when I was in college, and I'm laughing now. It transcends all age groups, doesn't it? My favorite part is when the spectators are paying off their bets after he eats the booger, and somebody says matter-of-factly, "He was hungry." Took me about 780 viewings to catch that one.)
20. "Oh, Mrs. Crane, you're a little monkey woman, you know that? You're a little monkey woman. You're lean, and you're mean, and you're not too far between either in bed are you, huh? Would you like to wrap your spikes around my head?"
The goofiest moment of the movie (Carl the Gardener talking dirty to middle-aged female golfers) goes to the goofiest wrinkle of the season ... NFL realignment. Did anyone else spend, like, 15 minutes examining the NFL standings during the exhibition season and saying things like, "Hey, wait a second, Seattle's in the NFC ... call the police!!!!"? Totally perplexing.
(Hey, at least the NFC Central is alive and well: Green Bay, Chicago, Detroit and Minnesota, just like old times. Too bad John Facenda's family didn't have him cryonically frozen in the tundra of Lambeau Field ... we could have brought him back to life for the season. Oh, well.)
21. "Well don't just stand there. Go get some glue!"
To ... Brian Billick and the Ravens, who apparently had the people from Enron managing their salary cap over the past couple of years. Taints the old Super Bowl title just a little bit, doesn't it? Looking at the champions before Baltimore (the Rams, Broncos, Packers, Niners, Cowboys, Redskins, Giants and Bears), each of them enjoyed multiyear runs where they were always considered "contenders." Not the Ravens.
That's why they're edging dangerously close to "let's just pretend it never happened" status, right up there with the Guns N' Roses "reunion" during MTV's Video Awards last week. Seeing a bloated Axl Rose whining incoherently was a seminal, "Good God, I'm getting old" moment for me, I wish MTV had just come to my house and repeatedly kicked me in the face.
(And speaking of the MTV Awards, I would like to nominate the lead singer from the White Stripes accepting an award from the Olsen Twins, turning toward the stage, stepping up the podium, derisively looking over his shoulder at the Twins, then muttering sarcastically, "Thank you, Mary Kate and Ashley" as one of the 10 greatest moments of my life. And you think I'm kidding. All right, where was I?)
| | |
| --- | --- |
| | PLAY A ROUND |
| | Feel like playing along? Just for fun, take these quotes from "Caddyshack" and match them to the NFL player or coach you think deserves them. We'll run a sampling of our readers' responses next week. 1. "Ooooh, my arm ... it's broken!" 2. "I'll slack you off , you fuzzy little foreigner." 3. "I've sentenced boys younger than you to the gas chamber. Didn't want to do it. Felt like I owed it to them." 4. "Don't sell yourself short, Judge. You're a tremendous slouch." 5. "There is no God." 6. "Nice kid, nice kid ... now I know why tigers eat their young." 7. "Put me down for a five." 8. "Probably just a routine emergency." 9. "Ohhhhh, RAT FART!!!!" 10. "Let's go, while we're young!" 11. "It's not my fault nobody can understand what you're saying." 12. "You're a disgrace ... you're one of the lowest members of the food chain and you'll probably be replaced by rats." 13. "Oh, golly, I'm hot today!" |
22. "Noonan! Noonan! Nnnnnn-Noonan!"
To ... Emmitt Smith, great guy, great player, Hall of Famer, borderline comedic genius, my choice if I could only take one running back from the '90s ... and with all of that said, I hope he doesn't break Sweetness' record. Some athletes are just larger than life -- maybe three to four per decade -- and I felt that way about Walter Payton. We all did. Emmitt Smith never gave me that same feeling. Just being honest.
(You know what's great about the "Noonan" thing? It's become such a integral part of our culture that it's startling to see it in the actual movie now, especially after the requisite amount of beers or whatever else it takes to float your boat. You're zoned out and enjoying the film when all of the sudden you hear it -- "Noonan! Nnnnnn-Noonan!" -- and it takes like five seconds to register what's going on. Kinda like the way you feel as you wade through this column.)
23. "So we finish 18th and he's gonna stiff me ... and I said, 'Hey, Lama, how 'bout a little something, you know, for the effort?' And he says, 'There won't be any money, but when you die, on your deathbed you will receive total consciousness.' So I got that going for me ... which is nice."
One of the more inspirational Caddyshack moments goes to the most interesting "Could go either way" team of the 2002 season ... Indianapolis. On the one hand, they have potential Ewing Theory MVP Peyton Manning, potential Head Case/Torn ACL MVP Edgerrin James, potential "Most Overrated Coach of the Past Decade" Tony Dungy, and a much-maligned defense that nearly gave up 500 points last season.
On the other hand, the Manning-James-Harrison combo has an "'89 Niners"-type ceiling, the defense should be improved, Jim Mora's corpse has finally been exhumed from the Indy sidelines, they moved to the creampuff AFC South, and you forget that Dungy brought a Shawn King-led Bucs team within one Ricky Proehl diving catch of the Super Bowl. Frankly, I don't know what to think. 5-11 ... 11-5 ... I have no idea. And neither do you.
24. "Well t'anks for nuthin'!"
To the teams with the toughest 2002 schedule quirks ... New England (five November games in 25 days, all in different cities); Buffalo (first five weeks: NYJ, min, den, CHI, OAK); Miami (three December games in 13 days); Philly (last six games: sf, STL, sea, WAS, dal, nyg); Oakland, San Fran, Denver & St. Louis (impossible from start to finish). I hate picking anyone to finish higher than 10-6 when they qualify for this paragraph.
(As for the above quote, I've written this before, but it's worth mentioning again: Maggie resides in the Hall of Fame for "Annoying female foreign characters who nearly submarined my favorite movies." Good God. Was the director thinking, "You know, a grating Irish accent might push her over the top?" I wish they started off the movie by sticking the Gopher in Maggie's car, then by having Carl the Gardener blow them both to smithereens. Would anyone have objected to this?)
25. "You take drugs, Danny?"
"Every day."
"Good, good."
To David Boston ... last year's fantasy breakout star, as well as the runaway winner of this year's "Weirdest Off-Field Incident That Didn't Involve a Laundry Hamper" award:
According to the AP, "On March 13, a motorist reported a vehicle traveling erratically. The motorist tailed the vehicle to Boston's house, and even talked with the receiver briefly. Officers arrested Boston at his house and took him to a substation for blood tests that detected cocaine and marijuana. Two bags of cocaine were found later in the back seat of the patrol car, police said, but there was no solid evidence linking them to Boston."
(I'm not sure where to go with this one. Should we make the "When they said that Boston was the next Michael Irvin, they weren't kidding" joke, or the "We'll know the story's true when Boston tries to snort the 45-yard line this season" joke, or the "Some QB's drive their receivers to drink; Jake Plummer drives his receivers to coke and pot" joke? Let's just move on.)
SPORTS GUY'S AFC PREDICTIONS
EAST: 1. Jets (11-5); 2. Patriots (10-6); 3. Dolphins (8-8); 4. Bills (7-9).
NORTH: 1. Steelers (11-5); 2. Browns (10-6); 3. Ravens (6-10); 4. Bengals (4-12).
SOUTH: 1. Titans (12-4); 2. Colts (9-7); 3. Texans (5-11); 4. Jags (3-13).
WEST: 1. Broncos (10-6); 2. Chargers (9-7); 3. Chiefs (8-8); 4. Raiders (7-9).
AWARDS: Eddie George (Offensive MVP); John Abraham (Defensive MVP); Clinton Portis (Rookie); Herman Edwards (Coach).
26. "Spaulding, this calls for the old Billy Baroo. (grabs putter ) Oh, Billybillybilly. Oh ... Billybillybilly. Don't let me down, Billy."
To the shakiest body parts of the 2002 NFL season ... Fred Taylor's groin (which has baffled doctors around the globe), Ricky Williams' ankles, Randy Moss' head, Kurt Warner's thumb, Terry Glenn's hammies, Manning's heart (which seems to start pumping a little extra-hard in the fourth quarter), Kordell Stewart's eyeballs (which always get larger in the fourth quarter), Michael Vick's entire body (in serious danger in Atlanta).
(Speaking of Billy Baroo, who carried more clubs in their bag, Judge Smails or Al Czervik? Between the two of them, they had at least 40. And while we're on the subject of burning questions, was there a better actor-athlete than Michael O'Keefe as Danny Noonan? What ever happened to Michael O'Keefe? Do they still sell Baby Ruth bars, or did the company go under after the "Doodie!" scene? Why hasn't someone released a "Caddyshack" video game yet? Or "Bushwood CC" or "Czervik Construction Company" T-shirts? Feel free to answer any of these.)
27. "Are you my pal ... Mister Scholarship winner?"
Ted Knight's corruption of Danny Noonan could only go to one thing ... all these lavish, improbable contract extensions, definitely the strangest outcome of the "Everyone needs to get under the cap!" era. For instance, Curtis Martin just re-upped with the Jets for something like $48 million, with a $5 million signing bonus, so the Jets could extend his "cap value" over the seven years of his contract, thus reducing this year's cap hit.
My question is this ... why would Martin agree to this? Doesn't he know that, in like three years, the Jets are going to dump him to save cap room? I mean, he knows this, right? Or did the Jets GM bring him in and pull the "We need you to do this to create cap space, Curtis ... are you my pal, Mister Contract Extension winner?" routine? Hey, Curtis? How 'bout a Fresca? Huh? Huhhhhh?
28. "Cinderella story, outta nowhere, a former greenskeeper ... now about to become the Masters champion."
To my Big Sleeper Pick for the 2002 season ... actually, let's build some suspense. Every season, one or two also-rans emerge as playoff teams for as many as three reasons (two at least):
A. Easy schedule. You have to have the easy sked. Look at the 2001 Bears.
B. The whole "inexperienced team coming together under a new coach or a second-year coach" thing. Look at the 2001 Patriots.
C. The whole "Where the hell did this team come from?" factor. Impossible to predict ... but you know it when it happens. The first major sign: Whenever Sports Illustrated and SportsCenter run their annual "Where the hell did this team come from?" features during Week 8 or 9, usually within a 48-hour span. Then you know. And for some strange reason, it feeds on itself, the players and fans start believing and it snowballs from there.
I've narrowed this year's candidates down to five (with odds):
SPORTS GUY'S NFC PREDICTIONS
EAST: 1. Redskins (10-6); 2. Cowboys (8-8); 3. Eagles (8-8); 4. Giants (8-8)
NORTH: 1. Packers (12-4); 2. Vikings (8-8); 3. Bears (6-10); 4. Lions (6-10)
SOUTH: 1. Falcons (10-6); 2. Bucs (8-8); 3. Saints (5-11); 4. Panthers (2-12)
WEST: 1. 49ers (12-4); 2. Rams (11-5); 3. Seahawks (8-8); 4. Cardinals (5-11).
AWARDS: Terrell Owens (Offensive MVP); Champ Bailey (Defensive MVP); Roy Williams (Rookie); Steve Spurrier (Coach).
Atlanta (3-1) -- Easy sked, there's some talent here, and Michael Vick's ceiling is just high enough that it makes you say, "Hmmmmmmm." Maybe it won't happen for him this year, maybe it won't happen ever ... but you'll be watching.
Dallas (3-1) -- A little too much Quincy Carter, Jerry Jones and Dave Campo for my liking. And don't underestimate the "Hard Knocks" curse.
San Diego (5-2) - Without a doubt, the worst-coached team in the league last season. Trust me, I have a gambling problem ... there was a lot of money to be made over those last nine weeks of the Mike Riley era. Last year they lost seven games by five points or less; in Riley's two seasons, the Chargers lost 11 games by three points or less. Throw in a ton of talent, a QB upgrade (hotshot Drew Brees over Doug Flutie, who was decaying by the end of last season), Tomlinson & Seau, an underrated defense that should be helped by Quentin Jammer (when his holdout ends), and the always-reliable Marty Schottenheimer (who did an exemplary job with the Redskins last season, coaxing eight wins from Tony Banks). Unfortunately, the Schedule Fairy boned them over.
Cleveland (5-2) -- They fit all the variables (especially the easy sked), but too many people are picking them as The Sleeper, which means that they aren't sleeping, if that makes sense.
Buffalo (5-2) -- Another chic Sleeper, mostly because of Bledsoe and how they finished the season (hanging in tough in every game -- they were a gambler's delight as a scrappy underdog every week). I just worry about Gregg Williams -- whenever those career assistants become head coaches, they always seem to end up with 6-10 teams that lose heartbreakers every week. Throw in a tough schedule and Bledsoe's dubious crunch-time abilities and ... well, I don't have a good feeling about them.
So my Big Sleeper Pick is ... (drumroll please) ... Vick and the Falcons. I just think Vick will eventually become one of those unforgettable, once-in-a-generation stars, like Tiger Woods, John McEnroe or Andre The Giant. Might as well start happening this season. Call me crazy.
29. "Tell 'em, Wang, we just bought property behind the Great Wall ... on the good side!"
To ... Redskins owner Daniel Snyder, who made the smartest offseason splash by throwing wads and wads of cash at Steve Spurrier. You forget, there was already a solid foundation in Washington -- good defense, capable running game, blue-chippers on both sides of the ball -- but they couldn't make the playoffs because they couldn't score points. Well, Spurrier scores points. Problem solved. And forget about the inevitable Rick Pitino comparisons ... if Spurrier was truly pulling a "Pitino," he would have picked the excruciating Danny Wuerrfel (German for "Walter McCarty") as his Opening Day QB. That was the quintessential Pitino Move. Spurrier is much smarter than him.
(Believe me, I've watched Rick Pitino, I've been tortured by Rick Pitino, I've been driven to drink by Rick Pitino ... Steve Spurrier, you're no Rick Pitino.)
30 (tie). "This steak still has marks from where the jockey was hittin' it."

"You must have been something before electricity."
Two of Rodney's classics for .. Vinny Testeverde, the one guy keeping me from tabbing the Jets as my AFC representative in the Super Bowl this season. Hey, it all goes back to one of my favorite sayings: "If you have Vinny Testaverde as your quarterback, that means you have Vinny Testaverde as your quarterback." Of course, if Chad Pennington rises to the occasion, all bets are off.
(Believe me, I'm rooting for the Jets. The kinship between Jets fans and Patriots fans last January was almost overwhelming ... we were like two kids who always got picked on in school, then one of them became popular while the other one looked on admirably and said, "Man, I'm happy for him, maybe this could happen to me someday." Only Jets fans can truly understand what it felt like for Pats fans last winter.)
31. "Great big gobs of greasy grimy gopher guts ..."
To the most outlandish free agent signings and extensions of the offseason ... Duane Starks (Arizona), Tim Dwight (San Diego), Az Hazir-Hakim (Detroit), and Warrick Dunn (Atlanta), who went for a combined $70 million. Didn't these teams learn anything from the budget-conscious Patriots? What happened to the era of fiscal responsibility? Sixteen million for Tim Freaking Dwight? Were the Chargers impressed by his skills in "Madden 2000"? And while we're here, didn't you wince when the Bengals improved their team chemistry by signing Michael Westbrook? Apparently Plan B was the bubonic plague.
32. "Well, the world needs ditch diggers, too."
During my 2001 recap last January, I mentioned how six playoff teams always fail to make it back the next year, without fail, without any real rhyme or reason ... and since this happened every year, I pledged to knock off six returning playoff teams in my 2002 preview. So let's take a stab at those six.
Four easy ones: Baltimore (goes without saying), Tampa Bay (too many head cases), Miami (I'm not even remotely sold on this Ricky Williams thing, much less the Fiedler era or the Wannstedt era), and Chicago (the "year after" syndrome -- suddenly you're playing a tougher schedule, the breaks aren't going your way, and Jim Miller actually has to win games for you).
Two left. So let's roll the dice with ...
A. Oakland. They did the right thing letting Jon Gruden go for No. 1's; I always thought he was a little overrated, personally (see: Snow Game). But this Bill Callahan guy ... is anyone getting flashbacks to the time the producers from "The Substitute" said, "We can't get Tom Berenger for the sequel, let's go with Treat Williams"? Between Callahan's lack of experience, a murderous schedule and an aging nucleus, Callahan could pull the Ray Rhodes Memorial "one-year-and-out" routine.
B. Philly. Impossible schedule down the stretch, no above-average skill position guys, no running game, no Jeremiah Trotter, and they're always one Donovan McNabb injury from 5-11. You have to admit, he takes a ton of punishment for a QB. Let's go with them, just for the hell of it.
Of course ...
33. "I tried to look you up but there wasn't a listing for Mr. Wonderful."
"What spelling did you use?"
To McNabb again ... if he stays healthy and the Eagles make the playoffs with that offense, can you think of a single reason why McNabb shouldn't become the 2002 MVP? Me neither. Don't you get the feelin that it could go either way -- either "MVP of a 12-4 team," or "Injured Guy on a 5-11 team," with absolutely no in-between? Crucial year for him.
(Speaking of the above exchange, do you realize that Lacey Underall slept with Ty Webb and Danny Noonan in the span of about 12 hours? Seriously. Watch the DVD some time. For God's sake, Lacey Underall wasn't just on the Go Team, she owned the Go Team ... and she was attractive, sarcastic and interesting to boot. Applying my Table Test here, can you remember another female character from a sports movie bringing this much to the table? Me neither. They should have spun her off into her own sitcom.)
BONUS: "I'm gonna put it right on the line: There's been a lot of complaints already. Fooling around on the course, bad language, smoking grass ... poor caddying."
My favorite quote from the movie goes to my favorite section of this column ... Super Bowl predictions. Time to put up or shut up.
AFC: Tennessee (No. 1 seed), Pittsburgh, Denver (Shanahan is one of those "Every 3-4 years, he has to be in the mix" coaches) and the Jets win their respective divisions, with the Browns and Pats (the "Team Nobody Wants to Play") as wild cards. The Pats topple the Broncos and Titans, setting up an AFC Championship showdown in New York ... which they pull out after Ty Law returns an errant Vinny throw for the go-ahead TD in the final three minutes. Thank you, Vinny.
NFC: Green Bay (No. 1 seed), San Fran and two surprises (Atlanta and Washington) win their divisions, with the Rams (injury-plagued season) and Cowboys (winning a six-way tie among 8-8 teams) as the wildcards. After prevailing in an epic Round 2 battle against St. Louis, Green Bay holds off San Fran at home in the NFC Championship game, as Fox brings back John Madden just so he can say, "This is what it's all about, right here," while Favre hugs Vonnie Holliday.
Super Bowl: A rematch of Super Bowl XXXI, with similar results ... Green Bay holds off New England, 23-17. Even in defeat, the Patriots finally get their long-overdue respect -- no "One-Year Wonder" here -- while Favre finally slides into that hallowed Elway-Montana stratosphere.
And if I'm wrong ... well, as Judge Smails told his caddie after using his foot wedge, "Don't count that."
Bill Simmons is a columnist for Page 2 and ESPN The Magazine.