By Bill Simmons
Page 2 columnist
Before we delve into the NFL season, has any sport ever exposed the warts of another sport quite like the NFL has exposed Major League Baseball? I almost wish baseball had gone on strike. Can you imagine what would have happened if those dopes had been hibernating during the past two weeks ... and the NFL was blowing everyone out of the water? Would baseball ever have recovered from that? Probably not.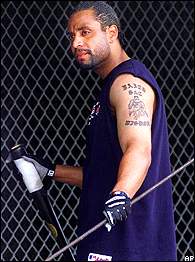 In the NFL, teams are allowed to dump dead weight like Tony Clark.
You wonder why baseball doesn't learn from the NFL. Like that luxury tax/revenue sharing idea which goes into effect ... how can you penalize teams who spend more than $117 million without inflicting a "You have to spend at least $XX million on your payroll" edict on the poorer teams? Wasn't that the dumbest thing ever? No minimum salary threshold at all? Huh??? What would stop a team like the Royals from spending a measly $10 million on payroll, then collecting revenue, royalties and taxes from everyone else? Basically, they're rewarding incompetence and indifference, and they're penalizing the franchises that actually care about fans. Savvy.
The other thing that kills me about baseball is the guaranteed contracts (and yes, there's probably not much we can do about it at this point -- the owners blew it years ago by opening that Pandora's Box). For instance, here in Boston, Red Sox fans have been subjected to six months of the Artist Formerly Known As Tony Clark, a nice enough guy, improbably slated to earn $5 million this season, who also happens to be putting the finishing touches on the worst offensive season by a Boston player in my lifetime: 264 ABs, .212 batting average, three homers, .566 OPS, 51 strikeouts, and he's a freaking first baseman. Maybe it's impossible to describe how badly Clark has played this season, but I'm going to try: During one game last month, Clark came up in a key situation with the bases loaded and one out. Watching the game at my Dad's house, Dad and I decided to root for Clark to strike out. Why? At least if Clark struck out, that would mean
he didn't hit into a double play and end the inning
. It was the lesser of two evils. And when Clark eventually did strike out, Dad and I high-fived. I'm not making any of this up. Here's the point ... in the NFL, Clark would have been gone in May. Waived. Out the door. Without a guaranteed contract, he would have received something like 25 percent of his $5 million, and whatever signing bonus he secured, and that would have been that. Thanks for coming. Don't let the door hit you on the way out. And yet, in baseball -- the land of the guaranteed contract, where players aren't motivated by fear of losing their job, where you don't have any reason to live up to the terms of your contract other than pride and competitiveness -- Clark lingers around like a mutant disease. So those are just two examples. There was a time when I loved baseball more than any other sport, but after watching the NFL re-invent itself year after year, and after watching baseball players and owners find new and even more unfathomable ways to screw up their sport ... I think it's one of the saddest things I've ever witnessed as a sports fan. Baseball is dying. And we're letting it happen. I wish I knew what to do. Hey, at least we have football. And I have so many notes, observations, ramblings and everything else after the first two weeks, I broke them down into a bunch of different lists. Proceed at your own risk ...
THREE THINGS I WISH I HAD CONSIDERED BEFORE THE SEASON STARTED: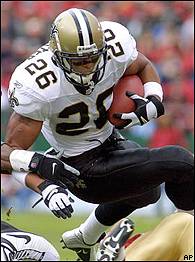 Deuce McAllister is helping the Saints prove the Ewing Theory.
1. The overpowering "Ewing Theory" potential of the New Orleans Saints. Here's my pet theory, something I introduced last year on Page 2 to a stunned audience (with help from Ewing Theory creator Dave Cirilli), a theory made famous after Drew Bledsoe's injury paved the way for a Patriots' Super Bowl title last season, an astounding force of nature that can't be harnessed or controlled, something that always seems to rear its ugly head at least once during the NFL season ... and I missed the boat completely with the Saints. No Ricky Williams, no Willie Roaf, no La'Roi Glover, no Joe Johnson, and everyone wrote them off in a lousy division (including me). Damn it all.
2.
The fact that maybe, just maybe, the Jets aren't that good.
3.
The potential that, on the heels of last year's playoffs, with the first two games of the schedule against two tough AFC teams (the Pats and Raiders), it was entirely possible that Kordell Stewart would self-destruct. And I don't mean, "Have some problems throwing the ball." I mean, "A full-fledged, Haim-like meltdown." Now it's happening. I always thought Kordell was overrated, and I've written it a million times ... but those first two games might have been the beginning of the end. Even the Vietnamese soldiers trying to kill Rambo in "First Blood, Part II" had better aim. (One enjoyable sidenotes here: The Bill Cowher Face. It has really been taken to the next level ... he looks like a constipated Sergeant Slaughter. I keep waiting for him to charge Kordell and try to rip Kordell's jugular vein out of his neck. And hey, with 15 weeks left in the season, it still might happen.)
THREE EARLY BREAKOUT STARS OF THE 2002 SEASON: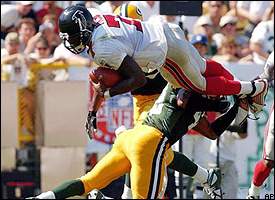 Michael Vick will be the NFL's next great superstar ... as long as nothing happens to him.
1. Michael Vick: When I was re-reading a book of collected Hollywood columns by William Goldman (one of my favorite writers) this weekend, there was an essay from the '94 movie season that included this tidbit about a pre-Titanic Leo DiCaprio (just bursting on the scene). Instead of spending a few paragraphs waxing poetically about Leo's jaw-dropping performance in "What's Eating Gilbert Grape?", Goldman simply wrote, "Please don't let anything happen to him." That's how I feel about Vick. Please don't let anything happen to him. You don't even need to say anything else.
2. Deuce McAllister:
Now we know why they were so eager to dump Ricky Williams.
3. Tom Brady:
People spent the entire offseason questioning Brady, wondering if he was a flash in the pan like David Caruso or Edie Brickell, wondering if the Pats made the right move in keeping him over Drew Bledsoe ... and it never made sense to me. Why would Brady struggle this season, with a revamped receiving corps, a year of big-game experience under his belt and an offensive system designed around his strengths? Wouldn't these things help him? And at what point will people respect his Montana-like efficiency -- those ball fakes, the way he moves the team, the way he always delivers the ball in the right spot, the way he always avoid mistakes and everything else?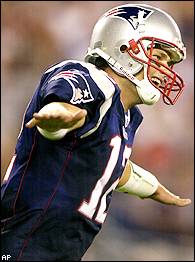 OK, one more time: Why did people think Tom Brady was going to flop this season?
And doesn't charisma count for anything? There's a scene in the Patriots Super Bowl DVD that says it all: During the fourth quarter of the Oakland game, after the Pats cut it to three, we see Brady stalking up and down the sidelines, finally stopping in front of David Patten, slapping Patten on the shoulders and screaming, "That's a great drive!" My favorite part of the whole DVD. I always believe that offenses feed off the energy of its quarterback. If the QB seems low-key, scared, hyper, prone to mistakes ... whatever the case, the team usually follows suit. So when a guy like Brady exhibits an endless reservoir of energy and spunk, you can't tell me that it doesn't positively affect the team. And yes, I just used a double negative.
THE FOUR BIGGEST SURPRISES OF THE SEASON:
1. Pat Summerall
How can Fox not tell us that Summerall was coming back for one more season? "Flag on the play!!!!!" During Week 1, I was flipping channels, stumbled upon Arizona-Washington, heard Summerall's voice and assumed that they were using his leftover recordings from "Madden 2002" and splicing them together for play-by-play. Nope. It was actually him. It's almost like they were hiding it. Come on, Fox! Name another play-by-play guy who would call Jake Plummer "Jake" for an entire game. You can't.
2. Houston over Dallas in Week 1
Everything unfolded perfectly for the Texans in their home opener: two early big plays, no killer turnovers, a raucous home crowd, and Quincy Carter taking it from there. After watching Houston's offense flounder for the next few months, we'll be able to appreciate the magnitude of that chain of events. Like catching lightning in a bottle.
3. The silence of the Rams
Because of their schedule and Warner's thumb injury, there were enough red flags here ... still, they don't have the same weapons this season (when you're asking Yo Murphy to make plays on third down, that's almost a cry for help), and last season's Super Bowl defeat hampered their swagger more than anyone could have imagined. It almost feels like there are some Mike Tyson similiarites here -- look them in the eye, punch them in the mouth, then keep looking them in the eye and they can't handle it. (By the way, which offensive "genius" is more fun to watch go down in flames this season -- Mike Martz or Brian Billick? It's a tossup, isn't it?)
4. The award-winning collection of Steve Spurrier Faces
So far, I count three: The "I can't believe I thought Danny Wuerffel could start for us" Face (sheer disgust), the "How the hell am I going to run my offense when my receivers can't get open" Face (confusion, bewilderment), and my personal favorite, the "Maybe I should have stayed at Florida" Grimace (helpless and mildly ticked off). If Spurrier and Jon Gruden ever go head to head, that might be the most riveting battle of two guys mugging for air time since the heyday of Zac and Slater.
THE FIVE WORST TEAMS IN THE LEAGUE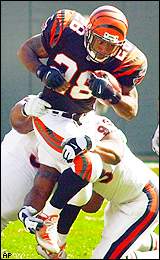 Corey Dillon might want to run away from the dreadful Bengals.
1. Cincinnati Bengals: I flicked to the Bengals-Chargers game during the first quarter last week, just in time to hear the play-by-play guy saying something like, "And the Bengals go three-and-out ... terrible start for Gus Frerotte and the offense." High comedy. Who else is waiting for the game when Corey Dillon runs into the end zone for a TD, and he keeps running into the tunnel like Bo Jackson, and he just keeps going, and nobody ever sees him again? This needs to happen.
2. Detroit Lions:
I would like to extend an open invitation for Matt Millen to join my fantasy league next season.
3. Baltimore Ravens:
Two games, seven points. And those numbers are deceiving ... I think the offense is actually
worse
than that. This never would have happened if Brian Billick was still alive.
4. Houston Texans:
You know those "NFL Films Yearbook" shows that run on ESPN all the time, where they show highlights from the season, ignore everything bad that happened, play up every big victory like it was the Super Bowl, then finish on the last positive victory, with the announcer saying something like, "And even though it was their fourth and last win of the season, the Chargers knew that they were building something special for the future"? You know those shows? Well, what happens if the Texans blow their next 15 games? Does NFL Films just gear the entire show around the Dallas victory? Doesn't this make you want to root for Houston to go 1-15? Me, too.
5. Seattle Seahawks:
During the second half of the Arizona game, Mike Holmgren was openly working on his résumé on the sidelines. I mean, when Thomas Jones puts up 173 yards rushing on your defense, that's an absolute cry for help. (Put it this way: You could play 100-minute quarters in "Madden 2003," at the rookie level, and still have trouble rushing for 173 yards with Thomas Jones. Believe me, I've gone a few rounds with him in Fantasy Land ... they don't come any worse than Thomas Jones. I can't say enough about the guy. You know how crappy running backs tap-dance behind the line, and by the time they finally make their move, there are three defenders plugging the hole they should have been running through? Well, watching Thomas Jones was like watching the long-lost Hines brother. He's the worst. Go ahead, pick him up in your fantasy league. I dare you.)
THE SIX BEST TEAMS IN THE LEAGUE
(Note: Yeah, it's early ... I'm talking about right now, this very minute.)
1. New England Patriots:
The only team in the league that brings everything to the table on both sides of the ball ... and they're hungry. You're tired of reading about "Bill Simmons, Patriots fan," but I will say one thing: This is the first Patriots team that's ever given me an "I can't wait to watch us kick ass this weekend" feeling. Does it get any better than that as a football fan? In a weird way, it's almost more fun than winning the Super Bowl.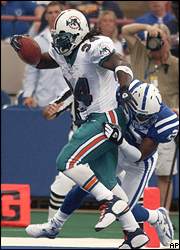 Ricky Williams gives the Dolphins some offensive firepower that is downright scary.
2. Miami Dolphins: Probably the one team that scares me as a Pats' fan right now; having two big-play guys on offense (Williams and Chris Chambers) has totally transformed them. As Peter King noted in his Monday Morning QB column (always a must-read), the Dolphins have a 24-10 record during the 21st century. Or was that the Montclair, N.J., field hockey team? I can't remember.
3. Chicago Bears:
They have an amazing knack for pulling teams down to their level, turning it into one of those "14-13, all about field position" games, then making two or three plays down the stretch to pull out a win. And given that it has been happening for two straight years, it can't be a fluke anymore. For gambling purposes, I am officially avoiding them for the rest of this season. They've been pulled off the board at the Sports Guy Mansion.
4. Oakland Raiders:
I'm still not sold on them. Hey, I've been wrong before. I'm the same guy who thought Amanda Peet was the next Julia Roberts.
5. New Orleans Saints:
Power of the Ewing Theory. And maybe Philly's sitting in this spot in three weeks ... but somehow I doubt it.
6. Denver Broncos:
I'm penalizing them because they're using this three-man backfield with Olandis Gary, Mike Anderson and Clinton Portis, a statistical car crash that's leaving fantasy football owners unanimously unhappy around the globe. Why does Shanahan always do this? For God's sake, what about us? What about fantasy owners? Don't we matter? (Speaking of fantasy leagues ...)
THE BEST THING ABOUT HAVING YOUR OWN SPORTS COLUMN ON A VERY VISIBLE INTERNET SITE DURING FOOTBALL SEASON:
You get to talk trash about your own fantasy team. Remember the classic 2Pac song "Picture Me Rollin' "? That's me. Ricky Williams, Fearsome Freddie Taylor, Brett Favre, Rod Smith, Jeremy Shockey, Michael Pittman, the Pats defense ... could somebody send me the trophy right now? Oh wait, it's in my house. I won last year. Sorry, I forgot. Has anyone's favorite team and fantasy team gone undefeated in the same NFL season? Picture me rollin'. (Speaking of 2Pac, Michael Vick was asked the question "Biggie or 2Pac" in one of those pregame shows this weekend, and he actually answered "Biggie." I wish I hadn't seen it. I can't look at him the same way. Just devastating.)
FOUR MORE SURPRISES FROM THE FIRST TWO WEEKS: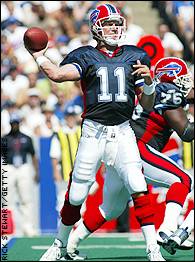 Drew Bledsoe appears reborn after shuffling off to Buffalo.
1. Everything that happened in the Minnesota-Buffalo game
Including A) two missed extra points by Doug "Dead Man Walking" Brien, B) a Buffalo fumble on the Minnesota goal line in which the ball sat on the ground, untouched, for two seconds, C) a pivotal catch in the final 10 seconds of regulation where the Bills receiver and Vikings cornerback caught the ball at the exact same time, D) a game-tying 54-yard field goal off the crossbar to send the game into OT, and E) a 48-yard TD pass that finally won it. Most incredible game of the season. And that's saying something.
2. LaVar Arrington's chess room
In case you missed the "Monday Night Football" halftime feature about him ... well, LaVar has a chess room in his house. One enormous, lavish chess table. A suit of armor. Some swords. Some chess paintings. A few chess boards. Lots of chess pieces. It's a chess room. Whole room devoted to chess. LaVar Arrington.
3. Green Bay's defense
I couldn't have been more wrong about them. And while we're here, has Mike Sherman done anything over the past few years to make you think, "Man, that Packers team sure runs smoothly"? Didn't think so.
4. David Carr taping his wedding ring to his finger during games
Dozens of readers sent me e-mails about this ... and yes, as Joe Theismann and company told the story during the Texans-Cowboys game, it was
that
painful. You couldn't even believe the story was happening as it was happening -- he makes Doug Christie look like Larry King. All right, that's an exaggeration, but it was pretty bad. (And while we're in the subject, note to the NBA: Make as many home and away replica Christie jerseys available on NBA.com as you can. Just trust me. There's a market out there. From the e-mails I'm getting, the Christie jersey has the potential to become the defining "Giving your whipped buddy a hard time" memento of this generation. And you think I'm kidding.)
SIX POTENTIAL FANTASY TEAM MURDERERS THIS SEASON: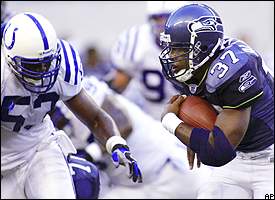 AP
Shaun Alexander hasn't found any running room this season.
1. Shaun Alexander: If you took the starting RB on a lousy team that had its All-Pro left tackle holding out ... well, you deserved what you got.
2. Kordell Stewart:
Let the Tommy Maddox Fantasy Stampede begin!
3. Rodney Peete, Thomas Jones (tie):
For everyone who picks them up this week.
4. Eddie George:
Doesn't look even remotely healthy to me.
5. Peyton Manning:
Here at the Ewing Theory Headquarters, we're counting down the days until Manning misses a few games because of a harmless injury. Just out of curiosity.
6. Shane Matthews:
Given that he was my seventh-round pick ... I'm afraid to even broach this one.
MY THREE FAVORITE NFL MOMENTS WITH MY DAD SO FAR THIS SEASON:
(Note: I'm not even sure why I'm putting these in here ... my Dad just cracks me up.)
1.
We're on the phone during the final minutes of regulation in the Bills-Jets game, watching Bledsoe trying to lead the Bills for the game-tying TD. Fourth down. We're trying to figure out how Bledsoe will choke. Will he overthrow someone? Will he get sacked? Will he throw it right to a defender? The possibilities were limitless. So Bledsoe goes back ... and improbably nails Eric Moulds for the TD. Dead silence on the phone. Right until Dad inexplicably says, "I always liked Drew." You really had to be there.
2.
Dad after watching Daunte Culpepper for five quarters against Buffalo in Week 2: "He's a roller-coaster ride. Thank God he doesn't play for us -- I couldn't watch him every week. I'd end up in the hospital."
3.
Dad during the tail-end of Sunday's Pats-Jets game, after watching an inept Chad Pennington fire bounce passes all over the Meadowlands, then hearing Dan Dierdorf call Pennington New York's QB of the future: "I wish the future started right now."
EIGHT THINGS YOU LEARN WHEN YOU HAVE DIRECTV AND YOU SPEND YOUR SUNDAYS WATCHING SIX GAMES AT ONCE ...
1.
Deuce McAllister is much better than you think. It's one thing to see his stats in the paper; it's another thing to watch him fighting for extra yards, catching poorly-thrown screen passes and breaking big runs out of nothing. As crazy as this sounds, from what I've seen this season, he's the best young running back in the league. Like a non-crazy Edgerrin James.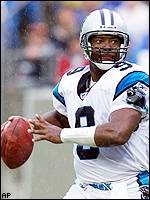 Rodney Peete's Panthers might be the worst 2-0 team ever.
2. If two plays went differently for Atlanta -- William Henderson barely breaking the goal line on fourth-and-1 in Green Bay, and Jay Feely hooking a potential game-winning field goal against Chicago -- the Falcons would be sitting at 2-0 right now. Remember this in seven weeks when they're 5-3.
3.
Carolina is the worst 2-0 team ever. I have no statistical evidence to back this up. You will have to believe me.
4.
Instant replay has emasculated the officials to the point that, at least 10 times in two weeks, I've seen catches or fumbles where none of the officials made
any
call. They freeze, look helplessly at one another, huddle together, then come up with a bogus call and wait for one of the two coaches to challenge it (so instant replay can take over). Pretty lame. When they return the refs back to the nursing home on that Sunday night bus, can't they urge them to act a little more decisively?
5.
If Drew Bledsoe played this fearlessly and this confidently in New England over the past three years, he would have gotten his job back from Tom Brady last season as soon as he was healthy.
6.
There are an astounding number of commercials during the average NFL game.
7.
When Mike Tice said that he's running the offense through Randy Moss, he wasn't kidding. Poor Randy is like a little kid -- if you don't shower him with constant attention, he ends up sticking tweezers in an electric socket or pouring fruit punch down the back of your TV.
Keep an eye on him! Throw him another lob pass!
8.
The barrage of fantastic finishes in Week 1 -- all concluding one after the other, almost in sequence, for an hour straight -- was the absolute apex of my experience with DirecTV. It will never be topped unless naked cheerleaders are involved. (Have I mentioned that I love the NFL?)
Bill Simmons is a columnist for Page 2 and ESPN The Magazine.
He is believed to be the 253rd person with a Masters degree in journalism to write a sports column on the internet.