By Bill Simmons
Page 2 columnist
Thoughts while wondering what happened when they opened Pandora's Box ...

Now that there's a Rambo on the Cowboys, I'm not just asking for a Redskins defensive back named Murdock, I'm demanding it.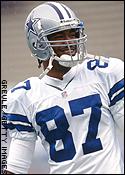 Ken-Yon Rambo
I always thought Frank Stallone, Fredo Corleone, Jeremy Giambi, Don Swayze, Bruce Buffer and Jaron Rush were the chairmen of the "Black Sheep Brothers" club ... and then Bison Dele's brother came along.
If there's a less entertaining sporting event on the planet than a Johnny Ruiz fight, please, let me know.
Every time there's a rain delay during CBS's coverage of the U.S. Open tennis tournament, does Aaron Krickstein sit at home thinking, "Oh, no ... they're not gonna show the Connors match again, are they? ... please don't show it again ... please, God ... oh crap, you've gotta be kidding me ... could somebody just shoot me in the head, please?"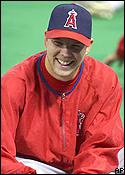 Jarrod Washburn
Wait a second ... Jarrod Washburn is white?
The most enjoyable part of the Yankees' demise? Watching Raul Mondesi coming to the plate in key situations, knowing he wouldn't come through, and better yet, knowing that Yankee fans knew he wouldn't come through.Extremely good times. And no, I'm not bitter about the Red Sox season or anything.
All right, on the heels of this "Kristy Swanson in Playboy" thing, can I officially start getting excited about Teri Hatcher's Skinemax potential?
Nothing beats the look on John Madden's face when Stuart Scott starts Stu-ing it up during their "Monday Night Countdown" interviews.
All right, I can't resist ...

ECKSTEIN!!! MIENTKIEWICZ!!! It's the American League Championship Series, tonight on Fox!!!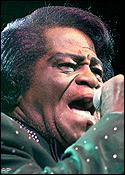 James Brown
That reminds me, a quick note to Fox: The next time singer James Brown visits an NFL broadcast booth -- like he did during this weekend's Bucs-Falcons battle -- if you don't implore the Godfather of Soul to stick around and serve as a third announcer for the rest of the game, you're doing the entire country a disservice. That would have pretty much obliterated the Unintentional Comedy scale.
Most common e-mail I received over the past few weeks: "Did Kurt Warner's deal with the Devil finally expire?"
Hey, is there a more enjoyable TV experience then watching someone slowly become too old to play their character anymore, or as I like to call it, The Ian Ziering Phenomenon? It's the gift of comedy that keeps giving. I'm anxiously awaiting next week's "Dawson's Creek," when Dawson cuts class in college to have a prostate exam and colonoscopy.
Tamarick Vanover is my favorite NFL kick returner who also served time for drug possession with intent to sell.
I'm not arguing with the casting for "Real World Las Vegas" -- after all, one of the female cast members could potentially become the first reality-TV character ever to bypass Playboy and head straight to porn -- but couldn't one of the cast members have come into the show with a gambling problem? Would that have been too much to ask?
Reason No. 25 why I hate using urinals: ricochet spray.
The fact that SNL's "The Best of Will Ferrell" show didn't include "Neil Diamond: Storytellers" or "Get off the shed!" deserves an FBI investigation.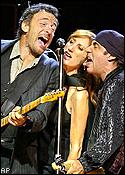 Bruce Springsteen, Patti Scialfa and Steve Van Zandt
Four Springsteen questions for the price of one: How long before Verizon buys the rights to "The Rising"? Wouldn't these 2002 concerts be more fun if Stevie Van Zandt was dressed like Sylvio from "The Sopranos"? Does the Boss deserve the Doug Christie Jersey for having his wife so prominently involved in his stage performances? And am I going to get struck by a bolt of lightning for bringing that last question up?
You know, even Jay Mohr's Christopher Walken impersonation doesn't have as many miles on it as Emmitt Smith.
When a stewardess announces that the in-flight movie is "Secrets of the Ya-Ya Sisterhood," then she comes over to ask if you want to spend five dollars for headphones ... I mean, it's okay to swear at her, right?
Things that drive me crazy about the NFL, Chapter 247: When coaches mangle the "Down by 10, under a minute" scenario. Like Andy Reid during the Jags-Eagles game. He could have tried a 50-yard field goal with 50 seconds left, then gone for the onside kick and a bunch of Hail Mary passes ... instead, the Eagles kept driving, getting a meaningless TD on the game's final play. Well done, Andy.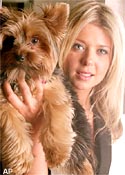 Tara Reid & Stoli
I'll be honest: These Tom Brady-Tara Reid rumors have me downright petrified. You don't want your starting QB dating anyone who has a dog named "Stoli." I mean, ever.
I may have celebrated another birthday last month, but don't think that stopped me from saying the following words to a Time-Life operator last week: "Hi, I'm calling about the ad for the Beavis & Butthead DVD collection?"
I think the Sports Gal summed up Atlanta's demise best: "Thank God ... if I had to hear that Tomahawk Chop for three more weeks, I think I would have killed myself."
Does anyone else keep waiting for the Twins dugout shot where Ron Gardenhire is sitting with his shirt off, smoking a Carlton Light, sipping from a can of Miller High Life and holding on to about 15 Powerball tickets?
I have to say, I enjoyed the Vinny Testaverde Era.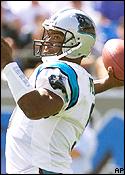 Rodney Peete
I'm praying for the Panthers to win an NFC wildcard, just for the once-in-a-lifetime chance to wager against Rodney Peete, on the road, in the playoffs. I feel like John Cusack traveling to LA in "The Sure Thing" -- giddy, excited, unable to believe that it's actually happening, hoping that the rug doesn't somehow get pulled out. Seven more wins, Carolina ... come on ... Daddy needs a new pair of shoes ...
All right, I'll say it: Snoop Dogg's retirement from smoking pot was one of those sobering, stunning, "You remember exactly where you were and who told you when you heard the news" moments.
Speaking of pot ... hey, it's the 2002 Mets! You don't even have to come up with a real joke about them and it's still funny. Ladies and gentleman, the 2002 Mets! Thank you, thank you ... I just flew in from Boston, and, my God, my arms are tired! Thank you! Have I mentioned the 2002 Mets??? Thank you! Please, you're too kind ...
I have to tell this story: My local RMV hands out numbered tickets with "Your waiting period will be XX minutes" stamped on them, so when I went downtown last week to renew my car registration, my number told me that I would be waiting "approximately" 35 minutes before I was helped. Of course, the RMV is located in a seedy part of Boston ... right next door to a mammoth adult video-book store. Isn't that the greatest "waiting room" scenario of all time? An established length of waiting time and a building full of porn? What else could you possibly need? Couldn't all hospitals, auto body shops and dentist offices follow suit? Am I asking for too much here?
Speaking of the RMV, one thing's for sure: Anyone, and I mean anyone, can get a driver's license renewed.
I think HBO should create a show called "Mind of the Married Arli$$," just to make sure that they've created the worst sitcom of all time.
Nothing puts a hop in an NFL announcer's step quite like a QB with a huge chunk of turf stuck in their helmet.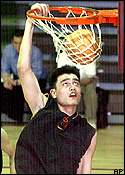 Yao Ming
I ask this every year, so I might as well ask again: Why wouldn't an NFL team hire a 7-foot-6 NBA center to block field goal kicks? Like the Houston Texans ... they could offer Yao Ming $3 million a year and tell him just to show up on Sundays for the games. Wouldn't Yao Ming be worth 3-to-6 points a game or am I nuts?
You know, sometimes when I think long enough about the plot for "The Terminator," it gives me a headache.
The moment when I realized that I hadn't been following baseball closely enough this year: Watching one of Atlanta's playoff games, hearing the announcer say, "Julio Franco on deck," thinking to myself, "Wow, that's weird, there's another Julio Franco," then seeing the actual Julio Franco come to the plate. Good God! Julio Franco is still playing??? Did he beat out Lenny Randle and Terry Puhl to make the Braves's 25-man roster? Is anyone else flabbergasted by this?
Dopey food/beverage recommendation of the month: Polar's cranberry-lime flavored seltzer. More addictive than crack. Just trust me.
I'm sorry, but as soon as Mr. Holland walks into the auditorium and realizes that they're throwing a goodbye celebration for him ... I mean, it gets about as dusty as you can possibly imagine at the Sports Guy Mansion. We're talking dustballs the size of watermelons.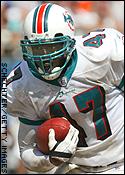 Robert Edwards
Hey, nobody's happier for Robert Edwards than me, but if I hear that comeback story one more time, I'm heading down to the beach and strangling myself with a beach volleyball net.
You know you've watched one too many "The World's Scariest Police Chases" shows when you start muttering things under your breath like "No, don't get back on the highway, there's too much traffic!" and "Lead them to the airport so the helicopters can't follow you, you moron!"
Speaking of those shows, am I the only person anxiously awaiting "The World's Most Shocking Sports Videos"? Just clip after clip of Tim Krumrie's leg breaking, Kareem sucker-punching Kent Benson, the Bruins climbing into the stands at MSG, NASCAR crashes and so on? I'm telling you, I should be running a network.
Yet another reason why you couldn't drag me to an NHL game ... protective netting!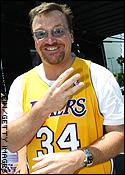 Tom Arnold
Looking back, the upset of the summer has to be my father admitting that he enjoys "The Best Damn Sports Show, Period," even adding, "I like that Tom Arnold guy." Frankly, I'm not even sure what to do with this information.
SPIEZIO! PIERZYNSKI!!!! It's the American League Championship Series, tonight on Fox!
Burning questions: Has anyone changed less over the past 20 years than Tony LaRussa? ... is Jim Breuer a mortal lock to be the "next washed-up comedian to get hired by a crappy sports-related TV show"? ... why don't Amos Zeroeue and TJ Duckett get 25 carries per game apiece? ... does it get any better than "FM Nation"? ... and why hasn't the three-part Hawaii episode of the 'Brady Bunch' been released on DVD yet?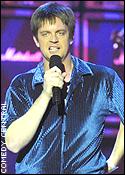 Jim Breuer
Every time I watch a Giants game, I spend 20 minutes trying to decide if Benito Santiago looks more like a generic Univision villain or one of Calderon's bodyguards in "Miami Vice."
My favorite part of the Ryder Cup is how the EGAHTC ("Excited Golfers Awkwardly High-Fiving Their Caddies") Ratio increases by nearly 250 percent.
Could we have a team of behavioral scientists start examining the bizarre phenomenon when Jon Kitna suddenly and inexplicably gets into a passing groove? Does anyone else get totally flustered by this? It's like watching somebody climb out of a wheelchair and walk around the room for an hour.
Finally, mark this date down on your calendar: Dec. 9, 2002 ... the day that Lamar Odom and the Los Angeles Clippers play an NBA game in New Orleans.
(RUN FOR YOUR LIVES!!!!!)
Bill Simmons is a columnist for Page 2 and ESPN The Magazine.