By Bill Simmons
Page 2 columnist
Editor's Note: This column appears in the Dec. 9 edition of ESPN The Magazine.
Ride through Cambridge on Memorial Drive and gaze across the Charles River, and there's Boston ... the John Hancock, the Prudential, Storrow. Beacon Hill, a mini-San Francisco. And best of all, the Citgo sign. You feel like you're in a movie, especially at night, when the city lights bounce off the water. Each time I hit that stretch, I thought to myself, "I can't believe I'm here."
Now I'm gone.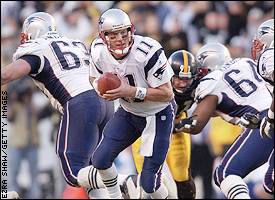 The Sports Guy witnessed the rise, fall and departure of Drew Bledsoe.
I moved to Boston after graduating from Holy Cross in 1992 -- 10 minutes from the Gahden -- mostly because I loved the local teams. The Simmons decade spanned "Bledsoe or Mirer?" to "Bledsoe or Brady?" I squeezed like a sardine into dozens and dozens of uncomfortable Fenway seats. I listened to roughly 175,324 hours of sports radio, bristling at each mention of The Curse. I washed the Globe's newsprint off my hands more times than you can imagine.
I cheered Antoine, booed Antoine, cheered him again -- and never did figure him out.
I bemoaned McHale's ankles, Neely's knees, Terry Glenn's head. I waited for Plantier, Mercer, Sele and Dee Brown to make The Leap and slowly realized Drew wasn't the Next One.
I survived Dan Duquette, Bobby Grier and the immortal M.L. Carr and scratched my head at Jimy Williams and Pete Carroll. I went from thinking Rick Pitino was The Savior to thinking he was The Anti-Christ and watched Clemens, Boggs and Bourque capture titles -- in other cities. I even turned against my beloved Bruins when they refused to spend money. I was Michael Corleone, they were Fredo. Best thing I ever did.
I remember Beck's meatball to Bernie Williams, Vinatieri's kickoff to Desmond Howard, Al Reyes' fastball to Nomar's wrist. I endured Clemens' fleeing to Canada with no love for Sox fans. I couldn't breathe after the C's didn't get Tim Duncan and held my breath worrying the Pats were moving to Hartford, St. Louis or LA. I shook my head when Parcells skipped town. I heard Fenway hush when Carl Everett cracked heads with an umpire. And when I strolled into the FleetCenter for the first time, I thought, "Man, we're just another city now." When Basketball Jesus returned as Pacers coach, I rooted against him, and ducked the lightning bolts. I sat paralyzed in my car outside a Boston Chicken in Allston, waiting for the tears to come because Reggie Lewis had dropped dead. I heard somebody stabbed Paul Pierce and thought, "No, God, no. Not again."
There were good times, too. The final days of the Garden, when we nearly carried a crummy Celtics team past Shaq's Magic in the playoffs. The month the FleetCenter finally came alive as a rejuvenated Celtics team just missed the Finals. Watching Parcells resuscitate a moribund franchise. Scurrying down to Sully's Pub for the last 12 outs of Clemens' 20-K game against the Tigers, then hugging everyone in sight. Driving home after the Snow Game, shouting again and again, "We never win games like that!" as we skidded all over the Mass Pike. Partying on Bourbon Street after the Patriots won it all, a bunch of delirious fans slapping hands, slamming Hurricanes and bracing for the Apocalypse.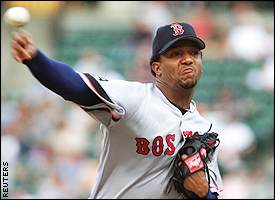 Being in Boston for the Pedro Era, is a once in a lifetime experience.
And then there was Pedro. During his apex, we swayed with every pitch, leaving our seats only when our team was at bat. How often does that happen? When Pedro yielded his first hit, we'd offer up a collective groan, as if they'd just shown a naked Jerry Krause on the JumboTron. In the later innings, whenever he got two strikes, we stood and banged our hands together, imploring him to finish the job. Usually he did. Anything was possible with Pedro. I'll never forget the time in Tampa he was charged by the first batter. He promptly turned into Clint Eastwood and retired the next 24. I will never, ever see someone throw so well again. He was a comet.
I'm writing this from Hollywood, where I moved last week. Suddenly I'm the frustrated transplant, relying on DirecTV, Internet coverage, message boards and phone calls to follow my teams. It won't be the same. I left my heart in Boston, along that stretch of Memorial Drive.
Some day, I'll go back to get it.
Bill Simmons is a columnist for Page 2 and ESPN The Magazine.