By Bill Simmons
Page 2 columnist
As the years pass, "Swingers" becomes more and more astounding to watch. Here's a comedy that captured the experiences of struggling actors in LA, the surreal scene in Hollywood and everything you ever loved about Vegas. Just for kicks, it tossed in the greatest video game scene in movie history. It nailed the "Guy in his mid-20s who gets totally obliterated by a girlfriend and can't move on" phenomenon, as well as the subtle dynamics of the male bonding experience. It launched a retro-swing craze that continues to this day, as well as a handful of quotes that seeped into our everyday vernacular (even years later). And it gave us Double Down Trent, simply one of the most memorable movie characters in recent memory.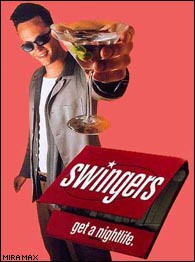 Let's head down to the Dresden. This season is dead anyway.
Does it matter that Jon Favreau and Vince Vaughn haven't approached these same heights since? Vaughn's electric performance as Trent has slowly taken on "Brady Anderson hitting 50 homers in a season" proportions, especially if you watched him in "Domestic Disturbance" last year. Favreau bounced around Hollywood with a variety of uninspiring projects, ultimately creating an entertaining but little-known talk show on IFC ("Dinner For Five"). Even Heather Graham followed her breakthrough performance as Lorraine with a "Hall of Fame Movie Babe" role in "Boogie Nights," then quickly reversed field and became one of the worst actresses of her generation.
You know what? None of this matters. I feel the same way about "Swingers" as I do about the Patriots winning the Super Bowl in February; no matter what happened after the fact, it can't change what happened in the first place. And yeah, maybe that sounded like a Yao Ming quote, but you know what I mean.
Speaking of the Patriots, I thought "Swingers" was the perfect movie for my annual end-of-the-season NFL awards column. Honestly, I thought it would be money. So here are 35 quotes and exchanges from "Swingers" -- 17 today, 18 tomorrow -- handed out as awards to the memorable players, coaches and events from the 2002 NFL season.
(It's on. It's definitely on ...)
1. "Do you think we'll get there by midnight?"
"Baby, we're going to be up five hundy by midnight!"
To the teams that needed a QB and improbably decided against trading for Drew Bledsoe. For instance, Cincy opted against dealing their No. 1 pick for Bledsoe last summer, because they were worried he wouldn't play there (like Drew had any other options if he wanted to get paid). Dallas chose a youth movement with Quincy Carter, Chad Hutchinson and Chad Hutchinson's guitar. Washington willingly went with a Ramsey-Wuerffel-Matthews troika (where was Shane "Footsteps" Falco?). And Chicago decided they were better off with the "E.R." combo of Jim Miller and Chris Chandler. Wouldn't Bledsoe have been worth 4-6 wins for any of those teams?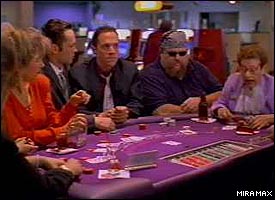 The only five hundy Trent and Mike went home with were the miles on the convertible.
(On the subject of dopes, let's pass out bonus points for every Patriots fan who wondered if the team should have kept Bledsoe over Tom Brady. Jeez, it's not like Brady won the Super Bowl or anything. Even during the Dolphins-Pats game yesterday, the Pats fell behind by 10 and my Dad actually says, "Boy, wouldn't you rather have Bledsoe winging the ball around right now?" And this was coming from a guy who offered to drive Drew to Logan Airport when he got traded. Boston fans are unbelievable sometimes. Let's just move on.)
2. "I didn't want to say anything. It's kinda like not talking to your pitcher during a no-hitter."
To Fred Taylor's groin, which made it through an entire NFL season without giving out. Do you realize that Freddie T. ran for nearly 1,300 yards this season? Probably my favorite kooky nuance of the entire season. Running a close second: Lions rookie Joey Harrington missing the last four games with an irregular heartbeat, then being listed in the injury report as: "OUT: Harrington, QB (heart)." Why wasn't Jeff George ever listed like that?
(A distant third: The NFL referee who looks like Brooks Hadlin from "Shawshank Redemption." I don't even know his name ... but every time I see him, I make a "Don't you keep expecting this guy to write 'BROOKS WAS HERE' on the replay camera and then hang himself?" joke and get a big laugh from everyone else in the room.)
3. "I took the Kings to the Cup."
"Yeah, against the computer with the offsides turned off."
To the Steelers and Packers, who cruised to division titles in crummy divisions. Have the Steelers had a quality win all season? And don't tell me that the Monday night game in Tampa counts when Shawn King was prominently involved -- he makes Ray Lucas look like the '90 Tecmo Bowl version of Randall Cunningham.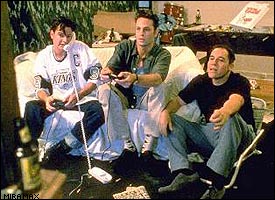 Sega '95 -- the leading cause of GPA decline in the 1990s.
As for the above quote, I would argue that Trent and Sue's video hockey game will never be topped by any video game movie scene, and here's why: A) It was the first of its kind; B) it came out of nowhere; C) it involved one of the watershed video games of the past 20 years ("NHL '95," the game that featured the around-the-net move, as well as player's heads bleeding all over the ice when they got plastered by a check); D) it paid proper tribute to the '95 Jeremy Roenick, on the short list of Hall of Fame Video Athletes; E) it was downright funny from start to finish, even incorporating one of the defining features of the game (in this case, Trent making Gretzky's head bleed all over the ice while Sue wasn't looking); and F) we've all been there. Well, at least some of us. I loved that scene.
In fact ...
4. "I wish they still had fights in this game so I could bitch-slap Wayne."
"What? They don't have fighting anymore?"
"Yeah, but you know what, Mike? You can make their heads bleed in this one."
"Make somebody's head bleed."
"All right. I'm gonna make Wayne Gretzky's head bleed for Super-Fan 99 over here."
To Redskins punter Brian Barker, who suffered the most horrific injury of the season: A broken nose on Thanksgiving Day that left him looking like a cross between Michael Jackson, Marlo Thomas and Sissy Spacek. The only thing that replay was missing was Clint Malarchuk skating onto the field, breaking Tim Krumrie's leg off, and cutting his own jugular vein with Krumrie's tibia bone.
5. "We're headin' out of here."
"Good. This place is dead, anyway."
To the tight end position ... for the first time in years, there hasn't been a dominant one for fantasy purposes. Think about it. Tony Gonzalez was there for the past four years, Shannon Sharpe and Ben Coates before him, Keith Jackson before them ... the list goes on. Not this year. Jeremy Shockey wasn't quite ready, Gonzalez never got it going, and everyone else was good for four catches and 42 yards every week. A little sad, isn't it? It's always fun to have one butt-kicking tight end in the mix every season.
And while we're here, this season's fantasy disappointments: Rod Smith (inexplicably lost it this season) ... David Boston ... Terry Glenn (geez, I can't believe he's on this list) ... Anthony Thomas (although you deserved it if you took him) ... Michael Pittman (still adding to his record for "Most all-purpose yards without ever garnering a single fantasy point") ... Eddie George (running on fumes) ... Kordell Stewart (a Hall of Famer for this list) ... Robert Ferguson (for everyone who rolled the dice with him instead of Donald Driver) ... Marshall Faulk and Kurt Warner (goes without saying) ... and Disappointment MVP Daunte Culpepper (the Human Rollercoaster Ride).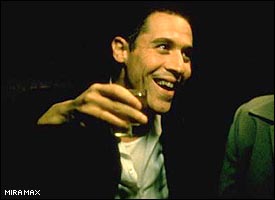 Even Mike has to smile at some of the moves Vick made this season.
6. "Vegas, baby. Vegas."
To Mike Vick's OT scamper in Minnesota, a 48-yard TD run that doubled as the latest edition of "Alcoa's Great Moments in Gambling History." Imagine having the Falcons giving 3.5 on the road, watching them rally to tie the game in regulation, knowing that you need a miracle to avoid the inevitable "Atlanta kicks a game-winning field goal, the Vikings cover" scenario ... and then here comes a scrambling Vick for the improbable cover. On a personal note, this was my favorite personal gambling moment since the Titans covered my Saturday tease with the Wycheck-to-Dyson kick return three years ago.
(Random Note: There's a reason I try to end every Vegas column with the above quote, just for the obligatory "Swingers" homage. Who hasn't gambled there without paying tribute to Mikey and Trent and screaming out, "Vegas! Vegas!", at some point? It's like playing golf without dropping a "Caddyshack" line ... you just can't do it. It's impossible. I think about them every time I'm either driving to a casino or landing at McCarron Airport. Vegas, baby. Vegas.)
7. "You can't do anything to make her want to come back. In fact, you can only do stuff to make her not want to come back ... At first you're going to pretend to forget about her, you'll not call her, I don't know, whatever ... but then eventually, you really will forget about her ... (and) that's the thing, somehow they know not to come back until you really forget."
The sagest piece of advice in the movie goes to Bill Parcells, pulling the "Just when you thought you were out, I pull you back in!" routine with yet another comeback possibility (this time in Dallas). I'm torn on this one. The Cowboys are like the Lakers, Yankees and Steven Seagal -- even though everyone hates them, life is always more fun when they're in the mix. Plus, Parcells would be taking over a regime currently spearheaded by GM Jerry Jones, head coach Dave Campo and offensive coordinator Bruce Coslet ... that's like Jerry Seinfeld taking over the "Arli$$" time slot on HBO Sunday nights. And the thought of Parcells and Jones banging heads sounds too good to be true (especially after watching Jones's Big Brother routine on "Hard Knocks").
Unfortunately, Coach Parcells and Media Guy Parcells can't co-exist. If he took the Dallas job, he would give up his nationally syndicated radio show and his Sunday morning gig on ESPN. Who wants that? Nobody breaks down the NFL better than the Tuna, not even Jack Price and Stu Feiner. And the thought of him in Dallas has just enough "Lombardi with the Redskins" potential that it's probably not worth it. Stay tuned.
8. "Haven't you seen 'Boyz N The Hood'? Now one of us is going to get shot!"
To Priest Holmes, who was putting the finishing touches on his upcoming documentary, "Priest Holmes, Fantasy Football God," before suffering a hip injury against the Broncos. And if you saw the replay of the tackle -- Priest getting chased down from behind and awkwardly stopped in his tracks -- the first thing you thought was, "Uh-oh, that looked just like the play that ruined Bo Jackson's hip." Now Holmes is M.I.A. I don't like where this is headed.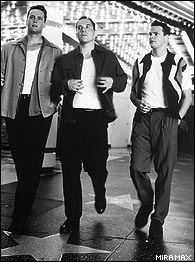 Trent, Mike and Sue are definitely a playoff-caliber team.
9. "Oh, it's on. It's definitely on."
To the Dolphins-Broncos game from November, the best football game of the season: Two playoff-caliber teams pounding the crap out of each other for four straight quarters. You could even argue that the Broncos were never the same. And here's the weirdest thing: Neither team ended up making the playoffs. Strange year. Every year is strange, but, I mean ... this year was really strange.
10. "Excuse me, we're in kind of a hurry."
"Hang on, Voltaire."
The surprise quote of the movie -- the waitress who looked like she didn't get Mikey's "I'll have the pancakes in the Age of Enlightement" joke, then called him Voltaire -- goes to the surprise moment of the season: Carolina's Steve Smith inexplicably punching out a teammate during a WR meeting, in a pitch-black room, no less. On the bright side, he easily cruised to the 2002 Michael Westbrook Award.
11. "They're gonna give Daddy the Rain Man suite, do you dig that?"
To the overmatched and overrated coaches from this season:
Dave "Captain Cliche" Campo and Tom Coughlin, who shared the Pete Carroll Memorial "Uh-Oh, I Think They're Quitting On Me" Award for 2002.
Mike Holmgren, who has officially regressed to the "Hey, my guys really came on once we got knocked out of the playoffs!" stage of his coaching career in 2002.
Steve Spurrier and Mike Martz (more on them in a second).
Dave Wannestadt, if only for his team's Grade A botch job in New England yesterday, which included Ricky Williams (only working on a 180-yard rushing day) never even touching the football during a crucial three-and-out that could have finished the Patriots off.
Mike Shanahan, whose stock dropped this season as a talented Broncos team ran itself into the ground. Let the record show that he's a .500 coach since Elway retired.
Dick LeBeau, who officially changed his name to Poor Dick LeBeau in October.
The immortal Marty Morninweg, who actually uttered the words "If we win the OT toss, let's take the wind and kick off" during the same season when teams regularly scored on their opening OT drives, to the degree that NFL commissioner Paul Taglibue has been pushing to change the rules. Savvy.
And my personal choice for the Rich Kotite Award, a k a, "The coach who singlehandedly turned a playoff team into an also-ran" ... that's right, Buffalo's Gregg Williams! No team in the league squandered more games because of dumb mistakes and sloppy special teams. Do you realize that the Bills featured a 4,000-yard passer, a 1,400-yard rusher and two 1,200-yard receivers? Or that they played one of the easiest schedules in the league? How does that translate to "8-8"?
And speaking of Williams ...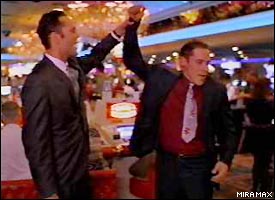 Who's the big winner? Mikey! Mikey's the big winner!
12. "Look at this, OK? I want you to remember this face. This is the guy behind the guy behind the guy."
To my favorite faces from the 2002 season ...
The Gregg Williams "I'm in a little over my head" Face. Blank stare, lips a little pursed, almost like a baby having trouble releasing gas.
The Rich Gannon "I can't believe I get to throw to Jerry Rice and Tim Brown" Face. Happy and shellshocked. Reminiscent of Joel Goodson's "I can't believe I'm about to have sex with Rebecca DeMornay on a subway train" Face in "Risky Business."
The Dave Wannstadt "I'm stuck with Ray Lucas and there's no Plan B" Face. Like a guy who just walked outside and realized that his car is missing. Utter disbelief and helplessness.
The Steve Spurrier "I can't believe I thought Danny Wuerrfel was a starting QB" Face. My personal favorite. Looks like a guy who just realized that he accidentally hit on 16 against a 6 in Vegas.
The Jeff Fisher "Somebody has turned me into Mr. Spock" Face, which he wears all the time, even in interviews during the week. Is he on medication or something? This might be the first coach in Super Bowl history who doesn't realize that his players just dumped Gatorade on him.
The Mike Shanahan "If Brian Griese is here, then who's running Hell?" Face.
And one more face, which gets its own quote ...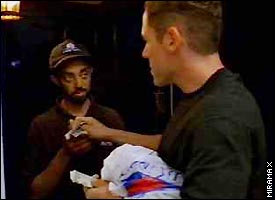 Unfortunately for Mike Sherman, Sapp is a little more intimidating than this guy.
13. "Mikey, is he cute? Is he brown? Would he like to join us for a cocktail? Is he polite? Is he clean? Have him take off his shoes. Don't let him go!"
One of the funniest moments in the movie goes to one of the funniest moments of the season: The postgame shouting match between Mike Sherman and Warren Sapp, which spawned the unforgettable Mike Sherman "I'm about to die" Face.
Uh-oh, I can't believe I just swore at a crazy 300-pound guy. Where is everyone? I thought my players were right behind me. Good God, I'm dead! Maybe if I don't make eye contact with him again and keep walking as fast as possible, he won't rip me into five pieces. Must not show fear. Keep walking. Must not show fear. Keep walking.
14. "This happens to be a $100 minimum bet table. Perhaps you'd be more comfortable at one of our lower stake tables."
To Steve Spurrier ... as I've written before, if Pete Carroll can be a raging success at USC, doesn't that tell you everything you need to know about coaching in college versus coaching in the NFL? Here's a profession where guys like Jon Gruden get into their offices at 4:45 every day to examine film; how can Spurrier possibly compete when he's working seven-hour days and breaking 45 minutes for lunch? Who does he think he is, me? Maybe he's not failing for the same reasons that Rick Pitino failed in Boston, but the message remains the same: Some guys are just better off coaching in college.
15. "I gotta be honest with you ... I think you might be a little old for the role of Brother."
To Emmitt Smith ... thanks for the memories. You were great. You're a good guy. Everyone likes you. You've made more than enough money. You still have a relative semblance of a fastball. Now please retire before you're doing the "OJ in San Fran, Earl Campbell in New Orleans" routine for somebody other than Dallas. Nobody wants this.
16. "People get carjacked."
"Oh, man, who's gonna carjack your (bleeping) K-Car?"
To the NFC South ... nobody expected anything from a division that only turned out to be the best in football, with Tampa, Atlanta and New Orleans combining for 30-plus wins among them. Even the Panthers were frisky for a basement team.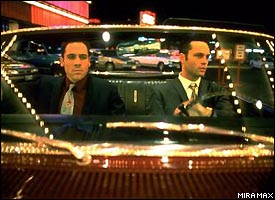 Lights reflecting off the convertible -- a Vegas movie staple.
And since I have nothing to add here, this seems like the perfect place to mention my favorite "Unintentional Comedy" moment in "Swingers" -- When Mikey and Trent drive from LA to Vegas. You know it's a movie when A) They're leaving LA on a weeknight in the 7-9 p.m. range, yet somehow there's no traffic whatsoever, and B) they're driving on The Strip at night and going faster than 5 mph. In real life, they would arrive in Vegas around 2 in the morning -- constipated and crazy -- and get stuck in Strip traffic for another 25 minutes before they reached their casino. By the time they finally sat down at a table, it would be around 2:45 a.m., and they'd immediately blow $300 bucks each because they'd be so anxious to bet, they wouldn't be thinking rationally anymore.
(Then again, it's not officially a Vegas scene in a movie unless two characters are driving down the Strip, in a convertible, with casino lights reflecting off the car, so I guess I have no point.)
17. "You wake up every day and it hurts a little bit less, and then you wake up one day and it doesn't hurt at all. And the weird thing is, it's almost like you miss that pain."
To Patriots fans everywhere ... none of us knew quite how to act this season. Were the Pats underachieving? And if they were underacheiving, could we even really complain about it? Did last season even happen? Were they ever even good in the first place? Why did everyone forget about the five-year grace period that you're supposed to give your team after they win a championship? Why did so many of the local reporters, columnists and radio announcers relish playing the "Wet Blanket-Chicken Little" role for four straight months? Why wasn't any of this fun? Shouldn't it have been fun?
Looking back, the whole thing almost felt like finishing a video game -- like when you complete all 570 missions in "Grand Theft Auto: Vice City," and you beat the game, and then you're just sitting there going, "Okay, what do I do now?" That's what it feels like the year after your team wins a Super Bowl. For decades and decades, Patriots fans defined themselves with futility and pain. And when it all ended, it's almost like we missed that pain. In the words of Cervantes, "The journey is greater than the end."
Back with Part 2 tomorrow ...
Bill Simmons is a columnist for Page 2 and ESPN The Magazine, as well as one of the writers for Jimmy Kimmel Live, premiering Super Bowl Sunday on ABC.