By Bill Simmons
Page 2 columnist
Editor's Note: This column appears in the Feb. 17 edition of ESPN The Magazine.
On the Monday after the Super Bowl, my friend Sal looked like a puppy who'd just lost his favorite squeeze toy. "What do we do now?" he mumbled over and over, eyes practically watering. "No football for seven months. What do we do now?"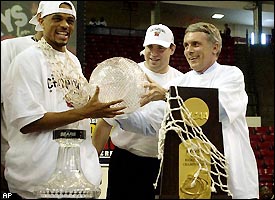 AP
March Madness? At this point it might as well be May Madness.
Good question. Even Gangs of New York isn't as excruciatingly drawn out as these seven weeks between Super Bowl Sunday and March Madness. It's a stretch so brutal you hear yourself saying stuff like "All right -- the Slam Dunk contest is on tonight!" and "I've never seen Jeanette Lee shoot stick like this!" On SportsCenter, Dan and Stu slap each other to stay awake during five-minute Grizzlies-Nuggets highlights. You can read USA Today's sports section in the time it takes Karl Malone to shoot two free throws. Suddenly, the six most exciting words ever are "Pitchers and catchers report this week." Woo hoo! The guys are heading to Florida again to play catch! Somebody pinch me!
Everyone copes with this seven-week drought in their own way. Me? I watch way too much NBA, so much that by the end of February I'm chest-bumping the counter guy at Starbucks. I take an annual halfhearted plunge into college hoops, invariably losing interest because I can't parachute in and recognize the players anymore (the cast of Baywatch didn't turn over so frequently). I watch an NHL period here and there, hoping for the random fistfight. In just the past two weeks, I've started three more whatifsports.com baseball teams, including a "players who died during their career" squad, which definitely has me on the fast lane to hell. But none of it quite fills the gap.
Then Sunday rolls around. No pregame shows. No weekly picks. No last-minute fantasy machinations. No break-in updates. No money on the line. The phone stays eerily still. And the gap becomes a yawning void.
Last Sunday, the Sports Gal seized the opening and dragged me & "yard-sale hopping." She should have just castrated me. We hunted for furniture for the better part of an afternoon, right up until I halted the proceedings by jumping off someone's front lawn into oncoming traffic. No one was hurt, but on the drive home, the Sports Gal hissed, "You're the most self-absorbed person I've ever met." At least I think that's what she said: I was busy figuring out if I could catch the last quarter of the Pro Bowl. I don't think we're going yard-sale hopping again.
Anyway, this year I'm trying a new tactic to get me through the dark days. I've made a list of people and events with fair to good entertainment potential: my favorite Chinese homey, Yao Ming. The Pacers and Blazers play on March 8; maybe Ron Artest and Rasheed Wallace will fight to the death. Doug Christie and the missus are always good for some laughs. The WNBA players are threatening a strike, possibly the funniest thing that's ever happened in sports. The Grammys and Oscars are always riveting. The women's NCAA Tournament means multiple shots of female coaches trying to walk the sidelines in high heels. And there's always the suspense in waiting to see which athlete-who's-turning-his-life-around du jour will make the cover of this magazine. (Wait a second, did I say that out loud?)
Which brings me to my favorite midseason replacement: The LeBron James Show. We've lost the thrill of watching as Bron struggles to become ineligible, but we can still see him pick an agent, fend off groupies on a mission, interview potential posse members and pick a suit for the draft. Not to mention the spring cliffhanger of whether Stern can figure out how to make sure the Knicks get the first pick. Reader Greg Flynn is right: This is the world's greatest reality-TV show. Tune in tonight as the next MJ is slowly corrupted by society-in front of your very eyes! Yes, it's the NBA, and it's FANNN-tastic.
These are desperate times, my friends, but they will end. Until then, spend time with your loved ones or take a vacation. Play your cards right, and by the time March Madness rolls around you'll be so refreshed, you'll be able to fill out 15 brackets at once. Trust me.
(And yes, that means you, Sal.)
Bill Simmons is a columnist for Page 2 and ESPN The Magazine, and he's a writer for Jimmy Kimmel Live, premiering Super Bowl Sunday on ABC.