By Bill Simmons
Page 2 columnist
Editor's Note: This column appears in the July 21 edition of ESPN The Magazine.
It starts with the magazines. You're killing time at a newsstand, not even thinking about training camp ... and then you see them: three or four fantasy football mags, sneaking up on you like an errant Akili Smith pass. And even though it's late June and the heat's making you crazier than Ricky Davis, you feel peaceful. Football's coming.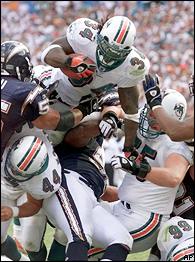 We should get the first Ricky Williams column any day now.
It's like the groundhog seeing its shadow, isn't it? You can script events from there, generic NFL-related moments getting you progressively giddy about the upcoming season. In fact, let's take a look at this splendid sequence:
Early July: One of the Cowboys gets assaulted or shot ... Yet another club unveils new threads because "we want to go in a new direction." (Translation: "We want that merchandising money") ... An ESPN feature on Peerless Price provides the first "Wow, I forgot (Player X) was on that team!" moment ... Dan Le Batard writes his first Ricky Williams column ... Cardinals fans (whoops, Broncos fans) officially talk themselves into Jake Plummer.
Mid-July: There are so many Madden 2004 ads that you develop a Canseco-size twitch each time you hear "It's in the game!" ... Somebody writes the first "Is this the year Kordell puts it all together?" story ... Camps start to open ... They're practicing full-speed with equipment and everything ... The first glimpse of an improbably skinny Parcells in an outfit two sizes too tight ... Gio Carmazzi is signed ... Cincy's QB battle is described like this: "For god's sake, somebody needs to emerge" ... Minnesota's first-rounder refuses to report to camp ... The first enjoyable practice fight: Two guys throw wild haymakers, then grab each other's helmets and do the Facemask Tango.
Late July: ESPN starts running 2002Yearbook shows, in which NFL Films can make a 6-10 Jags season feel like the last 30 minutes of Remember the Titans ... Gio Carmazzi is waived ... ESPN runs its annual "Should football players really practice in this kind of heat?" piece ... Bill Belichick lulls his first press conference into a coma ... Normally, HBO would be premiering Hard Knocks, but they canceled it this year. (To recap: Airing seven years of Arli$$ was fine, but two years of Knocks was enough.)
Early August: Get ready for the American Bowl in Japan! (Get ready for the first wager of the preseason!) ... I'm already down three bills with my bookie ... Our first glimpse of CBS' annually revamped pregame show (this could be the year, guys, I can feel it!) ... My buddies and I struggle to find a date for our annual Roto draft (it's easier to build a speedboat from scratch) ... Mike Martz gives his first creepy interview.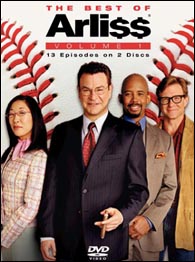 Everyone makes mistakes, but for seven years?
Mid-August: Madden 2004 is released. Adult males everywhere wonder if they're too old to create themselves as a QB & One team and one player (this year: the Cowboys and Matt Hasselbeck) emerge as the bandwagon "playoff sleeper" and "fantasy sleeper" ... Our first glimpse of the Madden Cruiser ... Parcells is back up to 240 ... A no-name back runs for 150-plus yards, causing fantasy chaos ... The Sports Gal threatens to dump me because I'm playing too much Madden & Randy Moss cuts short his first pattern ... USA Today runs the lines for Week 1, which should be a national holiday ... My dad calls to say he's excited about a Pats rookie, adding, "This guy could really help us." (He's usually waived by Week 5) ... Steelers fans realize they're one Maddox hit away from the Chaz Batch era.
Late August: I'm down $900 with my bookie ... On the bright side, I've already won two Super Bowls with the video-game Pats & Amid another wave of preview mags and shows, we get our 100th feature on the superstar du jour (this year: Mike Vick) ... A big name blows out an ACL, causing a flood of "Why even have preseason games?" columns ... Parcells hits 260 ... Neil O'Donnell signs, passes his physical and has a carbon-dating test to determine his age ... Our fantasy draft takes place; I hate my team by Round 4 ... Arizona is mathematically eliminated from the playoffs ... Teams make last cuts.
Early September: The season finally kicks off. Everything is right with the world again.
Bill Simmons is a columnist for Page 2 and ESPN The Magazine, and he's a writer for Jimmy Kimmel Live.