By Bill Simmons
Page 2 columnist
Editor's Note: This column appears in the August 4 edition of ESPN The Magazine.
My love affair with gambling was spawned by a guy called Ax. You may remember him -- Pete Axthelm, the betting expert for Inside Sports. Before I had hair on my body, his columns had me hooked: wads of cash, wild swings, the poetic seediness of it all. It felt like an alternative universe. My favorite Ax piece described the '78 Super Bowl: the spread jumped around and settled at four; the Steelers won by four, and devastated bookies called it Black Sunday. Ax wrote it like a Greek tragedy. Black Sunday. I loved that.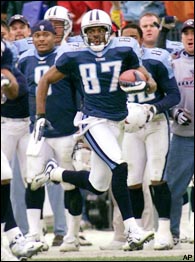 Music City Miracle? More like money in the bank.
Years later, in college, I made the official plunge. If you're looking for a villain here, blame the Pats. I was just trying to maintain interest in a league in which my team always went 3-13. I ended up nailing a Bills-Dolphins game, hopping around my dorm room like a madman, and that was that. Fifteen years later, I'm still plugging away: mostly NFL, some NBA and NCAA Tournament games. Most years, I lose money, but not much and never enough to leave a sour taste.
Like Ax, I have my own bank of memorable victories: Titans over Bills in the 2000 playoffs (Wycheck to Dyson). An upset playoff special in '91, with the Skins prevailing in Philly (I still remember the score: 20-6). The Ravens-Giants Super Bowl, when I nailed the money line, the spread, the over/under and the "first guy to score a TD" prop. Great bets are like great women -- you meet only a few in your life, and you remember them all.
Sometimes, I do get a little carried away. At baseball games, I'm organizing home run pools before everyone has settled in their seats. At this year's Legends & Celebrity Softball Game during All-Star weekend, Adam Carolla's team won me 50 bucks. I've wagered on summer league basketball, the NBA draft (pick by pick), USFL rebroadcasts (a personal favorite), the WWE's Royal Rumble, Sopranos deaths and video football, with the computer playing both sides (another favorite). During a Celtics halftime, I even won 20 bucks on the Special Olympics team in the dark unis.
I look at it like this: it's more fun to watch anything when you have a vested interest. Besides, when else in life can you get away with using the phrase "three teamer"? And I know of no other experience that offers the chance to meet so many goofy characters. There's the friend who knows a bookie; you're not sure how he knows him, and you're a little afraid to ask, but he's your connection when you need to lay some wood. There's the "mush" -- your buddy who kills everyone's bet whenever he joins in. There's the anal guy who loves gambling but hates losing money, so he'll make four cell calls to hammer down a $10 hockey bet.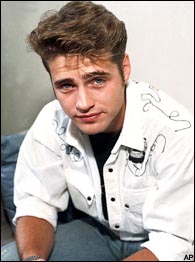 Never take gambling tips, or driving advice, from Brandon Walsh.
There's the guy who loses control whenever he's in Vegas, making so many wagers he can barely keep track. There's the jackhole who single-handedly kills group karma by saying, "Don't worry, you have this thing won." There's the guy who flips out when ESPN2's ticker shows 10 straight minutes of women's scores during March Madness (okay, that's me). And there are the diehards, guys like my friend Sal, who glance up from Internet betting sites and say, "Yo, how 'bout this parlay: the Yanks, the Detroit Shock and Serena?"
Me? I fit the generic profile: overly competitive, not as smart as I think I am, seduced by the thrill of the chase. But I love identifying the consensus "obvious" pick, then going the other way. When nobody believed in the Pats during their Super Bowl run, I was riding them like Jerry Bailey. And I stick by certain rules, like never back bad QBs in the playoffs or never bet against Mike Vick. I've taken some hits, but no disastrous ones.
Here's my point: as long as you maintain some self-control, you're okay. And if you can't ... well, then gambling is like any other vice, isn't it? I never understood why TV portrays gambling so negatively -- like when innocent sports bets turned 90210's Brandon into a lunatic in like three episodes. He nearly brought Nat and the Peach Pit down with him. You never see TV shows where someone makes a steady stream of bets, loses a few, wins a few, and everything's fine.
I guess I'll have to write that one someday. Too bad Ax isn't around to write it with me.
Bill Simmons is a columnist for Page 2 and ESPN The Magazine, and he's a writer for Jimmy Kimmel Live.