By Bill Simmons
Page 2 columnist
Editor's Note: This column appears in the Oct. 13 edition of ESPN The Magazine -- and was written before the Red Sox's 12-inning meltdown in Oakland in Game 1 of the American League Division Series on Wednesday night.
With those Green Monster seats drawing more hype than Bennifer all summer, I had to see them for myself ... so I talked my editors into sending me home. That's how I sold it to them, anyway. I really just wanted to experience a pennant race again. No less than Peter Gammons has deemed this the most exciting Sox season since '75. And there I was, trapped 3,000 miles away, frequenting message boards and GameCasts, missing clusters of innings at work, griping because DirecTV rarely shows games on Saturdays. It was like dating someone on the opposite coast -- three-hour calls and red-eye flights go only so far.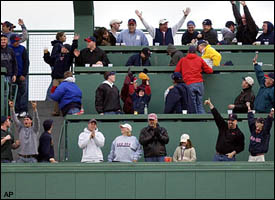 At least Red Sox fans have the Green Monster.
On the plus side, isolated from negative radio callers and cynical columnists, I got to follow the team with complete objectivity. It was a wildly enjoyable season. The explosive offense ranked among the greatest of all-time; the bullpen (equally explosive) ranked among the worst. Either they were winning impossible games or giving them away. SportsCenter ran down Boston's top-12 toughest losses -- in late July! They lost on walkoff bombs, bases-loaded walks, booted DPs, errant pickoff throws ... they were like that buddy who talks to a girl for hours, then heads home alone because he can't close the deal.
Unable to acquire Dalton from "Road House" before the deadline, GM Theo Epstein settled on Byung-Hyun Kim and Scott Williamson ... both of whom were instantly possessed by the ghost of Calvin Schiraldi, who's not even dead yet. Meanwhile, the offense kept pounding away. Emulating everybody's hero, Billy Beane, Epstein spent the winter finding bargains like Bill Mueller (their best all-around player) and Kevin Millar (whose college karaoke video became a rally monkey of sorts). Slugger David Ortiz evolved into a Dave Henderson-type folk hero, an improbable MVP candidate with Hendu's gap-toothed smile and an even happier nickname (Poppy). Mix in Manny, Nomar, Trot and the rest, and they were a champion softball team sprung to life: scary in the field and on the mound, scarier at the plate. All that was missing were beers and potbellies.
When everyone started comparing their numbers to the all-time greats (even the hallowed '27 Yankees), one fact got lost in the shuffle: no Boston team ever rallied from behind as often as this one. After it happens a few times, and then a few more, eventually you start to believe -- and that's no small feat for Sox fans. The defining moment came in the final week: Todd Walker's dramatic, last-gasp bomb to tie the O's, followed by Poppy's game-winner sailing into the Monster seats in the 10th. With most teams, you turn off the TV when they're trailing by three in the ninth. Not with these guys.
When I headed home last month, Fenway felt different. The new owners have blocked off Yawkey Way and revamped the concourse; now fans can gather outside to throw down sausages and pound $28 beers. And the Monster seats change the feel of the stadium. There was always a vacuum out there, nearly 100 feet of prime real estate without a single fan; the joint is more intimate now. And think about it -- maybe it wasn't such a bad idea to tinker with the Monster. It's like repainting the "Amityville Horror" house, and adding a sun deck.
Sitting up there for the first time, I felt like anything was possible. Who could have imagined seeing a Sox game from that angle -- peering down at the leftfielder, the Boston skyline looming to the left? Where else in the park can you move in your seat without nudging three other fans? Or purchase a frank in under 20 minutes? Or use the bathroom without worrying about catching something? Or lean over, reach down and touch The Wall? Best of all, can anything beat the feeling of always being in home run territory? I felt like Terence Mann at the end of "Field of Dreams" -- all I needed was a cornfield and Moonlight Graham.
I wish the season had stopped right there: Section M, Row 1, The Monster. Surrounded by Boston fans. Soaking in the pennant race. Drinking with my buddies. Cheering my guys. There's nothing like coming home.
But now the playoffs are here. Pedro's healthy, Manny's sane and we're about to see if a potent offense trumps a crappy bullpen. What a season, no matter what happens. And even if I'm stuck here in California, I can close my eyes and pretend I'm sitting on the Green Monster again.
Maybe this is the year.
Bill Simmons is a columnist for Page 2 and ESPN The Magazine, and he's a writer for Jimmy Kimmel Live.