By Bill Simmons
Page 2 columnist
Here's a thumbnail sketch of my life for the past 11 months: Move from Boston to Hollywood, work crazy hours for a start-up TV show, write sports columns on the side. Years from now, after I snap and embark on a cross-country killing spree, you'll appreciate the sacrifices I made to keep my presence alive on Page 2.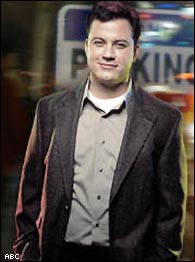 Is that one of Liberace's shirts under that blazer?
For instance, some magazine columnists crank out one 950-word piece every week. As far as I can tell, that's all they do. Do they make football picks? Nah. Answer e-mails in a mailbag? Nah. Everything's about that column.
All this is my way of trying to deflect attention from the fact that I couldn't do my typically thorough job with my NFL Picks column this week. Unlike sweatshop workers, I can only work so many hours ... and this was one of those weeks where my TV job collided with my writing job (thanks to Tuesday's impromptu Red Sox column and some projects on Jimmy's show), leaving me barely enough time to study the Week 6 slate. On the bright side, I wrote a script for Quentin Tarantino on Thursday's show -- not only did he like it, but it killed in Act Five. Doesn't get much better than that. The readers always ask what it's like to write for a TV show ... so I'll tell you. Just like with columns, you have good days and bad days. You learn that a room full of comedy writers is the world's toughest audience. You learn that farts are always funnier than any well-crafted punchline. You learn how an astounding number of things can make a difference between an entertaining show and a crappy one. You laugh a lot. You make fun of everyone. Everyone makes fun of you. None of it ever gets old. It's competitive as hell. My favorite part of the day is the writer's lunch. We gather at 12:15 p.m. and pitch ideas until 2. Everyone takes a turn. Jimmy types down the stuff he likes. And everyone thinks they did a pretty good job, right up to the part when Adam Carolla goes last and blows everyone away. It's like taking batting practice, putting a few over the fence, then watching Bonds come up and start launching balls into the bay. Very humbling. Then we head back to our offices, type jokes for the next few hours and make fun of each other some more. Of course, some of us have to handle taped pieces, which was what sidetracked me this week. Two of my pieces ended up on Thursday's show: A fake clip of "Police Academy 19" (starring co-host, Bobcat Goldthwait, along with Carolla in a graying, Guttenberg afro), and Studio Audience Theater (written for Tarantino, who "directed" it). Writing comedy segments is the best part of this job, just ahead of finding out which one of Liberace's old shirts Jimmy will wear on live TV each night.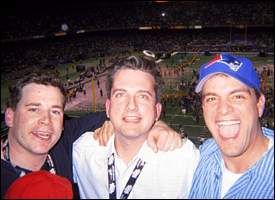 The Pats' Super Bowl win was 20 months ago, but we haven't forgotten this image of The Sports Guy.
Well, I shouldn't say that. The best parts of the job are those unexpected brushes with celebrities -- not meeting them or anything, but having these inadvertent brushes become part of your everyday routine. For instance, last spring we were using Colin Hay (the former lead singer for Men At Work) for an outdoor bit involving a party bus. In the middle of the afternoon, I ran out to get something from my car and heard some singing ... so I walked around the corner ... and the singing got louder and louder ... and wouldn't you know it? Colin Hay was rehearsing with our band.
And for the next 20 minutes, three other people and I stood outside in 80-degree weather, listening to Colin Hay singing Men at Work songs from 10 feet away. Our own private concert. He even took requests. He was our own personal '80s jukebox. For some reason, I will always remember it. Here's my point: Things like this happen all the time. It's a strange job. I have dozens of fantastic stories, none of which I'm allowed to mention here (but my friends are happy). There aren't any bad parts of the job, other than the hours, Jimmy's shirts, and the fact that occasionally -- not often, but occasionally -- I can't devote 100 percent to a column because I get sidetracked by something on the show. This was one of those times. You're getting the Vince Carter effort this week, not the Paul Pierce effort. So I apologize. Before we get to this week's picks, some leftover baseball thoughts:
I moved to California last November ... now the Sox are three wins away from the World Series, I'm 3,000 miles away, and Arnold Schwarzenegger is my new governor.
Read that last sentence again.
You have to love Yankee fans. Here's what my old college roommate JackO e-mailed me Thursday morning, after the Sox took Game 1: "Congratulations on your victory. I think the Yanks are all done. The Sox absolutely have their number this year. My prediction is that it won't last longer than five games. Last night was exactly what I was afraid of when it looked like they might meet up. Maybe we can have a beer if you come back for the World Series. I'm so despondent today it isn't even funny. P.S. -- I'm in no way trying the reverse jinx or being sarcastic, I really think it's over." (Can you believe that lame attempt at a reverse jinx? Now I don't feel so bad about covering him in shaving cream when he was passed out junior year. God, I hate Yankees fans.)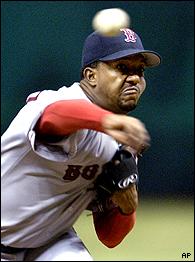 Pedro Martinez is hoping for another shot at the Yankees.
Here's a thought: Would a Game 7 matchup at Yankee Stadium between Clemens and Pedro be the biggest event in the history of New England sports? Isn't that bigger than the '78 Playoff Game? Could there possibly be higher stakes and more subplots? I'm having a borderline seizure just thinking about it.
Reason No. 354 why that standing ovation for Clemens at Fenway bothered me this summer: Now he's coming back to Fenway to pitch in a big playoff game. I'm sure he's thinking to himself, "Wow, what a hostile atmosphere, I'm terrified to go back to that place where they gave me that standing O. I'm rattled!" Unbelievable. That was the dumbest thing ever. Speaking of Clemens ...
From Matt in Atlanta: "As a Sox fan, I think we got exactly what we wanted, a Sox/Yankees ALCS. Is this the series where Roger, starting in Game 3 at Fenway, walks out to the mound, picks up the ball, rolls the rosin bag around in his hand, all of a sudden gets a crazed look in his eye, drops his glove, the rosin bag and the ball, and charges Jeter with a steel-chair in hand, lays him out, stands over him and while pointing at the Red-Sox dugout, rips off his pinstripes to reveal a Red Sox jersey? This would be the only scenario where Roger should ever get a standing O in Fenway."
I'm convinced that a Cubs-Red Sox World Series would be the biggest sporting event of my lifetime, just because everyone in the country would be interested to see who won (even people who don't care about sports). On the flip side, a Cubs-Yankees series would be the closest thing we will ever have to another "USA-USSR 1980 Olympic Hockey Game." With the Yankees being Russia, of course. Who wouldn't root for the Cubs in that series, other than the loathsome Yankee fans? Would any team galvanize the country like the Cubs against the Yankees? I hope we never find out ... but still.
And if the Marlins are involved ... I mean ... isn't this why they created officials like Dick Bavetta, for situations like this?
Here's what kind of day Monday was for me. Not only did I wager on the Sox to win the A's series when they were down 2-0 (plus-375 odds), but I had a three-way parlay going Monday night: The Red Sox to win, the Colts to win, and the over in the Indy-Tampa game. Pulled in 8-to-1 odds, thanks to Tampa's history-making collapse. We're immediately sending all videotape to the Alcoa Gambling Hall of Fame. As for my NFL Picks, I had my second straight 9-5 week last week, pulling me to 21-16 for the season. Technically, last week's Niners-Lions game was a push -- it was plus-7 when I picked it -- but since the line settled at 7½ last weekend, I'm giving myself that one as a reward for making these picks three days before Game Day. I think that's fair. Here are the Week 6 (quick) picks (home team in caps): GREEN BAY (-1.5) over Kansas City: I broke one of the cardinal rules last week: Going against Favre in Lambeau. Won't be doing that again.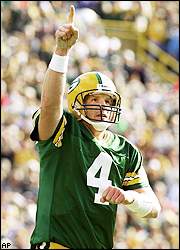 The Sports Guy learned another valuable lesson last week: Never bet against Brett Favre at Lambeau.

Speaking of the Chiefs, watching the replay of Dante Hall's electric punt return against the Broncos for the 200th time, I noticed that it looked like one of his teammates set him up with a perfect clip. So I paused it on TiVO and, sure enough, it was a clip. Then I took a quick perusal through some emails this week and everyone's saying the same thing: "Clip." So why didn't any of the announcers mention this? Is it just because they want a black kick returner to succeed so badly?

(Wait for it ... ) (Wait for it ...) (OK, laugh.) Chicago (+5.5) over NEW ORLEANS: The final week of the Jim Haslett Era ... and maybe even the Aaron Brooks Era. My God ... th-that's Todd Bouman's music! Giants (+2.5) over PATRIOTS: Just a gut feeling. This game scares me to smithereens. Then again, I don't really care because we won the Super Bowl 21 months ago. Amazing. And speaking of amazing things from the Boston area, there's comedy, there's high comedy, and then there's CT from the "Real World: Paris." Just an unbelievable performance by him this week. He's like a compilation of every guy who ever terrified you in a Boston bar, multiplied by 10, but with the most astounding hairline this side of Roy Firestone. JACKSONVILLE (-3) over Miami: Trap Game for the Dolphins (they have the Pats next week). I'm a big believer in the Trap Game. By the way, any offense with a healthy Fred Taylor and a healthy Jimmy Smith isn't half-bad. DALLAS (-1) over Philly: This is the game where all those pseudo-Cowboys fans -- and you know who you are -- come out of the woodwork and start supporting the team again. Most Cowboys fans are like those missing fathers of NBA players that we always read about, aren't they, the ones who surface right after their son signs a $50 million contract? DENVER (-7) over Pittsburgh: Bill Cowher's teams sure screw up on special teams and make tons of dumb penalties, don't they? He's the worst good coach of his era -- nobody can turn a 5-11 team into a 10-6 team and a 11-5 team into a 7-9 team quite like him. There's no rhyme or reason. And by the way, when are we ushering in the Chaz Batch Era? Give us Chaz! Give us Chaz! Give us Chaz! Tampa (-3) over WASHINGTON: I like any scenario that includes the sentence, "The defending champs are ticked off." ARIZONA (+5.5) over Baltimore: Was anything in the history of mankind more predictable than Emmitt Smith's final season in Arizona? I mean, anything? Shouldn't there have been some way to bet on things like, "He'll cry in a press conference before Week 6" and "The Fantasy Guru will say that 0 percent of the available roto teams are starting Emmitt by Week 9"? NY JETS (+3) over Buffalo: It's time. And speaking of time, a prank comedy called "Windy City Heat" premieres on Comedy Central this Sunday night. If you enjoy the spirit of this column but fail to enjoy this movie ... well, as Peter King would say, I will be very surprised. I won't say anything else. Just watch it. Have I ever steered you wrong? SEATTLE (-3) over San Francisco: Two teams headed in opposite directions. By the way, here's the Vegas over-under for times Joe Theismann mentions Marc Trestman and Jim Mora Jr. in this game: 64½.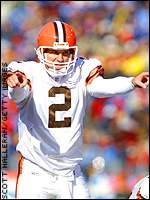 Tim Couch is officially "juvenated" for the first time.

CLEVELAND (-3) over Oakland: But watch out for this one -- Oakland is 0-5 against the spread. Even though they stink, they're due for one of those "We lose by one but cover the three-point spread" games soon. By the way, I need a ruling: Is Tim Couch juvenated or rejuvenated? Was he ever juvenated? And has any team ever had more receivers starting for roto teams?

INDY (-5) over Carolina: Jake Delhomme ... on the road ... in a Dome ... having to match touchdowns with the hottest QB in the league. I don't think so. Houston (+10.5) over TENNESSEE: And speaking of underdogs, what about the token black woman making it to Round Three in "The Bachelor"? Unchartered territory! As one of my readers wrote, it's like seeing Holy Cross make the Sweet 16 in March Madness or something. ST. LOUIS (-11) over Atlanta: All right, I can't resist ... Bulger!!! Crumpler!!! It's Monday Night Football on ABC!!! Bill Simmons is a columnist for Page 2 and ESPN The Magazine, as well as one of the writers for "Jimmy Kimmel Live" on ABC