By Bill Simmons
Page 2 columnist
After previewing the best of the West on Thursday and the dregs on Wednesday, here's one man's horrified look at the East, from worst to best. Please note: In this case, we're using the word "best" very, very loosely. Anyway ...
15. Atlanta Hawks
After winning 35 games last season, here were the Hawks' big moves this summer: They swapped their second-leading scorer (Glenn Robinson) for a guy who can't play anymore (Terrell Brandon). They hired a new coach named "Terry Stotts" (which might or might not be a stage name). They signed playoff hero Stephen Jackson for $2.2 million ... weeks after he screwed up by turning down $9 million from the Spurs (I'm sure he'll be a barrel of laughs). And they drafted a guy from France named "Boris." But hey, all isn't lost. Here what Sports Illustrated said about them: "The Hawks will take advantage of the nights when opponents are unprepared and won't have their legs because they have been out to strip clubs the night before. That's probably going to be Atlanta's best defense: the strip club trap." So, um ... they have that going for them.
14. Milwaukee Bucks
Here's a Bucks-related email from my old college roommate Chipper, a lifelong Milwaukee resident: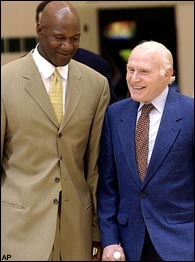 A new way of disappointing fans?
"Right now, local newspapers are running full-page ads with either Toni Kukoc photos or Terry Porter photos, along with the slogan, 'New Team. New Coach. New Season.' The Bucks seem to think that by hiring Porter -- a hard-working Milwaukee native -- local citizens will actually come out to watch this crappy team. Has anybody ever gone to see a team because of the coach? Our new coach is actually from Milwaukee -- Go Bucks! The emails are already starting around the office, stuff like 'I have two tickets to the Golden State preseason game tonight I can't use -- free to the first response. Seriously -- Anyone? ... Bueller???' "
Well, that sounds fun. I love that new slogan, though. "NEW TEAM. NEW COACH. NEW SEASON." Talk about hedging your bets -- that's right up there with the time the 1989 Phillies used "Enjoy The Game!" Plan B for the Bucks PR department should have been this one: "24 ARMS. 24 LEGS. 12 HEADS." I'm mildly fascinated with these guys -- they might be my favorite bad team this year. For instance, in your wildest dreams, did you ever imagine that Terry Porter would end up as a head coach? Was Herb Kohl watching Porter's old Blazers teams choking on ESPN Classic this summer, then realized to himself, "Wait, some day this could be us -- I have to get Porter, he was their leader!" Just dumbfounding. And does anyone else realize that they traded Ray Allen and Sam Cassell for Desmond Mason, Joe Smith, and a two-month rental of Gary Payton? Apparently, when they were bringing in locals to run the team, Jeffrey Dahmer was named the new GM.
13. New York Knicks
Critics are calling them "The most unwatchable Knicks team yet!" Lemme tell you something ... when you throw Dikembe Mutombo, Michael Sweetney, Clarence Witherspoon, Kurt Thomas, Othella Harrington, Keith Van Horn and a washed-up Antonio McDyess in the same frontcourt, and you have the worst group of point guards in the league, and the fastest guy on your team is Allan Houston ... I mean, this is a team for the ages.
Scott Layden shouldn't just be fired, he should be facing a civil suit filed against him by Knicks fans. Seriously. Shouldn't you be able to sue someone for doing this to your favorite team? Has that ever happened before? At the very least, he should be forced to live in a reality-TV house with Grady Little, Bob Whitsitt, Jim Haslett and Gregg Williams, where they have no electricity, no bathrooms and no food for six weeks. (Don't worry, Knicks fans -- I'm sure your buddy David Stern will figure out a way to steer Kobe to New York this summer. Maybe he'll unearth a rule from 1997 that every fifth Antonio McDyess knee surgery yields a $10 million injury cap exemption for his team. Stranger things have happened.)
NFL PICKS, WEEK 9
(Home team in caps)

NY Giants (-2.5) over NY JETS
BALTIMORE (-7) over Jacksonville
Oakland (-3) over DETROIT
CHICAGO (-2.5) over San Diego
MIAMI (-2.5) over Indianapolis
TAMPA BAY (-8) over New Orleans
DALLAS (-4) over Washington
Carolina (-6.5) over HOUSTON
Cincy (-3) over ARIZONA
SEATTLE (-4.5) over Pittsburgh
Philly (-4) over ATLANTA
St. Louis (-2.5) over SAN FRAN
MINNESOTA (-4.5) over Green Bay
DENVER (-2.5) over New England

Last Week: 9-5
Season: 43-36
12. Miami Heat
Sixty million over six years for Lamar Odom.
(Just in case you weren't paying attention ...) Sixty million over six years for Lamar Odom. (Here's what it looks like in Spanish.) Sesenta million dolares por Lamaro Odom. I mean ... Do these teams
ever
learn? Ever???? It's Lamar Odom! This isn't someone who should be getting guaranteed money on a week-to-week basis, much less for six consecutive years! There isn't a less reliable guy on the planet. He's fragile, he's mercurial, he's one drug slip-up away from being banned for an entire season, and he has disappointed every coach he ever had (going back to his third-grade CYO coach). So you give him $60 million??? Sixty????? Imagine if he played hard on the Clippers for more than three weeks at a time ... what would he have been worth then, $300 million? Here's my theory: Pat Riley was sitting around this summer and saying, "You know what? I can't do this anymore. I was a moron for giving Jones and Grant a combined $170 million ... the only way I can salvage this mess is by rolling the dice with Odom, even though the odds are 10-to-1 against him turning his career around. If I spend time with him this summer and coach him through the first part of the exhibition season, I'll know by the end of September if there's a chance in hell he sees the light. If not, I'll dump these guys on Jeff Van Gundy's brother before the season starts." Believe me, I have no proof whatsoever. But that's what happened.
11. Chicago Bulls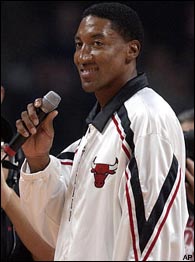 Look, Scottie's still got a mic.
I have a variety of crazy talents, some of which have been mentioned in this space: I can spot bad toupees and dentures with the best of them. I can enter my name in a "Golden Tee" machine in less than two seconds. I can analyze "Road House" for hours, the same way David Denby and Pauline Kael would analyze "Nashville." I could snap out of a five-year coma and hit a tennis forehand right down the line. I can type with two fingers faster than any mortal can type with 10. I can freeze on live TV better than just about anyone. And I can instinctively avoid the green Sour Patch Kid without looking down into the bag.
Well, here's another talent: Before any NFL and NBA season, I can always spot the "Team That Won't Be As Good As Everyone Thinks" Team. This year, it's the Bulls -- they finished last season strong, brought Scottie Pippen back home, and suddenly everyone's handing them a 2004 playoff berth. Well, I don't think they're ready yet. Just a gut feeling. (As for Scottie, he's getting his own column this winter. I promise. We really need to explore the studio space on this subject. I'll bring the cowbell.)
10. Toronto Raptors
But by all means, let's put Vince Carter on next summer's Dream Team. He certainly deserves it. And just for the record, we could wipe out the Hawks, Raptors and Heat franchises right now and only about 3,500 people would care. Seriously. When I'm commissioner of the league, my first act of business -- right after A.) forcing every team to have cheerleaders; B.) instituting the "mega-assist" stat for passes that lead directly to dunks or layups; C.) making the coaches wear uniforms on the bench; and D.) buying David Stern's 1984 mustache off eBay and sticking it on my upper lip -- will be merging Miami, Atlanta, Toronto, New Jersey and the Clippers, then relocating them to Vegas. (Think about it: Every problem in the NBA would be solved: overexpansion, talent dilution, dwindling fan bases, ghastly uniforms and, most importantly, the lack of a team in Vegas. If the NBA was smart, it would build its own casino in Vegas, have the new team play there, then make a rule that NBA players could only gamble at
that
casino. Within three months, they would make enough money back from the players to pay for the casino, wouldn't they? See, I'm a genius. Where was I?)
FANTASY NBA PICKS
CAREER YEARS
Paul Pierce
Ray Allen
Pau Gasol
Peja Stojakovic

MAKING THE LEAP
Michael Redd
Zack Randolph
Amare Stoudamire

REJUVENATED
Vince Carter
Andre Miller
Marcus Camby

REINCARNATED
Vin Baker

BETTER THAN YOU THINK
Drew Gooden
Karl Malone
Troy Murphy
Gilbert Arenas
Desmond Mason

MUCH BETTER THAN YOU THINK
LeBron James

DON'T GET SUCKED IN
Antoine Walker
Lamar Odom
Sam Cassell
Jason Richardson
Alonzo Mourning
Tyson Chandler
Zydrunas Ilguaskas

SLEEPERS
Mehmet Okur
Ron Mercer
Dwyane Wade
Marko Jaric
Kenny Anderson
Chris Bosh
Raef LaFrentz
9. Philadelphia 76ers
I just can't reward any team that signs Greg Buckner for six years and $18 million, then follows that beauty one year later by giving Kenny Thomas $50 million over seven years. Fifty million dollars for Kenny Thomas???? Are you KIDDING me? When Philly made that offer to Thomas's agent, do you think he started glancing around the room looking for Ashton Kutcher and the "Punk'd" cameras?
After I heard about the contract, I immediately called my buddy Joe House. Keep in mind, House follows pro hoops with the best of them. Anyway, here was our exchange:
Me:
Did you see how much Kenny Thomas signed for with Philly?
House:
How much?
Me:
Guess.
House:
I dunno ... three years, $10 million? Well, he was four years and $40 million off. Good contract though. Savvy. It's a combustible mix in Philly this season. Thomas got his long-term contract, as did Derrick Coleman -- who (like Odom) should never be paid more than a month in advance. Not a good start. Larry Brown bolted town. Not a good sign. Glenn Robinson arrived as yet another Second Banana for Iverson (following Stackhouse, Hughes, Kukoc, Mutombo and Van Horn) -- here's a proven CBC (cancer, ballhog and coach-killer), and you stick him with a force of nature like Iverson? They might fight to the death. Not a good trade. And while we're on the subject, isn't Iverson's body due to break down soon? How can somebody so little take this much of a pounding? Hey, look at the bright side, Sixers fans: You get to watch Kenny Thomas for the next seven years. Believe me, he isn't going anywhere.
8. Orlando Magic
T-Mac leads the league in scoring. Grant Hill tries to come back, but his ankle can't handle it. The Magic barely squeeze into the playoffs. They get bounced in Round 1. I think we've been here before.
7. Cleveland Cavaliers
How can anyone root against LeBron? I don't care
how
much he's making ... if you love basketball even a little bit, you should be praying every night that this guy succeeds. Forget about his remarkable performance on Opening Night -- I loved when he passed up the open-court dunk so Ricky Davis could have it. What a moment. He wasn't
trying
to be unselfish ... he honestly wanted Davis to have it. It made him happy. And other than Jason Kidd, there hasn't been a player like that in years. Everyone keeps comparing him to MJ when he's really the Evolutionary Magic. Watch a tape of Magic at Michigan State some time, or the way he played with the Lakers those first three years: It's eerie. Maybe LeBron jumps a little higher, but everything else -- his court vision, those electric coast-to-coast drives, his remarkable body control in traffic, that goofy-looking jumper, and best of all, the sweeping unselfishness -- comes right from Magic's portfolio. I'm not kidding. You forget this now, but Magic dunked on people all the time in his younger days. So will LeBron.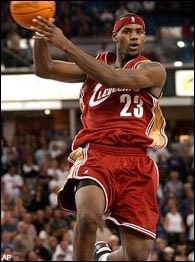 Go ahead, make the comparison.
And the question remains: Since he possesses that Bird-Magic pedigree, can he affect his new teammates the same way they did? If LeBron can get Davis -- who sounds like a horrendous guy, by all accounts -- to play unselfishly, then anything's possible. So we'll see. He also gets to play with a geniune center (the Big Z) and some decent teammates, which is more than Jordan could say as a rookie. And if Opening Night was any indication, the hype isn't going to affect LeBron at all. He's almost super-human in that respect. When I was 18, bussing tables without dropping a single glass was a major accomplishment. I can't even fathom how he's doing this.
More importantly, I love watching LeBron play. In all seriousness, he could make $1 billion over the next 15 years and I wouldn't care. Think about it. There's a decent chance that this kid could evolve into the next Magic, only with MJ's athletic ability. And we'll be along for the ride. What's better than that?
6. Detroit Pistons
From the producers of Kenny Thomas' $50 million contract and Lamar Odom's $60 million contract ... it's Rip Hamilton's $62 million contract!!! I give up. Maybe he's a reliable scorer, but would you pay that much money for someone who doesn't give you anything else? Could he have gotten even half that much from another team? Put it this way: If Jason Terry's best offer was $22 million for three years from the Jazz, then Rip Hamilton wasn't getting $40 million from anyone, much less $62 million. This stuff drives me crazy. Here's a team that made the Eastern Finals last spring, then found itself with major cap space and the No. 2 pick this summer ... so they fired their coach, overpaid Hamilton, gave a washed-up Elden Campbell two years for $8 million, imported Bobby Sura from Golden State (huh?), then passed up Carmelo for Darko. Maybe they're still a contender in the East, but Joe Dumars could have locked this conference up for the next six to eight years. Now their long-term future hinges on Darko, the lefty teenager who will rack up DNPs and listen to everyone gripe about Carmelo for the foreseeable future. Not the best situation for a fledgling big man in a new country. With that said, I still enjoy watching these guys play together. Especially Big Ben. I just wish they had raised the bar -- who wants to spend the rest of this decade watching a crappy Finals every year? I certainly don't.
5. New Orleans Hornets
Every time I write one of these previews, one team ends up confounding me, and I can't think of anything interesting to say about them. I write something, erase it, write something else, erase it ... this goes on for about 45 minutes. When I lived in Boston, I took breaks and walked to my local Store 24, bought some gum, talked to Joe the Alcoholic Counter Guy, and returned to the Sports Guy Mansion, invigorated ... until the same write/erase process repeated itself for another 45 minutes. And that's when I started breaking things.
Things are different now in L.A. Instead of the Store 24, I waste time by playing catch with my dog, Dooze. She can haul down just about anything: richochets off the wall, line drives off the sofa, two-hoppers off the TV. Maybe she isn't as understanding as Joe The Alcoholic Counter Guy, but she always keep me entertained. Anyway, she's my new procrastination device. After we finish playing catch, I return to my laptop, totally invigorated ... and then the same write/erase/write/erase pattern repeats itself all over again. And that's when I start breaking things.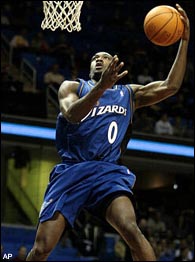 AP Photo
Arenas, a former second-round pick, is proof that good things come to those who wait.
4. Washington Wizards
Here's your 2004 Eastern sleeper. And not just because they stole Gilbert Arenas from the Warriors, or because MJ had much more of a debilitating effect on these guys than anyone imagined. (Then again, since his entire comeback never happened, and we've all agreed never to discuss it again, pretend you don't know what I'm talking about.) I've always had a soft spot for teams with size at the skill positions (like Larry Hughes, Gilbert Arenas, Jerry Stackhouse, and even rookie Jarvis Hayes). Plus, their big guys can rebound and run the floor. And I like everything I've read about their coach, Eddie Jordan. I just have a good feeling about these guys.
Speaking of good feelings, here are three other things I'm feeling good about:
Fox's new "Arrested Development" show, the one with Jeffrey Tambor and Jason Bateman. Two of the all-time greats. How can this show not work? And why has it taken Hollywood nearly 20 years to capitalize on Bateman's talents after the classic sitcom "It's Your Move," truly the "Greatest Sitcom To Get Cancelled Before It's Time"? Was it because he did "Teen Wolf 2"? Can't we just get past that? It's been almost 15 years, for God's sake.
"The Last Samurai," Tom Cruise's new movie. He's in the Far East, he's swinging a sword, and he's doing Cruise things. Looks fantastic. I love when Cruise throws himself into a role -- like when he played pool in "Color of Money," or when he was mixing drinks in "Cocktail." He always goes way overboard to get into the character. High comedy.
The Bengals. Jon Kitna and Chaz Johnson are suddenly the next Montana and Rice. Peter Warrick just crawled out of a time machine. They're winning games when their best running back gets into a car accident on the way to the game. Something's happening here. It's bigger than all of us. Anyway ...

3. Boston Celtics
And you think I'm kidding. Let's recap the two crucial elements that need to be in place for my world-renowned Ewing Theory, which worked so splendidly just last season (with the Pistons):

1. A star athlete receives an inordinate amount of media attention and fan interest, and yet his team never wins anything substantial with him. 2. That same athlete leaves his team (either by injury, trade, graduation, free agency or retirement) -- and both the media and fans immediately write off the team for the following season. (Hmmmmm ... sounds a little like Antoine Walker, doesn't it?) And it's not just the Ewing Theory. There are some other factors working here. Like Raef LaFrentz -- great athlete, good defender, surprisingly effective shotblocker, always around the ball -- and he never has been on the right team. Like Paul Pierce, an MVP candidate who's dying -- repeat: dying -- to prove that he can win 50 games without Antoine. Like Jim O'Brien, who's finally getting to coach the team he always wanted to coach (hustling defenders, point guards pushing the ball, agile big men who run the floor and block shots).

NBA PLAYOFF PREDICTIONS
First Round: Indiana (1), New Jersey (2), Boston (3) and New Orleans (5) advance in the East; Dallas (1), Los Angeles (2), Phoenix (6) and San Antonio (4) advance in the West.

Second Round: Indiana over NO; NJ over Boston; Dallas over SA; LA over Phoenix.

Conference Finals: LA over Dallas in 6; Indiana over NJ in 7.

NBA Finals: LA over Indiana in 6.

Best of all, there's Vinnie Baker. Turns out the guy was drunk for four consecutive years. Not an exaggeration. He even admits it. Well, not only was Baker Boston's second-best player in the exhibition season, he was even draining turnarounds and dunking on people and stuff. Watching the sober, skinnier Baker for the first time was like seeing Katie Holmes get naked in "The Gift" -- you couldn't even believe it as it was happening. Just surreal. If Vinnie B. doesn't average 15 points and eight rebounds a game this season, I'll be stunned. What a turn of events. Something feels right about this team. I can't explain it. As much as I enjoyed the Antoine Walker Era, everything that's about to happen will prove one thing: It was time for him to go. You'll see. 2. New Jersey Nets
Boy, it's tough to get excited about these guys going deep into another playoffs, isn't it? The thought of spending another playoffs with T.J. Kidd and Joumana makes me want to impale my temple on a pen. Enough already. Throw in Kenyon Martin's contract issues, Alonzo Mourning's never-ending kidney problems and the deteriorating Byron Scott-Jason Kidd relationship, and that's why I feel much more comfortable going with ... 1. Indiana Pacers
Put it this way: The Pacers had the most talent in the East last year. Now they have a real NBA coach, as well as the Basketball Jesus calling the shots. Sounds good to me. Bill Simmons is a columnist for Page 2 and ESPN The Magazine, as well as one of the writers for "Jimmy Kimmel Live" on ABC. He's extremely tired of writing about the NBA.