By Bill Simmons
Page 2 columnist
Well, Round One is in the books. Right now I'm strolling back to my dugout, taking a seat on the bench... and none of my teammates are looking at me. They're not saying a word. Not even a peep.
(Shhhhhhhhhhhhh.)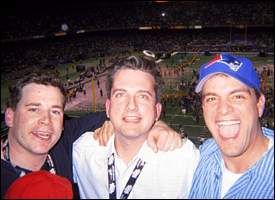 You might remember Bill Simmons' last trip to the Super Bowl ... even if Bill can't remember it all.
It wasn't a bad weekend of games. Wasn't great either. On the NFL Channel Sunday night, Rich Eisen said something like, "We'll remember this weekend for years to come." Really? That seemed a little strong. I can't block that Panthers-Cowboys game out fast enough, even if it was the perfect audition tape for Quincy Carter's NFL Europe résumé. The Colts game was over midway through the second quarter, giving Shannon Sharpe plenty of time to call the National Guard for help. The Titans-Ravens game was riveting from a gambling standpoint, but Steve McNair was hobbling around and Anthony Wright couldn't exploit the league's first-ever 9-2 defense.
Only one game delivered the goods: The Seahawks and Packers in Lambeau, one of those rare playoff battles where you thought one team was in control, then the other team took charge, then back the other way... it was just beautiful to watch. I caught the first half in the New and Improved Sports Guy Mansion, then scurried over to a friend's house for the second half, simply because I didn't want to watch it by myself. What a beauty. Seriously, does it get any better than the NFL Playoffs? My buddy Sal summed it up best on Monday morning: "Only seven games left ,,, I'm already getting depressed." Exactly. Before we delve into Round Two of the NFL playoffs, here's a quick look back at the memorable moments from last round:
Saddest group of fans: Seahawks fans
You have to feel for them. Even as Vanilli was running down the sidelines with that game-winning overtime TD, I was thinking of my poor friend KJ, a die-hard Seattle fan and author of the upcoming book, "If We Killed Jim McIlvaine, Would That Get Him off The Cap?" Imagine rooting for the Seahawks for the past 20 years? Has there been a more nondescript franchise in any sport?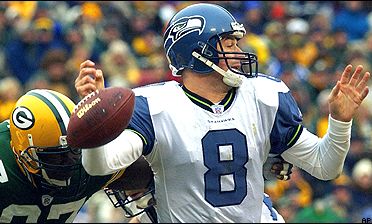 Apparently Matt Hasselbeck wasn't aware of the Seahawks' "storied" history.
Now an entire generation of 'Hawks fans have a defining Stomach Punch moment -- Hasselbeck's ill-fated pass that seemed to hang in the air for a Scott Mitchell-esque 20 seconds. I thought of KJ immediately. What is it about sports that makes you think of your friends at the best and worst possible times?
(And what an unfair ending. Not only were they driving, but Hasselbeck was unconscious that whole game - even delivering that "We'll take the ball, and we're gonna score!" promise during the coin toss, which sounded like his voice was dubbed over by Robby Benson's character in "One on One." That was fantastic. Then again, only a BC grad would be dumb enough to say something like that in Lambeau. I guess I have no point.)
Saddest fan in general: My buddy Geoff
During our wagering primes in Boston, Geoff and I would journey down to our local Dunkin' Donuts during the playoffs, then discuss the lines over coffee for about 90 minutes. I'm not kidding. He was the Gambling Roy to my Gambling Siegfried. Then we moved to different cities, he had a couple of kids, and now he's calling me during Round One to ask things like, "Who's the guy with the dreadlocks on the Packers? He's everywhere!" Yes, Geoff thought Al Harris and Mike McKenzie were the same guy. What a sad moment. Now I know how Siegfried felt when Roy was attacked by Montecore.
Most underrated moment: Gruden's 'do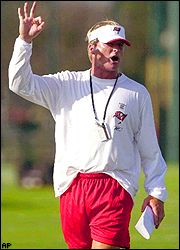 Perhaps Jon Gruden should've worn the visor for his TV appearance.
Remember the blonde guy on ABC who looked like he was running late for his polo match with Prince Charles? That was Gruden! It looked like his hotel ran out of hot water that morning, so he washed it in the sink with cold water, turned a blow-dryer on it, then parted it in the middle and hoped nobody would notice. Actually, it looked like my eighth-grade class photo from prep school -- all he was missing was the brown corduroy jacket. If the Bucs had fired him right away, then showed ABC footage as explanation, everyone would have understood.
Name of the playoffs: Cletidus Hunt
"Mom ... Dad ... I'd like you to meet my fianceé, Cletidus."
Weirdest moments of the weekend: Favre's Butt Slaps
Remember when the Packers opened an early lead against Seattle, they showed Favre happily slapping his teammates on the butt? Honestly, I've played sports my whole life and never slapped anyone on the butt, nor have I ever felt comfortable when someone else slapped me on the butt. But that's a story for another time. Anyway, either Aikman or Collinsworth said, "Uh-oh, when Brett Favre starts giving out those butt slaps..." and the other guy happily finished "You know you're in trouble!" Yep, you betcha. This really goes for any time or place. Watch out for Brett Favre giving out those butt slaps. Please. I'm begging you.
Football expert of the week: My Mom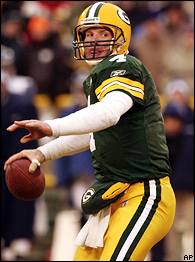 The emotional run of "Brad Farber" has carried the Packers.
You know this Favre-Packers-karma thing is capturing the nation when my Mom weighs in about it - during the holidays, she randomly piped up, "Hey, how 'bout that poor Brad Farber and his Dad?" Brad Farber? That almost topped the time she called PJ Carlesimo "Pietro San Giacomo." When I'm running ESPN6, my Mom is going to host the 6PM SportsCenter with Dick Enberg. All hell will break loose.
Doug Christie Sympathizer of the Week: My Dad
I called him on Saturday, figuring he was home scouting Baltimore and Tennessee for this week's Pats game. No answer. I called him again after the game. No answer. I called him at halftime of the Cowboys game. No answer. Finally my phone rings in the second half - it's my Dad calling from dinner, looking for scores. Now here's where it gets good. After some prodding, I found out that Dad spent the day with my stepmother, missing BOTH Saturday games. And let's just say that "Mona Lisa Smile" was prominently involved. Just hearing him say the words gave me the Quincy Carter Face for the rest of the phone call. I think Dad felt worse than I did -- he said they left the movie and everyone was crying, including my stepmother, and then Dad started crying when he realized he was the only man in the entire theater. I think he was joking. Then Dad gives me this one: "Just don't put this in your column, OK?" Yeah, OK.
Idea of the Playoffs: Playoff roto!
We launched an impromptu playoff fantasy league out here -- seven guys, 11 players per team, standard roto rules, snake fashion draft, all points cumulative throughout the playoffs. So you have to A) decide which teams are making it the furthest, then B) draft accordingly (let's just say I had Harrison AND Stokley last week). Far too much fun for humans to be allowed. Other than convincing Jimmy Kimmel to stop dressing like one of the extras in Xanadu, it may have been my greatest idea ever.
Most Memorable Face: The Mike Shanahan "I Can't Believe We're Down by 25 points and It's Not Even Halftime" Face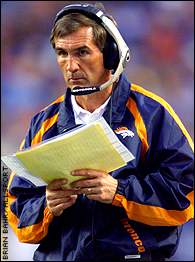 What does the playsheet say to do when you're down 28-3 at halftime?
A dead ringer for the killer from the Chuck Norris classic "Silent Rage." I really thought his head was about to explode. Can you imagine? "Let's go down to Armen Keteyian, who has more news about Mike Shanahan's head exploding into smithereens. Armen?"
(By the way, the Shanahan face narrowly edged the Bill Parcells "Should I Call Mark Brunell Right Now Or Wait Until After the Game?" Face. For those of you keeping score at home.)
Annoying announcer trend of the playoffs: Name-dropping a coordinator after a successful play
Listen ... and I can't emphasize this strongly enough... We don't care who the offensive and defensive coordinators are. It's their job to think up effective plays and coverages. Teams hire them to do this. You don't have to praise them every time they do their job. You don't have to name them by their full names every time you mention them. You don't have to tout them for the 15 coaching openings that pop up every January. We don't care. Really, we don't f------ care. Again, we don't care. We don't care. Just in case you didn't hear me, we don't care. Have I mentioned we don't care? We don't care. Seriously, we don't care.
Runner-up annoying announcer trend: Any story that begins with the phrase, "When we talked to him last night, he told us ..."
This one's gaining steam, and it's probably going to cause me to take somebody's life some day. Here's the deal: When announcers travel to a game, they arrive a few days early so they can interview players and coaches and get a feel for the game. And that's fine. But they have this pathological need to mention this luxury 15 to 20 times per game. Are they searching for our approval? Are they worried we won't believe them? Are they trying to make us jealous? We might never get to the bottom of this. (And if you're gonna rub it in, at least say something like, "We went out for steaks with Coach last night, and we charged them to our network, because we can do stuff like that when we're big-time announcers - but you guys wouldn't know that because you're probably too stupid to have jobs. Anyway, he told us...")
Play That Inexplicably Keeps Working: McNair's QB Draw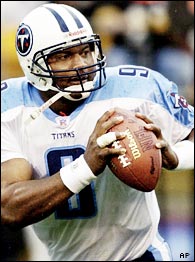 AP Photo
If the Titans are inside the 10, the defense might want to watch for Steve McNair on the draw.
We're going on five years. If the Titans are inside the 10, and it's second or third down, they're running the QB draw with McNair. Whether he's healthy, whether his foot is hanging off, whether he's in a full-body cast ... it doesn't matter. They're running that draw. And teams are flabbergasted every time. I will never understand this.
Shakiest Coach of the Weekend: Brian Billick
Along with offensive coordinator Matt Cavanaugh, it took them three-and-a-half quarters to realize they should be throwing deep downfield to Todd Heap. Really? It took them that long to figure out that their All-Pro tight end might be able to run by the safeties when they were cheating up to stop Jamal Lewis ... which was only every play? Don't these people play video games? It's the oldest trick in the book! Even early Intellivision had that play (9-4-2-8?).
Guy In Danger of Being Overexposed: Ray Lewis
All right, let's tone it down just a little next season - maybe by four miked games, 10 halftime features, eight opening promos, six pregame dances and 160 incredulous announcer chuckles. Let's scale this baby back. Who's with me?
Goofiest stat in the history of sports: "Tony Dungy has never challenged a play"
So you're telling me that, in all the games Tony Dungy has ever coached, there wasn't ONE time where he needed to reverse a crappy call? Not once? Never happened? Is it a moral stance? Is Dungy vehemently against replay, so he's like one of those Jehovah's Witnesses who refuses to use medication when they get sick? This is keeping me awake at night. I'm serious. All right, we better get to the picks before I have a seizure.
A few things to remember before we delve into the games:
1.
Three of the four home teams usually cover. Usually. Over the past nine years in Round 2, home teams went 21-12-3, while the favorites went 22-12-3. Only twice during that stretch ('95 and '99) did two road teams cover in the same weekend.
2.
If you're picking a road team, you better think they can win. For instance, don't get suckered into the Panthers on Saturday because you "think they can keep it close." You better believe they can knock Bulger around, move the ball with Stephen Davis, get some circus catches from Muhammad and Smith and come out of St. Louis with the Dubya. Or else take the Rams and lay the seven.
3.
Teams rarely look as good in Round Two as they did in Round One. Like Indy and Carolina -- they will never play better than they did last week. Peyton Manning's QB rating was perfect; meanwhile, the Panthers finished the entire game without committing a turnover or a penalty. Just keep this in mind. All right, enough with the foreplay ... onto the picks (home teams in caps):
PATRIOTS (-6) over Titans
Rule No. 5 (from my "Playoff Gambling Rules" column) applies:
Concentrate on how the team finished the last five or six games of the season.
Or in this case, the last 12 games of the season. As you may recall, I picked against the Pats for the duration of their winning streak. You can look it up. I went against them against McNair and the Titans in Week 5, then they won the game with about 35 starters sidelined, so I kept doing it for good luck. Even at the expense of my picks. It was the right thing to do. Now we're starting from scratch in the playoffs. We know that the Titans almost gave away that Baltimore game, turning the ball over three times (once for a touchdown). They were lucky to escape. And if you don't believe me, go over to Billick's house -- he's probably down in his basement watching tapes for the 38th time, working on a 6-day beard, pizza boxes strewn everywhere, wondering why he didn't blitz McNair and throw to Heap more often.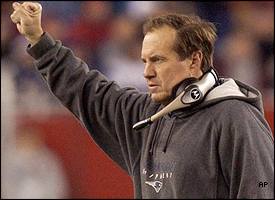 Here's a preview of Bill Belichick's weekend ... but he might want to put on a jacket.
Speaking of McNair, he can't move from side to side, he looks like Verbal Kint when he tries to scramble, and the ball is sailing all over the place on him. Make no mistake, he was ghastly in that Baltimore game. He's not the same guy. Meanwhile, Eddie George is playing with a dislocated left shoulder and about 200,000 miles on the odometer. Not good. And given that the Pats only allowed one 100-yard rusher all season, well... suddenly it's all on McNair. Who's basically crippled.
As for the Pats, they've been sitting home, waiting around and resting up for two weeks. It's a Saturday night. They've been unbeatable at home this season. They haven't lost in three months. They're also completely healthy, unlike the first time these teams played. Brady has Brown, Givens, Branch and Johnson together and healthy for the first time all season. And after a full day of tailgating in the freezing cold -- it's supposed to be in single digits Saturday night -- the Foxboro crowd will be going BONKERS. What other choice will they have? Either freeze to death or stand up and make noise. So I ask you this: Wouldn't any quality contender take care of business -- given the circumstances described above -- by more than seven points? I sure think so.
The Pick: New England 26, Tennessee 3.
Panthers (+7) over RAMS
Warning! Warning! We have contrasting rules!
Rule No. 1: "Never, ever, EVER back a lousy QB on the road."
We all enjoy Jake Delhomme's work, and he can look pretty good at times... but there's a reason his name rhymes with "snake." He's just good enough to kill you when betting against him, just incompetent enough to screw you when backing him. I hate guys like that. (More importantly, have you ever noticed that football QB's are the only people you would ever think about calling someone "Jake the Snake"? For instance, I work with a guy named Jake Lentz. Good guy. We call him "Jake," "Jakie," "Lentzie," "Baby Bird"... not once has anyone ever thought to call him "Jake the Snake." It's never happened. I have no rational explanation for this.)
Rule No. 6: "When in doubt, check the coaching matchups."
John Fox versus Mike Martz. I'll take Fox. You can have Martz. Which one of us feels better right now? (I'll give you a hint: It's not you.)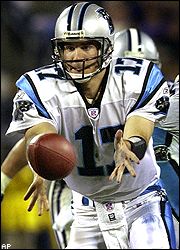 So there you go. This game drove me crazy all week. Sometimes these Panthers remind me of the '99 Falcons, one of those teams that you keep discounting and discounting, and suddenly it's mid-January and they're still playing, and you're thinking to yourself, "Geez, these guys are still around?" There are even some parallels to the Gary Anderson Game here, which won't explore out of respect to the good people in Minnesota.
But since I need a rule to guide me, I'm going to invent one. And here it is. You may think it's crazy, but just watch:
Rule No. 14: "Beware of the easy two-team teaser on the same day."
And in this case, an inordinate amount of gamblers across America will be teasing the Rams (down to minus-1) and Pats (down to even) together on Saturday night. Well, this happened last year, too - Round One, Day One, when everyone on the planet teased the Jets (over the Colts) and the Packers (over the Falcons). So what happened? Vick and the Falcons charged into Lambeau and shocked the world, proving once again why Vegas keeps slapping up splashy casinos every year, and bookies drive Lexuses with tinted windows and 18-inch rims. This Rams-Pats tease is those "Britney Spears X-Rated Video: Click here!" e-mails. In other words, any time something looks too easy, it usually is. Something weird is gonna happen. And it won't be with the Pats.
The Pick: Panthers 28, Rams 27.
Colts (+3) over CHIEFS
Rule No. 13 applies here:
Before you make your decisions, take one last look at the QBs again.
Good enough. I could give you 20 reasons, or I could just give you one: Peyton Manning. He's putting himself on the map this month. It's that simple. (And it's about time.)
The pick: Colts 34, Chiefs 17.
EAGLES (-5½) over Packers
Since Rule No. 4 ("Never bet heavily against Brett Favre") and Rule No. 6 ("Check the coaching matchups") cancel each other out, we're left with Rule No. 2: When in doubt, seek out the popular opinion and go the other way. Well...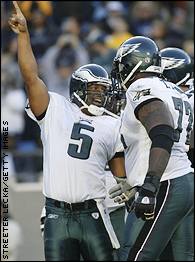 Donovan McNabb will be happy to end the Packers' sentimental run.
Everyone thinks the Packers are covering this spread: Experts, fans, even my Mom (the biggest Brad Farber fan around). We heard the case for the Pack all week. Something magical is happening with the Packers this season. Ahman Green rushed for 190 yards last time around. The Eagles will miss Westbrook and Emmons. McNabb can be shaky in big games. If you can get a lead on the Eagles in Philly, their fans will turn against them. And so on. After awhile, you wonder how the Eagles even have a chance.
So here's my question: Why hasn't the line moved? It stayed at 5½ all week. Explain that one. Let's dig a little deeper. You have a No. 1 seed at home, on two weeks rest, against a 6-6 team that beat three crappy teams, rolled over the resting Broncos, then BARELY -- repeat, BARELY -- beat the Seahawks at home. You have a No. 4 seed that has been playing on emotion for three straight weeks (including an overtime game last Sunday). You have a lopsided coaching matchup, as well as a Packers D that made Hasselbeck look like Montana in his prime last week. And you have an Eagles offense that struggles against blitzes ... and a Packers defense that just doesn't play that way. I like the Eagles. Not by a ton. But by enough. (Cringing.) (Ducking lightning bolt.)
The pick: Eagles 24, Packers 17.
Bill Simmons is a columnist for Page 2 and ESPN The Magazine, as well as one of the writers for "Jimmy Kimmel Live" on ABC. He went 4-0 with his Round One picks last week.