By Bill Simmons
Page 2
Editor's Note: This column appears in the June 7 edition of ESPN The Magazine.
Me and the NHL are like Simon and Garfunkel: you always knew we'd get back together. There were just too many good memories. Yes, we broke up, and there was bitterness -- like the time I compared the league's ratings to John Blutarsky's college GPA. But my affection never fully went away.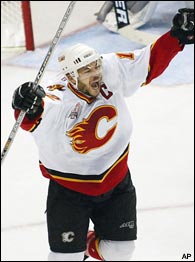 Not many people thought Jarome Iginla would lead Calgary to the Stanley Cup Finals.
Saddened by the thought of a potentially crippling lockout, I placed a pre-playoffs wager on the Flames. (Note: my friend Haven tipped me off. She also called the Ducks last year. Please name me another girl, another anybody, in North America who called the Ducks and Flames back-to-back.) Doesn't every heartwarming story revolve around gambling in the end? For seven weeks, I bought myself a hockey team again -- Calgary, at 10-1 odds to win the West. Best investment I made all year. What a way to go out.
And this really could be it. Running what is a blue-collar sport at heart, Team Bettman made a fatal mistake by using expansion and ticket hikes to pay escalating salaries, betting on a big TV contract that never came. He ended up adding too many teams and pricing out too many core fans. Sure, it would make the most boring episode of "Behind the Music", but it did all come crashing down. Few teams turn a profit these days. Now the NHL needs a salary cap to survive, but the players union doesn't want to cooperate. So we're headed for an apocalypse. The sport could shut down for years.
The thing is, I really did enjoy myself this spring. It doesn't get much better than playoff hockey. And that got me thinking. If the league pulls a Bobby Brown and goes away indefinitely, we should treat this time like a going-out-of-business sale. Let's snatch up the likable fixtures of hockey and disperse them to the other sports.
For instance, the Stanley Cup is one of the greatest ideas ever, right up there with the Trojan horse and miniskirts. Pass it to teammates, drink out of it, shepherd it around the city, live with it for a day ... why doesn't every sport have one? Who wouldn't want to hold up a Cup? Plus, think of the possibilities that would come with an NBA Cup. Would Kobe slam it over Shaq's head, WWE-style? Which Laker would lose it first? And who'd be the one to return it reeking of bong water, covered in groupie lipstick?
Then there's the handshake line. I'll never forget an Isles-B's series in which Terry O'Reilly and Clark Gillies fought something like 700 times in five games. As the teams lined up for handshakes when it was all over, you figured it would be like Sean Penn and Esai Morales meeting at the end of "Bad Boys", multiplied by 100. Well, guess what? O'Reilly and Gillies hugged. It's one of my favorite sports memories. Now, imagine baseball using this gimmick. I'm thinking Piazza and Clemens in the 2000 World Series. Why wouldn't this work?
Every sport could learn from the NHL. If you're angry at an opponent, pull a Chelios and riddle him with obscenities and sarcasm from a safe distance. And the enforcer concept has potential. Do you think Anthony Peeler elbows KG if Mark Madsen or Gary Trent could vow revenge for the next three years? While we're at it, every sport could incorporate a penalty box. It would certainly work better than technicals and flagrants in hoops. And wouldn't you love to see Lou Piniella or some chop-blocking lineman sitting alone, head bowed, in a steamy makeshift sin bin?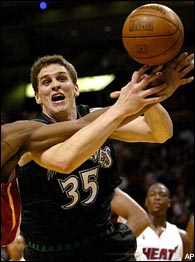 Mark Madsen could be very effective as a hockey-style enforcer.
From an unintentional-comedy standpoint, I'd happily take mullets over dreads, bald heads, even Wallace-size Afros. I'd rather see coaches dressed like movie ushers than like Armani models. I need more missing teeth, spotty beards, hideous stitches. I want to hear the word "organ-eye-zahy-shun" as much as possible. I need 300-pound female fans wearing jerseys and dropping f-bombs. And I need these things whether hockey is in session or not.
Finally, we have to figure out a way to keep Barry Melrose in our lives. Originally, I was thinking the NHL should freeze him, like the British did with Austin Powers. Now, I see him drifting through other sports, a human time-share.
I can stand a hockeyless world for a few years, but I can't allow for a world without Melrose. Not even for a few weeks.
Of course, the players could embrace a cap, and everyone involved could accept that hockey isn't a major sport anymore, which would make all of my suggestions moot. After all, TV ratings don't lie. You are what you are.
But that's too logical. I'm prepared for the worst. At least I got to rekindle an old friendship before I was confronted with the sounds of silence.
(Sorry, couldn't resist.)
Bill Simmons is a columnist for Page 2 and ESPN The Magazine