By Bill Simmons
Page 2
I just went nine whole days without sports.
That's right ... nine. Cold turkey. Couldn't read USA Today. Couldn't watch SportsCenter or surf ESPN.com. Couldn't follow the Sox or my league-leading fantasy baseball team. Couldn't see any NBA playoff games. Couldn't read my emails. Couldn't even hear Stephen A. Smith shouting at me.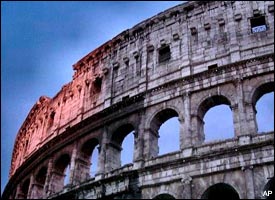 Come for the history and culture, stay for the great exchange rate.
So what happened? I gave up everything for a trip to Italy ... or as my stepdad calls it, "It-lee." Just me, the Sports Gal and some friends, one of those "Let's make this happen before people start pumping out kids and dropping off the face of the earth" trips. Since my mother's side of the family is 100 percent Italian, I needed to make the trek -- you're not an official Italian (or in this case, half-Italian) until you've walked the countryside with a walking stick and two armed gunmen like Michael Corleone. Or at least have the option.
When we were planning the trip this spring, we thought the place where we were staying had Internet access and satellite TV. Technically, both of those things were true ... it's just that our Internet connection turned out to be slower than Kevin Millar, plus every TV channel was Italian. Go figure. Our only source for sports updates was an ESPNews-like channel called "EuroSports," which intermittently flashed baseball and NBA scores with no distinguishable pattern. It's like they were trying to drive us insane. My buddy Sal was monitoring about 48 different parlays and series bets, so he would stand in front of the TV rocking back and forth like Rain Man, suffering through an endless array of French Open results and Italian soccer scores ... and then, bam!
Detroit 69, Indiana 65.
That was it. End of the series. Was it a good game? Did they come from behind? Who carried the Pistons? Did Ron Artest go quietly, or did he have a meltdown? We had a million questions. None of them mattered. Detroit 69, Indiana 65. I guess that would have to do. As it turned out, Rip Hamilton continued making The Leap -- not as a superstar, but as one of those rare money players in the Reggie Miller mold -- and Artest did finally flip out, guaranteeing his departure from Indy. (Wouldn't an Artest-Peja trade make too much sense or is it just me?) And the Lakers predictably held off KG and the Wolves. So maybe we didn't miss that much. But we didn't know it at the time.
Meanwhile, the Red Sox were in some sort of cross-continental freefall, which could be directly traced to my departure from the country. Another day, another loss. Another day, another loss. And no details. By Wednesday, I was blaming myself and thinking about changing my flight to save the season. On Thursday, I bought one of those international phone cards and dialed my Dad at work, who quickly said, "You need to get back here, the whole season is falling apart," then rushed through as many bad details as possible before my card ran out.
(Note: This has been one of those "blah" Sox seasons so far -- too many injuries, too many question marks, too much pressure, too many distractions. Other than Manny and Foulke -- easily the best players on the team -- and maybe those four-to-five-inning stretches when Schilling puts on one of his patented mini-clinics, it's been a curiously punchless first two months, like sitting through one of those over-hyped action movies that features a $150 million budget and about nine stars, yet 48 hours later you can't remember a single scene. Sure, this probably changes when Nomar returns and Pedro's arm takes its annual June sabbatical, but right now ... blah. I'm about 12 more Cesar Crespo at-bats from trying to choke myself to death on the TiVo remote. Back to the column.)
On the bright side, traveling makes you realize some of the things you take for granted back in the States. Like the Internet. Sal and I found an Internet cafe in Rome on Saturday -- we were like Whitney and Bobby stumbling across a pound of crack. I never thought I would be so happy to see a pop-up ad. And SportsCenter ... at one point, we played the "How Much Would You Pay?" game with the topic being, "How much would you pay to watch SportsCenter every night?" We both said 500 Euros. Personally, I would have gone to 750, but I didn't want to sound desperate. I would have even paid 10 Euros to hear Steve Berthiaume scream "Say hello to my LITTLE friend!" one time. OK, that's a lie.
Another thing I took for granted: personal hygiene. There's B.O., there's Mr. T's B.O ... and then there's the B.O. in Italy. You can almost see it. I think all their senses have been rendered obsolete from the constant miasma, like when kids attend too many concerts and lose their hearing. If you smell like holy hell, you should move there immediately. And the coffee there ... I mean, have you HAD coffee in Europe? Three sips and you're done. It's like drinking a shot of hot Kahlua. Where's my 20-ounce cup? By Friday, I was even feeling pangs for Starbucks. Now that's saying something.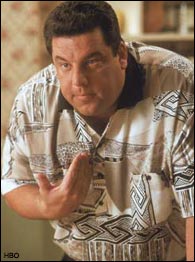 "Hey, Bill! C'mon! I got fresh cannolis!"
Still, there were a boatload of highlights on the trip, including ...
The food and various wines, which were predictably spectacular from start to finish. Needless to say, I look like I just spent the week with Oliver Miller and Bobby Bacala right now.
The treacherous ride along the Amalfi Coast, one of those places where you feel like you're in a movie scene for the entire time -- gorgeous sights, crazy turns, cars passing each other by inches, houses hanging off cliffs. It's insane.
Everything about Rome, which gets my vote for "Coolest city on the planet" (narrowly edging out Montreal and Vegas). It's like a cleaner, quirkier Manhattan, only with 10 times the history and 20 times the B.O.
The Sports Gal trying to figure out the difference between Euros and American dollars (which should be its own MTV special). And while we're at it, it's always enjoyable to use currency from other countries, isn't it? It always feels like you're not spending real money -- it's like playing with Monopoly money or something.
Sal passing gas in the Sistine Chapel, then going to the gift shop to see if he could find an "I farted in the Sistine Chapel" T-shirt. He's going to hell for doing it, I'm going to hell for writing about it, and you're going to hell for laughing (if you did). At least we'll all be able to hang out.
"Karate Kid 2" playing on one of the Italian TV channels in Rome, keeping my streak alive of "Times I was traveling out of the country and came across one of the "Karate Kid" movies in another language" at four (no lie).
The Pompei Ruins, unquestionably the best possible place for a WrestleMania. You really have to see it in person to understand -- this place would have the hardcore match to end all hardcore matches. I couldn't stop thinking about Triple H slamming Shawn Michaels into one of those concrete blocks as Jim Ross screamed, "My God, this place is ruined!!!!!!"
My friend Ace dropping 90 Euros on a pair of Italian Puma driving shoes, then justifying the purchase by saying, "Who knows, there might be a day when I'm running late for work and I need to break them out?"

And he was serious.

Anyway, it's good to be home.
---
Of course, since I was trapped across the Atlantic, I wasn't able to write my annual NBA Finals preview. Maybe you missed it, but here's something I wrote right after the Game 1 upset:
"This series reminds me of the 1990 World Series between Cincinnati and Oakland. Everyone counted out the Reds before the series, everyone thought the A's were invincible ... and then the Series started and within 20 minutes, you were thinking to yourself, 'Hey, this might be a good series!' and suddenly the Invincible Juggernaut didn't look so invincible anymore. I love when that happens in sports."
Now you're thinking, "Wait a second, I don't remember reading that." Well, I wrote it three years ago for my old Web site, right after Philly stole Game 1 of the 2001 Finals in L.A. Remember that game? They show that game on Classic sometimes -- Iverson launched 41 shots and scored something like 48, including seven straight in OT. And everyone was like, "Hmmmmmmm." The feedback following the Game 1s in 2001 and 2004 is virtually identical:
"Maybe they aren't better, but they match up extremely well against this Lakers team. They have a bunch of bodies to throw at Shaq. And nobody will have them more prepared than Larry Brown."
"They figured out how to beat this Lakers team -- don't double-team Shaq, let him get his points and try to shut down everyone else."
"They're going to keep running (fill in: Iverson or Hamilton) off picks and trying to wear Kobe down. On the other end, Kobe's still going to get his points, but (fill in: Snow/McKie or Prince) will at least make him work for it."
"Some of these Lakers are wearing down -- you can push the ball off Laker misses and beat (fill in: Shaw/Harper/Grant or Payton/Malone) down the court."
"This Lakers team just isn't as hungry. Kobe and Shaq don't even seem like they like playing with each other anymore."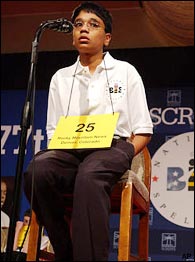 Akshay had to take a seat after taking a spill in the spelling bee.
"Kobe's rape trial seems like it's starting to affect him."
OK ... maybe it's not THAT identical. But you get the idea. Believe me, if it wasn't for Frankie leaving the Real World and the kid fainting in the Spelling Bee, even the mere chance of a Lakers upset would have been the highlight of my month. How does Minnesota take two games from them with Darrick Martin running the point? Darrick Martin? Really? Have you ever seen a potential champion care so little? They're like Mike Tyson in the late-'80s -- bored by the competition, tired of training, tired of working hard in the ring, ready to roll over for Buster Douglas in Tokyo.
So the question remains ... could the Pistons pull a Buster Douglas here? Philly couldn't make it happen, but that was a different Lakers team, unquestionably the best of the Shaq-Kobe Era (thanks to a remarkable 15-1 record in the playoffs). These Lakers take two or three games to get going in every series, partly because of indifference, partly because Phil Jackson has been coaching this spring like a parent who got roped into coaching his son's seventh-grade team. It's like Jerry Buss told him before the playoffs, "Just show up 10 minutes before every game; we need to have at least one adult on the bench." His lack of preparation has been startling; I can't believe nobody is talking about this.
Then you have the Pistons: Hard-working, well-coached, always playing beyond their means. You have to admire any team that plays defense so well, although they're just about helpless if they fall behind. They're also smart enough to avoid fouling Shaq, only because you're better off making him shoot, hoping he misses and pushing the ball if he does (why hasn't anyone else figured that out?). When Billups is making threes and Prince decides to break a sweat -- which happens every 2.23 games, according to my calculations -- they can beat anybody on any court. Like Douglas in Tokyo, they keep coming and coming. And just wait until Hamilton gets going.
I just can't shake one thing ...
The team with the best player ALWAYS wins the Finals.
This isn't even a theory; it's like saying, "Every summer, it will become hot." Just look at the last 25 years -- only the '81 Celtics and the '89-'90 Pistons teams fail the Best Player Test, but those teams were absolutely stacked (and I still think the '89 Pistons were one of the best five teams ever, but that's a story for another time). Can you imagine a team winning the Finals when they didn't even have one of the top two players in the series? It would be unprecedented. And seeing Detroit win the title while getting no contribution at all from the No. 2 pick last summer ... I can't even imagine how weird that would be.
But it could happen. If the Lakers blow the title, it would have to rank among the most curious collapses in recent sports history: An obviously superior team that fell short because they didn't want it enough. Contrast that to the emotional scene in Tampa Bay last night, as the Lightning held off the underdog Flames in seven, both teams leaving everything they had on the ice. After the game, an exhausted Martin St. Louis was interviewed by one of the sideline reporters, two fresh gashes covering his face, looking like he had just been run over by Billy Joel. It was a stark contrast from Game 1 of the NBA Finals the night before, the Lakers trying to win a title without breaking a sweat.
And as Dave Andreychuk carried the cup around, screaming with delight at the end of a 22-year odyssey, I couldn't help thinking about the difference between him and Malone and Payton -- three guys at the same point of their careers, one of them reaching the promised land on his own terms, the other two guys looking like they just want the season to end.
I still think the Lakers win in six ... but for the first time in years, I already find myself missing the NHL playoffs. At least those guys cared.
Bill Simmons is a columnist for Page 2 and ESPN The Magazine