By Bill Simmons
Page 2
There's no other way to say it: I squib-kicked Week 3.
Nursing a 20-11-1 record heading into last weekend, my wheels came off faster than those on the Quentin Griffith Bandwagon. I backed Dorsey in Seattle, Palmer against the Ravens D and Harrington against the Eagles. Spent four paragraphs explaining why the Jags were the Paris Hilton "Defies All Logic" Team this season, then went against them. Picked against Parcells on a Monday night. Grabbed the Dolphins at home, during Hurricane Jeanne, in the same column where I unveiled my "Never take a home team dealing with a natural disaster" gambling rule.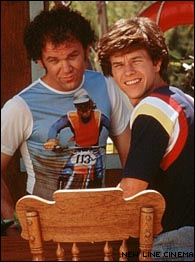 Getty Images
If only the Sports Guy could bounce his picks off Reed Rothchild.
It was like Mike Martz was coaching me. And sure, a lesser man would have spent the next few days wearing a tight T-shirt, slamming the steering wheel of Dirk Diggler's Corvette and calling himself a f---ing idiot over and over again. Not me. I've been spending the last few days planning my revenge.
Here's the important thing: I'm finally back into my old routine at Sports Guy Mansion West: Pouring through newspapers and magazines; reloading ESPN.com 35 times a day; watching "Inside the NFL" and every all-access show on the NFL Network (yup, I'm the one); even badgering friends at work to discuss their favorite teams. When you're a football gambler, you need a routine. I'm not making excuses. OK, maybe I am. But gambling is about continuity. If you want to keep grinding out winners week after week -- almost like Knish in Rounders -- you need to create a routine and stick to it.
For instance, my friend Sal always spent Sundays watching football at his cousin Jimmy's house, mainly because Jimmy has one of those crazy setups where you can watch five games at once. It was a gambling godsend. Repeat: WAS a gambling godsend. After reading an especially inspiring issue of Architectural Digest this spring, Jimmy decided to remodel the first floor of his house (including the TV room), a process that -- unconscionably -- stretched into the 2004 NFL season. Sure, this callous decision would have had the "Queer Eye" guys doing backflips. But without those five TVs, Sal's whole life was turned upside down.
Now he arrives at various L.A.-area sports bars at 9:15 a.m., hoarding seats for friends so they can crane their heads at a 45-degree angle to watch 18-inch TVs. Poor Sal is practically in shock -- he's like a dog that was being fed filet mignon for five years, then suddenly got switched back to Alpo. It's almost an American tragedy. If only ESPN's NFL team could have narrated his life over the past few weeks.
Maguire: "I'm gonna tell you somethin' right now ... you want to talk about a guy whose gambling has suffered this season? You want to talk about a guy whose life is in shambles right now?"
Theismann: "We had dinner with Sal on Friday night ... you just could not help but feel like this isn't affecting his gambling this season. I mean, here's a guy whose WHOLE LIFE revolved around Jimmy's house for 20 Sundays a year, and that was just taken away!"
Maguire: "I want you to watch this replay right now ... watch Sal's face when Jimmy says that the construction won't be finished for another few weeks because he wants to sound-proof the living room in case he ever has a karaoke party. Watch Sal's face, watch this right here, watch this -- BAM!!!!! You want to talk about a guy who looks like his whole world hasn't just been turned upside down?"
Theismann: "And while we're here, kudos go to Jimmy's construction team, including the guy in charge, Paco Morales, who has designed a SUPERB floor plan over these past few weeks."
Summerall: "Uh-oh ... there's a man down."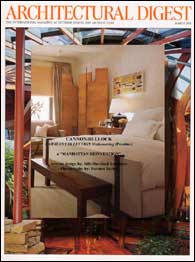 Getty Images
Who knew this magazine could bring a halt to NFL Sundays at Jimmy's house?
You get the point. Change is bad. Routine is good. That's why I'm about to go on a gambling tear. Nothin' like a little home-cooking.
(I don't care if you don't believe me. Really, I don't.)
One more note about last weekend ...
I spent the past two Sundays in Boston without the football package, making me a prisoner to the whims of the local CBS and Fox affiliates. For the 1 p.m. games last Sunday, Fox showed Lions-Eagles (solid choice) and CBS showed Browns-Giants (solid choice if you're trying to make people angry). Both games were finished, for all intents and purposes, by 3:00. Meanwhile, a number of other quality games were still going on: Saints-Rams, Texans-Chiefs, Bears-Vikes and Titans-Jags, to name four.
(You know where this is headed ...)
Did they switch to any of the good games at 3:00? (Absolutely not.)
3:15? (No way.)
3:30? (Forget it.)
3:45? (Stop hoping, it's not happening.)
By 4:00, the Whatever-The-Silverdome-Is-Called-Now was empyting out, plus there was nobody left in Giants Stadium but Jimmy Hoffa's body ... and yet CBS and Fox were still refusing to switch out of their blowout games. Everyone in the Boston area missed every exciting 1:00 ending -- Taylor's last-second TD, Grossman pulling a Shea Ralph, the Rams collapsing for the umpteenth time, KC choking at home -- because of some obscure TV contract loophole that prevents local affiliates from switching around to better games (like CBS and March Madness, although they never switch around enough, either).
Call me crazy, but I always thought the goal of TV networks was to make their viewers happy. So why do it this way? Why? Why? Seriously, why? They should change the rules so the local affiliates can switch to another game if any of the following variables apply:
The score reaches a point where it would be one of the top-5 comebacks in NFL history for the losing team to come back.
During the always uncomfortable "Sorry, we're just killing time" closeup with the broadcasters in the booth, when they're making small-talk with their heads two inches apart so they can both fit on camera, you can see all the empty seats behind them.
The winning QB is watching from the sidelines, his helmet and shoulder pads already off, and he's either A) engaging in seven-step congratulatory handshakes with his receivers, or B) awkwardly shaking hands with them because he doesn't know how to do the seven-step handshakes.
The announcers are saying things like, "Did you know that Artose Pinner is a stage name?" and "Let's go down to the field to Bonnie Bernstein, who has an update on plans for Steve Mariucci's birthday party next week."

You get the idea. When they're showing kneel-down plays and Gatorade baths -- coupled with Gumbel and Brown breaking in with comments like "OK, guys, what a game in Minnesota!" -- that's when I become angry. It's almost like they're trying to antagonize us. Almost.

Of course, this isn't my problem anymore. I have the package, I have my routine, I'm ready to roll. As the great Mike McD once said, "Let's play some (bleeping) cards."
---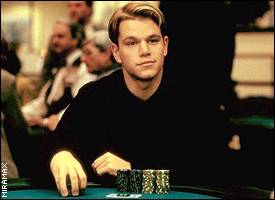 Getty Images
"Come on, let's just watch some bleeping football."
Before we delve into the Week 4 slate, some gambling numbers from the first three weeks: The favorites are 20-24-2 (makes sense) ... so are the home teams (somewhat surprising) ... home dogs are just 4-4 (seems reasonable) ... and out of the 24 underdogs that covered, 17 of them won their game outright (wait a second, WHAT!?!?!?!?!?!?!).
Should we just start ignoring point spreads and wagering on actual money lines? For example, let's say you think the Jags (+180 underdogs) can hang with the Colts on Sunday. Are you better off risking $110 to win $100 and taking the points (+3.5), or betting $100 to win $180 that they can actually win the game? According to the numbers, you're much better off picking them to win because the money line has a higher financial UPPPPPPPside. Which means playoff rules ("Never pick an underdog unless you think they can win the game outright") now apply for the entire season.
Hey, the NFL is getting exactly what it wants. Not only can any team win on any given week, but thanks to the new pass interference rules -- within a year or two -- every team should be able to explode for 40 points in a game, unless they're coached by Dave Wannstedt.
But I'm worried that the NFL is headed down the same path of baseball in the mid-'90s, when MLB started juicing baseballs, moving in outfield fences and looking the other way as certain sluggers showed off their rippling muscles, expanding jaws and Cro-Magnon foreheads. The thing is, that Packers-Colts game was really, REALLY exciting. The league would always rather have a game like that; the kind of game casual fans, stepmoms and cab drivers could enjoy. So what if the league loses a little soul in the process, right?
(If I sound disappointed ... well, I am. This was already a good product. Why tinker with something unless it's absolutely necessary? We're reaching a point where smarter coaches like Parcells and Belichick will just start heaving long passes every few downs, knowing there's an 67 percent chance they draw a big penalty because defensive backs are being treated like Vlade Divac at airport security. What's fun about that?)
Anyway, as we head into Week 4, just be prepared for that giant "BEWARE OF DOG" sign out front. Ten home dogs this week. That's right, 10. During the season of the Outright Upset. This should be interesting.
Onto the picks ...
Home team in caps
APPETIZERS
Raiders (-2) over TEXANS
If you exchanged Bush and Kerry with Dom Capers and Norv Turner last night ... I mean, would anything have been that different?
(Question: Did you know that "Ronald Curry" -- the guy catching those random TDs for the Raiders -- is the same Ronald Curry who was the greatest two-sport athlete of all-time and played QB and point guard at UNC? How was this not a bigger deal? Jesus, we had to wade through 2,330 Deion Sanders stories and features this season, and yet here's a genuinely interesting story -- a Hall of Fame "How Did He Not Make It?" Guy reinventing himself as an NFL receiver -- and I didn't know about it until four days ago. That's great.)
BROWNS (PK) over Redskins
At what point does Daniel Snyder just break out into a cold sweat?
Titans (PK) over CHARGERS
We all know that the Titans can't get going until McNair suffers his first injury. So here's my question: If he didn't get injured in last week's game, do you think Jeff Fisher would have hired someone to attack him after a practice, like one of those Kerrigan-Harding deals? Just a quick whack on the leg for a high ankle sprain?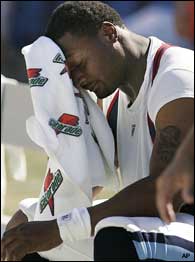 Getty Images
The season hasn't officially started until McNair has a life-threatening injury.
Falcons (+3.5) over PANTHERS
When in doubt, take the points.
(By the way, I'm STILL not ready to tell my Steve Smith roto story yet.)
Colts (-3.5) over JAGUARS
Bad matchup for the Colts. Much like the '99 Rams, they aren't the same team on grass (and I don't mean that in the Ricky Williams way). They have a banged-up secondary, which means the Jags can throw the ball on them. And they're going against a team that thrives on making those Little Plays. Make no mistake: The Jags are the Paris Hilton Team this season.
With that said ...
You need to score at least 35 points to beat the Colts. The Jags have scored 35 points all season. And as good as Leftwich has looked in these two-minute drills, there has to be a reason they aren't letting him loose, right? Basically, they're running the Ravens-Dilfer offense here -- keep it close, don't turn the ball over, don't take any chances, let the running game and defense go to work -- which tells me that Jack Del Rio doesn't fully trust him yet. So why would you expect me to wager on him in a shootout?
Three other thoughts on this one:
1. If you judged NFL coaches solely on their postgame speeches during that "Point After: Sounds of the Game" show, wouldn't you think Jack Del Rio was the best coach in the league? Is there anyone better? It's like he's being played by Ed Norton or something.
2. On "Inside the NFL" this week, Collinsworth asked Marino, Carter and Carter's eyebrows the following question: "If you could take one QB in a game for all the marbles, who would you take: Manning, Brady, McNabb or Favre?" Carter quickly said Brady, and rightly so -- the guy already won two Super Bowls and he's 12-1 in games decided by three points or less. Marino thinks about it, then takes Manning, and rightly so -- famous QBs who can't win anything when it matters always stick together.
But here's what I couldn't believe: Collinsworth agreed with Marino. Are you KIDDING me??? How could anyone take Manning over Brady in a big game at this point? How? What else needs to happen? You know what, the last three times they went against each other, Brady's team won every time ... I'm gonna have to go with Peyton Manning. Unbelievable.
3. I don't know the exact numbers, but this Colts team has run about 375 plays from inside the 5 already this season. Warrants mentioning. If they lose this game, it will be one of those "They were in the red zone seven times and scored a total of 13 points" situations. Considering everything we've seen from the Jags this season, that doesn't seem unreasonable.
(You know, the more I'm thinking about this game, that +3.5 is looking tastier and tastier. Let's just move on. Quickly.)
ENTREES
Eagles (-8.5) over BEARS
Random thoughts: Can they make this line high enough with Dr. Jonathan Quinn prominently involved? ... McNabb looks very MVP-ey right now ... Roy Williams springing for 100 yards and a TD every week with Joey Harrington as his QB is like Denzel winning an Oscar for Training Day with Breckin Meyer in Ethan Hawke's role ... seeing what's happened with the Bears (and what hasn't happened for the Rams), looks like we underestimated old Lovie Smith ... there needs to be a support group for everyone who owned Thomas Jones in a roto league before this season -- every time I see his numbers, it actually makes me angry ... I can't be alone.
Patriots (-5.5) over BILLS
The Patriots haven't lost in 378 days. You read that correctly.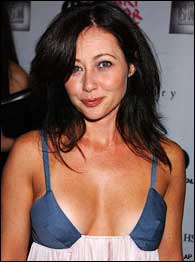 Getty Images
It's a special week when the Sports Guy puts the triumphant return of Shannen Doherty on the back burner.
Giants (+7) over PACKERS
Shannen Doherty joined the cast of "North Shore" last week ... even THAT doesn't have me as excited as this Kurt Warner thing. Now we just need the Giants to pull the "Varsity Blues" trick at halftime of one of these games -- Warner, Barber and Strahan bursting into the locker room as Tom Coughlin is ordering some doctor to shoot up Shockey's foot, kicking him out of the locker room and coaching themselves the rest of the way.
CARDINALS (+3) over Saints
The upset special.
BUCS (+3) over Broncos
The upset special, part two.
Jets (-5) over DOLPHINS
Definitely not the upset special.
(Hey, who's in worse shape: The Dolphins for having to start 4th-stringer Leonard Henry at RB this weekend, or any roto owner who subsequently picked up Leonard Henry and started him this weekend? Or is that a rhetorical question?)
NINERS (+3.5) over Rams
We have now entered the "Go against the Rams every week until Martz gets fired" stage of the gambling season.
(But seriously, imagine having Martz as your coach? You're up by three with 28 seconds, the other team has all three timeouts, and you're saying to yourself, "Well, at least we won't try one of those stupid squib kicks here," and then he squib-kicks it. It's like he's auditioning to manage the Red Sox.)
STEELERS (-3.5) over Bengals
Well, we're officially two days away from Chad Johnson's first "Why the $#&% aren't we playing Kitna over Palmer?" explosion. I'm giddy. Between the gold teeth and the chains, it will be just like Flava Flav screaming at someone in the "Surreal Life" house, only without a drunk Brigette Nielsen looking on.
Speaking of the Carson Palmer Project, at the ESPN newsroom on Sunday, my buddy Gus and co-worker Jud came up with a new game: Pick a young QB, then try to figure out his maximum ceiling, using well-known QBs as the ceiling. For instance, I think we can all agree that the C.P.P. has some talent. If everything works out perfectly -- repeat: perfectly -- he could be another Dan Fouts, minus the cheesy beard. That's an absolute best-case scenario. Doesn't mean it will happen. But at least there's a 0.0003 percent chance.
Anyway, the QB who ignited this discussion was Joey Harrington, fresh off his ghastly performance against the Eagles (my first extended look at him). He's not quite fast enough to scramble away from pressure, doesn't have a cannon arm, isn't really that accurate ... I'm not sure what he does well. I just know that I'm never wagering on him against a good defense ever again. At his best, maybe he becomes the next Matt Hasselbeck. Gus was a little more discerning -- he thought Harrington could be the next Bubby Brister. At best. That led to this exchange: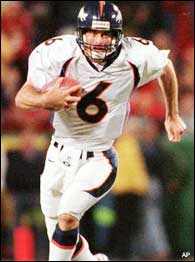 Getty Images
We're not saying Bubby was afraid of getting hit, but this is a picture of him walking to his car after the game.
Me: "Bubby Brister at best?"
Gus: "Hey, it's not necessarily a bad thing. Bubby had a couple of good years."
(If you're a Lions fan, there's a 70 percent chance you just threw up in your mouth.)
DESSERT
RAVENS (-4.5) over Chiefs
"Any time people are discussing your defense during the playoffs with lines like 'They would be better off onside-kicking after every TD,' and those people are completely serious, it's probably not a good idea (for the Chiefs) to bring back that exact same defense the following season."
--Simmons, 9/8/04
"I don't understand this KC affection at all. That's a 5-11 team with one great player. What's the difference between them and San Diego? Seriously, you tell me."
-- Simmons, 9/17/04
"The Chiefs stink. Some day, you will believe me."
-- Simmons, 9/24/04
"After a 5-win week, I'll take the chance to gloat about anything I can."
-- Simmons, 10/1/04
Last week: 5-8-1
Season: 25-19-2
Bill Simmons is a columnist for Page 2 and ESPN The Magazine. His Sports Guy's World site is updated every day Monday through Friday.