By Bill Simmons
Page 2
I don't make these kinds of proclamations that often. Okay, maybe I do. But the Clippers just finished the most exciting stretch of home games in sports history.
(That's right, SPORTS HISTORY!)
The Clips have played 13 home games in six weeks. One was decided on the final shot. Two others were decided in overtime. Another three went to double-overtime. In fact, through the first 20 games, they were involved in the most overtime games ever: Five. That has to be the dumbest record of all-time. But they broke it.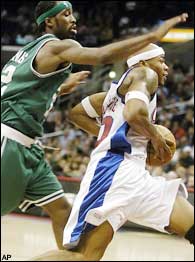 When it was crunch time, the Clippers got crunched.
How did they fare in those six nailbiters? They lost five of them. And these weren't typical defeats. There were 14 possible deciding quarters in those six games. In the final minute of those 14 quarters, the Clippers blew 8 separate leads and yielded six baskets when a stop would have ended the game. There were ten game-ending possessions where the Clips could have either won the game or sent it into another overtime ... and they went 0-for-10. Four of those times, they didn't even get a shot off.
The bottom line? You can't win close games with lousy point guards. For example, in those aforementioned 14 quarters, Marko Jaric and Rick Brunson (aka, "MarkoBrun") were 0-for-7 from the floor with 437 turnovers (give or take 430). Even the Sklar Brothers would have been more effective. There were seven times when MarkoBrun had the ball in their hands with a chance to finish a game -- four times they missed the shot, three times they turned the ball over, and two other times they decided to hand the ball to the referee and take a dump at midcourt, just to save everyone some time. During the Lakers loss on Saturday, Mike Dunleavy gave up and benched them both, then had Kerry Kittles bringing the ball up at crunch-time. Plan B was Ollie from "Hoosiers."
Of course, hotshot rookie Shaun Livingston could have helped, but he dislocated his kneecap last month. In the words of the immortal Micheal Ray Richardson, the ship be sinking. After blowing three straight games in the final minute, the Clips are one game above .500, with an impossible swing looming in February: Nine straight road games chewing up most of the month. If GM Elgin Baylor cares about salvaging their playoff hopes, he needs to trade for another point guard within the next six weeks.
(Note: Sadly, Elgin was asleep at the wheel when New Orleans held a fire sale for Darrell Armstrong last week. The Mavs ended up getting him straight-up for Dan Dickau, which was like trading a 1997 BMW 325I with 105,000 miles on it straight-up for a Vespa. Armstrong even played crunch-time for Dallas against the Warriors on Tuesday night. By the way, I have way too much time on my hands.)
According to my research -- and believe me, it wasn't extensive -- Elgin hasn't swung a major in-season deal since the ill-fated 'Nique-Manning trade back in '94. Maybe Elgin forgot that teams are allowed to trade during the season; maybe he's been secretly replaced by Nipsy Russell and none of us have figured it out yet. It's hard to say. Again, the Clips are PERFECTLY set up for a trade this year. Not only does Wilcox carry significant value, since he's playing out of position at center, they could replace 85% of his numbers with crowd favorites Mikki Moore (a leaper with some swagger) and Chris Kaman (a surprisingly creative big man). They have one other bargaining chip: Kittles's contract ($10 million, final year) makes him attractive for any team.
For example, here's a trade that works: Kittles, Wilcox, Jaric, and a future No. 1 to the Nets for Jason Kidd. The rebuilding Nets clear another hellacious contract, getting a promising power forward (Wilcox), an intriguing hybrid guard (Jaric -- and yes, I'm being kind), and the NBA's version of a Powerball ticket (the rights to a future No. 1 from the Clippers) for their troubles. And the Clips get a Hall of Fame point guard and instant credibility. Is there any way this trade happens? Of course not. Same for a Baron Davis deal. Let's see, he's from Los Angeles, went to UCLA, plays for a team that's basically holding a tag sale for all its good players ... other than the questions about his back, why wouldn't the Clips pursue someone like that? Why? For the love of God, WHYYYYYYY?
When I was discussing this with my friend Jimmy, who has been living out here for ten years, he gleefuly responded, "I didn't think you would get sucked in this fast! You have to remember one thing. They're the Clippers. They'll always be the Clippers."
Yeah, I know. But I just spent the last six weeks watching an 11-10 team that easily could have gone 17-4. The Lakers are a mess. USC's football season is almost over. There isn't an NFL team in town. So why wouldn't the Clippers try to make a splash? Everyone loves jumping on bandwagons out here ... you're telling me that the Clips couldn't own this city with a J-Kidd trade? Stick him with Simmons, Brand, Maggette, Kaman and Livingston and you could really have something.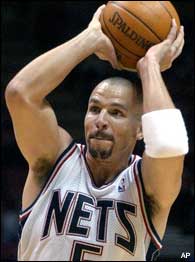 With a new Kidd in town, the Clips could own L.A.
My biggest fear is Elgin will twiddle his thumbs until Livingston comes back, putting him in the impossible position of running their offense (and learning on the fly) during their toughest stretch of the season. If that happens, you can kiss the playoffs goodbye. So if you're reading this, Elgin -- and yes, it's the Bassbowl again -- please do something soon. Not only is the season slipping away, you're allowed to make trades with other teams until February 24th. That's ten weeks from now. I looked it up. If you need help figuring out possible trades, or maybe even understanding the elusive salary cap, e-mail me and I will do my best to help you out.
Just do something, Elgin. Anything. The chances of an NBA team making the playoffs in the Western Conference with Marko Jaric and Rick Brunson sharing the point guard position are roughly 0.000%. And you know it.
(And if you don't know it, then we're REALLY in trouble.)
---
Since last week's edition of "Behind the Bench," the Clippers played two more home games: The Lakers on Saturday, followed by the Celtics on Monday. Both games had something in common: Way too many people were cheering for the other team. On Monday night, I was even one of those people. I felt terrible about it, but what can you do? That's my team. They're only here twice a year.
Which brings us back to the reasoning for a Kidd trade: There aren't enough people around here who give a crap about the Clippers, mainly because most of the locals believe that the Clippers don't care about their fans. It's not that they don't make trades for guys like Kidd ... it's that such a deal seems so unlikely, they never even enter the discussion. Nobody cares that they opened the vaults for Elton Brand and Corey Maggette, or how they made a legitimate run at Kobe last summer. People won't believe in this franchise until they make a dramatic move -- along the lines of the Kobe signing, or even the aformentioned Kidd trade -- something that announces to the entire city, "We're not just here to take your money and pocket $40 million in profits every year."
Until that happens, they will always have situations like the past two games. When Kobe and the Lakers came in, half the crowd cheered for them. When Pierce and the Celtics came in, half the crowd cheered for them (thanks to all the Boston transplants out here). It's an evil cycle. I feel especially bad for guys like Simmons, Brand and Maggette, hard workers and solid players who earned the right to play in front of a supportive crowd. It shouldn't have to be this way.
(That reminds me, if the Clips allow my cousin Bobby to slip away this summer -- and I know they won't, because no team could possibly be that stupid, but just in case -- I will end up breaking Peter Vescey's record for "Most recurring, needless vindictiveness in an NBA column towards a player, broadcaster or team" before everything's said and done. I'm not kidding. You can't let guys like Bobby slip away. You just can't.)
Anyway, I'm skipping over the Lakers game for four reasons: 1) The rematch is next month; 2) it's tough to assess their team because they haven't settled into a rotation yet; 3) Kobe deserves his own column; and 4) the Clippers-Lakers rivalry deserves its own column. So let's take a rain check on them.
I will say five things though:
A. There's comedy, there's high comedy, there's transcendent comedy ... and then there's Kobe's contrived attempt to be the outgoing leader of this Lakers team. More on this another time.
B. The years of smoking and poor conditioning have caught up to Vlade Divac, who suddenly looks like Yakov Smirnoff's mutant father. When KG sees the Lakers on the schedule and thinks about going against Chris Mihm, Brian Cook and Divac for 48 straight minutes, he must start chest-bumping everyone in sight.
C. There isn't a more animated coach in the league than Rudy T. If you ever wondered what would happen to someone who quit smoking and drinking, then decided to coach an enigmatic superstar and a group of players who can't figure out how to play with that enigmatic superstar ... I mean, just watch Rudy T on the sidelines for five minutes. He's like Beavis during the "Great Cornholio" episode.
D. Make sure you include the Lakers on the list of "Teams that desperately need a point guard." I like Chucky Atkins as a backup, but he's like Nicolette Sheridan -- fun to have in the cast, not someone you want carrying the show. And Chucky's backup is named "Tierre." I think that's his whole name -- it's like "Cher" or "Madonna." Watch this guy for 10 minutes and the MarkoBrun Experience starts to seem fun by comparison.
E. It's sad to see Caron Butler's game wasted like this. Couldn't be a worse team for him. Same with Luke Walton, who doesn't even play because they have 19 small forwards on this team. (All the crappy teams in basketball right now and we can't find 25 minutes a game for Luke Walton somewhere? Really?) But the biggest potential problem is Lamar Odom, who looks like he absolutely HATES playing with Kobe.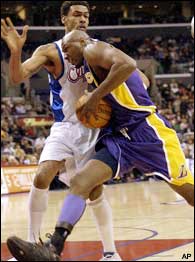 At this point, the Lakers should just put the Odom trade on their season schedule
Believe me, I've been watching them all season -- partly because I'm so fascinated by Kobe's surreal attempt to be gregarious and supportive, partly because it's so darned enjoyable to root against them -- and poor Lamar is slowly getting the Private Pyle Face. During the Clips game, with Kobe on pace for a shot a minute -- he finished with 32 shots in 37 minutes -- Odom snapped in the third quarter and started screaming at everyone: Kobe, Rudy T., Atkins, you name it. "GET ME THE (EXPLETIVE) BALL!" How could you blame him? He knew he could take Moore off the dribble. So they ran a few plays for him and Odom scored eight of the next ten points: Easy points, too. He could have scored 40 against this Clippers team; nobody could guard him.
Well, guess what? Kobe didn't like that. He launched the final three shots of the quarter.
Needless to say, I don't see this ending well. Odom proved in Miami that he's one of the top-25 players in the league. He isn't someone you want standing 25 feet from the basket watching Kobe going one-on-three. It's a waste of his considerable talents. That's why he's going to snap soon. I wish there was a way to wager on this, but I bet Odom will start bitching about Kobe behind closed doors. Then Kobe will react poorly, start pulling his puppet strings to get Mitch Kupchak to do something ... and suddenly you'll see old Lamar heading somewhere else for 75 cents on the dollar. If Odom is smart, he should speed the process up and hit on Kobe's wife after a game. Somebody needs to send him a cowboy hat and some boots.
One more note: if you're a Lakers fan, it's not a good sign that your team barely outlasted a Clippers team that was playing without Brand (suspended) and Kaman (appendix), especially when Simmons was battling foul trouble. Trailing by 10 for most of the game, the Clips staged a furious rally in the final few minutes, leading to Maggette's agonizing runner at the buzzer that banked off the backboard, swirled around the rim like a wad of toilet paper, then kicked out. I have never seen a game-saving shot come closer to going in without actually going in.
(Just another night with the Clippers.)
---
For Monday's game against the Celtics, I showed up early for the pre-game shootaround, just to get a feel for my team. I like shootarounds because you can tell whether everyone gets along: Guys busting each other's chops, challenging each other to friendly one-on-one moments, yelling out jokes and so on. If this stuff isn't happening, you probably have an unhappy team on your hands.
This group seemed fine. I knew we were in good shape when the players were waiting for a youth league game to finish so they could take the court -- mostly 11 and 12-year-olds running around -- so assistant Dave Wohl quipped to rookie Al Jefferson, "These look like the guys you played against in high school last year." Everyone cracked up and Big Al did the whole "Shaking his head like he's heard that joke 20 million times" routine, which he probably has. Remember Big Al's NBA Draft highlight reel from Misssissippi? It looked like the old Nike ad where Scottie Pippen goes back to the 1940's and starts dunking on everybody.
Watching everyone clown around, you could never guess that it's been such a frustrating season for them. Keep in mind the following things ...
The C's average 100 points per game and give up 98. Four other teams in the East have scored more points than they've given up -- Cleveland, Miami, Orlando and Washington -- and those teams are a combined 56-32. The Celtics are 9-12. You figure it out.
If the NBA kept track of "Had the ball with a chance to win or tie with 10 seconds left and couldn't do it" losses, Boston would lead the league with 8.
If the NBA kept track of "Do-or-die shots that could have tied or won the game and didn't," Paul Pierce would lead the league with 6.
During Monday's double-OT win against the Clips -- unequivocally, the most exciting win of the season -- the two highest-paid players on the team (Pierce and Raef LaFrentz) were sitting on the bench for the final 14 minutes.

Of course, you're only as good as your best player ... and Pierce hasn't looked like an All-Star lately. In 21 games, he's been the best player on the court maybe three times. He was benched during crunch-time of the Toronto game for showing up Doc Rivers. He argues with referees constantly, almost to the point of distraction. His defense and rebounding have slipped noticably -- you would be hard-pressed to call him a good all-around player at this point. He rarely cracks a smile anymore, not unless it's a sarcastic one after a blown call. And his shot selection at the end of games has been truly absymal. Honestly, he hasn't been the same guy since his disastrous turn in the 2002 World Championships. Even Secret Service agents have more charisma.

Some wonder if the 2000 stabbing affected him more than he realized, if he carries repressed angst about the whole thing. Others point to the NBA lifestyle, how it grinds down even the most stable guys. Some even think he misses Antoine Walker, who always kept Pierce on his toes (in a good way). But something is clearly wrong. During the Clippers game, Pierce drew his fifth foul in the third quarter and went into a FPPPM ("Full Paul Pierce Pout Mode"). He wasn't even standing in the huddle during timeouts; at one point, Token White Googs came over with a "What the heck are you doing?" look on his face before Pierce finally stood up. After he fouled out in the fourth, when Ricky Davis led a rousing comeback, Pierce livened up and spent the rest of the game smiling and urging the Boston fans to cheer them on. Hey, maybe he's schizophrenic.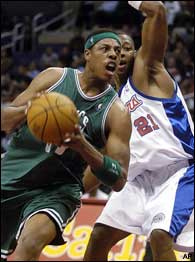 Pierce made "the leap." It's just that when he did, he fell flat on his face.

What does this mean for Celtics fans? I'm not sure. Still bearing the scars from Rick Pitino's constant maneuvering, the current regime wants to keep this nucleus together for awhile. As the Sonics showed this season, or the Pistons last season, there's something to be said for continuity in this particular sport. Guys need time to gell, to figure out their teammates. If you ever played basketball, this makes total sense. My buddy House and I probably played 90,000 games together in college; by the time we graduated, we could play two-on-two together on auto-pilot. I knew everything he planned on doing before he did it; same with him for me. When you think about it, this is how the NBA shouldwork. That's the goal. But it can't happen when teams keep overhauling their rosters every year.

At the same time, the Celtics need to make a move: They have three guys (Pierce, Ricky Davis and Jiri Welsch) for two positions, with an electric rookie named Tony Allen waiting in the wings. They need to find a spot for Allen -- he's already the best athlete and defender on the team. Watching him during the Clippers game was a revelation; it's such a pleasure to see someone cheering everyone else on the bench, then going into games and busting his butt while everyone else cheers him on. Never happens anymore. Anyway, Welsch seems like the odd man out ... but I could see Pierce getting quietly shopped around in February (if it hasn't happened already). He may need a change of scenery. It wasn't a good sign when my Dad gave him the dreaded, "I Hate Watching Him" stamp two weeks ago, vaulting Pierce alongside such greats as Todd Day and Acie Earl.

Then again, I'm right there with Dad. When I TiVo the games, I find myself fast-forwarding to the parts when Allen and Jefferson enter the game, or when Doc wises up and tries a smaller lineup (which ended up beating the Clippers). When it's close near the end (like last night against Denver, for instance), I know exactly what's coming:: Everyone stands around and waits for Pierce to hoist up an awful 20-footer. That's the offense. I would rather see them play the young guys, especially Allen and Jefferson -- a more athletic version of a young Elton Brand -- but they can't take that chance because the East is such a mess. As poorly as they've played, the Celtics are only one loss behind the Knicks in the Atlantic right now. That means they can't play the young guys, they can't trade Pierce for picks, they can't move GP ... everything's on hold. They're in NBA purgatory.

So yes, Monday night's victory meant something. Ricky exploded for 19 points in the fourth to save the game; say what you want about the guy, but he's downright exciting when he gets into a groove. Jefferson played signficant minutes against his alter-ego (Brand) before fouling out with 11 points and 8 boards. Allen put the clamps on a scorching-hot Maggette and found time to unleash two memorable dunks. GP played a whopping 49 minutes and abused MarkoBrun in the overtimes. Blount and Allen combined for the biggest defensive play, blocking Maggette's game-winner at the end of the regulation. And best of all, Pierce was on the bench working on his Ewing Theory application.

I remember thinking that a Clippers-Celtics game would last nine overtimes because neither team can finish anything. As it turned out, it only took two. Many Clippers fans split at the end of regulation -- normally a capital offense, but bear with me -- enabling the Boston stragglers to move down into the good seats. By the second OT, it felt like a home game for the C's, with fans wearing green jerseys, Boston players pointing to the crowd, everyone cheering like crazy. Allen clinched the game with a steal and assist to Ricky, then sprinted over to chest-bump Doc, unequivocally the goofiest moment of the season. Great win for the C's, heartwrenching loss for the Clips. Come to think of it, they aren't much different -- both of them play hard, both of them can't close games, both of them have a trade to make. Danny Ainge will pull the trigger when it's time. If history is any indication, Elgin Baylor probably won't.

So my question is this: Can we really blame those Clipper fans for splitting early to beat the traffic? I'm leaning towards "probably not."

(Then again, opinions are like bassbowls ... everyone has one.)

Bill Simmons is a columnist for Page 2 and ESPN The Magazine. His Sports Guy's World site is updated every day Monday through Friday.