By Bill Simmons
Page 2
Congratulations to the NFL, which stands for "Not (Married) For Long."
In their latest attempt to destroy every couple in North America, Team Tagliabue crammed the holiday weekend with enough NFL games to put Art Schlichter's family on Defcon 1. There's one on Friday night, two more on Saturday afternoon, eleven on Sunday afternoon, one on Sunday night, one on Monday night ... I mean, are they TRYING to increase the divorce rate?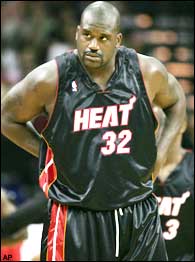 After what Shaq hinted at, Stu Nahan should do play-by-play.
Throw in "Pistons-Pacers II" and "The Corvette vs. The Brick Wall" and it's the sports weekend of the year. But since it's Christmas weekend, family obligations are supposed to supersede everything else. We have to exchange presents, cook steaks on a grill, spike some eggnog, maybe even talk to that one uncle with a killer case of chronic halitosis. If we don't do any of these things, we're bad people. If we sneak away to the TV room during a family event, we're bad people. If we excuse ourselves to go to the bathroom while everyone is opening gifts, then sneak onto the host's home computer to place an internet bet, we're bad people. If we say things like "I don't give a crap about 5:00 mass, I need the Chiefs to cover this tease!", we're bad people.
You know what? I'm not going to feel bad. I'm watching as much football and basketball as possible. I'm going to be spraying bets around like a bottle of champagne. I'm going to risk the chance of the Sports Gal owning half my assets. And if anyone questions me the entire weekend, I can always rely on my old standby answer: "I actually need to watch this for my job." When you write about sports for a living, those nine words are like a "Get out of jail free" card.
Merry Christmas, everybody. Now leave me alone and let me watch TV.
Onto the Week 16 Holiday Picks ...
Packers (+3) over VIKINGS
One of my favorite gambling rules: Never bet against Brett Favre playing a Friday night game on Christmas Eve. Especially when he's coming off two straight "Screw it, every three plays, I'm throwing it up for grabs" games, which moved him past Vinny Testaverde in the "QBs Most Likely to Turn One of their Receivers into a Vegetable" pool. I think he comes up big this week. Can't explain it.
(By the way, my buddy Geoff summed up the thoughts of every Vikes fan in an e-mail after Sunday's ridiculous win over the Lions, which they pulled out courtesy of a botched extra-point snap. "Can't believe the Vikes won the way they did. I'll take it. So will Tice. And so will every other Viking fan who prepares for another hopeless playoff run.")
PACERS (+1) over Pistons
I haven't seen an actual line on this game yet -- it's just a guess. But I think the Pistons will have the collective Eli Manning Face going in this one.
(Note: It's weird how the post-melee stuff worked out. The Pacers were the team responsible for the brawl escalating into the stands, as well as the team that scurried out of the Palace fighting for their lives, plus the team that gainfully employs Artest and Jackson. And they're fine. If anything, the saga made them stronger. Yet the Pistons were innocent bystanders -- with the exception of Ben Wallace escalating things to the "Someone could throw a beer" point -- and they clearly have been affected by what happened. It's like they lost that extra gear of aggressiveness. Just something I've noticed from watching waaaaaaaay too much of the NBA Package.)
Heat (+2) over LAKERS
Everyone turns on the TV saying, "I can't wait to see what happens with Shaq and Kobe" ... everyone turns off the TV saying, "Holy crap, I can't believe how great Dwyane Wade is."
CHIEFS (-8) over Raiders
Wouldn't the Chiefs be the favorite to win the NFC right now, or am I crazy? By the way, they should get an emotional lift from the pregame ceremony, as Priest Holmes is presented with the 2004 Memorial Carl Pickens Award for "The player who screwed over the most fantasy teams this roto season."
TITANS (+4) over Broncos
I'm totally sold on this Billy Volek character. He's like one of those old-school gunslingers from the early-'80s, right down to that retro name: Dan Pastorini, Kenny Stabler, Bert Jones, Brian Sipe, Ron Jaworski, Steve Grogan, Billy Volek. See? Fits right in. What are the odds that McNair went into Fisher's office and did the "I think I can play this week" routine, followed by Fisher hemming and hawing with the, "No, no, seriously, you better rest that sternum, we don't want to take any chances" routine. I love when that happens.
(While we're here, a few Broncos questions: Do you think Peter King broke up with Jake Plummer by phone, or did he just send him an e-mail? What chain of events needs to happen for the Broncos to stop kicking off to Dante Hall? Has it become overrated to talk about how overrated Mike Holmgren and Mike Shanahan are, or are we still not talking about it enough? Where does the Bailey-Portis trade rank on the "Most fuss made about a trade that didn't really do jack for either team" scale? And why does Vegas keep giving the Broncos so much respect? No wonder they're 4-8-2 against the spread.)
LIONS (-6) over Bears
I don't even have the strength to muster up a "Good God, th-that's Jeff George's music!" joke. But seriously ... did you ever think an unassuming QB like Rex Grossman would set off a more catastrophic chain of events? First Craig Krenzel, then Dr. Jonathan Quinn, then Chad Hutchinson, now George. For Week 17, couldn't they exhume Scott Mitchell and throw him out there for a few snaps? What about Babe Laufenberg? Moses Moreno? Scott Bakula?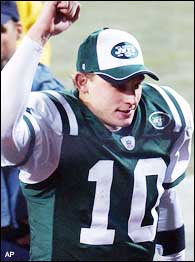 If Chad wants to shut the writers up, he needs to shut the Pats down.
Patriots (-2) over JETS
Kudos to Chad Pennington for standing up to the Jets beat writers this week. But if he really wanted to hurt their feelings, he should have turned over the spread of free food in the media room. That could have started an Artest-like melee.
(Quick tangent: As I've mentioned before, one of my old college buddies works for the Patriots. Last week, I called him at work and got his voice mail, in which he says, "You've reached Jim Nolan of the World Champion New England Patriots ... " I'm not sure where this ranks in the Top 50 for "Best things about working for a sports team that wins a title," but dropping that "World Champion" phrase in your work voice mail has to be in the Top 12.)
Chargers (+7) over COLTS
Lemme see if I can understand this ... the 8-5 Ravens got 7 1/2 points in Indy last Sunday, even though Jamal Lewis was banged up and they couldn't score 20 points on the road if the game lasted six quarters ... now the 11-3 Chargers are getting 7 points in Indy a week later, even though they've won eight straight and 10 of their last 11 (with the one loss coming by a point in Atlanta), and even though they match up perfectly with this Colts team. And you wonder why the Bolts are 11-1-2 against the spread right now. Apparently, they will have to be playing into late January before anyone believes in them.
BENGALS (-6.5) over Giants
You know those sitcoms from the '70s and '80s that you remember so fondly until you actually see an old re-run? Take "It's Your Move." I haven't seen that show in 20 years. Loved it at the time. If it ever popped up on DVD, I'd spend the $30, watch two episodes and probably say to myself, "Wow, I liked that show?" Anyway, Jon Kitna is like that. It was much more fun having him wearing a headset.
Ravens (+5) over STEELERS
Somebody's winning by 3.
(One note on Big Ben: It's so encouraging to see a young QB raise his game when it matters time and time again. All Patriots-Steelers potshots aside, the Burgh is one of the only football cities that deserves to watch a QB like that for the next 15 years -- especially after suffering through Kordell, O'Donnell, Malone, Bubby and everyone else. When you think about it, poor Pittsburgh hasn't had a true sports hero since No. 66. They were due. Now they have one. Right guy, right place. I know I'm an irrational Pats fan, but I'm a football fan over anything else ... and I really enjoy watching this kid.)
JAGUARS (-7) over Texans
Remember that Week 1 game in Buffalo when the Jags completed that crazy fourth-and-long to Jimmy Smith, followed by the 6-yard Hail Mary to the eighth-string tight end? Did you ever think the sixth AFC playoff spot would be decided by that sequence? Me neither. Then again, I love this Jags team; Bledsoe would have killed the Bills in January. This worked out for the best.
(Unless you planned on wagering against Bledsoe in Round One. Then it worked out poorly.)
Panthers (+3) over BUCS
I'm sold on this Panthers team over anyone else in the NFC ... and they might not make the playoffs unless they sweep these last two games. Go figure. By the way, Brian Griese's fleeting brush with competency in Tampa was like Stephen Baldwin's brief resurgence in "The Usual Suspects" -- nobody saw it coming, nobody thought it would last, nobody was proven wrong in the end.
SAINTS (-4.5) over Falcons
Hardcore gambling rule: "Always go against any playoff team with nothing to play for in Week 16 and 17." And yes, that barely trumps "Beware of Aaron Brooks and Jim Haslett on any semblance of a roll."
(That reminds me: If a team quits on its coach, then inadvertently stumbles into a playoff spot thanks to a once-in-a-decade chain of events, does this mean anything beyond what it is? Or are the Saints so freaking inept, they couldn't even quit on their coach? We need to figure this out.)
NINERS (+11.5) over Bills
Trap game.
(As in, "I hope I don't get trapped into watching this.")
Browns (+7.5) over DOLPHINS
Letdown game.
(As in, "Just the thought of watching this game is a letdown.)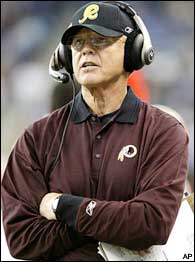 The way this season went, Joe Gibbs might be the only one who cried while watching "3".
COWBOYS (+2) over Redskins
You know the phrase "Who's gonna step up in this one?" In the case of this game, it's more like "Who's gonna step down?" And since I have nothing else to add, congratulations to Cris Collinsworth, who called the NFL "the National Football League" four times in three minutes during the opening segment on "Inside the NFL" this week. That may never be topped.
(Speaking of that show, watch it this week just for the great sequence where Ed Reed tries to block a punt, then hustles back down and creams someone on an open-field block, followed by Ray Lewis shrieking in delight. High comedy. Do you think Reed, Lewis and Brian Billick play rock-paper-scissors to see who gets to be miked up every week?)
SEAHAWKS (-7) over Cardinals
I just don't care.
RAMS (-3) over Eagles
A few things about this one ...
1. Can you imagine Bill Belichick throwing Chris Chandler's corpse under the bus with that "the QB position is taking us hostage" comment that Martz made? Way to stick up for your players, Mike. Good guy.
2. I never liked Terrell Owens that much, but I can't imagine another offensive star (in any sport) trying to walk off last week's broken leg like that. Tough dude, that T.O. You have to hand it to him. Imagine if that happened to Vince Carter? He'd still be lying there.
3. In my opinion, Owens was the MVP of the league this season, and here's why: That Eagles team was damaged goods. Nobody in the city believed in them. So T.O. came along and gave them some much-needed swagger, plus he had everyone talking about him instead of the negative stuff -- how the Eagles lost three straight title games, how McNabb couldn't come through when it mattered, how Andy Reid couldn't win the big one, and so on. When the season started, T.O. opened up the offense and consistently broke games open for them. In other words, he backed everything up. They fed off him all year (McNabb, especially). And they're going to struggle mightily without him. That's an MVP in my book.
4. You know it's a significant injury when the early Super Bowl line (AFC favored by 3 1/2 over the NFC) moves two points. That's pretty good. Not even Eugene Robinson soliciting a prostitute could move a Super Bowl line that much.
5. Once again, Merry Christmas. As Bono once sang, "Well, tonight thank God it's them, instead of yooooou." Whatever that means.
Last Week: 10-6
Season: 113-105-6
Bill Simmons is a columnist for Page 2 and ESPN The Magazine. His Sports Guy's World site is updated every day Monday through Friday.