By Bill Simmons
Page 2
Over the holidays, I had the chance to read "Blink," the latest effort from the New Yorker's gifted writer, Malcolm Gladwell. This book centers around a simple premise: How can we explain intuition? For instance, I've seen so many basketball games in person, sometimes I know a 20-footer is good even as it's leaving the shooter's hand. Well, how do I know this? Is there a psychic element to it? Have I just watched so many games, it's like a learned skill? The whole book revolves around questions like that. It's fantastic.
RULES TO LIVE (AND DIE) BY
What? You don't remember the Sports Guy's 15 rules for betting on the NFL playoffs?

You better sit down and learn the latest edition -- unless you like losing.

Simmons: NFL Playoff Manifesto 3.0
What does this have to with the NFL Playoffs? Gambling is like "Blink" -- trust your first instincts over everything else. In the book, Gladwell tells the story of a kouros sculpture purchased by the Getty Museum that turned out to be a phony. Allegedly from the sixth century BC, the statue passed geological tests and even had a paper trail of ownership, but some historians believed that something looked "off." What was it? They couldn't exactly say. But they knew something wasn't right. In the end, those experts were proven correct.
As I studied this weekend's Round 1 matchups, I kept thinking of that stupid sculpture. I know that something is seriously wrong with the Vikings and Seahawks. I know the Jets can't throw the ball downfield. I know the Broncos will only go as far as Jake Plummer will take them . . . which shouldn't be that far, since he's Jake Plummer and all. And I'm not sure anything else matters. Sometimes, you just have to trust your gut. And when your gut fails, that's when the rules from my NFL Gambling Manifesto come in.
Of course, in my annual quest to finish 11-0 against the spread in the playoffs, we're using a combination of both strategies. Onto the picks ...
Home teams in caps
Rams (+4) over SEAHAWKS
Even "Holyfield-Ruiz III" and "Karate Kid III" were more anticipated than "Rams-Seahawks III." Here's the strange thing about this game: Normally when a team makes the playoffs, its fan base is fired up beyond belief. Take the Bills -- if they hadn't choked against the Steelers, the entire city of Buffalo would have shut down preparing for the Colts. But with the Rams and Seahawks, those two teams have committed so many atrocities against their respective fan bases, their fans actually turn hostile when things start to go wrong. It's like a hopeless marriage, only they can't go into counseling to save it.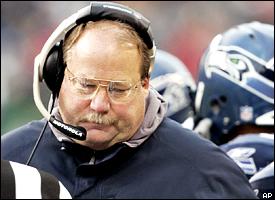 AP
Forget Bulger ... here's the guy who could kill Seattle this weekend.
Since both fan bases secretly despise their teams, in a weird way, both of them would have been better off on the road in Round 1. Can you have a home-field advantage when 60,000 fans are terrified that something bad is about to happen for three straight hours? Sounds like a disadvantage to me. The Rams also beat Seattle twice during the season, which counts for something. Normally it would be a red flag that Mike Martz is involved, but Mike Holmgren has presided over more agonizing collapses over the past two seasons than any coach in modern NFL history. And there was some turmoil with the Seahawks last week, which has been re-hashed in endless detail this week ... obscuring the fact that they barely held off Atlanta's second string in a must-win game on Sunday.
Here's my biggest issue with the Seahawks: I'm not sure what they do well. Alexander is one of the marquee backs in the league, but he rarely (if ever) takes over a game. He's like the Elton Brand of running backs. Plus, their receivers drop so many passes, it's become a running joke. And their defense stinks. So what's left? At least with the Rams, they can pound the ball and explode for big plays -- like against the Jets last week, when Bulger made two big plays to keep them in the first half of that game -- and their front seven can pressure the passer. Against a well-coached team that doesn't make mistakes, they're in trouble. But that's not a problem in Round 1.
As Rule No. 10 of the Manifesto states, "Only pick an underdog or road team if you're convinced they have a chance to win the game outright." Well, I think the Rams win this one ... setting up a delighful (and potentially lucrative) "Andy Reid against Mike Martz" scenario in Round 2.
The Pick: St. Louis 30, Seattle 24.
CHARGERS (-7) over Jets
Did you know that San Diego finished the season 13-1-2 against the spread? Are you kidding me? Looking back, they could have won their last 13 games -- instead, they went 11-2, with a one-point loss in Atlanta and a Week 16 collapse in Indy preventing them from running the slate. For whatever reason, Vegas never came around on them. Even this week, the casinos set a line of "Chargers by 5" before smart money pushed it to seven.
You could make a pretty good case that the line should be higher than that. This Jets team went 4-5 in its last nine games, which would have made them a contender in the NFC ... but in the AFC, it's a bad omen. Chad Pennington has looked like a cross between Vinny Testaverde and Vinny Testaverde since returning from his shoulder injury last month. Since he can't throw the ball downfield with any zip, defenses have been loading up on them. When they fall behind by more than seven points, they're finished unless their special teams can come up with something.
More importantly, it seems like everyone on this Chargers team has something to prove. Brees wants a new contract. Tomlinson wants to become a household name. Schottenheimer wants to shed the "Marty can't win in the playoffs" label. The defense (33 takeaways in all) wants to show that it's for real. And their fans believe in them, which goes a long way -- especially in San Diego, where it's 80 degrees every day and nobody normally cares about anything. This one has all the makings of your classic Round 1 blowout, along the lines of the Carolina-Dallas game last year.
(Can the Chargers make the Super Bowl? I say no, and here's why: I spent my whole life in New England and the cold weather never bothered me; I liked getting bundled up, trudging around in the snow, all that stuff. Then I moved to California and watched my body slowly become acclimated to the warm weather; I didn't even know it was happening. When I returned in October for the World Series, not only was I freezing the whole time, I was actually thinking about it. Wow, this is cold. There's just no way to prepare for it when you aren't used to it. So yes, there's some truth to this whole "Hot-weather team struggling in cold weather" thing. You take two teams like San Diego and Pittsburgh -- an even matchup on paper -- then throw in the weather and the fans? Suddenly it's not so even. But we'll deal with that next week.)
The Pick: Chargers 37, Jets 10.
PACKERS (-6) over Vikings
On the "Real World: Philly" last week, Landon had already been working on "Biggest Loser in the History of the Show" status when he took things to the next level -- getting bombed for the umpteenth time, swearing at a female roommate, nearly brawling with a bunch of townies in his house, then walking towards the townies with a knife in his pants before being steered away by another roommate. And this all happened while he was wearing a yellow t-shirt that said "Huggable." All in all, it was the greatest "Real World" ever. Finally, they found a distorted version of that one roommate everyone had in college who turned into Sloppy Drunk Guy at 3 a.m., only he's homicidal and insane. If it were up to me, I would spin him off into his own show where he rooms with Ron Artest -- eventually, they would fight to the death on camera and that would be that.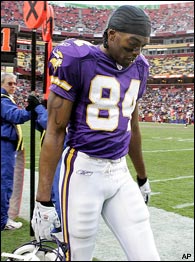 It's only a matter of time until Randy phones in his routes to someone in his posse.
What does this have to do with the Vikings? Their Week 17 collapse in Washington was shocking, remarkable and strangely inevitable ... just like Landon waving those knives around last week. Can you ever remember a team losing a do-or-die game in Week 17 and still making the playoffs? What happens then? Was Randy Moss sitting at home going, "Wait, we already quit on the season -- I even left the field two seconds early!" Throw in the staggering playoff failures over the years -- as well as Culpepper's red zone miscues, the poor tackling, the Mike Tice Face and everything else -- and Minnesota's fans are more frightened right now than the Culkin kids driving by the Neverland Ranch. What a shame. Add the Vikes to the list of "Teams that have just completely violated their fans over the years."
Two things to remember here:
1. Moss hasn't been healthy since Week 6.
2. The Vikings are 3-7 in their last 10 games.
So there you go. With that crummy defense, they probably need to score 35-to-38 points to beat Green Bay on Sunday. And I can't see them cracking 28. Not with Moss jogging at half-speed and looking like he would rather be anywhere else. Believe me, I'm not crazy about this Packers team, and there's no question that the Lambeau Mystique has taken a hit this season. But there are three gambling rules in play for this one: "Don't bet heavily against Brett Favre under any circumstances"; "Concentrate on how the team finished the last five or six games of the season"; and "Only pick an underdog or a road team if you're convinced they have a chance to win the game outright."
I don't think the Vikes have a chance. They were a walking "CSI" episode last Sunday in Washington. You can't bounce back from that.
(And if you can, then I give up.)
The Pick: Green Bay 34, Minnesota 24.
COLTS (-10) over Broncos
Man, they are DYING for us to take the points. When the lines came out on Sunday night, my buddy Sal called and asked me, "What do you think the line for the Colts-Broncos game is?"
"I don't know, seven and a half?"
"Well, you were off by a half-point ... three hours ago. It started at seven and it's already up to 10."
Ten?
Ten??????????
So why not take the Broncos? Statistically, they were more dominating during the season than you would think. In fact, some of their stats were crazy. For instance, they had 351 first downs; their opponents had 235. They had 6,332 total offensive yards; their opponents had 4,459. Their averaged 32:38 for time of possession; their opponents averaged 27:23. They even outscored their opponents by 77 points. And if Griffin doesn't fumble against the Jags in Week 2, and Plummer doesn't throw that interception in Week 15 against the 'Bolts, they're a 12-4 team. You could argue that they're a slightly less effective version of San Diego, a team that dominated Indy for much of that Week 16 game.
Unfortunately for Bronco fans, there are FIVE playoff rules from the Manifesto in effect here:
Rule No. 1: "Never, ever, EVER back a crappy QB on the road."
Look at it this way: This is the biggest game of Jake Plummer's career. After two up-and-down seasons and a laundry list of dumb plays, they're dumping him this spring unless he comes through in this game. More importantly, he knows it. And he's playing on the road, against a decent pass rush, in a game where their offense needs to score 35 points to realistically win the game ... I mean, does ANY of this sound good?
Rule No. 7: "When in doubt, research special teams and turnovers."
Indy forced 36 turnovers (tops in the league) and turned the ball over 19 times, for a takeaway/giveaway differential of +17 (tops in the league). Denver forced 20 turnovers and turned the ball over a whopping 29 times, for a differential of minus-9. To put that in perspective, the other five AFC playoff teams were a combined +71. Again, I'm not a huge stats guy for football, but this corroborates something that was painfully obvious with the Broncos this season -- they had a knack for killing themselves at the worst possible times. And that's exactly how you DON'T beat the Colts, by giving them more chances to score points.
Rule No. 10: "Only pick an underdog or a road team if you're convinced they have a chance to win the game outright."
I'm not convinced.
Rule No. 14: "Don't try to be a hero, just try to win money."
When you're talking yourself into taking that 10 points, ask yourself one question: "If my life depended on this pick, would I still be making this bet?"
(Really? You're gonna bet your life on Shanahan and Jake the Snake? Really?)
Rule No. 15: "Before you make your decisions, take one last look at the quarterbacks again"
Manning vs. Plummer ... hmmmmmm ...
The Pick: Colts 48, Broncos 27.
Bill Simmons is a columnist for Page 2 and ESPN The Magazine. His Sports Guy's World site is updated every day Monday through Friday.