Single page view
By Bill Simmons
Page 2
Forget about the scoring explosion, the influx of likable young stars, even Kobe's Tony Montana-like demise in Los Angeles. The most entertaining subplot of the 2004-2005 season – at least for me – is a bona fide MVP race. Seriously, when was the last time you argued about a simple question like "Which NBA player means the most to his team?"
The last memorable MVP debates occurred in 1993 and 1997, when Charles Barkley and Karl Malone won MVP awards thanks to the always-indefensible logic, "We're just tired of voting for Michael Jordan." But those were never really debates – true basketball fans knew better, and MJ proved them right by pulling a Keyzer Soze on the Suns and Jazz in the '93 and '97 Finals. The last genuine debate happened in 1987 – Magic, Larry or MJ – and to this day, you could make a case for any of the three. This year? You could make solid cases for six guys. But before we get to them, here's a look at some of the players who didn't make the cut (and where they finished in the top 425).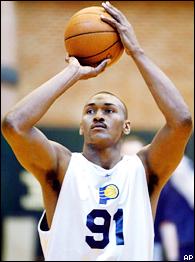 AP
So what if he killed the Pacers -- Ron reached "save until I delete" status on my TiVo.
In reverse order ...
425. Ron Artest
Well, he charged into the stands at Detroit, inadvertently attacked the wrong culprit, triggered the scariest melee in the history of basketball, drew the biggest suspension in league history, single-handedly killed the title hopes of a potential 60-win team, overshadowed Reggie Miller's last season and disappointed the Basketball Jesus. That has to make him the NBA LVP (least valuable player) ... narrowly edging Mark Blount and Rick Brunson. On the bright side, it was the greatest TV night in years and gave us Artest's famous post-suspension quote, "I'm trying to be positive. I'm a big fan of the Nobel Peace Prize."
417. Darko Milicic
A quick recap of the 2003 Draft ...
No. 1. – LeBron James
No. 2. – Darko Milicic
No. 3. – Carmelo Anthony
No. 4. – Chris Bosh
No. 5. – Dwyane Wade
(That's like reaching into a brown paper bag filled with two checks for $100 million, two checks for $10 million, and a check for $10 ... and pulling out the check for 10 dollars. Ouch.)
397. Zach Randolph
The dreaded double whammy: He destroyed Portland's cap space AND killed its season. At least he's a good guy.
375. Adonal Foyle
Plays about 20 minutes a game, gives you 4 points and 5 rebounds a night, blocks 1 or 2 shots ... in other words, he's having a typically harmless Adonal Foyle season, only he's in year one of a $40 million contract. So here's the question: Has Chris Mullin ever come out and explained this? If you were a Warriors fan, wouldn't you want an answer? This was like the Korean guy on "Lost" becoming a free agent and ABC giving him $40 million to stay on the show through 2010.
340. Vince Carter
Note to Raptors season ticket holders: File a class-action suit against him. Seriously. Ask for reparations. You bought tickets under the assumption that the Toronto players would give their best effort; he signed a contract promising that he would give his best effort; and after watching his performance in Jersey over the past three months, that clearly wasn't the case. So why not sue him?