Here's what I wrote in my notebook to cover the next 10 minutes:
"Pops play 2001 Space Odyssey – banners dropping from Wall – WHOA!! 2004 COVERING WHOLE WALL! HOLY S---! OH MY GOD!"
This was our Zihuatanejo moment. People were hugging and high-fiving. People were fighting off tears. People were staring at the Wall in disbelief, like they were watching the spaceship land in "Close Encounters." I was so overwhelmed, I can't even remember what song James Taylor performed next, or the names of every Red Sox legend on the field (Yaz, Rice, Fisk, Evans ...).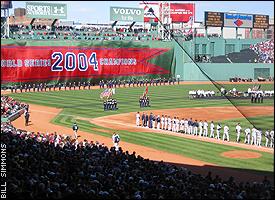 AP
If the Yankees forgot about last season, the Nation provided a small, friendly reminder.
Then the owners handed out the rings, our first chance to cheer the World Series-winning manager, Terry Francona (recovering from a viral infection that looked at first like a heart problem); last year's Superman (Big Papi, who should just change his last name to "Kennedy" at this point); one returning hero (Derek Lowe, who seemed genuinely touched by the huge ovation); one surprise returning hero (the immortal Dave Roberts, who nearly brought the house down); every key player from last year's team with the exception of Cabrera (stuck in Anaheim) and Pedro (unconscionably and unforgivably absent); one savior (Schilling, the last player introduced); and one walking reminder of everything that happened since 1918 (Johnny Pesky, the loudest ovation of them all).
I was doing fine until Pesky. Really, I was. For the next seven seconds, I made the Tom Cruise Memorial "I can't believe Goose is dead" Face before fighting it off. Others were less successful. On April 11, 2005, let the record show that it was extremely dusty in Fenway Park. We watched everyone move to center field, the conquering brigade, with Ortiz and Pesky walking arm in arm. They raised the 2004 flag together, a red triangle whipping happily in the wind.
And just when the day couldn't get any better, the Sox made the ball-busting decision to introduce the entire Yankees lineup – BOOOOOOOOOOOOOO!!!!!!!!!!! – highlighted by the glorious (and spontaneous) decision to cheer Rivera. You know, just to thank him for all the blown saves. It was so funny, even Rivera started laughing and raising his arms in mock celebration, the best random moment of the day – at least until a moment of silence for Dick Radatz was cut short because someone screamed out, "A-ROD, YOU SUCK!"
See, that's the thing – we didn't just raise the banner, the Yankees had to stand there and watch. From my perch in Section 22, I snapped a digital photo of them lined up along the third-base line, with the "WORLD SERIES 2004 CHAMPIONS" banner behind them. I'm going to blow it up, frame that sucker and hang it in my office like a deer's head. For my entire life, the Yankees kept getting the better of the Red Sox. Last October, everything changed. Yesterday, the moment was immortalized. And no matter what transpires this season, the Red Sox beat the Yankees, and the Red Sox won the World Series, and it happened, and we celebrated, and that's that.
Well, except for one thing.
Last September, I found out that I was going to be a father. Eventually, my wife and I learned that we were having a baby girl – I know, the irony – but during Game 3 of the Yankee series, I didn't know what we were having. I just knew that I already felt terrible for Baby X. As the Yankees slugged their way to 19 runs and a potential sweep, I was slumped in my seat in Section 116, debating the merits of bringing another Red Sox fan into the world.
Why do something so cruel to a little kid? Why dump nine decades of baggage on them? It seemed like an inherently selfish act, almost as if I were trying to drag them down with me. I kept imagining a little kid sobbing after their first October heartbreak – like me after the Bucky Bleeping Dent game – knowing that the kid belonged to me, that I did it to them, that I could have saved them.
So I asked my father about it: "Dad, if you had to do it over again, would you have raised me as a Red Sox fan?"