Single page view
By Bill Simmons
Page 2
Remember when I broke the 2002 playoffs down in "Survivor" fashion, voting off 15 teams until one remained? I'm dusting off that idea in honor of Stephenie's virtuoso performance this season, which is bringing back memories of Pedro in 1999, MJ in 1992 and everything else. Just when you thought she couldn't top herself, she saved her own butt by passively-aggressively convincing another member to quit during Tribal Council. We need to send her to Afghanistan -- I think she could find bin Laden in three weeks.
In the great Stephenie's honor, let's vote off the playoff teams in descending order from No. 16 to No. 1: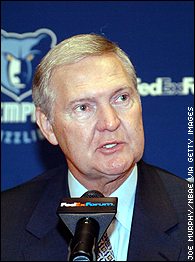 Unless he has something up his sleeve, "The Logo" has lost it.
ROUND ONE
16. Memphis (voted off by Phoenix, 4-0)
We learned everything we needed to know about the Grizz when they needed one win for a playoff spot and lost to Dallas, Houston, Denver and San Antonio by a combined 60 points. The guy who should be kicking himself is Jerry West, who should have topped any possible offer for Vince Carter three months ago. Everyone knew Vince was dogging it and only needed a change of scenery, and everyone knew the Grizz needed a go-to guy desperately. So why wouldn't they roll the dice with Vince?
(I know I keep asking this every year, but what is Jerry West waiting for, exactly? Does he have some secret alliance with Kobe that we don't know about? Like, "If you push Shaq out of Los Angeles and destroy the Lakers beyond repair, I'll trade for you during the summer of 2005 and we'll win some titles in Memphis together?" That's the only way the last three years make sense.)
15. Houston (voted off by Dallas, 4-1)
Ever since Juwan Howard went down -- and the beginning of that sentence alone is enough to raise a red flag -- the Rockets have been playing without any power forwards who could even be considered "crappy." So here's my question: Who the hell is guarding Dirk Nowitzki in this series? Clarence Weatherspoon? Ryan Bowen? Vin Baker? Dikembe Mutombo? Scott Padgett? Yao? Roger Clemens? There's a good chance that Dirk could break MJ's scoring record for a five-game series, especially since we just named a German pope who will be rooting for him. And what happens when the Mavs play Nowitzki and the Completely & Totally Rejuvenated Keith Van Horn at the same time? Who does Yao plan on guarding?
(Note: I actually think the Mavs are going to KILL the Rockets, save for the one game when T-Mac drops in the neighborhood of 55 to 58 points on them.)
14. Philly (voted off by Detroit, 4-1)
Here's the funny thing: If C-Webb wasn't playing, I would have picked this series to go seven because of the Iverson Factor. Sadly, he's playing ... and there isn't a more lopsided matchup on the planet than "C-Webb on one leg versus the Wallace Brothers." Philly reader Angela McGurk summed it up best:
"While I was watching the Sixers game last Thursday night against Miami, I noticed that Chris Webber was in the game with five fouls for an awfully long time. I turned to my husband and said, 'It's almost like "Survivor" or the "Real World/Road Rules Inferno," where other teams are trying to keep him in the game because he's such a detriment to the Sixers. He's our version of Karamo.' "