9:34 – Hubie on Rasho Nesterovic's entrance: "It's nice to bring in a guy, 7-feet, who is an excellent defender who can block shots and rebound, and is also playoff experienced."
Wow. If he's that nice to Rasho, what would he say about Darko? "It's nice to bring in a guy, 7-feet, who's, um … well, he's 7-feet."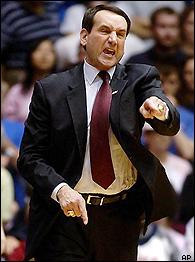 Coach K's always ahead of the game.
9:43 – Hey, remember when I wrote how I wouldn't make fun of Coach K's AmEx ads because he was donating the profits to charity? Well, some North Carolina fans reminded me of something – even if he's doing the ads for free, you couldn't ask for better propaganda for recruiting purposes, could you? It's almost like a presidential candidate being the only one allowed to broadcast national commercials. Just a devious move by Coach K. I want you to develop as a player. I want you to develop as a student. I want you to develop as a human being. And I want to show you how I can avoid some NCAA recruiting rules.
9:45 – Put it this way: Kay Corleone was more assertive in "The Godfather" than Prince has been in this series. What a disappointment.
9:47 – Here's why the Spurs are a great team: They just survived a first quarter in which their best perimeter guy was injured and Ben Wallace was on pace for a quadruple-triple – on the road, in a must-win game for the other team – and yet they're leading by two. As James Lipton would say, "Well done, my friend."
9:50 – "You take a hit now … you feel it break down … make you stay wide awake … this is how a heart breaks!"
(Is it running through your head yet? I'm going to keep trying. Just wait.)
9:52 – An alley-oop to Prince pulls Detroit within two and wakes the crowd up. I think it's time for another Jay Leno joke. Ready? "Did you hear Rip Hamilton signed a clothing deal for the NBA Finals? That's right, he's wearing Bruce Bowen." Thank you, thank you. Stick around, we'll be right back with Matt LeBlanc!
9:53 – Crawford whistles Duncan for a technical after botching a foul call. I'm 60 percent sure that's actually Dick Bavetta wearing Crawford's face, kind of like the scene in "Silence of the Lambs" when Hannibal Lecter escapes wearing the security guard's face. If they find Crawford's body bleeding from the trap door of an elevator tonight, don't say I didn't warn you.
10:01 – With the Pistons leading by one, Billups passes up an easy three-on-one for a pull-up 3 that missed. I think he's trying to kill Hubie Brown. Seriously. Two more of those and Hubie is going to keel over on live TV.
10:07 – Does it get any dumber than the "These 2005 Finals are being broadcast in 45 languages over 105 different countries, and just in case you don't believe us, here's some live action with two French guys doing the play-by-play" gimmick? What's my reaction supposed to be? Yup, those guys are speaking French all right. They weren't kidding.
10:08 – We see a somber David Stern sitting in the stands with a "Screw this game, I'm going to crush the players' union this summer, that's all I can think about," look on his face. He's the best.