No. 53
2003: A decade of Portland grabbing the Best Head Case Available (Erick Barkley, Zach Randolph, Qyntel Woods) crests when the Blazers select somebody named "Outlaw" (high schooler Travis Outlaw) with the 18th pick. That pick was so inevitable, even Tom Tolbert had a joke ready for it.
No. 52
2001: The Bulls take Eddy Curry at No. 4, leading to TNT guest analyst Rick Pitino congratulating Bulls GM Jerry Krause on a successful bluff (making everyone think the Bulls wanted Pau Gasol). Now that's the kiss of death – getting complimented on a front-office move by Pitino. Somebody should have immediately thrown a black cat on the stage.
No. 51
2000: Craig Sager interviews new Chicago pick Jamal Crawford, his father (Clyde) and baby son (Eric, who's completely unintelligible). It's three generations of Crawfords! By the way, you know the NBA draft is happening when somebody named "Clyde" is being interviewed.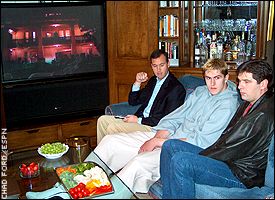 Darko and his agents Marc Cornstein and Semi Pajovic -- the NBA triple threat.
No. 50
2003: Darko Milicic goes second, followed by him kissing a bunch of Serbian men on both sides of the cheek in succession and my buddy House screaming, "We just saw more kisses than the average episode of 'Queer As Folk!' " During the montage of Darko highlights, House follows that with, "Look at the guys he's playing against – I think he just posted up Scotty Thurman!" Poor House hadn't been that riled up since HBO canceled "G-String Divas." Not an auspicious start to the Darko Era.
No. 49
2000: The Green Room Watch finally ends as the Suns take 7-foot-2 Greek center Jake Tsakalidis at No. 25 (the last guy in the Green Room who hadn't been picked, only because he was having trouble getting out of his European contract). That leads to this exchange: –
Sager
: What's your (contract) status?
–
Translator
: (Doesn't speak for some reason)
–
Tsakalidis
: Ehh, ahhh, rsxcdsrs no contract, no, jhdgssfsa fine, ahhh. Errr.
–
Sager
: So you're saying you can play for the Suns next year?
–
Tsakalidis
: Ahhhh … I play. Mrrteggwgs. Next year. Grrsfsfsf. Ahhh. Errrrr.
–
Translator
: Cheeseburger cheeseburger cheeseburger.
No. 48
1999: Looking for the best white guy available, Golden State takes Jeff Foster at No. 20. Majerus sums it up best by saying, "He's not gonna come in right away and impact the Warriors in any way, shape or form."
No. 47
2001: Stern announces No. 26 pick Samuel Dalembert being selected by the Sixers, followed by Dalembert suddenly and inexplicably hopping out of the stands to shake hands with a clearly terrified Stern. These are the things that happen when you get rid of the Green Room. (Note: Over the next three years, a growing collection of uninvited picks end up pulling a Dalembert, highlighted by Sasha Vujacic emerging from the stands and nearly getting gunned down by security.)
No. 46
1999: TNT's John Thompson utters the phrase "He should have stayed in school" 15 times in the course of one night. Of course, the same could be said about John Thompson.
No. 45
2004: Before the draft even starts, Bilas describes Dwight Howard as "very ball friendly" and announces he has graded potential draftees in a number of categories from 1 to 5, including "Intangibles," prompting my buddy Jacko to wonder, "How do you rank intangibles from 1 to 5? Intangibles are the great unknown. And yet he ranks them. Is he clairvoyant?"