Onto the Top 40 …
Group H: "Cost-effective Building Blocks"
(Important note: Because of their potential, their teams wouldn't trade the next four guys in any realistic deal, but it would also be stupid to pretend that they're more valuable than the next 37 guys on the list. That's why we're sticking them here.)
40. Ben Gordon – Andrew Toney, The Sequel.
39. Kirk Hinrich – A mortal lock for the Token White Guy starting spot on the 2006 World Championships team.
38. Andre Iguodala – Untouchable for the Sixers.
37. Al Jefferson – Ditto for the Celtics.
Group H: "We're always willing to talk"
36. Tony Parker – Starts a six-year, $70 million extension next season, which seems steep for a point guard who doesn't create shots for his big men, and clearly had the yips in Game 7. But they seem pretty comfortable with him – he's the most likable import from France since the Rougeau Brothers.
(Although listening to sportswriters in their 40s and 50s drooling over Eva Longoria in the stands was enough to make anyone nauseous. If I'm doing that 10 years from now, you have permission to shoot me in the head at point-blank range. I'm not kidding. Actually, if I'm still writing this column 10 years from now, you have permission to shoot me in the head at point-blank range.)
35. Vince Carter – The good news: VC averaged close to 29 points per game, six rebounds per game and five assists per game after the All-Star Break and seems sufficiently recovered from his scarring Toronto experience (in which the Raptors and their fans unrealistically expected him to play hard every night when he was making $14 million a year). The bad news: He reverted to 2002-04 Vince in the Miami series, to the point that TNT producers probably considered cutting Barkley's microphone off because you could tell he was just dying to describe Vince with a certain five-letter word that wouldn't have been very nice.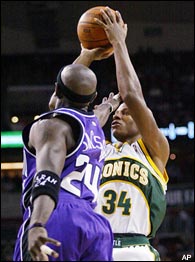 Ray saying he was playing to win and not for a big contract was his greatest performance since the Jesus Shuttlesworth days.
Here's the smoking gun with Vince: Would he have lasted two quarters in that Spurs-Pistons series (on either team) before checking into full-scale "Not going with 25 feet of the basket/only launching 3s/spending the fourth quarter on the bench with a white towel over his head" mode? Of course not. And since that's the direction basketball is going – for better or worse – "star players" like VC and Francis are useless for anyone hoping to win a championship. They're just not tough enough.
34. Ray Allen – Coming off a contract, career year. And he's already 30. But after watching some of those playoff games he had … I mean, are there 15 players that can have a bigger impact on a single game than Ray Allen?
33. Zach Randolph – After signing a gargantuan extension and subsequently sticking a 37-cent stamp on the season, Randolph should only be making top-40s for lists like "Most Likely To Get His GM Fired" and "Most Likely To Launch the First-Ever 'Should He Still Count Against the Cap If He's Serving Five-to-10?' Debate." But how many reliable low-post guys are there under 25? And what if the FDA green lights a new form of medication for semi-crazy power forwards who should be twice as productive as they actually are? We're keeping him on the list for one more year (but that's it).