Commentary
Choke or comeback? Diary decides
Game 4 of the 2009 NBA Finals: Phenomenal comeback or one of the five greatest choke jobs in NBA history? There's only one way to find out: the retro diary. Let's join the broadcast with the Lakers leading Orlando 67-63, heading into the fourth.
12:00: Doris Burke interviews a shellshocked Stan Van Gundy, who just watched his team get outscored 30-14 in the third, but he somehow manages to be congenial. Doris doesn't ask the question I would have asked: "Stan, is Rashard Lewis dead or in a coma?"
(I have to come clean: I'm going to miss SVG. He has been in my life every two days for the last two months. I'm going to miss his goofy outfits and hairdos. I'm going to miss the Ron Jeremy jokes. I'm going to miss the way he subtly throws players under the bus in postgame interviews. I'm going to miss seeing his point guards snap at him. I'm going to miss wondering why Player X is playing instead of Player Y. Most of all, I'm going to miss the way he stares straight ahead during the pregame intros like he's sitting on the subway next to someone with horrible B.O. and all he can think about getting off at the next stop. I'll miss that the most.)
11:00: Mark Jackson wonders why Rafer Alston isn't playing instead of Jameer Nelson, who's rustier than Clark Griswold's son and clearly afraid to shoot. This lines up with the 27 texts that Jason Whitlock sent me about the same topic during this stretch. My answer: I don't have an answer.
(Note: Whitlock e-mailed me this morning to make sure I was writing a column about SVG's historically awful performance in Game 4. I assured him that I was. His response: "Thank you, you are doing God's work today. Thank you." Stan Van Gundy everybody! We haven't even gotten started yet.)
10:38: Michael Pietrus gets fouled on a drive and inadvertently whacks Pau Gasol in the face. I mention this only because it's fun to write the words, "inadvertently whacks Pau Gasol in the face." I wish this happened more often.
10:38: Questions that have never been asked in the history of mankind, Vol. 453: "Crap, my cell phone ran out of juice. Would you mind texting in my vote for the Finals Player of the Game?"
9:08: Dwight Howard and Gasol make the mistake of banging for position down low. WE CAN'T HAVE THAT! STOP TOUCHING! Offensive foul on Howard. We're like 13 years away from the NBA going to women's lacrosse rules.
8:43: Is anyone else secretly excited for the upcoming ABC drama "Flash Forward," in which seven billion people black out for 2 minutes, 17 seconds? And is Stan Van Gundy giving us a preview of that show by not reinserting Rafer Alston into this game?
8:32: Seventh turnover for Howard. He has been stripped more times in the Finals than an abandoned 1989 Jetta. All right, that joke bombed. But have you ever seen a better athlete with worse low-post moves? Er, move? He's like a jukebox with one song -- and in this case, the song is, "I'm going to turn right, bring the ball down low, take a dribble, put my shoulder into my guy and shoot a jumphook." I think the Lakers know it's coming, Dwight. No offense.
7:24: With the game slipping away, Pietrus makes a monster 3-pointer ... and Kobe responds with an absolutely outrageous 22-footer. Lakers by five. Do you realize Kobe is averaging 30-35 a night in this series just on contested jumpers? More on this in a second.
6:40: Gasol gets whistled for a dubious moving pick, prompting me to bring back the Subway Fresh Take Hot Line Dubious Foul Call Scoreboard! It's Lakers 1, Orlando 0. Awful. (This seems a good time to mention that two of our refs tonight are Bennett "The 2006 Finals MVP" Salvatore and Scott "Please Don't Google My Name With The Words 'Tim Donaghy' and 'Phone Calls'" Foster. I give up.) That's followed by Howard drawing a foul and making both freebies, ruining my plans to change his nickname from "Superman" to "One of Two." Lakers by a deuce.
5:37: Howard grabs his 19th rebound and tosses an outlet to Pietrus, who drives toward the basket, draws contact from Kobe, makes a tough layup and earns a giddy "And the foul! Magic tie the game!" call from Mike Breen. Best moment of the night so far. Timeout.
5:37: Stamford, Conn., reader Steven M. Crowley sent along this "Great Moments In Counter Programming History" e-mail of HBO's prime-time lineup for Thursday night:
HBO: "Baby Mama"
HBO2: "Sisterhood of Traveling Pants 2"
HBO Signature: "Welcome Home Roscoe Jenkins"
HBO West: "X-Men"
HBO2 West: "Divine Secrets of the Ya Ya Sisterhood"
HBO Family East: "No Reservations"
HBO Family West: "Nancy Drew"
HBO Latino: "Baby Mama in Spanish"
Now THAT, my friends, is some counter-programming!
5:37: Speaking of movies, if the game plan by the "Year One" producers was, "Let's use the NBA Finals to turn basketball fans against not just our movie, but Jack Black and Michael Cera as well," then I'd like to congratulate them on a job well done. Kudos, fellas.
5:15: Goaltending on Howard, Lakers by one. Also, SVG has apparently decided, "I'm playing Courtney Lee seven minutes tonight and playing Jameer instead of Rafer for the entire fourth quarter in a last-ditch attempt to force my brother to criticize me on national TV." Didn't work.
5:05: Hedo Turkoglu (an 83 percent FT shooter during the regular season and playoffs to this point) bricks two free throws. And with that, one of the greatest chokes in NBA Finals history begins.
3:54: Kobe makes a contested 13-footer, Howard dunks a pretty pass from Nelson, Kobe gets blocked on a drive, then Lewis misses a WIDE-OPEN 3-pointer. Oooooof. He has three points through 44 minutes as every Seattle fan is screaming, "See! See!!!!!! I knew it! I knew he'd show his true colors!"
3:24: Kobe bricks a wide-open 3, followed by Hedo barreling down the lane and drawing a foul. ... And he makes one of two. It's getting harder and harder for Magic players to shoot these free throws with their own hands wrapped around their necks. Tie game. By the way, SVG's arms have been crossed for so long that you could call it his "Strait Jacket Pose."
3:04: Another awful offensive possession (Fisher getting stuffed by Howard) leads to a fastbreak chance and a three-point play by Howard. Can we all agree to stop pretending the Lakers run a triangle all the time? They've been going with the "everyone stand around and watch Kobe either go one-on-four or run a high screen with Gasol" offense for this entire quarter. Not exactly Tex Winter's dream.
By the way, a memorable Game 4 for Howard on a number of levels: Beyond finishing with a Russell-like 21 rebounds and nine blocks, I just thought he played his butt off. Inspired effort. He's not accomplished enough offensively yet to dominate games on both ends like Hakeem, Robinson, Shaq, Kareem and other top centers of that caliber. Can he get there? I don't know. But only in the past three weeks did I start thinking, "You know what? He might get there. I wouldn't rule it out." Now if we can only find him a low-post move or three.
2:35: Look, I know everyone's going to remember Game 4 as either The Other Derek Fisher Game or The Other Orlando Mega-Choke. And you should. But please, don't forget the GIGANTIC 3-pointer that Trevor Ariza hit -- during the tail end of a broken play, with the shot clock winding down -- to tie this game when Orlando had all the momentum. In fact, I'd say he was L.A.'s best player in Game 4: 16 points, nine rebounds, two steals, quality defense and 44 minutes of "all over the place" mode. Ariza made himself a ton of money this spring. He really did.
(Follow-up: My big question for the 2009 Lakers was, "How can they win a title with such enormous holes at point and swing? Well, Fisher came through Thursday night and Ariza has come through all series. There you go. And in the irony of ironies, Orlando gave Ariza to the Lakers last season in one of the secretly dumbest trades of the decade. Ouch.)
2:11: Hedo drains his trademark "how can you forget that I live for the stepback crunch-time 3?" 3 and does his silly half-tongue wag smile after. (Crap, there goes another HD tuner. I've gone through 27 in the playoffs. I can expense that, right?) He has made at least 15 of those in the 2009 playoffs. I'm not kidding. Fifteen minimum. Orlando by three. Great game.
1:34: After Howard swallows up a Gasol low-post move and tips the block to himself (Bill Russell lives!), Hedo makes an awkward runner on the other end. Magic by five, crowd going bonkers. And I gotta tell you, at this point, I would have bet anything on Orlando taking this game. L.A. looked done. Rattled. Finished. Splintered.
1:14: Kobe waves his teammates away, goes one-on-five, drives into the lane and draws a block on Nelson. No free throws because Orlando isn't even in the penalty yet. Why? Because the Magic have been getting every call for four quarters. (See Lakers fans? And you thought I wouldn't mention this.) In fact, over a 16:53 stretch from the fourth quarter until the last three seconds of overtime, Orlando attempted 18 free throws and L.A. attempted zero. Zero!!!! How is that possible? That stat alone makes me wonder if Game 4 was more of a "greatest comeback" than a "greatest choke." But we're getting ahead of ourselves.
1:02: Kobe clangs another horrendous shot (a contested 28-foot 3-pointer). Orlando gets the rebound. Quick recap of Kobe's fourth quarter, because he's going to win the Finals MVP and it can't be forgotten how bad he was from the second half of Game 3 (3-for-14) through the one-minute mark of Game 4 (9-for-26 to this point): Turnover; contested jumper (make); contested jumper (miss); contested drive (miss); contested jumper (make); contested drive (blocked), wide-open 3 (miss); contested drive (bad pass, recovered by L.A.); contested drive (draws blocking foul); contested 3 (miss).
We saw him do it in the 2004 and 2008 Finals; we're seeing it now. As soon as he can smell that trophy, he goes into Get Out of My Way, Let Me Do It Mode.
2004 Finals (five games): 113 FGA, 25 FTA, 38.0 FG percent
2008 Finals (six games): 131 FGA, 49 FTA, 40.5 FG percent
2009 Finals (four games): 112 FGA, 36 FTA, 42.9 FG percent

What's really strange: Nobody has ever won an NBA title with a best player in Get Out Of My Way, Let Me Do It Mode if he didn't play well. It's just never happened. So basically, I don't know what to make of the 2009 Finals. It has nothing in common with anything that has ever happened before. My theory: because of the economy, nobody improved their team at the trading deadline and strengthened whatever holes they had, so we just ended up with a bunch of flawed contenders. Just one of those years. Opened the door for ... this.
0:39: Lewis misses a wide-open 16-footer. Repeat: Wide-open. Wow. I feel like I'm watching video of Game 6 of the 1986 World Series right now. It's starting to take that same shape. That was definitely the Gary Carter single.
0:31: Off the Lewis miss, Kobe pushes the ball hoping for a two-for-one, spins in the lane, seems like he's out of control, tosses a seemingly dumb no-look pass behind him, only HERE COMES GASOL for the trailing layup. Really well done. Only one current player has the smarts, talent and wherewithal to make that play. A game-saver. Magic by three. One of the best plays of Kobe's career, hands down. Huge. Clutch. That was the Kevin Mitchell single.
0:11: Perfect high screen by Hedo and Howard, with Howard rolling and Hedo finding him for what would have been a dunk if Kobe didn't shrewdly clobber him. And that leads to ... brick ... brick. (The Ray Knight single.) Good golly. You know what's sad? Didn't you know Howard was missing both? I would have bet anything. Will there be residual effects? Will this follow him for the rest of his career? And how weird is it that this happened to the Orlando Magic, of all franchises????
(Good question from Julio in Orlando: "Why did our crowd chant M-V-P when Howard had to make the two biggest free throws of his career? Really? More pressure is needed on a 50 percent free-throw shooter??? AHHH!!!!!!!! Is that one of the biggest 'shot yourself in the foot' fan moments of recent sports?" It's up there. I would have gone with the dead-silent approach.)
0:10.8: If you ever watch this game on ESPN Classic, or if you have it on your DVR, make sure you watch the part when the broadcast team is talking to the camera coming out of the timeout and two blondes are behind them making faces and trying to get on TV, and then, like an act of God, one of them leans back to sit down, tumbles backwards and falls right out of the picture. An all-time comedy classic! And a really bad omen for what would happen next.
0:10.8: OK, so let's talk about all the ways Stan Van Gundy screwed up these final 11 seconds. First, he pressured the inbounds pass instead of hanging back and putting his defenders outside the 3-point line; this enabled the Lakers to get a modified transition look that they never should have had. Second, you have to foul. Actually, this gets its own slew of paragraphs.
You have to foul. You have to foul. You have to foul. You have to foul. You have to foul. You have to foul. You have to foul. You have to foul. You have to foul. You have to foul. You have to foul. You have to foul. You have to foul. You have to foul. You have to foul. You have to foul. You have to foul. You have to foul. You have to foul. You have to foul. You have to foul. You have to foul. You have to foul. You have to foul. You have to foul.
You have to foul. You have to foul. You have to foul. You have to foul.
You have to foul. You have to foul. You have to foul. You have to foul. You have to foul. You have to foul. You have to foul. You have to foul. You have to foul. You have to foul. You have to foul. You have to foul. You have to foul. You have to foul.
You ...
Have ...
To ...
Foul.
I know SVG made the "I didn't want to get into a free-throw shooting contest with them when we were bricking free throws" case afterward, but how many times do we have to watch a team blow a game this way: 200, 300? Give me a number. I can't take it anymore. And third, why was 5-foot-10 Nelson guarding Fisher? Hell, I'd rather have an ice-cold Courtney Lee out there (Orlando's best defensive guard by a mile) instead of someone Fisher could shoot over? Right? Right? RIGHT????? My head hurts.
0:04.6: Fisher does his Big Shot Rob impression with copious amounts of help from Nelson, who makes the inexplicable decision to stand 22 feet from the basket instead of 25, allowing Fisher to lock and load a 3 and fire it over him. That's a top-five brainfart in Finals history along with these beauties: Rasheed Wallace leaving Big Shot Rob open for Game 5-tying 3 (2005); James Worthy's floating pass that Gerald Henderson picked off to save Game 2 (1984); Karl Malone getting stripped by Michael Jordan on the decisive sequence in Game 6 (1998); and a fifth one that I'm sure I forgot. This was the Bob Stanley wild pitch -- tied the game, swung all the karma and insured disaster. Even if the game wasn't over yet. Can't believe he gave Fisher four feet of space. Can't believe it. Haunting.
0:00: Orlando runs two ghastly out-of-bounds plays (swallowed up by L.A.), spends two timeouts, then ends up with an off-balance jumper from Pietrus with Lewis wide-open in the corner and Howard posting up Kobe (that's right, Kobe) down low. Clang. That just couldn't have been worse. I mean, 4.6 seconds is a decent chunk of time. That's the best you can do? Thank God I didn't wager on this game. I think I would have ended up microwaving our new puppy or something. It would have ended badly.
0:00: Before I forget, I really enjoyed this e-mail from Zack in NYC:
"Here's my retro running diary of Game 4:
"12:00-00:04.6, fourth quarter: I can't believe Jameer Nelson is in the game instead of Rafer Alston.
"00:04.6(fourth)-00:00 of overtime: I can't believe Jameer Nelson was allowed to lose the game instead of Rafer Alston."
5:00 remaining (OT): A glazed Magic team shuffles back on the floor wearing black patches on their jerseys in honor of the late Rashard Lewis, who died two hours ago. Wait, there he is! He's not dead? I'm so confused.
(FYI: On the Awkward Scale right now, Jeff Van Gundy announcing as his brother submits one of the worst-coached fourth quarters in Finals history ranks at least a 9.8. This is like having Jeb Bush providing live play-by-play for George W. Bush's reading of "My Pet Goat.")
4:33: Lewis drains a contested 3 at the end of the shot clock. ... He's alive! He's alive! My God, Rashard Lewis is alive!!!!! Is it a bad sign for Orlando's Game 4 hopes that we're in the first minute of OT and Lewis just doubled his point total?
4:13: Sweet pull-up jumper by Kobe, ugly miss off a spin move by Howard, contested 20-footer made by Kobe. Lakers by one. Two big-time offensive plays by No. 24. By the way, the Lakers are running the rectangle right now -- four guys in a rectangle watching Kobe. It had to be said.
1:57: Just a yucky extended sequence here: Steal by the Lakers (another bad Orlando possession); missed floater by Kobe (rectangle offense again); Hedo passes up a wide-open 3 (even the Mr. Clutch of Turkey looks nervous now); Howard misses a 4-footer in traffic; offensive rebound by Orlando; Lewis misses a drive (superb defense by L.A.); Howard yanks Gasol's jersey on the rebound and somehow doesn't get whistled (SFTHLDFC Scoreboard: Lakers 2, Orlando 0); and Kobe airballs a contested jumper that looked like a Pietrus touch foul (SFTHLDFC Scoreboard: Lakers 3, Orlando 0). Let's edit out that last two minutes from the ESPN Classic replay. I never want to see it again.
1:27: Hedo misses a runner but Orlando gets bailed out by a putrid loose ball foul on Fisher, who lightly shoved Howard on the rebound as Howard was shoving Gasol to the ground. (SFTHLDFC Scoreboard: Lakers 4, Orlando 0.) Terrible. Come on. Of course, Howard makes one of two. (Fifteen FT misses for Orlando to this point. Staggering.) Tie game.
1:01: Ariza misses a desperation runner, the ball bounces around, and Ariza grabs the rebound even though he was coming out of bounds. Um, that's illegal. No call even with a ref standing five feet away watching it. (SFTHLDFC Scoreboard: Lakers 4, Orlando 1.) Either we need to go back to two referees, or we need to go to nine and cover every quadrant of the court. But three ain't working. I can tell you that much. Timeout, Lakers.
1:01: Expect hustle. Expect skills. Expect swish. Expect fun. Expect great. And also, expect the NBA owners to say, "Um, David? We're all losing money. We don't want to fund this thing anymore. No offense."
0:31: Kobe bricks a fallaway jumper in traffic with 17 guys on him; unfortunately for the Magic, Nelson hooks Gasol's arm while boxing him out for the rebound. Lakers ball. That's followed by Kobe trying to post up Pietrus on the high post, Nelson coming over to double-team him, Kobe swinging around and nailing Nelson with a Macho Man Savage-esque elbow to the face (no call), Nelson going down in a heap (SFTHLDFC Scoreboard: Lakers 4, Orlando 2), Kobe finding Fisher at the top of the key ... bang!!!!! Lakers by three. It's like Robert Horry is controlling Fisher's character in a video game right now. By the way, that was the Buckner error. The Game 6 circle is complete.
You know what? I'd be more angry about the no-call on the elbow if the Lakers hadn't gotten screwed by calls all game. With that said ... that was like the Jordan/Russell shove in that an illegal play should have been called (and wasn't), and that play partially decided the game. Which always sucks. On the other hand, Fisher made the two biggest shots of this game and nobody on Orlando stepped up. Howard's last field goal came at the 11:12 mark of the third quarter. Orlando made one field goal in the last 6:30 of the game (including OT). Turkoglu went scoreless in the last 6:30. Lewis scored six points and missed eight of 10 shots. The free-throw disparity was so obnoxious that Orlando missed as many freebies as L.A. made. Did the Magic do anything to WIN this game? No. The Lakers fought for it and they deserved it. Period.
(Eddie from L.A. summed this up nicely: "Derek Fisher to Laker fans is what Dave Roberts is to Red Sox fans. I cannot describe him in any other way that you can understand what he means to us." Got it. Well-said.)
0:31: There's comedy, there's high comedy, and then there's the broadcast crew trying to figure out how to discuss Kobe's elbow on Nelson without just saying, "MY GOD, HOW CAN THEY NOT CALL THAT??????? WHAT THE HELL?????? THIS IS A TRAVESTY!!!!!!!!!!!"
(Got this e-mail from Scott in Vancouver right after the game: "Just finished watching with my dad. Game ends and he says, 'Those referees are a bunch of turds. It's ruining the game.' My dad is 62, I don't think I've ever heard him use the word 'turd,' never mind call someone that. What more needs to happen for something to give here?" I don't know. I don't know.)
0:21: Yet another awful play coming out of a timeout results in Hedo missing an off-balance 3 and Howard tipping the rebound back to -- uh-oh -- he tipped it to Gasol for a game-ending dunk and a round of chest bumps. Game over.
Our final score: Lakers 99, Magic 91. Or as anyone who wagered on the Magic called it, "The single worst loss of my gambling career." Thank God I'm not one of them. If we learned anything tonight, it's this: You might not want the most identifiable player (in this case, Nick Anderson) from the biggest choke in your franchise's history to be involved in the single biggest Finals game in your franchise's history. Lest history repeat itself. Which really, it kind of did. Funny how sports work that way.
So what's the final verdict? I'm going with a 55/45 split: 55 percent "gutty/gritty comeback" by the Lakers, and 45 percent "monumental, colossal choke job that was almost bigger than all of us" by the Magic. Just remember to credit the Lakers, a slightly flawed team that showed a lot more toughness than many of us (including me) thought they had. They are going to win the 2009 NBA title. And that's that.
Bill Simmons is a columnist for Page 2 and ESPN The Magazine. For every Simmons column, as well as podcasts, videos, favorite links and more, check out the revamped Sports Guy's World.

NBA Playoffs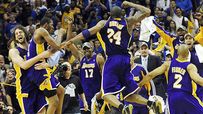 TODAY'S BEST
MORE ON THE PLAYOFFS