By Bill Simmons
Page 2
You probably noticed the trailer for the animated series by now, which premieres on next Wednesday on ESPN.com and then runs for the next 12 Thursdays. I don't want to give anything away here, other than that we spent an inordinate amount of time working on this project over the past few months. John Papanek and I came up with the idea; I created the characters and wrote the cartoons; a company called Funny Garbage (of "Crank Yankers" fame) did the animation. Please reserve your final judgements until you watch a few of them. That's all I'm asking.
I spent yesterday afternoon watching an advance copy of MLB's official 2004 World Series DVD, which arrives in stores next week and definitely should have been called "Hell Freezes Over." If you're a Red Sox fan, it's a fantastic way to spend two hours. Obviously. I wish they hadn't spent so much time rehashing the Curse stuff and more time showing clips from the season, and they spent too much time on the World Series games and not enough time on the Yankees series ... but overall, it was still the highlight of my month.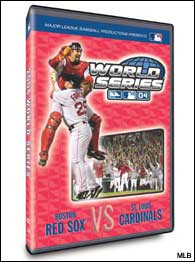 Everyday is October with the Red Sox DVD in hand.
Some of the moments that stood out for me:
Schilling giving his "To the best Red Sox team EVER!" toast after they won the World Series, with everyone screaming and pouring champagne on one another. That's right up there with "For Granny, for Nate ... for Caretaker," "You're the best ballplayer I ever had ... and you're the best (expletive) hitter I've ever seen" and "I love you guys" in my book. What a moment.
On the DVD extras, there's an extended clip of Kevin Millar before Game 4 of the ALCs, telling everyone who will listen that they're still in this thing - variation after variation of the "If we win today, we have Pedro going tomorrow, and Schill in Game 6, and then anything can happen in a Game 7" routine. It's incredible to watch after the fact. At least until you remember that he's completely insane.
Also on the DVD extras, an extended clip of Timlin and Embree shooting the shiznit in the outfield before the Yankee series. Beyond goofy. I'm at least 80% positive that Timlin also played Jame Gumb in "Silence of the Lambs."
Every scene with Orlando Cabrera. He's the breakout comedy star of this thing, like a Colombian version of Flava Flav. I went from hoping the Sox would re-sign him to praying that they would re-sign him AND give him his own reality show.
The post-World Series celebration is fantastic -- from Schilling pouring beer on Johnny Pesky, to Cabrera bringing the trophy back onto the field for the Sox fans who stuck around in St. Louis, to everyone waiting at Logan Airport for the boys to return home. It almost got a little dusty in the Sports Guy Mansion a few times. Almost. They did a really nice job with this part.
Every scene from every champagne celebration. I think this should be its own DVD: "Best Champagne Celebrations." I think this is the real reason we're all so jealous of athletes - no other walk of life offers the chance to prevail in something, then spend the next hour with your buddies spraying champagne on each other and acting like idiots. We should be able to bid on this on eBay.
During the season recap, there's a surreal Nomar montage with Nomar posing in various parts of Fenway, followed by the narrator saying something like "There was one order of business left: The trading of a Boston icon." The camera angles put the weight of that trade in perspective ... it's hard to explain. You have to see it.

Note: Apparently the Red Sox have their own DVD coming out as well -- I'm hoping that one features more clips from the season and the other two playoff series. But this wasn't a bad start.

Additional note: When I was watching the DVD, I couldn't help but compare it to some of my favorite Celtics shows from the 80's, back when NBA Entertainment would produce those elaborate season recaps for the champion every season. Recently they released a DVD set called "Ultimate Celtics," which features complete telecasts of 7 of the great games in Celtics history, as well as a number of documentaries and shows about the team ... including their four "recap" shows from the 80's. When I plowed through the DVD last week, I was delighted to find my favorite NBA Entertainment moment of all-time -- from the '87 recap, when a banged-up Celtics team limps into a seventh game against the hated Pistons.

Here's what happens: Out of nowhere, they start showing scenes of Boston and the empty Garden, interspersed with Johnny Most's play-by-play and the instrumental beginning of Elton's John song "Funeral for a Friend." And it keeps going... and it keeps going ... and the narrator is rambling about the heart of the team ... and the game starts just as the piano part of the song kicks in...and everything leads to a minute-long sequence in the fourth quarter, the key sequence of the game, when the Celts missed something like 6 shots and kept crashing the offensive boards, culminating in Ainge's back-breaking three as the song crests. I'm telling you, it's an amazing piece of work. My favorite moment in any of these shows.

Seventeen years later, it still holds up. And as much as I enjoyed this Red Sox DVD, there wasn't a single moment in there that totally stood out for me like that. Look, those World Series games were great. No question about it. But fifty years from now, I'll be telling my grandkids about those four Yankee games ... and the DVD didn't totally capture them. There was a "Funeral for a Friend"-style moment in there somewhere. They just didn't make it happen.

With that said, I'm still planning on watching the DVD at least 25 more times this winter. My final rating? 33 out of 10.
---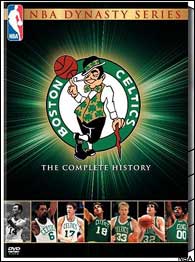 "And there's a steal by Bird! Underneath to D.J. and he lays it in!"
As for the NBA Dynasty Series -- Boston Celtics -- The Complete History DVD set, this was the third of the series they released -- the Lakers and Bulls came first. All of them are worth having if you're a hardcore NBA fan, between the season recap shows and the unedited games. For instance, the Celtics DVD has the following shows:
Two documentaries about the glory years called "Celtics Dynasty" and "A Tradition of Greatness."
A half-hour recap of the '74 title season narrated by Johnny Most, including two goofy Bradlees's ads with Cowens, Havlicek and Nelson that look like an SNL skit.
An extended documentary about the 1976 Triple-OT game against Phoenix, plus a shorter documentary about the Celtics-Lakers rivalry.
Four of their season recap shows from the 80's: 1981, 1984, 1986 and 1987. That's a whole other column. Just having these on DVD was worth the price for me. It's like my whole childhood springing back to life.
Seven complete games: The fourth quarter of Game 7 of the '69 Lakers series, including post-game ... the '76 Triple-OT game against Phoenix (widely considered the best game ever) ... Game 7 of the 1981 series against Philly (which I always considered the most physical game of that decade) ... Game 4 of the '84 Finals (I wrote a whole column about that game once) ... Game 7 of the '84 Finals ... Game 4 of the '86 Finals (underrated game) ... and Game 5 of the '87 series against Detroit (Bird steals the ball).

That's five DVD's and 10 sides in all. And it's coming on the heels of the re-release of "Larry Bird, A Basketball Legend," which features the memorable documentary about him from 1991 (the one where Xavier McDaniel was nominated for a "Best Supporting Actor" Oscar), as well as three complete games: The 60-point game against the Hawks; the shootout with 'Nique and the Hawks in 1988; and the 49-point "Last Hurrah" game against the Blazers in '92.

I have a personal stake with these elaborate NBA DVDs, if only because they'll keep making them if we keep buying them. The Pistons deserve one. So do the Sixers, Rockets and Suns. Maybe even the Blazers -- no team was involved in more crazy games over the past 13 years than them. You could make a case for the Knicks as well, as long as there wasn't too much from the Riley-Ewing Era on there. They could even go in another direction and have "Ultimate Years" -- the best playoff games from specific seasons, plus the recap show. I'd love to see an "Ultimate ABA" DVD. And I've been pushing for a "Ultimate Adelman" DVD for some time.

But I do think they tapped into something here. Think about it ... the Sports Gal just spent fifty bucks on "The OC: Season One" DVD and plowed through those seven discs in about five days. For TV shows, the market has been established -- you can buy the first season from just about anything at this point. So why aren't these multiple-DVD sets being made for sports? Why couldn't I purchase a 11-disc Red Sox DVD featuring the unedited telecasts of all 11 wins from the 2004 Red Sox playoff run? Or a 12-disc set featuring the 24 best Larry Bird games of all-time?

I have a feeling that the marketplace is headed this way. Or maybe I'm just naive. In the mean time, here are my final ratings:

NBA Dynasty Series -- Boston Celtics -- The Complete History: 25 out of 10.

Larry Bird, A Basketbal Legend (25th Anniversary Edition): 13 out of 10 (only because they should have added 12 games instead of 3).

Bill Simmons is a columnist for Page 2 and ESPN The Magazine. His Sports Guy's World site is updated every day Monday through Friday.