By Bill Simmons
Page 2
Some SGW maintenance on a Wednesday afternoon ...
As you probably noticed, my publishing schedule has been more erratic than Bobby Brown lately. Because I'm juggling columns with two other ESPN projects on the side -- neither of which I'm allowed to discuss yet -- there are going to be times when everything collides (which is what's been happening recently, especially since I've been travelling for the past week). We're also still trying to figure out the best way to make this site work, whether it's daily updates (less likley) or 2-3 columns a week with some smaller stuff (more likely).
Four things to report: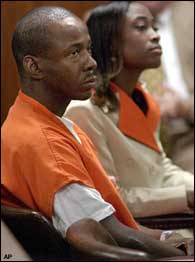 The Sports Guy isn't quite ready to fill Bobby Brown's orange jumpsuit.
1. We finally have a full-time editor for the SGW Page: Holy Cross grad Mike Philbrick (known from here forward as the Brick). Eventually we can start posting smaller stuff every day, mini-features like "The Gut Feeling Du 'Jour," "Reader Rants," "What I'm Watching," "What's My Beef?" and "BS Exposed." We're also thinking about turning the Intern's Weekly Links into a daily thing (or at least 3X a week). And we have a few other things in store. Anyway, we're revamping the page within the next few weeks. As I've mentioned many times, this is a work in progress.
2. Starting this week, we're hoping to update the SGW Page by 3:30 p.m. EST every afternoon. If I'm not writing a column that day, we'll post something in the header at the top of the site, just one line along the lines of "Next column coming tomorrow afternoon."
3. Some of you have been asking why the "E-mail the Sports Guy" link hasn't been on the page lately. The problem is that I've been about 1000 e-mails behind for the past few weeks, mainly because I've been working on the weekends with those aforementioned "other projects," so I haven't been able to bang through the e-mails. Every time I have a chance to make a dent in them, they pile up again. Eventually I'm going to catch up -- I promise -- but if you haven't gotten a response for any pressing questions lately, please don't take it personally.
4. In case you missed it, we set up three G-Mail accounts for the Intern:
Suggestions for daily quotes: sgdailyquote@gmail.com
Suggestions for weekly links: sgweeklylinks@gmail.com
If you just feel like venting: sgreaderrants@gmail.com
Again, everything should be hashed out in the next 2-3 weeks. Thanks for your patience.
Bill Simmons is a columnist for Page 2 and ESPN The Magazine. His Sports Guy's World site is updated every day Monday through Friday.