By Bill Simmons
Page 2
Editor's Note: Page 2's Bill Simmons is filing round-the-clock reports from Jacksonville, Fla., in Super Blog II. Check back throughout the day for updates. Here is his entry from Day 6:
DAY 1 | DAY 2 | DAY 3 | DAY 4 | DAY 5 | DAY 6 | DAY 7
Did you miss Media Day? What's wrong with you?

Posted, Sunday, Feb. 6, 2005 -- 2:30 p.m.

Before we get to my Super Bowl pick, a quick review of the Maxim party, which happened last night in downtown Jacksonville. Unlike with other Super Bowl years, the layout of the city made it nearly impossible to bounce around from party to party, so when you made your decision, you were stuck at that party for the night. Fortunately, the Maxim party was a good place to be stuck.
The theme this year was "Maximony" -- basically, they converted the place into a gala wedding, with waiters wearing white tuxedos and scantily-clad women walking around in doctored wedding dresses. There was an outside area and three smaller tents, one with a rave, one with a mock casino, and one made to look like a huge wedding reception -- complete with an '80s cover band that would have been the best wedding band ever. Did I mention the free drinks? Or everyone walking around with free food? Or the women in S & M outfits dancing on stage at the rave? It's safe to say that people enjoyed the Maxim party.

My four favorite celebrity highlights:

1. Seeing a post-stomach-stapling-surgery version of John Popper from the Blues Travelers, who had three women crawling all over him and seemed delighted about it . . . and it turned out that it WAS John Popper! I'm telling you -- three hit songs and you're set for life in the lady department. Doesn't matter what you look like.

2. Seeing Tom Arnold accompanied by a three-person entourage that escorted him around like he was a Presidential candidate. "Does Tom Arnold really need a posse?" my buddy Stoner asked. "I mean, it's Tom Arnold!"

3. Dennis Quaid walking in late with a blonde babe on his arm and one of those "That's right, I'm Dennis BLEEPING Quaid!" smiles on his face.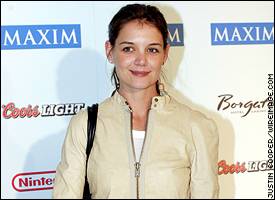 Katie shows up at the Maxim party in her best port-a-john duds
4. Seeing Katie Holmes come out of a port-o-john, making it the first time that I haven't been totally disgusted by a port-o-john.
All in all, a fantastic night . . . right up to the point when it took us 90 minutes to find transportation to get out of there. In Jacksonville, there's always a catch.
Now here's the big question: Do the Eagles have any shot of winning this game?
That's the question I have been asking myself all week. It's a very good Eagles team, not a great one. I think they lost a little swagger when Owens went out. They certainly don't have any skill position threats other than Westbrook, who wouldn't have been more than a third-down specialist on any of the AFC contenders. They have a top-notch defense, although you can run on them a little. And as I described with the Courtney Thorne-Smith Corollary in Friday night's blog, playing so many games against inferior NFC competition couldn't have exactly made them "battle-tested."
On the flip side, they have a superb coaching staff, as well as a QB capable of three or four "WOW!" plays per game. They always seem to make plays with their special teams, especially when Westbrook is back there. And they could get an unforseeable lift if Owens gives them anything on Sunday. Still, I can't shake the feeling that they would have been a 5-seed in the AFC. Vegas agreed well before the Owens injury, raising the early Super Bowl line to "AFC by 3.5" by November, bumping it up to "AFC by 5.5" after the injury, then pushing it to "Pats by 7" last week.
There's a way for the Eagles to win this game; I'm just not sure they can pull it off. Offensively, they need to play fearlessly -- keep chucking the ball downfield and hoping McNabb's improvisational skills become the biggest X-factor in the game. During the entire Belichick-Brady run, offenses have succeeded against the Pats in one particular way -- by dictating the pace of the game, usually with a no-huddle offense, and forcing the Patriots to keep the same 11 guys on the field, without the benefit of switching up personnel and formations. That's how Carolina clawed back into last year's Super Bowl. That's how the Rams clawed back into Super Bowl 36. That's how the Colts nearly rallied in the 2004 AFC title game, and that's how Miami shocked the Pats in Week 15.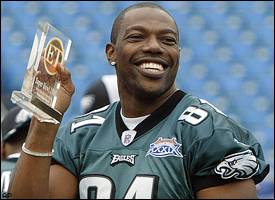 Will the Eagles still be laughing after the game? T.O could have something to say about that.

It's common sense. Because of Belichick, the Patriots always have the most logical defense in the league: They love taking away the one thing that their opponent loves to do most. Philly revolves everything around McNabb and the short passing game, rolling him out from side to side, taking advantage of his speed and Westbrook's pass-catching abilities, and hiding the fact that their receivers aren't very good. This won't work against the Pats. They're too good. So the Eagles need to remove all logic from the game, with McNabb making up things as he goes along, then hoping that New England's thin depth in the secondary comes back to haunt them. Belichick can plan for just about anything, but there's no way to stop someone who's ad-libbing on the fly. For whatever reason, most teams that make it this far are too proud to abandon what got them there, even if it's the best way to compete. Whether Andy Reid is too proud remains to be seen.

So that's how the Eagles can win: By McNabb topping Delhomme's superb performance in the final 36 minutes of last year's game. Defensively, they have a good enough secondary to handle the New England receivers, which should enable them to stack the line on Corey Dillon and force Brady to beat them deep (which he did against Pittsburgh). They need to make one special teams play, win the turnover battle, all that stuff. And they need to make two big plays. That's how they can win.

Unfortunately for Philly fans, I don't see it happening. In fact, I haven't felt this confident about a Super Bowl pick since the Ravens-Giants game. This Patriots team has been dismantling opponents all season; unlike the other two Super Bowl runs, this has been the first Belichick-Brady team with an extra gear -- thanks to Clock Killin' Corey Dillon, who put the Colts and Steelers away during those dominating playoff wins. Out of the three Super Bowl teams, this one has the biggest ceiling because they can adapt to just about anything -- a little like the way Rollergirl described Dirk Diggler's prowess in "Boogie Nights" -- and because of Brady and Dillon, one of the better QB-RB combinations in recent memory. As good as they were during the other two runs, they always allowed opponents to hang around, almost like they needed a degree of difficulty to keep them interested. Not anymore. This particular Pats team goes for the kill. It's the best of the three Super Bowl teams.

And then there's this: Near the end of the Pats-Steelers game two weeks ago, NFL Films cameras caught Willie McGinest proudly walking down the sidelines, barking to his teammates, "We the champs . . . they FORGOT that!"

Did the Steelers really forget that the Patriots were the defending champs? Of course not. But that's been one of the goofy wrinkles of the Belichick-Brady Era -- the Patriots always manage to make themselves feel disrespected, then they take it out on whomever they're playing. Jordan and the Bulls used to do the same thing. So did Jeter and the Yankees. And after today's game, I think people will start putting Brady and the Patriots in that same class.

The Pick: Patriots 30, Eagles 13.

Bill Simmons is a columnist for Page 2 and ESPN The Magazine. His Sports Guy's World site is updated every day Monday through Friday.