Single page view
By Bill Simmons
Page 2
Editor's Note: This article orginally ran on May 17, 2004.
It's been such an exciting second round of the NBA playoffs that Bill Simmons and Ralph Wiley just had to talk about all the action and controversies and even a few other things. With each other. See what they said in the first-ever "Simmons-Wiley All-Day Hoops Summit."
SIMMONS: 10:30 a.m. ET

Yo R-Dub,
Hope you and Rick Mahorn had a nice weekend together. Anyway, remember when Larry Brown slammed the Frank hiring and said that "They're basically saying that anyone can coach?" Well, after gorging myself on playoff hoops for the past week, I decided that he's right. Anyone can coach.
Maybe the fact that Don Nelson has been gainfully employed for the past 27 years -- career playoff record: 70-85 -- should have tipped us off. But look at some of the things we witnessed in the past 2 weeks: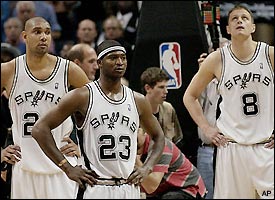 The Spurs have the look of "What do you mean we're not guarding the inbounds pass?"
1. Popovich not guarding the inbounds pass before the Fisher Shot. Cost them the season. It's a battle between "Not guarding the inbounds pass" neck and "Sliding into first base to beat out an infield hit" for the single dumbest running strategies in sports, isn't it?
2. Looking back, it took two full games for Phil Jackson to realize that ...
A) Maybe, just maybe, they should have been sending double- and triple-teams at Tim Duncan and daring the other Spurs to beat them. Wow, you think so? You'd rather have guys like Bowen and Turkoglu shooting over the best player in the league? The worst was hearing Doc Rivers complimenting him at the end of Game 3, like Jackson had discovered the cure for the Asian Bird Flu.
B) Maybe, just maybe, they should knock Tony Parker down on one of those unmolested forays to the basket and see how he responds, since he's from France and all.
C) Maybe, just maybe, having GP scoot under the screens on those pick-and-rolls wasn't the best idea after the 25th straight Parker 20-footer that went in.
3. What about Brown in the triple-OT game? By the time K-Mart and Collins fouled out, with J-Kidd basically limping around, the Pistons had an offensive advantage at all five positions! How do you not win that game with Scalabrine covering Williamson? Where was Mehmet Okur? Why not just double-team Jefferson and make Kidd beat you? For God's sake, Kidd was so banged up, he couldn't even beat the Vegas over-under for points and assists (24 1/2) in a 63-minute game.
(By the way, I've watched the three overtimes twice and still have no idea how the Nets won the game. This series shouldn't have gone past 5. Not with Kidd this banged up.)
4. Rick Adelman at the end of Game 2 ... my God. Some of the worst shot selection ever. The Kings' collapse in Game 3 wasn't much better. I wrote the joke "NBA Entertainment needs to release a DVD called 'Rick Adelman's Greatest Playoff Collapses'" two years ago. Now we have enough for two full DVDs and a third DVD of extras and deleted scenes.
5. We're now at Game 7 and Flip Saunders still hasn't figured out that C-Webb can't guard KG (or anyone) on the perimeter. Doesn't C-Webb's Verbal Kint limp tip things off? Or am I crazy?