Commentary
All-Stars from most awful teams
Updated:
July 14, 2009, 4:10 PM ET
By
Mark Simon
| ESPN Stats & Information
Branch Rickey, during his tenure as general manager of the Pittsburgh Pirates, is said to have told Pirates outfielder Ralph Kiner, "We finished last with you. We could have finished last without you." That's true -- but who would have represented some of those pitiful Pirates teams of the early 1950s in the All-Star Game?
Ryan Zimmerman will join Kiner's Korner, so to speak, Tuesday night, when he represents the Washington Nationals in this year's All-Star Game. Thanks to the long-standing rule requiring each and every team to be represented by at least one player, Zimmerman will become the latest member of a fraternity: the best players on the worst teams in baseball history.
There's no shame in belonging to this group. Members include Kiner (1952 Pirates), Randy Johnson (2004 Arizona Diamondbacks) and lots of other noteworthy names. A cross-section is listed below.
Wally Berger, 1935 Braves
Berger set the standard for great players on gawd-awful teams. He won two-thirds of the Triple Crown that year with a National League-best 34 home runs and 130 RBIs, and in the process earned a start in the Midsummer Classic. (Batting behind four consecutive Hall of Famers in the order, he went 0-for-2). The Braves were losers in every other respect, though, finishing a woeful 38-115 despite Berger's MVP-caliber year.
Cy Blanton, 1941 Phillies
Cy Blanton (no relation to Joe) had a breaking ball known as the "dewdrop," which helped him make two NL All-Star teams. His second All-Star appearance came while part of a Phillies team as terrible as the 2008 squad was memorable. They did drop … to a 43-111 mark.
Ned Garver, 1951 Browns
Considered a legendary figure by those who followed the hapless St. Louis Browns, Garver won 20 games for a team that went 32-90 when he didn't pitch. Of course, when the only other possible All-Star option was 3-foot-7 Eddie Gaedel (who made his lone major league appearance that season), Garver was an easy choice. Despite playing for such a pathetic team, Garver was well respected for his arm and his bat (he hit .305 that season), and was the American League's choice to start the All-Star Game. He performed respectably, allowing one run in three innings.
[+] Enlarge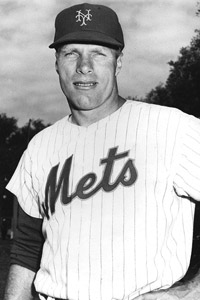 Getty imagesYes, even the '62 Mets had an All-Star, Richie Ashburn.
Richie Ashburn, 1962 Mets
Shirley Povich noted in a Washington Post column just prior to the Midsummer Classic in 1962 that Ashburn had been voted the most prolific foul-ball hitter in all of baseball. That by itself made Ashburn worthy of selection from the team that set the standard for future laughingstock squads with a 40-120 mark. But this loser was a winner -- a .600 career hitter in the All-Star Game, including a pinch-hit in his final season in the big leagues.
Don Leppert, 1963 Senators
These Senators went 30-56 in the first half of the season and were so bad their All-Star representative was a 31-year-old third-year catcher who wasn't and never would be a full-time player. Leppert was the on-deck hitter when the game ended, missing out on a chance to leave his mark in the record books.
Woodie Fryman, 1976 Expos
No regular on the 55-107 1976 Expos finished the season with more than 11 home runs or hitting better than .264, so it was pretty much a necessity to pick a pitcher. Fryman holds the distinction of having been an All-Star twice without finishing better than .500 in either year. That he was able to go 13-13 with this team was pretty impressive, though.
Dave Lemanczyk, 1979 Blue Jays
Lemanczyk might have finished his career with a 37-63 record in the major leagues, but he holds the distinction of being both an All-Star and a Hall of Famer. A one-hitter and a respectable 7-7 mark in the first half of 1979 helped Lemanczyk make the AL All-Star squad as the rep of a futile 54-win Blue Jays team. That no doubt aided his résumé for eventual enshrinement in the Greater Syracuse Sports Hall of Fame.
Gerald Perry, 1988 Braves
This Braves roster was dotted with All-Stars, both past (Ted Simmons, Ken Griffey, Lonnie Smith, Dale Murphy, Bruce Sutter) and future (Tom Glavine, John Smoltz, Ron Gant). But their rep in a season in which they went 54-106 was first baseman Gerald Perry, whose claim to fame that year was finishing with the round-number batting average of .300 and a slugging percentage of .400.
Edgar Renteria, 1998 Marlins
The Marlins cleaned house after winning the 1997 World Series, ridding themselves of nearly every key component. Renteria was one of the few exceptions, and he'd go on to garner four more All-Star selections down the road. This was Renteria's worst All-Star campaign, because even though he had 28 steals by the All-Star break, his .689 year-end OPS came within one spot of ranking in the bottom 10 percent in all of baseball.
Dmitri Young, 2003 Tigers
The 2003 Tigers challenged the 1962 Mets for ineptitude, coming within an eyelash of the record for most losses in a season. But Young's All-Star bid was justifiable, as he pointed out to reporters upon arriving in Chicago for the game. "The numbers don't lie," Young told the Chicago Sun-Times. "Eighteen [home runs at the break], 49 [RBIs] and six triples. And since we do have that [mandatory representation] rule, I'm just taking advantage of it."
Mark Simon is the researcher for "Baseball Tonight."
ESPN Staff
Writer for ESPN Stats & Information