Peyton, Mike sitting in our tree
All right, we'll admit it:
The Snap Judgment gang has that head-over-heels thing going on with Peyton Manning and Michael Vick. One stands in the pocket and dissects your defense. The other scampers through your secondary and causes would-be tacklers to lose their composure. Both simply win. So, we spent much of the fourth Sunday of the NFL season admiring these two dudes ... and wondering if there's any way they can be stopped. If you're not yet in love with Snap Judgment, here are the basics: Each week, our team of field generals gathers to break down the play of NFL passers. We'll talk about the best and worst throws of the week ... and plenty of passes that fall somewhere in between. Our quarterbacks include Page 2's Jeff Merron, Patrick Hruby and Eric Neel, ESPN.com's Michael Smith, Cold Pizza's Skip Bayless and ESPN The Magazine's David Fleming and Alan Grant. We start this week with some quick reads from our QBs:
AUDIBLES FROM OUR QBS

Skip
Bayless

Patrick
Hruby

Jeff
Merron

Alan
Grant
Steve McNair: Tough guy or injury prone?
Tough but human
Tough-prone injury guy. Duh!
Injury prone tough guy
Tough guy
If Doug Flutie had started his whole career ...
He'd be a limping retiree.
He'd still be as tall as Tom Cruise.
He would have lost the best years of his life. In Canada.
Today, the NFL would feature a handful of scrappy QBs under 6-foot.
Man or Myth: Jeff Garcia
Man
Myth. Not that there's anything wrong with that.
Myth
Man
Bulger or Warner?
Bulger
Warner. Who did Bulger sign his Faustian pact with, Lionel Hutz?
Warner. He doesn't have to play for Mike Martz.
Warner. But I said the same thing last year.
One word to describe Vinny Testaverde
Parcells
Notchadorquincy
Viagr-O
Employed
If Michael Vick were a running back ...
He'd be the NFL's most exciting breakaway threat
He'd throw the best option pass in the league.
You mean he's not?
He'd be perceived as being too small
Best lefty QB ever not named Young
Ken Stabler
Jake Plummer -- wait, you mean he's not left-handed?
Ken Stabler
Boomer Esiason
Favre or Starr?
Favre
Tie. Each has a misplaced "R."
Favre. By far.
Are you kidding? Favre.
Number of McNabb-to-T.O. TDs this year
Will dwindle in November and December
Forty-seven. On my XBox, that is.
23. A new regular-season record.
25
First down: What one thing -- above all the other things -- makes Peyton Manning the NFL's best quarterback? And, you can't have Bill Belichick, but what other weapon would you use to stop Manning ... the 1985 Bears, famine, pestilence, hurricane, Steve Spurrier?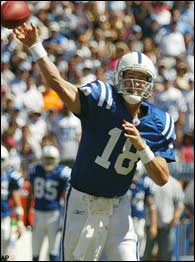 Peyton Manning is unstoppable ... unless he's playing the Patriots.
Jeff Merron:
His ability to audible and quick read, which stems directly from his relentless preparation. As for stopping Peyton, I'd go with hurricane, hoping the noise would drown out his calls at the line of scrimmage.
Patrick Hruby:
Marvin Harrison, Edge James and an underrated offensive line make Peyton the best QB in the league not to have won a Super Bowl title. As for stopping Manning, simple: Bob Stoops (what, you think Steve Spurrier ever coached a lick of Florida's defense?)
Skip Bayless:
The only hope you have against Manning is to play zone and mix in a lot of zone blitzes and hope you can outguess him and confuse him into a couple of interceptions. Play man-to-man and you're a dead man. Constant blitzing also can be lethal for a defense. Manning's most underrated ability is his strength in the pocket. Even when blindsided, Manning isn't prone to fumble. And with the no-bump-after-five-yards rule now being enforced, it's much tougher to try to rough up his receivers, as New England did in the AFC title game, and simply take Manning's targets away. But I'd still attack the Colts early and see what I could get away with. Who knows? I might even hold him to a mere 21 points.
So, what's your best guess on Manning's final numbers? His pace right now is 44 TD passes, 8 INTs and 4,492 yards.
Alan Grant:
I've got him for 40 TDs, 20 INTs and 4,500 yards.
Patrick Hruby:
Zero Super Bowl titles. Still.
Jeff Merron:
4,573 yards, 38 TDs, 8 INTs.
Skip Bayless:
Unfathomable.
Second down: Who will have the better career among these No. 1 overall picks: Carson Palmer, who is 1-3 in his four career starts for Cincy, or David Carr, who led the Texans to their first back-to-back wins ever?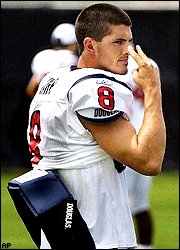 David Carr's new haircut will probably look something like this.
Skip Bayless:
Carr is obviously better now, but won't be for the long haul. Palmer, remember, is in his first season as a starter, and considering that Bengals coach Marvin Lewis has compared him with Troy Aikman, Palmer often has looked as thick-headed as Aikman did in his first couple of seasons. But Palmer is a little better athlete with a little better arm than Carr, and those qualities eventually will prevail. Carr is in his second season as a starter, and it shows. The Texans can make the playoffs with Carr. The Bengals eventually could advance in the playoffs with Palmer.
Jeff Merron:
Lewis giving Palmer the keys to the Bengals offense was like giving a kid who can steer a mini-bike the keys to the family Beemer. Predictably, he has driven the Bengals, who could have been a contender with Jon Kitna, right into the ditch. What a disastrous start. But Carr hasn't had such an easy time of it either. It's a game of survivor, and Carr already has been through the roughest part. If Palmer can do the same, and just get through this trial by fire, I think he's got the better chance to be great.
Patrick Hruby:
Now that the Texans have won two in a row, Carr and his father both intend to trim their flowing locks. Apparently, these guys aren't familiar with what happened to Sampson. They should be getting
extensions
.
WEEK 4 RANKINGS:
Once again, we turn to Aaron Schatz of footballoutsiders.com to rank the week's QB performances. The ratings are determined by comparing each play involving the quarterback to the NFL average on similar plays, based on down, distance and other variables.
The quarterback's performance is then translated into an approximate number of actual points that his success (or failure) is worth when compared to a "replacement level" quarterback. This score is known as PAR -- Points Above Replacement.
From Aaron:
Although Donovan McNabb doesn't come in very high on this week's ratings, he still ranks second overall on the season behind Peyton Manning.
One of the popular questions of the early season has been, "Why is Donovan McNabb so much more accurate this year?" Is it the arrival of Terrell Owens, or is McNabb playing better overall? So far, it looks like Owens alone may be the reason for McNabb's improved success.
Last year, the Philadelphia offense was built around screens to running backs. Only Atlanta, Baltimore, and Miami had fewer complete passes to wide receivers than the Eagles. And only 51 percent of passes McNabb threw to the wideouts ended up complete. The problem that frustrated Eagles fans all season became apparent to the whole nation in the NFC championship game, as James Thrash and Todd Pinkston seemed to have no idea where they were going or how to catch the football on the rare occasion when they ended up in the same place McNabb threw it.
Suddenly, McNabb's overall completion percentage has gone from 58 percent to 68 percent. But here's the difference: McNabb has completed 53 percent of passes to wide receivers not named Terrell Owens -- and 72 percent of passes to Owens. But don't worry, dump-off fans, Brian Westbrook fantasy owners know McNabb still hasn't forgotten their man. This year, despite T.O., McNabb once again leads the league in pass attempts to running backs with 36.
Click here for Aaron's complete ranking and comments for all the QBs.
And here's a quick snapshot of his top three and bottom three from Week 4:
WEEK 4: TOP THREE QUARTERBACKS
Quarterback
Skinny
PAR
1. Tom Brady
17/30, 298 yards
2 TDs, 0 INTs
On a day when no quarterback was spectacular, Brady was steady with a number of long passes and (thanks to replay) no turnovers. Paul Maguire always says they don't draw up plays for first-and-35, but somehow Brady found one, completing a pass for 44 yards on a drive that ended in the first touchdown.
14.1
2. Byron Leftwich
29/41, 318 yards
1 TDs, 0 INTs
Although it came against a shaky defense, Leftwich's performance was the silver lining in Jacksonville's first loss. A 40-yard bomb on 4th-and-1 was a bold play call that showed the confidence Jack Del Rio has, both in Leftwich and in his defense's ability to stop the Colts if the play had failed.
11.9
3. David Carr
14/23, 228 yards
1 TD, 0 INTs
Last week, when he ran four times for 26 yards, I joked that he was riding the "Michael Vick Experience." After four rushes for 40 yards this week, maybe they should call it the "David Carr Experience."
10.1
WEEK 4: BOTTOM THREE QUARTERBACKS
Quarterback
Skinny
PAR
25. Carson Palmer
20/37, 164 yards
1 TD, 2 INTs
On pace to throw 12 touchdowns and 28 interceptions, stats that might be called Akilian.
-4.9
26. Kerry Collins
21/38, 237 yards
0 TDs, 3 INTs
Raise your hands if you participated in the fantasy stampede for Kerry Collins this week. OK, now raise your hands if you ended up with him and are still happy about it.
-8.0
27. Jay Fiedler
18/33, 206 yards
0 TDs, 2 INTs
Given that whoever gets plugged in to this position ends up at the bottom of these ratings, perhaps quarterback is not actually the problem in Miami. Nevertheless, what's the countdown on the Sage Rosenfels watch?
-8.4
Third down: The Steelers won back-to-back games for the first time since 2002 behind Ben Roethlisberger's first two career starts. Is Big Ben good enough to get Pittsburgh to the playoffs, or is this a case of just playing weak teams in Miami and Cincinnati?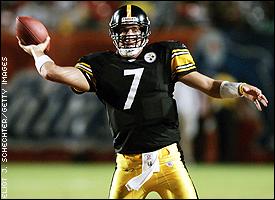 The Steelers are 2-0 when Ben Roethlisberger starts ... coincidence, or not?
Skip Bayless:
Once again, Roethlisberger's most impressive stat was zero, as in
zero interceptions
. He didn't force anything, didn't go cross-eyed and make an inexplicable key-down decision, didn't appear anything but patient and poised. He appears to appreciate and accept that he has a pretty good running game and pretty good defense to lean on. He seems more interested in winning games than rookie of the year. I still don't know how great he might be, but I do know that, for two games, he has played as if he's a fifth-year starter.
Jeff Merron:
He's good enough, and getting a couple of weak teams in your first two NFL starts -- well, weak for the NFL is way better than what he has ever seen before, right? The Steelers could go 6-6 the rest of the way, which puts them at 9-7, maybe good enough for a playoff berth. But I wouldn't make that bet without odds.
Patrick Hruby:
Again, a more pertinent question is in order: Are the Steelers good enough to get Roethlisberger into the playoffs, particularly when they don't play the Bengals every week?
Fourth down: All right, some quick reads, please: Give us the best and worst throws of the week, explain Mike Vick's anger, and try to tell us what the heck is going on with Joe Gibbs.
Best Throw of The Week:
The best passing numbers of the week (29-for-41 for 318 yards) were posted by Jacksonville's Byron Leftwich, who came close to winning his shootout with Peyton Manning. His best throw came on fourth-and-1, when he hit Jimmy Smith with a rainbow that said, "Everything's going to be all right in Jacksonville." Smith: A 40-yard TD grab. Leftwich: Getting better by the throw.
First runner-up:
After taking a nasty hit and sustaining a concussion, Brett Favre talked his way back into the game and added to his legend by throwing a 28-yard TD pass to Javon Walker on fourth-and-5. Once team doctors caught on, however, Favre was unable to talk coach Mike Sherman into giving him an encore performance.
Second runner-up:
Drew Bledsoe's perfectly lofted pass to Eric Moulds for a second-quarter TD that gave Buffalo a 17-10 lead over New England.
Third runner-up:
David Carr's laser over the middle to Jabar Gaffney, hitting Gaffney perfectly in stride for a big gainer in the Texans' 30-17 victory over the Raiders.
Best throw by a non-QB:
Sure, it was ugly, but Emmitt Smith's first pass in his 15-year NFL career went for a 21-yard TD to Obafemi Ayanbadejo.
---
Worst Throw of The Week:
The most amazing development in the NFL is that the Giants offensive line that wasn't supposed to be able to protect poor little Eli Manning has turned Kurt Warner into a one-man Fort Knox, not to mention turning Tiki Barber into LaDainian Tomlinson. Warner mostly made the most of his comfort zone at Green Bay -- except for one vintage "somebody-kidnapped-Warner's-mind-like-it-was-Lindberg's-baby" moment, from Green Bay's 3-yard line. Feeling no more pressure than a flat tire, Warner waited for someone to come open against the Packers' zone, then panicked and threw it right to the Packers' Darren Sharper. Inconceivably stupid. A "Martz madness" flashback. But fortunately for Warner, that was his lone mistake.
First runner-up:
Jake Delhomme's interception under blitz pressure early in the fourth quarter of the Panthers' loss to the Falcons. The ball sailed right into the hands of Kevin Mathis, who had clear sailing to the end zone for a 35-yard TD. As one of the announcers said, "You could see it coming from a long ways away." Game over.
Second runner-up:
Jay Fiedler's INT directly to the Jets' Donnie Abraham, which was returned for a TD.
Third runner-up:
It didn't go down as a pass, but Fiedler's attempted lateral backward to ... uh, we're not sure; one of his offensive linemen, perhaps? -- was a thing of non-beauty.
For the second straight week, Joe Gibbs was left without timeouts at the end of the game and couldn't challenge a key play. Has the game simply passed Gibbs by?
Skip Bayless:
The game hasn't passed Gibbs by, but the game is so much faster now than it was 12 years ago that it will take some getting used to. Gibbs will catch up, but it might take a year for him to increase his rpm and to figure out who can play and who can't. He needed a year his first time around in Washington, and I wouldn't bet against him in his second Year 2.
Jeff Merron:
No coincidence -- how could Gibbs not have been thinking clock management all week long? But the game hasn't passed him by. He'll adapt.
Michael Vick head-butted Brandon Short after the Panthers linebacker was flagged for unnecessary roughness. Did Vick have the right to be angry, or is rough treatment just part of the territory for a running quarterback?
Jeff Merron:
Vick had the right, but that doesn't mean he should have. After the game, Vick said "it's something I won't get into all the time," which is good. When he does get "into it," he faces the chance of getting ejected. Which is just bad for the team.
Patrick Hruby:
Football is a violent game. Ask Chad Clifton. If you take exception to hits that in any other walk of life would qualify as assault and battery, you're better off playing tennis, or maybe professional poker.