Page 2 staff
Wait a minute, here.
Drew Brees has the Chargers at 3-2?
Brett Favre and Steve McNair are dueling on Monday Night Football with 1-3 records and their seasons slowly slipping away?
Meanwhile, Tom Brady and the Patriots continue to roll and Daunte Culpepper continues to roll up the big numbers: he's on pace for 5,364 yards and 52 TDs!
We talk QBs and nothing but here at Snap Judgment. Our quarterbacks this week include Page 2's Jeff Merron and Patrick Hruby, ESPN.com's Michael Smith and ESPN The Magazine's Alan Grant.
We start this week with some quick reads from our QBs:
AUDIBLES FROM OUR QBS

Michael
Smith

Patrick
Hruby

Alan
Grant

Jeff
Merron

Skip
Bayless
Man or myth: Drew Brees, who suddenly has San Diego at 3-2?
A man who's going down throwin'. Gotta like that
Myth. Give me Kyle Orton
Myth
Myth
Myth-stake not to play Rivers.
Simms or Griese, who should start in Tampa?
This sounds bad, but it really doesn't matter
Ugh. That's like Britney or Jessica; does it matter?
Simms. Team is going nowhere. Future is now
Simms
Griese, if winning is the object.
Simms or Griese, Phil or Bob?
Phil. Better announcer, too
Tie. Both smooth in the booth
Sons= potential; Dads=rings. Do the math
Bob. But it's close
Bob in the clutch, Phil in the booth
When do the Pats lose?
Halloween, at Pit, after 21 in a row. Scary
Apparently, when Steve Spurrier makes his way back into the league.
Jets. Oct. 24.
Sunday vs. Seattle
Pats lose? 2005
Who will be the last undefeated team?
Philly (they'll lose at Pit also)
'72 Dolphins
Patriots
Eagles
Last undefeated? See above.
Which QB has the best weapons?
Bulger, when Martz decides to use them right
Matt Hasselbeck
Peyton Manning
Peyton Manning
Most weapons? Bulger. Maybe too many.
Which non-QB would make the best QB?
Wes Welker. My new hero
Antwaan Randle El
Marshall Faulk: complete grasp of game
Queen Latifah
Non-QB? Marty Booker, college QB who can throw bullets.
Who's tougher, McNair or Favre?
Favre
Butterbean
Physically: Favre. Mentally: McNair
Favre
McNair. More collisions.
First down: They say QBs get too much credit and too much blame. The Patriots have won 19 in a row and Tom Brady has thrown 32 TDs and just 11 INTs during the streak. On the other hand, New England has held 11 of those 19 opponents to 13 points or fewer. So, what percentage of the credit goes to Brady? And explain his contribution to the streak.
Skip Bayless: New England's streak has clearly been a two-man operation, but coaches should never get quite as much credit as stars. So Tom Brady gets 60 percent of the credit to Bill Belichick's 40. I still cringe when I hear Brady's name elevated into the same sentence with Montana's -- Brady can't hurt you downfield with his speed the way Montana could and we still haven't seen a Montana-worthy comeback from him or last-second game-winning touchdown pass in the postseason. But Brady continues to grow on me because he's the perfect ball-control quarterback to complement Belichick's defense.
He can dink you to death with tormenting accuracy and decision-making, but he still has a big enough arm to hit an occasional home run. Still, I give Brady the credit edge for what he DOESN'T do: He doesn't go Brett Favre and try to pull off throws no mortal could. He never beats New England.
Michael Smith: As someone who has seen each of the Patriots' victories from beginning to end, I'm telling you that you can't put a percentage on what this guy does for his team. He is not -- I repeat, is not -- a system quarterback, yet he operates in a system that doesn't always require him to put up huge numbers to win (witness yesterday's 7-for-19 performance).
Understand? During this streak, when Brady has had to make a play, he's made it, every time, without fail. No other quarterback in football can say that. He makes so many little plays that make a huge difference in games that won't appear on the highlights show. Brady has won his share of these 19 games (the Colts twice, Denver, Buffalo last year, the Super Bowl) while not doing anything stupid to lose a game. He's the best quarterback in the league. These are the facts of the case, and they are indisputable.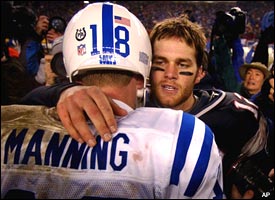 "Hey, P, I'm 19-0 in my last 19. How many times did I beat you in that streak?"
Jeff Merron: This is like asking how much credit Humphrey Bogart should get for "Casablanca" or John Lennon for the Beatles. In each case, 100 percent. Here's why: without Bogart, "Casablanca" isn't a classic. Maybe it's good or even excellent, but that's not the same. Without Lennon, no hands-down greatest group of all time.
Without Brady, no streak. Because it's right man, right place, right time.
Don't get me wrong: put Peyton or Brett behind Dan Koppen, and the Pats are still 16-3, 17-2, 18-1. But they're not 19-and-counting.
His substantial contribution: he's smart. He's a true leader who hasn't let the tempations of celebrity mess with his head or his relationships with his teammates. And, most important of all: 11 INTs. He just doesn't make many mistakes.
Alan Grant: Twenty percent. It's based on a simple formula, really. As I see it, the percentages may be broken down to 20 percent offense, 20 percent defense, 20 percent special teams. That leaves the remaining 40 percentage points to be divided up between luck, coaching and the QB -- the one position that is at times self-contained. I'll assign 18 percent of that to Bill Belichick and his staff, and 2 percent to the occasional fortuitous bounce. Brady gets the rest.
Patrick Hruby: Let's pick a nice, arbitrary number. Say, 3.1416, which also happens to be the mathematical approximation for pi. What does pi have to do with football? Very little. Which is exactly my point: you can't pin a numerical value on Brady's contributions to the Patriots' win streak, not even with conventional measures like passing yards and touchdown throws.
Second down: Will the real Marc Bulger please stand up. Is it the guy who played the first three quarters in Seattle and threw three INTs and stumbled around? Or the guy who threw three TDs in the final five minutes and OT? Or is the real Bulger a combo of both?
Patrick Hruby: Bulger is an enigma wrapped in a mystery shrouded in a throw into triple coverage that somehow turns into a back-of-the-end-zone touchdown. Unless it's picked off for six the other way. Simply put, he's a talk radio superstar: just good enough to win a game, just bad enough to lose one. Confused? Hey, imagine how Mike Martz must feel
Skip Bayless: Tom Brady has two big advantages over Marc Bulger: solid, shrewd New England offensive coordinator Charlie Weis and Belichick's defense. Bulger is strapped with Martz Madness -- with coach (and offensive coordinator) Mike Martz and his occasional let-me-show-you-how-brilliant-I-am descents into madness. Meanwhile, the Rams' defense is so much more combustible than New England's that Bulger often finds himself having to swing from the heels in a home-run hitting contest. Hence, the Bad Bulger we saw in Sunday's first half at Seattle. But you have to love this young man's mental toughness and resilience. He will not fold. If a defense doesn't keep the pressure on him, he will find his rhythm and his many targets. His second half and overtime Sunday was as spectacular stretch of throwing as we've seen from any quarterback this season, including Manning and Culpepper.
Michael Smith: He's a combo, probably a little more of the first guy. And that's also got something to do with him playing in a pass-first system that is careless with the football. I'd like to see him do a little more handing off.
Alan Grant: Ah, this is a question, and philosophy I can get behind. I think Sunday's performance was a combination of play calling, protection, and Seattle's defensive adjustments, or lack thereof. I think the combination of bitter/sweet Marc Bulger is the real Marc Bulger.
WEEK 5 RANKINGS:
Over at my Web site, Football Outsiders, I did a set of statistical projections before the season. Some of them look pretty accurate (the Jets as breakout team of the year), others look way off (Tampa Bay returning to the playoffs). But the strangest projection of was San Diego having a top 10 offense. It sounded crazy -- Drew Brees threw more interceptions than touchdowns last season, had a corps of receivers nobody had ever heard of, and it wasn't like LaDainian Tomlinson could get better. After Week 2, when Brees turned the ball over three times in half a game, the projection looked even more ridiculous.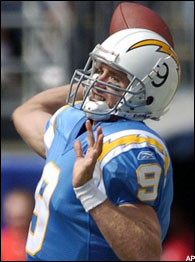 Suddenly, Brees has the Chargers in playoff contention.
And yet here we are after five games, the Chargers are 3-2, and Drew Brees is fifth in the NFL in QB rating. What changed? It's all about third downs. Last year, the Chargers' passing game was one of the worst when it came to converting third downs. The Chargers projected as a top 10 offense because a small improvement in converting third downs turns into a major improvement in total offense.
Suddenly, a few drives that ended early get a chance to go longer, and "longer" could mean anything from a few extra yards to a TD. Brees converted only 23 of 102 third-down passes last seasons for first downs or touchdowns. This season he's 20 out of 42, including 11 to the NFL's hottest young tight end, Antonio Gates. Gates is playing so well that Tony Gonzalez now wants to be known as Antonio Gonzalez so he can pick up some of Gates' mojo.
So Brees is having a great year, and the Chargers are left with a first-round draft choice picking up millions on the bench. If Brees keeps this up, the Chargers will be stuck next year with the same problem the Bengals had this season with Jon Kitna and Carson Palmer. Do you think that perhaps Chargers fans will be wishing the team had spent its first-round pick on Robert Gallery to protect the developing quarterback they already had, rather than trading down to get a new quarterback they'll have to develop from scratch?
--Aaron Schatz
Click here for Aaron's complete rankings for all the QBs.
This week, Aaron's QB rankings include adjustments for the quality of defense faced. (PAR = points above replacement level that each QB was responsible for; Daunte Culpepper's Week 5 performance was 16.2 points better than a replacement-level QB.)
WEEK 5: TOP THREE QUARTERBACKS
Quarterback
Skinny
DPAR
1. Daunte Culpepper
36/50, 396 yards
5 TDs, 0 INTs
Double digit DPAR in every game this season. Passes Peyton Manning for the lead in total value for the year, 53.0 to 52.1, despite playing only four games.
16.2
2. Tim Rattay
38/57, 417 yards
2 TDs, 0 INTs
Set a 49ers record for most complete passes in a game. Although the longest one was for just 23 yards.
13.7
3. David Carr
27/43, 372 yards
3 TDs, 0 INTs
A good example of how adjusting for opponent defense affects the ratings. Before adjustments, Carr and Culpepper were tied for No. 1, but Minnesota has had the worst pass defense in the league, so Carr ends up with less value.
11.8
WEEK 5: BOTTOM THREE QUARTERBACKS
Quarterback
Skinny
PAR
24. Michael Vick
18/29, 196 yards
0 TDs, 1 INT
Converted only 2 of 12 third-down opportunities, with four sacks and three fumbles. Yes, he makes some spectacular plays, and, yes, Atlanta is 4-1, but Vick is now below replacement level for the season. Are the Falcons winning because of Vick, or in spite of him?
-4.9
25. Kerry Collins
28/44, 245 yards
1 TD, 3 INTs
"Don't even attempt a pass to Jerry Rice" turns out not to be a winning formula for Raiders.
-9.8
26. Kyle Boller
9/18, 81 yardss
0 TDs, 3 INTs
As in Miami, it is hard to know how much of this is Boller's fault and how much is the offensive line's. In two straight prime-time games it has looked like, despite their accolades for run blocking, Baltimore's offensive line can't pass block in the slightest.
-10.8
Third down: The best performance of the week came from Daunte Culpepper again: 36 for 50, 396 yards and 5 TDs. What's one word to describe Culpepper's style, where does he rank among current NFL QBs and is he good enough to win the Super Bowl this season?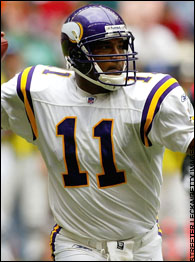 On fire: Culpepper has 13 TDs and just one INT in four games.
Alan Grant: Gargantuan. In the cultural sense, in the offensive schematic sense, and most obviously, in the physical sense, Daunte Culpepper is large. His game is based on presence. It's more than the big throws, the 250 pounds, or the running ability. Like we've discussed before, he doesn't take a lot of ... shall we say "verbal residue," from the core of divas who receive his offerings. Despite playing for a team coached by Joe Rockhead, he could most definitely lead the Vikings to the Super Bowl.
Michael Smith: Explosive. In that scheme, with Moss, he's a threat to complete a touchdown pass on any play. He's right up there with the best of them, top 10 for sure. He's good enough to win the Super Bowl. The question is, is his defense good enough?
Skip Bayless: Dominating. The real NFL freak isn't Jevon Kearse, it's 6 feet 4 inches and 260-something pounds of Culpepper. He's stronger in the pocket and faster than McNabb. He throws the galaxy's best deep pass, including distance, accuracy and touch. Yes, he has the galaxy's best deep threat in Randy Moss, but do you ever see Culpepper underthrow the NFL's fastest receiver? The rocket he launched at Houston, after a ball-on-hip play fake, was next-level staggering: 60 yards in the air and dropping softly into Moss' front pocket just beyond two trailing defenders. Come January, Culpepper must convince himself to secure the ball the way Tiki Barber finally has. Even then, Culpepper might not have enough running game without Michael Bennett or enough protection without Jim Kleinsasser. But this time, the Vikings win their division and one playoff game. No Super Bowl yet, but someday, Daunte Culpepper will win one. He's a force.
Jeff Merron: Snazzy. I'd say he ranks fifth or sixth, which is somewhat meaningless because how do you compare Culpepper and the offense he runs to Brady or Manning in their offensive schemes?
Yes, he's good enough to win the Super Bowl, especially considering Randy Moss and his other receivers. But in this crazy mixed-up NFL world, I wouldn't bet on it.
Fourth down: All right, some quick reads:
Best Throw of The Week:
Ben Roethlisberger, on the run, slinging one deep to Plaxico Burress for six.
First runner-up: David Carr's fourth-and-goal bullet to Derick Armstrong, whose leaping catch in the end zone pulled Houston to 28-21. It takes guts to fire the ball into triple coverage; it takes a heck of an arm to complete the pass.
Second runner-up: Believe it or not, Jay Fiedler to Marty Booker, over the shoulder and over Asante Samuel, along the sideline for 45 yards to the Pats' 1. Perfect placement. Needless to say, Miami didn't score.
Third runner-up: Jake Plummer to Ashley Lelie for a TD.
---
Worst Throw of The Week:
Mike Vick's inexplicable throw to a wide open Alex Lewis, who just happens to play linebacker for Detroit. On first-and-10 in the second quarter, Vick dropped back after a play-action fake, right into the gums of a nonexistent Lions pass rush. With plenty of time to survey the field, he gunned the ball to Lewis, one of three Detroit defenders with a better shot at the pass than the nearest Falcons receiver. Lewis ran the ball back to the 2-yard line, setting up a touchdown in Detroit's eventual upset victory.
First runner-sup: Jake Plummer's INT. Either one.
---
Asterix stats of the week
Tim Rattay completed more passes in a single game (38) than any quarterback in 49ers history in a 31-28 OT win against the Arizona Cardinals. Hmmm. Think Steve Young, Joe Montana or even Steve Bono
needed
OT -- or even the second half -- to beat the Cards? Those guys were already on the bus. How the mighty have fallen.
---
Which player currently still alive in the MLB playoffs would make the best NFL QB?
Jeff Merron:
John Smoltz. Great athlete. Smart. Tough. Adaptable. Year after year after year.
Michael Smith: Roger Clemens. Big. Tough. Decent arm strength. Kind of coo coo. Could be the next Favre.
Alan Grant: Gotta say that Roger Clemens has a "this-is the-most-important-thing-in-my-life" quality that makes me think the Rocket would be a natural fit at QB.
Patrick Hruby: Curt Schilling. Good arm, great study habits.
Skip Bayless: Derek Jeter. MLB's Tom Brady.