Page 2 staff
McNabb and the Eagles continue to roll.
Culpepper and the Vikings continue to pile up numbers that look like an Arena League stat line.
Favre and the Packers rebound with a big game.
Hasselbeck and the Seahawks show they're not quite ready for prime time.
And as always, it's QBs and nothing but QBs here at Snap Judgment.
We start this week with some quick reads:
AUDIBLES FROM OUR QBS

Jeff
Merron

Patrick
Hruby

Alan
Grant

Skip
Bayless
Man or myth:
Tim Rattay
Man
Hasn't played enough to be either
Man who succeeds Mythical Men
Myth, under any kind of pressure
Vick: Pro Bowler,
yes or no?
Yes. But not this year
Yes, since it's a popularity contest
Based on presence? Yes. Numbers? No
No such thing as a 4th quarter Pro Bowler
Carson Palmer
reminds me of ...
George Plimpton playing for the Lions
Jon Kitna's raw deal
Rick Mirer. The early years
A young, sometimes thick-headed Aikman
Most surprising
QB so far
Kurt Warner
Ben Roethlisberger. And that's just his mobility
Roethlisberger
Roethlisberger
Most disappointing
QB so far
Trent Green. Although he looked pretty good yesterday
Kerry Collins. Not that he's been a world-beater, but still. Yipes!
Jay Fiedler
Jake Delhomme
David Carr will play
in a SB in ...
A dome
Madden 2005, if he puts it on "rookie" level
The year Texans get consistent running game
A Bush-like four more years
Drew Bledsoe is
less mobile than ...?
A redwood
The isle of Gibraltar
A post-Thanksgiving dinner Dick Cheney
Ted Washington
Give
Daunte Culpepper
a nickname
"Daunting" Daunte
Big Smoove
Big smart strong athletic black man who is a redneck's worst nightmare
Backyard Daunte
Pennington
or Namath?
Pennington
Namath, until Pennington gets a decent nickname
Namath, of course
This question is an insult to Namath
First down: After watching Matt Hasselbeck play the Patriots, are he and the Seahawks good enough to reach the Super Bowl?
Skip Bayless: At times, Seattle looked like the more talented team than New England. Seattle had seized the momentum until Brady rolled left on third and seven and cut loose across his body for 48 yards to Bethel Johnson, who escaped Belichick's doghouse just in time. That's the difference in these teams: A roll call of Patriots takes turns making game-turning plays; the Seahawks make lots of yards and too many key mistakes. Hasselbeck's early interceptions forced Seattle away from its running game and created a deficit it still isn't mentally tough enough to overcome in Foxboro. The Seahawks still have too high a glitch factor. Too many dropped passes, blown coverages, mental mistakes. They don't play as "clean" as the Patriots usually do. They haven't quite figured out how to win yet, which is why this talented team will win no more than one playoff game.
Patrick Hruby: Nope. Sorry, bald America, but championship clubs and quarterbacks don't mimic Kobe Bryant in high school, spotting the other guys two touchdowns before making a game of it. Hasselbeck's early pair of interceptions led to 14 New England points, more than enough to negate his 319 passing yards. Look, it's all well and good to want the ball and expect to score. But it's something else entirely to deliver -- or, in Hasselbeck's case, deliver to opposing DBs, a bad habit he can't quite seem to shake.
Alan Grant: Not only are the Seahawks not good enough to reach the Super Bowl, they'll be fortunate to get a wild-card spot. Yes, they had early success. Yes, they opened with a 3-0 start, but the opponents were circumspect, at best, and soft at worst. They're still better than they were a year ago, but at this point, it matters not. The NFC consists of the Philadelphia Eagles. And everyone else.
Aaron Schatz: It depends. Will the NFL be legalizing crazy glue as a hand lotion for wide receivers?
Second down: McNabb and Owens are red hot. Is this shaping up as the best QB-WR combo ever, at least for one season? (OK, besides any combo involving Jerry Rice.) Or, is it even the best combo in the NFL right now?
Alan Grant: Yes, T.O and McNabb are indeed the hottest combo going right now and it is en vogue to attach to them the requisite superlatives. But in the midst of a culture of sports fans with the attention span of a fly, folks seem to have forgotten an explosive little tandem in Minnesota by the name of Culpepper-Moss. They've been conducting business for going on six years now and I'd consider them the best tandem since Young-Rice. And were not just talking numbers here -- aesthetics count, too. They're fun to watch. Culpepper puts it up and "Skinny Brown Appalachia" brings it down.
Jeff Merron: They're the best combo in the league right now, and barring injury will be for the season and for their Super Bowl run. Ever? Hmmm. Maybe, over time. McNabb is 28. Owens is 31. Five good years together would put them in the all-time great group. Here's who they're up against (again, discounting Jerry Rice):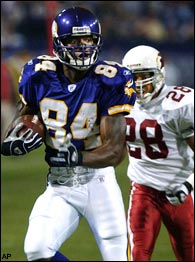 Sorry, T.O., our QBs say Randy Moss is the back end of the NFL's best QB-WR combo.
Daunte Culpepper-Randy Moss
Raymond Berry-Johnny Unitas
Peyton Manning-Marvin Harrison
Kellen Winslow-Dan Fouts
Fred Biletnikoff-Ken Stabler
Don Maynard-Joe Namath (from 1967-69)
Mark Clayton-Dan Marino
Lance Alworth-John Hadl
Bob Hayes-Don Meredith
Patrick Hruby: No and no. The former emphatically, the latter with slightly less gusto. Taking Rice out of the equation is patently unfair -- you're also eliminating Joe Montana and Steve Young -- and even so, I'd take Fouts-Winslow or Stabler-Biletnikoff first. Heck, I might even go with Jim Kelly-Andre Reed or Randall Cunningham-Cris Carter.
As for contemporary duos, Peyton Manning and Marvin Harrison have developed a near-telepathic link through years of practice, while Culpepper-Moss surpasses McNabb-Owens in terms of sheer athletic talent.
Oh, and Warren Moon to Drew Hill was pretty unstoppable in Tecmo Super Bowl. For what it's worth.
Aaron Schatz: Well, the best QB-WR combo ever for one season pretty much means the best WR season ever, and Owens isn't having that. He's not even having the best WR year so far this decade. Even if he keeps up his current pace, he'll end the season with fewer yards and TDs than Randy Moss had last season. Given that Moss has 8 TDs in five games -- more than Owens -- I think Culpepper and Moss still set the standard. Sure they couldn't beat the Eagles head-to-head, but it takes defense as well as offense and the Vikings don't have both.
Skip Bayless: As impressed as I've been with the way McNabb has harnessed Owens, on and off the field, T.O. will drop passes and point fingers in tough road games. Philly hasn't had one of those yet. Just wait until November and December. That's why McNabb-to-Owens eventually won't belong in the same question with 1) Culpepper to Moss or 2) Manning to Harrison. Moss is significantly faster and more athletic and acrobatic than Owens, who can be a little stiff and robotic. Moss has much stickier hands and makes so many tough catches look so effortless. I'd take Manning-to-Harrison over McNabb and T.O. on telepathy alone.
WEEK 6 RANKINGS:
Aaron Schatz: Last week when Bill Parcells referred to Ben Roethlisberger as "the best young quarterback I have seen in 10 or 12 years," I wondered if he was trying to lull the rookie into a false sense of security. It didn't work. After watching Big Ben beat the Cowboys in Dallas this week, I'm officially a believer.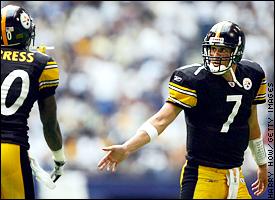 Getty Images
Steeler receivers have been handing plenty of handshakes to the rookie QB.
In New England, people talk about Tom Brady's field presence, the way he seems to always know where his receivers are and never gets rattled by blitzes or broken plays. Roethlisberger shares that quality -- he was a point guard in high school basketball -- which is why he's playing with more veteran poise than any young backup thrust into the starting role since Brady. He's just as comfortable rolling out, as on his first touchdown pass to Plaxico Burress, as he is standing firm in the pocket, as on his second touchdown pass to Jerame Tuman. He threw that ball flat-footed, not even taking a step and just firing it in.
The difference between Roethlisberger and Carson Palmer is astonishing. Roethlisberger is averaging nearly three more yards per pass attempt with half the interceptions. Some would argue that Roethlisberger got to walk right into a successful offense with one or two star receivers (depending on which side of the bed Plaxico Burress woke up on that morning) and a quality running game. But so did Palmer. Remember, last season the Cincinnati offense was good enough to drag a terrible defense to 8-8.
Obviously we don't know yet what Eli Manning and Philip Rivers can do. Maybe Manning will be as good as his brother and his father, and maybe Rivers will be the second-coming of Dan Fouts. But the Steelers, not even in the draft's top 10 and with no need to trade up, look like they solidified the quarterback position with a Pro Bowl-caliber talent for at least a decade.
--Aaron Schatz, footballoutsiders.com
Click here for Aaron's complete rankings for all the QBs.
The QB rankings now include adjustments for the quality of defense faced. (DPAR = Defense-adjusted Points Above Replacement that each QB was responsible for; Brett Favre tops Week 6 with a performance which was 12.4 points better than a replacement-level QB.)
WEEK 6: TOP THREE QUARTERBACKS
Quarterback
Skinny
DPAR
1. Brett Favre
25/38, 257 yards
2 TDs, 0 INTs
Favre's a living legend and I'll tell you why, everyone wants to be Favre and Favre's still alive (apologies to Jay-Z).
12.4
2. Byron Leftwich
24/36, 298 yards
2 TDs, 0 INTs
On final drive, Leftwich was 7-for-8, 76 yards plus the two-point conversion. Once Kansas City pulled ahead 16-14, Jacksonville ran nothing but pass plays.
12.4
3. Daunte Culpepper
26/37, 425 yards
5 TDs, 2 INTs
He's probably the leading MVP candidate right now, and yet all across America thousands of fantasy football owners just wanted to know if they got any points for a tackle. Adjustments for opponent strength knock him out of the top spot because the only thing easier than getting a drink on Bourbon Street is getting passing yardage on the Saints.
10.9
WEEK 6: BOTTOM THREE QUARTERBACKS
Quarterback
Skinny
DPAR
24. Joey Harrington
12/23, 101 yards
1 TD, 1 INT
Lowest-rated QB so far this season in terms of rushing DPAR, he has developed a disturbing habit of running when he has absolutely no chance to pick up long yardage. Seven of 16 runs have been for one yard or less.
-9.0
25. Jake Delhomme
24/42, 205 yards
1 TD, 4 INTs
It looks like the disintegration of the team is finally affecting him, causing him to force passes that just aren't there.
-12.4
26. Steve McNair
19/41, 210 yards
1 TD, 4 INTs
After Monday night, who would have expected Favre on top and McNair on the bottom? McNair had interceptions of every kind -- a ball thrown directly to the defense, a ball tipped, and an incorrect route run by Drew Bennett.
-12.9
Third down: The Lions had a chance to go 4-1, but instead got steamrollered by the Packers. Break down Joey Harrington's performance.
Patrick Hruby: Let me put it this way: Breakdown is the perfect word to describe Harrington's performance. The youngster looks a lot better when Roy Williams is healthy, doesn't he?
Alan Grant: Only saw one play -- Harrington hauling off and absolutely firing one into the middle of the field and getting picked. But that's OK. Shows me that he and his teammates are at that "let's make some things happen" stage.
Fourth down: Random observation of the week:
Patrick Hruby: Hey, I like divas as much as the next guy, unless you're talking VH1. That said, forget arm-flapping, jabber-jawed wide receivers. Fact is, a good running game remains a quarterback's best friend. A Karl Rove, if you will, freeing up the featured attraction to do what he does best (besides debate). Think Terrell Davis and John Elway, Ricky Watters and Steve Young. Or just consider yesterday's numbers:
Behind 115 rushing yards from William Green, beleaguered Jeff Garcia tosses for 310 yards and 4 TDs, including a 99-yard strike in a Cleveland win;
Beat-up Drew Bledsoe leads Buffalo to its first win of the year with an efficient 212-yard, 1 TD performance. Coincidence? Not when Willis McGahee runs for 100-plus yards in his first pro start;
Jake Plummer throws 3 TDs -- none, it should be noted, with his off-hand -- in Denver's demolition of Oakland, a game that saw Ruben Droughns break off 176 yards on the ground.

The lesson? As always, the safest pass remains a handoff.

Skip Bayless: Parcells said before Pittsburgh visited Dallas that Roethlisberger is the best looking rookie quarterback since Marino. Better than Peyton Manning? Please, Roethlisberger doesn't nearly have Marino's quick trigger or quite his velocity, but he's the perfect fit for a solid team in search of stability at quarterback. Roethlisberger is so mentally and physically mature that he's already a fumble-free force in the pocket. He can move adequately and throw accurately on the run when necessary. But the main reason Pittsburgh stole a game that Dallas should have finished off was that Roethlisberger's offense committed zero turnovers.

Jeff Merron: It's going to be a long, long time before we see a rookie QB like Ben Roethlisberger again. I've watched him a few weeks in a row now, and to me the most impressive thing about him is that he just doesn't make mistakes. He thinks like a veteran. Here's the kicker: Nobody -- I mean nobody -- is talking about Tommy Maddox any more.

Speaking of the Steelers, the greatest stat line of the year belongs to Jerome Bettis:

37 carries, 63 yards, 1.7 yards per carry, 9 TDs.

Alan Grant: Watching Denver play the Raiders, I was reminded that it was the Broncos who ushered in this era of the impossibly ugly uniform (the Seattle Seahawks and Oregon Ducks come quickly to mind) I wonder how that discussion went in the boardroom when they examined swatches:

Corporate flunkee: "Mr. Bowlen: are these ugly enough?"
Bowlen: "No, uglier. Looking for something really hideous."
Best Throw of The Week:
Tom Brady's "rain down from Heaven" bomb on third-and-8 to Bethel Johnson on that deep arrow route was a Picasso of the vertical passing game, a play which stuck a dagger in the heart of the Seahawks. (The Pats used the same play to beat Miami in OT last season.)
First runner-up: Jeff Garcia, in the end zone, and off his back foot, putting all of his juice into that spindly right arm of his and hitting his man for a 99-yard TD.
Second runner-up: About midway through the first quarter, on a third-and-5 from the Pittsburgh 40, Ben Roethlisberger threw a perfect soft, high (un-interceptable) pass across the middle complete to Plaxico Burress for 32 yards.
Third runner-up: Trent Green's desperation, Plummer-esque flip to Priest Holmes. With Kansas City trailing Jacksonville 14-10 in the fourth quarter, Green dropped back after a play action fake. As two Jag pass rushers dragged him to the turf, face-first, Green pitched the ball to Holmes, who scampered upfield for a 20-yard touchdown. A sandlot play through and through, the kind that makes you scream "Nooo ... YESSS!"
Honorable mention: Not just a throw, but a play of beauty: the Vinny Testaverde to Richie Anderson to Terry Glenn hook-and-ladder for 30 yards on the second-to-last play of the Steelers-Cowboys game.
---
Worst Throw of The Week:
Jay Fiedler at second-and-10 from the Miami 20 runs backwards 13 yards and throws a screen pass directly into the arms of the open receiver at the Miami 11. That play would have lost nine yards, except the open receiver is not on the Dolphins. It's Bills linebacker Takeo Spikes, who runs in for an easy six while Rob Konrad, the alleged intended receiver, stands around wondering what's going on.

First runner-up: Kerry Collins (hate to kick him when he's down, but ...) lobbing one to Ronald Curry. Now, Collins was ambitious in putting it up there, but Curry, standing in the middle of the field, was, more or less, holding court with three Denver Broncos defenders. The ball could have been picked by any of the three.

Second runner-up: Tim Rattay's mind-bending 5-yard flick to Jets linebacker Jonathan Vilma. The closest 49ers reciever had his back turned. Vilma was staring right at Rattay, arms open. Did Vilma fake Rattay out by calling for the ball, like in a pickup basketball game where no one knows each other? Or does Rattay simply have trouble distinguishing between white and green? (If it's the latter, the guy better keep his cash and receipts in separate sections of his wallet).
---
Overtime
Trivia question: Jay Fiedler entered Sunday with a QB rating of 47.1 (he's now up to 51.1). Who was the last QB to attempt at least 250 passes in a season with a lower QB rating?
Jeff Merron: In 1972, Jim Plunkett completed 169 of 355 passes for 8 TDs and 25 INTs. His passer rating: 45.7.I don't know if it's the right answer, but it's an interesting factoid.
Patrick Hruby: My head says go with Merron -- he is, after all, Page 2's resident list/trivia guy -- but my heart says Ryan Leaf. Interestingly enough, I think the Chargers picked El Busto Supremo using similar criteria.
Aaron Schatz: I'm not sure, but I think this player was the lead character in Matt Christopher's sports novel for kids, "The Boy with No Offensive Line."
Skip Bayless: Bubby Brister?
Alan Grant: What's a quarterback rating?
Answer
Sorry, Patrick, good guess on Leaf, as he compiled a woeful 39.0 rating with the Chargers in 1998. Alas, he threw only 245 passes that year. His teammate that year, Craig Wilhelm, also just missed being the answer, compiling a 48.0 rating in 320 attempts. Vinny Testaverde's 35-INT year in 1988 with the Bucs almost takes it, but our winner is Mark Malone of the 1987 Steelers. His line: 156 for 336, 1896 yards, 6 TDs, 19 INT, 46.7 rating.