Page 2 staff
Good morning. This is your wake-up call. Have a nice day.
Here's what Snap Judgment has to say about Sunday's quarterback play: Oopsie.
Yes, Tom Brady gave us a wake-up call. So did Drew Brees. So did Kurt Warner and Daunte Culpepper. They all gave us a jolt for different reasons. But, hey, we've heard that's why they play the games, right? Because you're not supposed to expect the expected in this league, and we'd started doing that with these guys. Silly us. So now that we're wide awake, here -- as always -- is Snap Judgment's take on QBs and nothing but QBs in the NFL. And, also as always, we start this week with some quick reads:
AUDIBLES FROM OUR QBS

Jeff
Merron

Patrick
Hruby

Alan
Grant

Skip
Bayless
NFL's best QB in 2009 will be . . .
John Dutton of the AFL's Colorado Crush. 6-foot-4, 225 pounds, and dig this: a 76/8 TD/Int. ratio.
Mike Vick
Michael Vick
Eli Manning
Michael Vick and the West Coast Offense . . . how wrong were we last week?
We? I wasn't wrong.
Wrong-ish
What do you mean, we?
Scheme is irrelevant when Vick runs for 115
Is Vick the best running QB in NFL history?
By a long shot
Yes. But Randall Cunningham is still a better punter
More importantly, he's the freakiest.
Vick is the best breakaway runner; Tarkenton was the best buy-time scrambler.
The one QB likely to cost his team a playoff berth because of his poor play is . . .
Carson Palmer. It's already a done deal. But he's not to blame.
Kyle Boller
Kyle Boller
Jake "The Flake" Plummer
The one QB likely to carry his otherwise non-playoff team to the postseason is . . .
QB savant Ben Roethlisberger
Michael Vick
Drew Brees
Peyton Manning, who might throw seven or eight TD passes against Indy's defnese
Number of career starts for Craig Krenzel?
Seven in the NFL; 87 in the CFL.
One is too many
Ten. (Ten games left this season.)
25, because he's a quality backup
Number of career starts for Ken Dorsey?
He's one of those guys who will probably turn out to be a starter for three or four years, but it won't happen for a while.
One more is too many.
One more.
J25, or until the 49ers realize he isn't Montana or durable
The Cardinals and Bills accounted for less than 200 yards passing COMBINED Sunday in a game that featured 17 punts. What would be a fair ticket price to charge the fans at Orchard Park fo rthis "show"?
Are you implying that Brian Moorman isn't worth the current price of admission?
$19.99 plus a free set of steak knives.
The home team won. Full price.
Bledsoe should pay for half-off refunds
Carr, Leftwikch or Roethlisberger?
Roethlisberger
Carr
Leftwich, the destroyer of all "conventional thought."
"No Turnover" Ben
Trent Green: Temporarily revived, fuly resurrected, or just a guy playing the Colts' defense?
An unsurprising good game that pops uip on any mediocre player's long downhill slide
Revived guy handing off to Priest Holmes against the Colts' defense
He's on life support. That should take him through the season.
Resurrected and on a roll
Man or myth?
Mark Brunell
What was the myth? Brunell was good, but getting less good as he gets older.
Former man loping into mythic sunset.
Man
Now a myth
First down:
The player wearing No. 12 for New England on Sunday threw two costly picks and fumbled away a ball, too. This player looked like Tom Brady, but clearly he was not. Was this a man wearing a Brady Halloween mask? Or does everyone -- even a Patriot -- eventually have a bad day? Did the Red Sox use up all of New England's good karma ... Or what gives?
Patrick Hruby: Hey, that saucy-looking guy in those GAP magazine ads looked like Tom Brady, too. But clearly, he was ... oh, who are we kidding? Everyone has a bad day now and then, and when you add Brady's Pittsburgh performance to his come-hither modeling shoot, that gives him two duds on the year. Pretty good batting average. As for the karma argument, I'm not buying it. Frankly, the Pats loss gives New England sports fans something to carp about, which is all they really want, anyway (well, that and using baseball as a way to connect with their emotionally-distant fathers).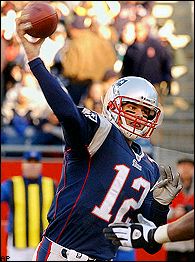 All good things must eventually end ... even for Tom Brady.
Aaron Schatz: The answer is clear: the Patriots have been cursed by Matt Light's "metrosexual" makeover. Tom Brady must grow Johnny Damon's hair. Richard Seymour must grow Manny Ramirez's hair. Corey Dillon must grow David Ortiz's beard. Bill Belichick must immediately pay homage to Tito, the god of male pattern baldness. The great and powerful Oz has spoken.
Skip Bayless: At least we won't have to hear all that Tom Montana stuff for a while. Brady isn't Montana -- or Manning or Culpepper. He's merely the most important cog in a ball-control machine. Once Corey Dillon was lost to a practice-field injury late last week, Brady was in trouble. The Patriots wound up with five yards rushing and hung onto the ball for only about 17 minutes to Pittsburgh's staggering 43. Once both New England cornerbacks were lost -- especially Ty Law -- Brady found himself trailing 14-3 late in the first quarter. This was Brady at his worst, trying to force throws downfield, watching an interception returned for the 21-3 TD. Brady was asked to do way more than this former sixth-round pick is capable of. What happened to Brady is that the injury gods decreed that The Streak wound end. Tom "Montana" got exposed.
Alan Grant: What gives? Same thing that gives every January before the Super Bowl. With two weeks to prepare, one team always gets a mad edge on another. With a bye and some spare time to game plan, Steelers defensive coordinator Dick Lebeau applied his extensive knowledge. Lebeau has seen a few things in his day. In fact he's seen about as much as Bill Belichick has. And with an extra week, he got to see twice as much. Streak over.
Eric Neel: Take a good look at the film: The Patriot DBs, anxious to prove their tactics are legit, were jamming their own guys, just to get some extra reps in.
Second down: The AFC's biggest surprise team is probably San Diego, and that surprise can be summed up in two words: Drew Brees. How much of an apology do we owe this guy? Was drafting Philip Rivers an unnecessary move? And can Brees take this team to the playoffs?
Patrick Hruby:
An
apology?
Er, we're sportswriters. And sportswriting means never having to say you're sorry (unlike love, which means saying "I'm sorry" over and over again, ad nausea, until death grants you a sweet, merciful release. Kisses, honey!) What those of us in the fourth estate really owe Brees is a nice, fawning magazine profile, and a promise to refrain from any talk of a quarterback controversy until next summer's training camp. Assuming he doesn't bolt via free agency first.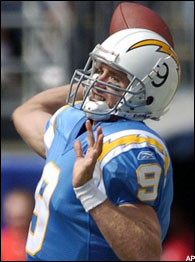 Uh, Drew, we're sorry. Very sorry.
That said, if Brees and his less-than-formidable Chargers mates manage to make the playoffs, I'll consider a mea culpa -- addressed to Marty Schottenheimer. Marty, baby: Come back to Washington. All is forgiven. At this point, 8-8 looks pretty good.
Alan Grant: Drew Brees doesn't need any apologies. See, while everyone was writing him off, the kid was not only learning how to play, but becoming a free agent, too. Sure, the Chargers could keep both he and Rivers, or they could solidify their investment in Rivers by letting Brees go. Either way, Brees gets paid. In the meantime, with L.T. scampering behind him and the addition of proven and reliable (if not dynamic) Kennan McCardell, and the underrated speed of Tim Dwight, Brees and his mates are certainly in place for at least some wild-card love.
Skip Bayless: Drew Brees is still the same old undersized quarterback with the below-average arm. But this season, the pressure was finally off him for being "traded" for Michael Vick and for having to be the return-to-glory future of the Chargers. Now that future belongs to Rivers -- Brees was just providing a warm body until the kid gets comfortable. But a funny thing happened on the way back to the bench: Brees walked into a career-year "Twilight Zone." He's playing loose, flinging the ball with college confidence and winning games he wasn't supposed to win. Now that Oakland is crumbling, Denver is struggling and Kansas City is getting a late start, the AFC West looks steal-able. Brees has upper-echelon weapons in Tomlinson, McCardell and Gates. Brees is the present. Rivers remains the future.
Aaron Schatz: How about a BIG apology? We're all talking about the need to give Michael Vick more time before we decide he's overrated/as good as advertised; and yet nobody was willing to give that time to Drew Brees, who came out in the same draft. We have no idea how good Philip Rivers will someday be, but imagine this year's Chargers with Brees passing to Roy Williams along with Gates, Parker, and McCardell. Or with Sean Taylor at safety. Or Robert Gallery protecting Brees and clearing the way for LT. Multiply Brees' current stats by two and they look an awful lot like a prime Troy Aikman season (1995, to be exact). Everyone sing it with Boomer and TJ -- "San Di-E-go, SUP-er Char-gers!"
WEEK 8 RANKINGS:
By Aaron Schatz, footballoutsiders.com
Click here for Aaron's complete rankings for all the QBs.
The QB rankings now include adjustments for the quality of defense faced. (DPAR = Defense-adjusted Points Above Replacement that each QB was responsible for.)
WEEK 8: TOP THREE QUARTERBACKS
Quarterback
Skinny
DPAR
1. Drew Brees
22/25, 281 yards
5 TDs, 0 INTs
Named Sportsman of the Year by "Setting Yourself Up For Free Agency" Magazine, narrowly beating out Derek Lowe.
19.0
2. Peyton Manning
25/44, 472 yards
5 TDs, 1 INT
KC's pass defense has actually been above average, and Manning torched them anyway. 353 yards just on first-down passes alone.
18.3

3. Trent Green
27/34, 389 yards
3 TDs, 0 INTs
The Indy pass defense, however, is definitely not underrated. They are as porous as advertised, which bumps Green's value down from 22.0 points.
18.1
WEEK 8: BOTTOM THREE QUARTERBACKS
Quarterback
Skinny
DPAR
24. Craig Krenzel
13/25, 168 yards
1 TD, 1 INT
Probably should have walked off field after first pass, freezing safety with a head fake and tossing a beautiful 49-yard touchdown to Bernard Berrian. Special teams and defense got him the win.
-2.7
25. Kurt Warner
13/21, 144 yards
0 TDs, 0 INTs
It's all about field position from Culpepper's miscues. When the Giants went up 17-0, Warner had been worth a grand total of 12 yards, counting sacks.
-2.9
26. Ken Dorsey
16/36, 122 yards
0 TDs, 1 INT
Ken, Eric Johnson is the team's leading receiver and he was open the entire game. Perhaps you should consider throwing to him more than once before the final four minutes?
-6.5
Third down: The NFC's biggest surprise is definitely the New York Giants. Did we prematurely bury Kurt Warner? With Tiki and this defense, can Warner's Giants be the NFC's second best team (behind Philly)? And would New York have been better off using its top pick on a player other than a QB?
Skip Bayless: Former MVP Warner has this in common with rookie Roethlisberger: They're at their best when they make sound decisions and avoid turnovers. "Bad" Kurt nearly showed his Halloween face in the Metrodome, fumbling three times. But the Giants recovered all three. Warner didn't throw an interception and the Giants didn't have a turnover, while Culpepper threw two and lost a fumble. Warner's stats (13 of 21 for 144 and no TDs) weren't anything to write home about. But as long as he can hand or flip the ball to Tiki Barber, who continues to make an MVP case, the Giants are solid enough on defense to beat anybody.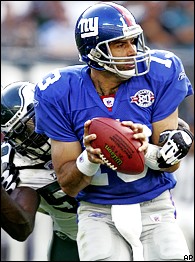 AP
Kurt Warner doesn't have the pyrotechnics he had in St. Louis, but he has been efficient for the Giants.
Aaron Schatz: Um, no, no and no. Kurt Warner is like Jim Bouton in his "Ball Four" knuckleball days except a lot less fun to go drinking with. It's nice Warner is playing better than Kyle Orton, and apparently he does indeed have two opposable thumbs again, but he's nowhere near the quarterback he was in those halcyon St. Louis days.
Throwing for 144 yards against the execrable Minnesota secondary is not a day you put in the scrapbook under "My Greatest Adventure." I suppose that a mediocre veteran is a better quarterback for a team trying to make the playoffs with rushing and defense than a young player learning on the job (see: Baltimore Ravens) but I don't think the Giants are winning the division title which means I don't think they're getting any home-field advantage which means I don't think they're getting any playoff wins.
Unless they get to go to Minnesota in the first round -- do you realize this is the third consecutive year they've won in the Metrodome? Wacky.
Eric Neel: Did Brenda write this question? Brenda, are you out there?
One hiccup from the Vikes, and suddenly the Giants are the second-best team in the NFC? God help us.
Warner is just good enough now to break your heart, just good enough to be an old man's Kerry Collins (a position for which he'd have no competition if Kerry weren't so busy trying out for it himself).
Jeff Merron: Warner has lucked out. Injury and age have robbed him of the skills that were required by the bling-bling offense he ran in St. Louis. But he does have the experience and smarts and discipline (and good enough talent in the tank) to work the Giants offense.
Alan Grant: Premature burial, like premature ejaculation, is always messy. But in some cases, a man can be resurrected. After Super Bowls, and two MVPs, Kurt Warner somehow lost his confidence and then struggled in St Louie. It happens.
But sometimes a change of scenery is more than a cliché. If you recall, a certain Randall Cunningham, after initially charming the City of Brotherly Love, eventually left Philly a shell of a man. Then he found new life and love in Minnesota. Now, you'll also recall that Cunningham, while taking the Vikes to the brink of the Promised Land, also was paving the way for a certain Daunte Culpepper. Just think of Kurt Warner as Eli Manning's John the Baptist.
Patrick Hruby: Warner appears to have more left than most of us figured, and the Giants established themselves as legitimate NFC playoff contenders by thumping Minnesota on the road. So in the short term, New York might have been better off adding a player who could contribute this season.
Down the road, however, Warner remains a stop-gap solution. And if Eli Manning ends up half as good as his older brother, the Giants will be set behind center for a decade. Hard to argue with that kind of draft logic.
Fourth down: Daunte Culpepper looked human for the first time this year during a game in which Randy Moss played little and didn't catch a ball. So is this a case of "chicken and egg" ... Does Daunte depend more on Randy than we know ... Or is it vice verse?
Patrick Hruby:
Actually, I'm pretty sure it's "vice versa." But I'm not a copy editor -- my error-ridden Page 2 oeuvre is ample evidence of that -- and that's not the real question. Culpepper and Moss clearly need each other. One can go deep, the other can
throw
deep. One's big and burly, the other's long and lithe. One has been on the cover of Madden Football, the other on NFL 2k. And so on.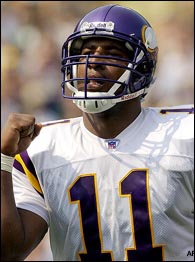 Sure, Daunte Culpepper misses Randy Moss. Who wouldn't?
Still, Moss has been productive with other quarterbacks (Randall Cunningham, anyone?), and Culpepper was awfully sharp last week sans his favorite target. So forget the chicken and the egg. What seems clear is the Vikings depend mightily on both players -- and when both struggle, so does the club.
Jeff Merron: They're codependent! Put 'em in a 12-step program! Ah, geez, they're one of the best QB-WR combos in NFL history. They depend on each other. Could either, in the future, be as effective with another man on the opposite end of the spiral? For sure. But it's not likely.
Skip Bayless: Culpepper and Moss are vaguely reminiscent of Lennon and McCartney. Take either away, and you don't have that extraordinary Beatles harmony. The Vikings got away with it a week ago against Tennessee because Steve McNair got hurt early and Billy Volek wasn't quite ready to step in. But when it became immediately apparent that Moss was dragging his pulled hamstring against the Giants, they were able to gang up and shut down the Vikings running game. Nobody opens up the run the way lightning rod Moss does. And nobody could throw him longer, sweeter deep passes than Culpepper. Without either, the Vikings will have a hard day's night.
Eric Neel: I love Daunte, I really do. But Joe Kapp, right now, today, could look good throwing to a healthy Randy Moss. The Pepper's a terrific quarterback having an outstanding season. But Randy's the only guy in this tandem headed for a bust in Canton.
Alan Grant: Of course, Culpepper depends on Randy Moss. No. 84 is the most explosive player in the offensive universe. Steve Young depended on Rice, and Marino depended on a pair of Marks. But there's more to the equation. See (per the discussion above) gigantic men sprinting, unimpeded, through the guard-center gap, tends to make humans of us all. Hell, even Curt Schilling, Zeus himself and the first athlete in the history of organized sport to ever play while injured, would have difficulty, hitting a target he can't see.
Aaron Schatz: This week exposed Daunte Culpepper as a total fraud who can't win without Randy Moss, much in the same way that last week exposed the Atlanta run defense as tissue paper that any running back can tear through, and Miami as a powerful offensive force that can always pull out a new trick play to beat you, and Neil Rackers as an infallible long-distance kicker who can't miss past 50 yards. Let's not go jumping to conclusions based on one game, guys.
Bonus Observation that could render "Snap Judgment" irrelevant (gulp!): Two quarterbacks topped 400 yards Sunday -- Jake Plummer with 498 yards and Peyton Manning with 472 yards. Both lost. Does this mean the pass is overrated? Or does it mean Peyton and Jake just need better DBs playing for the "horsie" teams?
Jeff Merron: We're all impressed by those gaudy numbers. But in the NFL, the meaning of total passing yards changes as often as the meaning of raw SAT scores -- in other words, often. The fact is, total passing yards are overrated. Yards per attempt is a much better stat, and Plummer averaged 9.1 yards per pass, but Vick was more effective: 10.5 yards per pass and 9.6 yards per carry. Trent Green averaged more yards per attempt than Manning, didn't throw a single INT, and had a higher percentage of passes completed. And that guy named Priest came in pretty handy, too.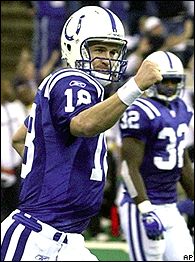 Apparently Peyton Manning needs to be perfect for the Colts to win.
Aaron Schatz: OK, what do we mean by "the pass." Do we mean "lots of passes, many of which are caught by my team and none by the other team?" Or do we mean "a ridiculous number of passes roughly equivalent to the number of times Tim Russert turns to his white board tomorrow night, most of which come while our team is 20 points behind and three of which go to the team with birdies on their helmets?"
Because that first one describes Peyton Manning's game, and the second describes Jake Plummer's game. Give Manning an average defense and he wins the Super Bowl. Give Plummer an average defense and, well, you have the Denver Broncos.
Alan Grant: No, the pass isn't overrated. But when you enforce certain rules, you get that for which you ask. See, that much ballyhooed "no-contact rule" now has practical application. (Editor's Note: Mr. Grant is a former NFL defensive back.)
Yeah, I know teams like the Colts, Broncos, and Chiefs present defensive fronts which resemble cardboard cutouts. But remove from cornerbacks the option of subtle grabbing and hand fighting, then all hell breaks loose. Furthermore, sans a pass rush, any game can quickly degenerate into simple pitch and catch. No DB or linebacker stands a chance when the quarterback is unrushed.
Eric Neel: Those numbers are big, but they aren't interesting. They reveal nothing but the obvious: Edgerrin James was bad, Reuben Droughns was just a tick worse, and guys on both squads were playing D the way George W smiles, stiff, and with a little bit of a glaze in the eye. You get rolled for 31 straight and you'd best put the ball in the air, that's what Plummer's number says. Duh. Priest Holmes tattoos your hiney with his cleat marks and you better start hurling, that's what Peyton's numbers says.
Like I said, it's obvious: The Snake and the Human Audible didn't do much to deserve these numbers. And their teammates did even less.
Patrick Hruby: The pass isn't overrated (and neither is Snap Judgment ... whew!). Stout defense and mistake-free play is underrated. I blame this mindset on fantasy football. Maybe that's just me.
Clearly, Manning's 472 yards weren't enough against Kansas City's 590 yards of total offense (Trent Green threw for 389 yards and three scores), just as Plummer's career day went for naught in light of his three interceptions, one of which was run back for a score. Expect both quarterbacks to keep on chuckin' -- but keep in mind that works in video games doesn't always work in real life.
Skip Bayless: The pass definitely isn't overrated, but neither are interceptions and an occasional running play. Plummer and Manning found themselves in Wimbledon-style, serve-and-volley scoring matches in which you cannot lose your serve. Plummer lost his three times to Vick by throwing interceptions -- one of which was returned for a touchdown.
Especially against Kansas City's fastbreak offense at Arrrowhead, you cannot make a mistake. Manning did, getting a little too greedy and forcing a late throw into the end zone that was intercepted Of course, as usual, Manning tried to be the do-it-all hero, no doubt audiblizing out of several running plays. The Colts had 33 yards rushing to the Chiefs' 203. Good luck, Peyton.
Best Throw of The Week:
Vinny Testaverde's late-game bomb to a streaking Keyshawn Johnson -- yes, a streaking Keyshawn Johnson -- who outran two Lions defenders for a game-salting score. Just like old times for a pair of former Jets.
---
Worst Throw of The Week:
Testaverde's perfectly-placed quick out to Lions corner Dre Bly, which Bly returned for a touchdown. Tampa Bay flashback?
---